CASAFARI's mission is to organise the chaotic property market in Europe through data transparency. And, for this, we need to guarantee that the professionals who work in it have at their disposal the most reliable information.
We want to offer real estate software solutions that reinforces the figure of the real estate agent so that he can:
Work with reliable information that mirrors the real estate market
Easily find the ideal properties for your clients
Close partnerships with other real estate agency agents
Monitor market trends and indicators in order to support decision making and strategy definition
Search properties for individuals, promoting the growth of its portfolio
Simplify and effectively manage your client portfolio
Close more deals and more quickly
And all these objectives CASAFARI already meets. Get to know our products and see how you can also take advantage of them.
Property Sourcing, Europe's most comprehensive and transparent property search
CASAFARI's property search is unlike any other: we have access to over 30,000 real estate websites and portals and display over 200 million property listings.
In other words, while a real estate portal offers a partial view of what is available, our property search provides a transparent view of the entire stock on the property market.
In addition, we "clean up" listings that appear in more than one source, to ensure that each property exists only once on our platform, with the most correct information about it.
But facing so many options, finding a property according to what you are looking for can become a laborious task, right?Not really! CASAFARI's property search allows you to apply filters for more than 30 distinct characteristics, sort properties according to the number of days on the market, price per square meter, area of the property and much more. All this to provide a user-friendly interface that finds the ideal property for your client in minutes.
Improve your property search and gather real estate leads with CASAFARI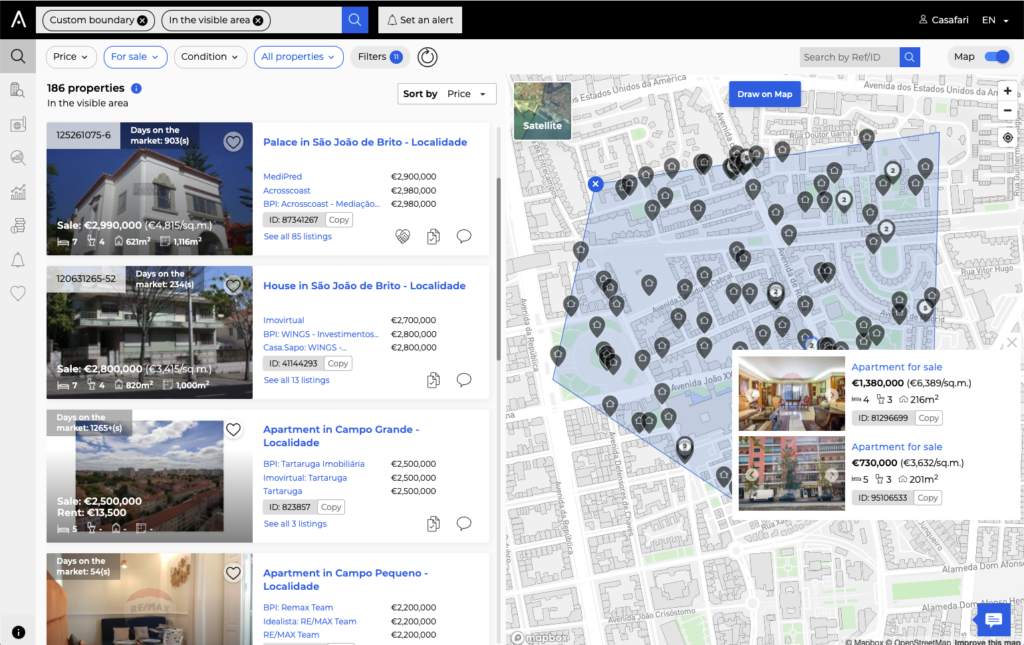 Property page: deepen your knowledge of a property
Want to know more about a property's history? Count on CASAFARI's real estate software solutions to get this information!
In Property Sourcing, the property agent discovers:
The chronology of price changes and the status of a property
All agencies and portals displaying this property
Similar properties
The distribution of prices across the agencies
A property price analysis
This data is valuable in helping the property agent to define a strategy to raise available properties, to identify who is selling the most properties in their portfolio and to discover properties competing with their own.
Property history: why is this data priceless to real estate professionals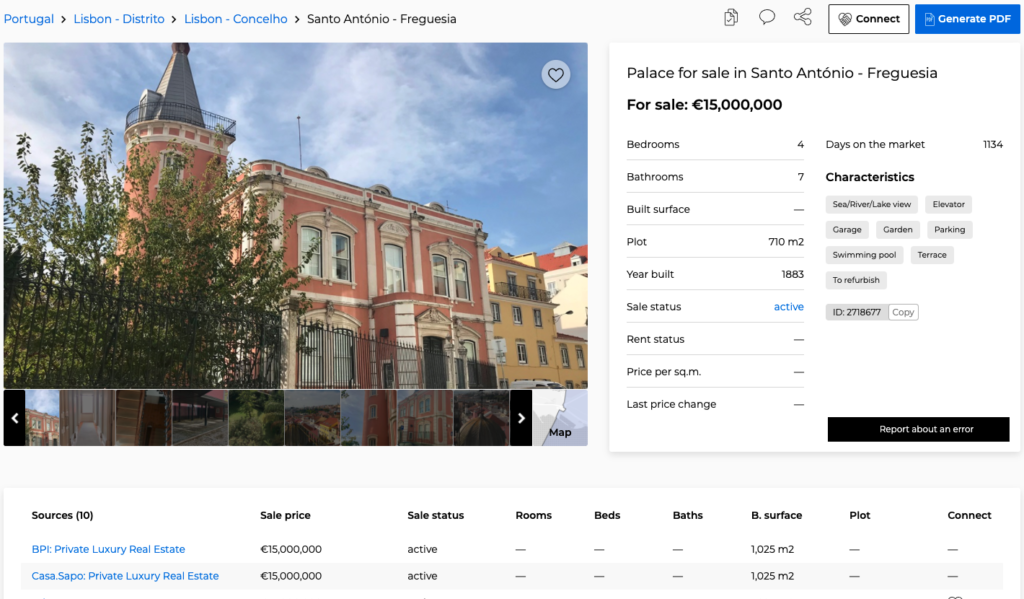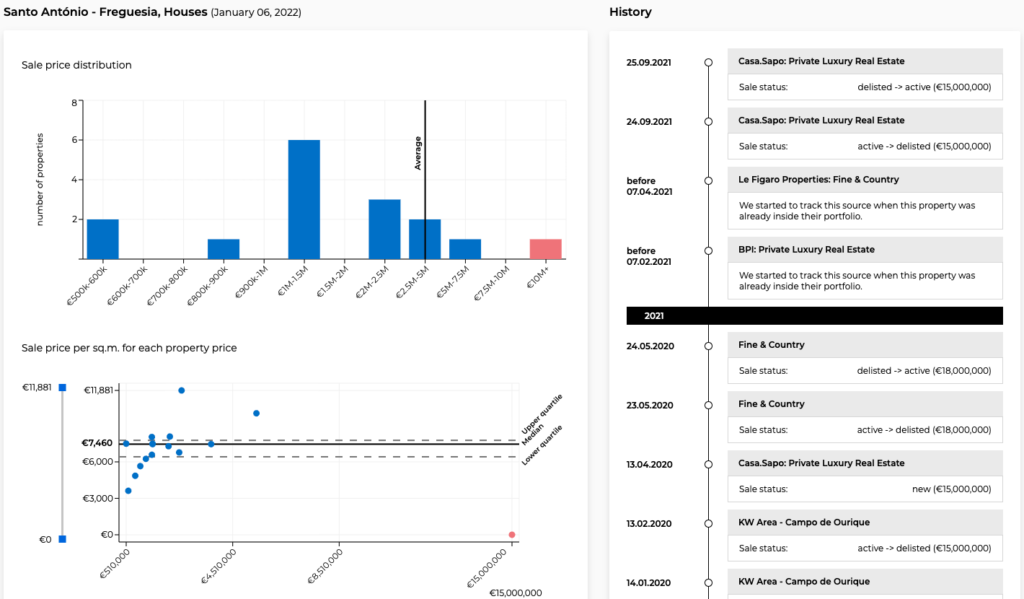 CASAFARI Connect: sharing commissions to accelerate business
As an estate agent, it is likely that at some point you will have a client looking for a property with characteristics that you do not yet have in your portfolio. Or you may have a property available for sale, but have not yet found an interested client. CASAFARI Connect exists precisely to speed up this perfect match between buyer and seller.
Part of our real estate software solutions, when you activate CASAFARI Connect, a "handshake" icon appears next to your agency information on the detail pages of a property in Property Sourcing. This icon indicates, to other agencies, that you are available to share commissions on transactions where one property agent has a buyer and the other, the property for sale.
You can also contact a real estate buyer agent through this icon on any property page. By activating it, a message will be automatically sent to the professional, signalling the desire for commission sharing on this deal.
A "handshake" to generate more real estate deals: meet CASAFARI Connect!
Real estate comission sharing: build flexible rules in CASAFARI Connect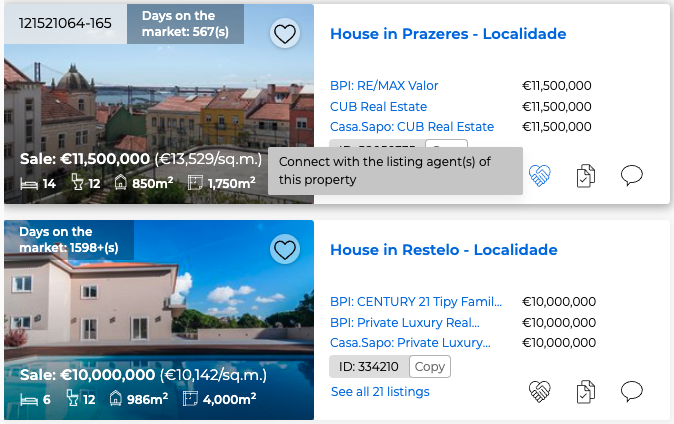 CASAFARI Market Analytics: track housing market trends
If we have so much data about the real estate market, why not transform it into useful information for the real estate agent's daily routine?
CASAFARI Market Analytics is precisely this: an application that concentrates insights and housing market trends about in Europe. This tool identifies strategic market indicators, such as:
The average price of a square metre, by parish, of a locality
The average sale price of a flat in the location of interest
The average time that properties spend on the market, by price range
How many properties are available on the market, by number of rooms
Why monitoring the property market trends is strategic to you
CASAFARI Market Analytics: follow the property market trends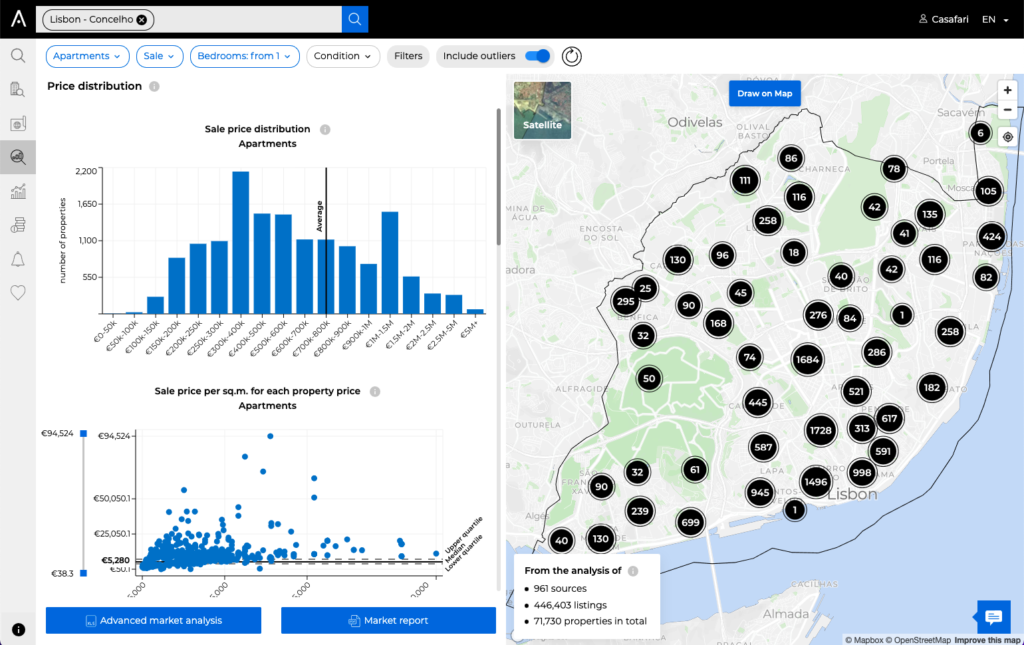 With this information, the real estate agent has all the necessary arguments to convince a client about the suggested selling price in a property valuation. He can also understand how the market is behaving in the region of the property, to know what sales strategy to adopt or what would be considered a good deal, in the case of a purchase.
Comparative Market Analysis: get a realistic property valuation in seconds
Setting the appropriate selling price for a property is crucial for a quick sale, or for it to sit for months waiting for a buyer. For this reason, we have directed our artificial intelligence to offer the property agent an online property valuation that accelerates their sales.
CASAFARI has the largest database of market comparables, whether for sale or rent, in all asset classes. Therefore, our Comparative Market Analysis automatically selects the most accurate comparables, which help to evaluate any type of asset (flats, houses, commercial, retail, industrial).
In this way, the real estate agent will receive estimates for the sale price of the property, of what would be the fair price and how much would be a value outside the market average, always based on a list of other properties of similar characteristics in the same region. If desired, the professional can also add or remove properties from this list of comparable and the price estimates will be updated automatically.
It is an online property valuation that is 100% tailor made for the property and also serves to show your client how your property is positioned in the property market.
How CASAFARI's market analysis helps estate agents sell more and faster
How to make a comparative market analysis with CASAFARI
Among the various comparison criteria that can be used are the following:
Conservation status
Property orientation
Facilities on offer
Location
Type and square meters
That estimate can also be downloaded as a PDF report, which puts the agency and property agent in the spotlight, and can be shared with the client.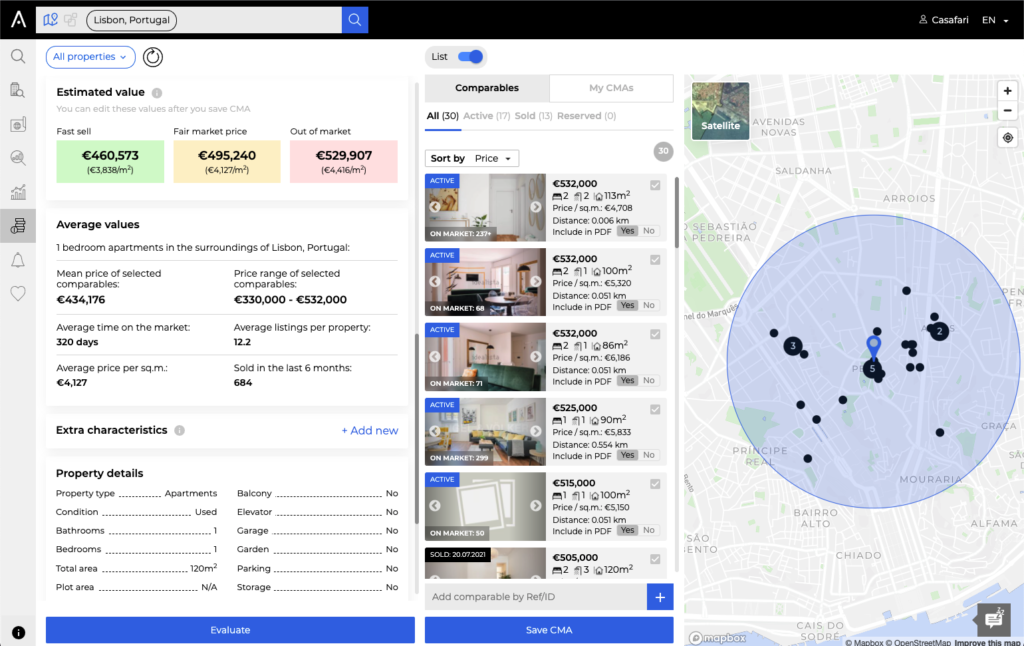 Lead Magnet: how to attract properties 24 hours a day
What if you could have someone working for you every day, attracting qualified leads from buyers or sellers? With our real estate software solutions you can!
CASAFARI's lead magnet offers a property valuation in a simulator, which can be added to your real estate website. This tool provides leads with an instant comparative market analysis report so they know how much, on average, they can sell, buy or lease the property they own or are looking for.
Interesting, isn't it? But it doesn't stop there: as well as attracting your client's attention, there's an advantage to using it for the property agent too. To make the property valuation in the simulator, a person needs to leave their contact!
Lead Magnet: real estate lead generation made easy
With each market analysis generated, a lead is sent directly to your real estate CRM, where you can follow up on interactions with this potential client.
'Don't have a real estate website? No problem! We also offer the possibility of creating your own personalized micro-site with your contacts and the property valuation simulator. You will also have a QR code to add to your card, email or any other promotional material, in order to direct leads and clients to your micro-site.
CASAFARI CRM: the real estate CRM that offers more productivity and efficiency
CASAFARI CRM is a solution designed for real estate management. With it, the real estate agent has at his disposal the complete history of all interactions (calls, emails, visits to properties, etc.) made with his entire portfolio of clients, properties and leads.
It also offers the creation of a real estate website for your agency or for yourself, through which you can capture clients with the lead magnet.
There is also the possibility of exporting the properties in your portfolio to the main real estate portals. The result of this is a huge time saving, as with a single click the properties are disclosed on different platforms.
The automatisms of our real estate CRM are also of great help in managing clients, guaranteeing a quick response to all contacts. Finally, it is also worth mentioning Smartlinks, which are mini-sites that you can send to your client, customised with the properties of their interest.
5 reasons to try CASAFARI CRM's free plan
But more than a real estate management platform that tracks your business in detail, our real estate CRM also offers direct access to CASAFARI's Property Sourcing and its market data.
So you can find properties for your client that are not part of your portfolio and keep track of everything that happens with the properties in your portfolio. In addition, you can also keep up to date on changes in the property market and everything else in terms of market intelligence that CASAFARI offers.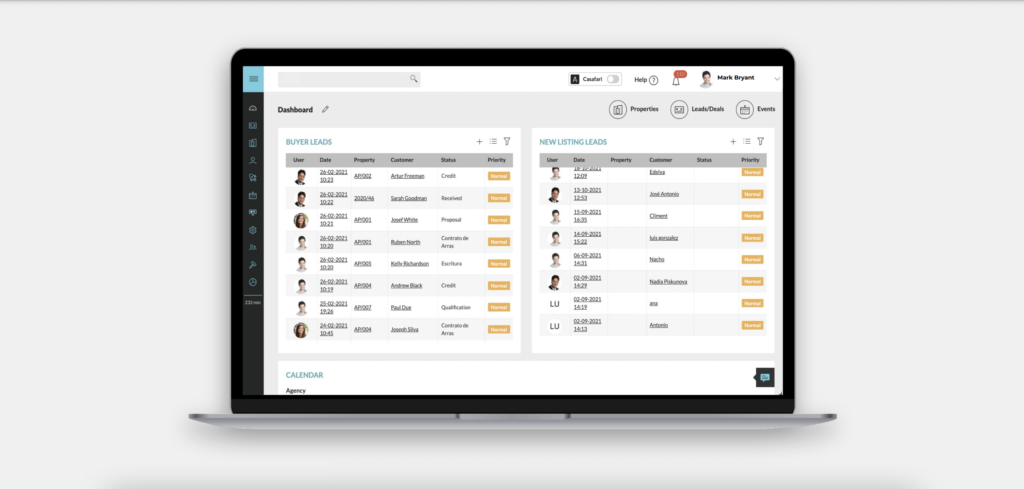 CASAFARI Alerts: be warned about FSBO properties on the market
CASAFARI's Alerts module allows the real estate agent to be notified whenever private properties become available on the market. This way, you can act quickly to secure FSBO properties for your portfolio before another property agent does.
You can select which locations you want to be notified about to search for available properties. You can also choose the characteristics of the properties you are interested in, such as:
Whether the property is for sale or rent
The condition of the property
The number of rooms
Whether it is furnished or unfurnished
The type of property (flat, villa, land, etc.)
The facilities it offers (garage, balcony, terrace, etc.)
Gather more property leads with CASAFARI: get to know Alerts
This way, the notification will be fully customised to your business needs.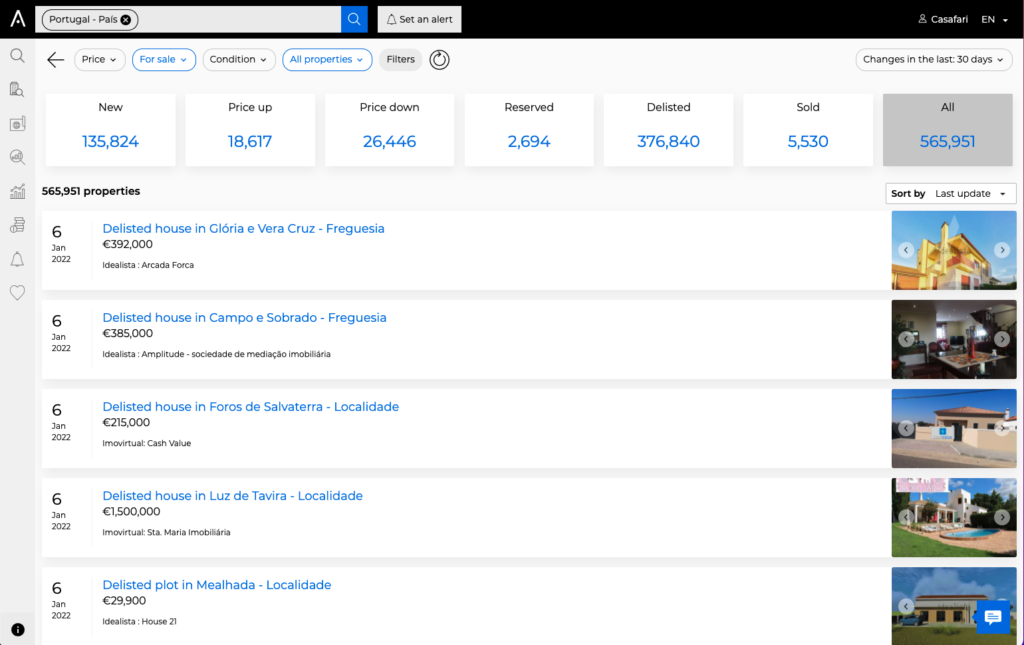 But raising properties from private individuals is not the only reason to use CASAFARI alerts. They are also useful to be aware of changes related to the properties you have in your portfolio.
By monitoring the listings of properties that are part of his portfolio, the real estate agent will see by which other agencies properties are being advertised, since when and at what price. He will know immediately if there has been a breach of the real estate mediation exclusivity contract, and will be able to contact the client to solve this irregularity.
Now that you know everything our real estate software solutions offer to the real estate agent, don't waste time: expand your business possibilities and sell more with CASAFARI!