For a broker, making sure their company is able to monitor the property market trends is relevant because it adds value to the brand: well-informed, updated employees speak volumes about the quality of the work the company provides, adding credibility to it.
For the agents themselves, being knowledgeable about the area they work in not only helps them conquer the confidence of their clients, but also speed up the work.
For real estate investors, following the prices of properties sold in the same area as their assets or mapping how the market is behaving is essential to decide whether to invest in more properties or sell the ones they already have.
Basically, there's no working with real estate without understanding how the market works anymore. So, let's see which are the advantages of using CASAFARI Market Analytics to follow the property market trends for your business.
It allows you to make informed, data-driven decisions about the future of your business
Real estate is the biggest industry on Earth and one of the most competitive. There's no space to work solely based on feeling or experience anymore, so every profitable business must look into the numbers before starting any decision-making process.
For developers, it's important to follow the property market trends so they know in which areas of the city the prices are higher, so they can build units that will be more expensive to the customer, but also more profitable. The opposite is also true: knowing where the prices of properties sold are lower tells developers to build more profitable assets in that area.
But it's not all about the property prices. With our real estate software, developers can also check the market stock for a specific type of property in an area of the city, so they know, for example, that 2-bedroom apartments are needed in that place. This grants the company that the assets they build will be sold in no time, increasing revenues and reducing both costs and effort with marketing.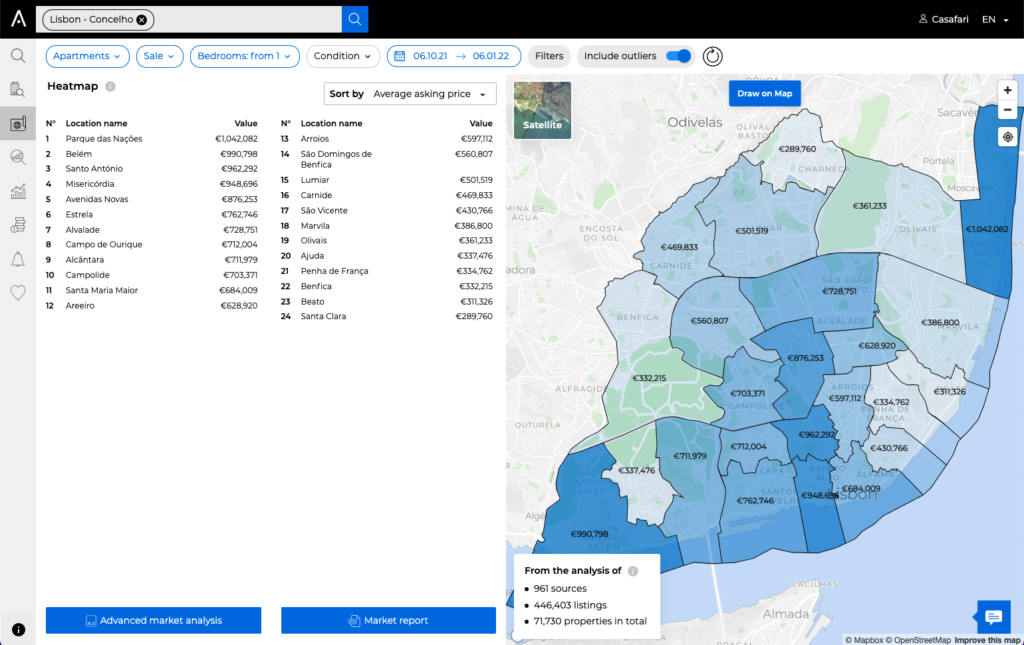 Brokers also deal with many questions that can be answered with a little help from our CASAFARI Market Analytics. Taking a look at the property market trends allows brokers to decide whether they should grow their teams, expand their business to new markets and, if so, where to.
Some of the questions that they can answer about the housing market with our tool are:
Are there enough products or a growing demand on the market to open a real estate agency in a specific area?
Is there an increase in supply or in demand in an area of the city where I work that justifies growing my team of estate agents?
Which places in the city I work in are growing in demand?
CASAFARI Market Analytics: follow the property market trends
Leaving behind a significant part of the market or an area of the city that's rising in demand due to lack of agents or forward-looking planning is not something that real estate agencies are willing to do, so staying on top of the market's movements will definitely help to better understand which should be the next steps for a broker.
As for investors, data is also key: after all, you can only understand if you've found a good opportunity once you know how the market is at the moment. Investors are able to check if the price of a property they're interested in tends to go up or down, if this type of property spends just a few days or long on the market (meaning, if there's a demand for this property) or if there are many similar competitors on the market, so they can improve their decision making.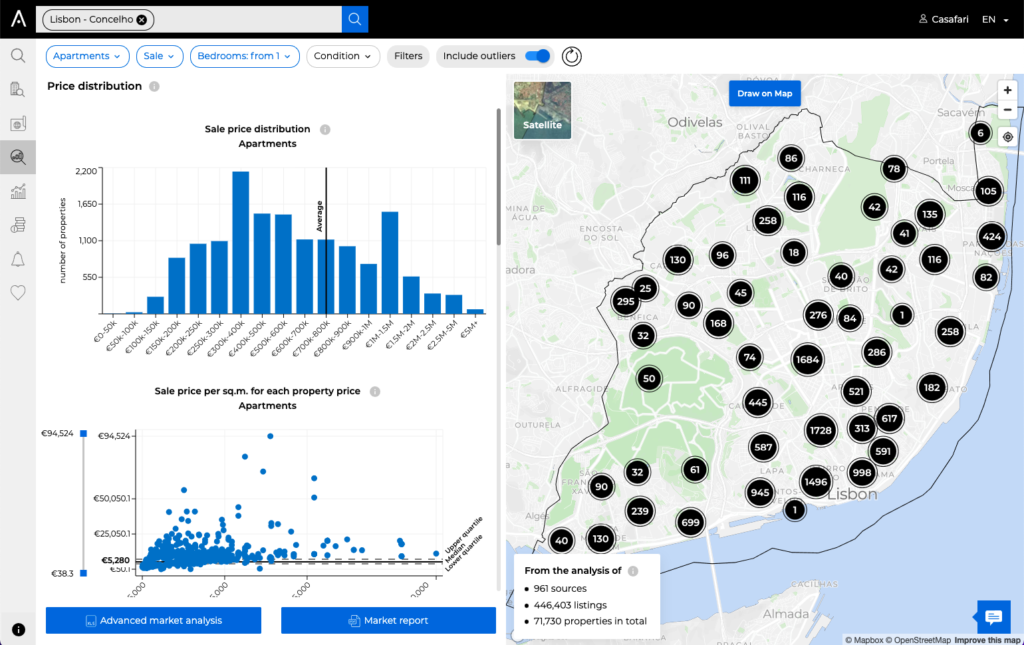 It makes you knowledgeable about an specific area of the city
Estate agents usually work on a specific area and the more they know about that area, the better they can help their clients.
No matter if we are talking about people looking for a place to live in or to invest, in order to be able to explain to clients why that area is suitable to their needs, the estate agent must be knowledgeable not only about infrastructural elements (such as schools, hospitals, transportation, local businesses). They need to be able to talk about how the market in that area is, the opportunities that exist and what the property market trends are showing.
With CASAFARI Market Analytics, you can easily answers questions such as:
Does neighbourhood X offer the kind of property desired by my client?
Are these kinds of properties usually sold for an amount that the client is willing to pay?
Are there increase or decrease trends in property prices through time that might affect my current or future clients? If so, why is this happening?
By getting the answers they need, estate agents can:
settle their clients expectations with real, updated data about the property market,
find where there are possible solutions for their clients' needs,
make clients feel at ease, knowing that they're being taken care of by someone who knows all there is to know about that area.
In the end, it's a win-win situation that will leave your clients satisfied while still granting your revenues.
It helps you understand property valuations on a deeper level
You ran a property valuation with our Comparative Market Analysis tool and now you have a market price for a property you wish to buy or sell, whether it's for yourself as an investor or for a client. Now, how do you deepen your understanding about this pricing? By following the property market trends, of course!
Investors want to know if their assets are upgrading or downgrading in value, so our charts about changes in prices during a time series help them decide if they should keep the properties or sell them.
As for estate agents, they need to have arguments to show their clients why those property prices are the ideal ones to put their properties on the market. So, they can use all the information that Market Analytics has to offer, such as market stock, increases and decreases in prices, new properties available per asset class, the average time each asset spends on the market and sale price distribution.
No matter what your role is, CASAFARI can help you keep track of the property market trends that are most needed for your business. Waste no time: subscribe to our tool and increase your revenues.