Are you familiar with CASAFARI's Lead Magnet? This calculator offers your potential clients an instant and customized comparative market analysis report, with an average price for the property they wish to buy, sell or rent.
I know what you must be thinking: "what's in it for me?" Our product was designed to boost your real estate lead generation!
How? Well, to get the information they are looking for, every potential buyer needs to fill in a form with their contact information. Their data and search preferences can be received both by email or on your CRM, so you can quickly send them properties from your portfolio that are suitable to their needs or offer help to sell/rent their place.
And there's more! The Lead Magnet also:
Effortlessly catches leads 24×7;
Gives a fast response to the lead's needs;
Works for both sale and rent;
Settles the lead's expectations about prices;
Is customizable: fits in your branding and displays your professional info.
Sounds good, right? Our widget can be placed on your website or we can provide it on a customized microsite that you can use to attract potential clients. Also, you get a QR code that drives them to the microsite, for you to add to your business materials.
Ok, now that you know how our Lead Magnet works, let's see even more reasons for you to use it!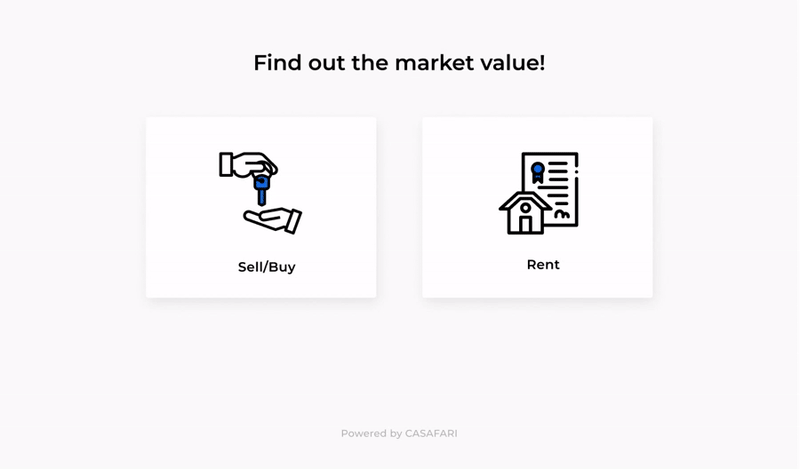 CASAFARI's Lead Magnet in numbers: why you should use it
Now that you know how the Lead Magnet works to improve your real estate lead generation, let's see why you should benefit from it too.
200 companies trust our Lead Magnet for real estate lead generation
We're talking about companies such as RE/MAX, Century 21, Sotheby's, ComprarCasa, Engel & Völkers, Keller Williams and many other big brands from the real estate market.
In total, there are around 300 individual estate agents, creating their own microsites or adding their Lead Magnet to an already existing page, all focused on enhancing their real estate lead generation without the need of working longer hours or making an even bigger effort.
By providing a useful and free service with our property valuation calculator, you too can attract qualified potential clients, instead of having to find them. This not only saves you time, but allows you to get in touch with them before the competition, especially if combining the Lead Magnet to the automations existing in CASAFARI CRM.
And surely you don't want to be left behind, right?
Over 18,200 leads generated
Yes, you read it well: our property valuation calculator provided agents with over 18,000 potential clients, boosting businesses all across Europe in only 1 year and 10 months of existence.
Yes, CASAFARI's Lead Magnet started its real estate lead generation in November 2020 and accumulated this amount of contacts in such a short period of time.
And, trust us, this is not the only impressive number. The record of leads generated by a user in a single month was of 741 potential clients attracted and it happened in December 2021, as a result of the work done by Paulo Isaque, from RE/MAX Place, to propagate his page (here you can see how to spread the word about your calculator). 
Can you imagine having that many new contacts to turn into business in only 30 days?
The top ranking users are dominating the real estate market
Did you know that in 2021, the first full year of activities of Lead Magnet, the leading company among our users in real estate lead generation was Portugal Sotheby's, with nothing short than 3126 contacts? This means they collected details from over 260 potential clients per month, enabling new businesses daily.
So far, 2022 is also showing some remarkable results: RE/MAX Place collected more than 1700 real estate leads with our Lead Magnet, an average of 212 potential new deals monthly.
And all they had to do was to let people know about their property valuation calculator!
A tool that keeps on growing
As months went by, the Lead Magnet became permanently a part of the tools used by estate agents all over Europe. After all, it does make their work easier. After six months of operations, it already had 1.7 times more users than when it was launched.
These figures kept growing every semester: when it celebrated a year of functioning, the product had grown 2.7 times in number of users and reached a size 3.6 times bigger after 18 months active.
Join other real estate professionals in this real estate lead generation effort: get in touch with your CASAFARI Account Manager to get your own widget.
Any estate agent or real estate agency that subscribes to CASAFARI can benefit from using the Lead Magnet as well. Waste no time! Ask your account manager to help you implement this tool, customize its appearance and boost your real estate lead generation with our Lead Magnet.