CASAFARI offers many different filters to make property sourcing and gathering property leads easier for estate agents, solving the problems faced by the real estate professionals when they run a property search in a marketplace.
Those who work on the real estate market know how hard it is to find clear, trustworthy and updated information about available properties. Also, they know how long and how big an effort it takes. The discordant information among real estate portals leads the estate agents to mistakes. Also, they make it harder for the estate agent to work confidently and give clients a fast response when property sourcing for the perfect house.
Here comes CASAFARI Property Sourcing: our platform can prevent professionals from losing time trying to match information while property sourcing from dozens of different portals. Using Machine Learning and Artificial Intelligence, we deduplicate, group and clean data from over 30,000 sources, presenting the information in a simple, efficient way. Keep reading to know more about this tool!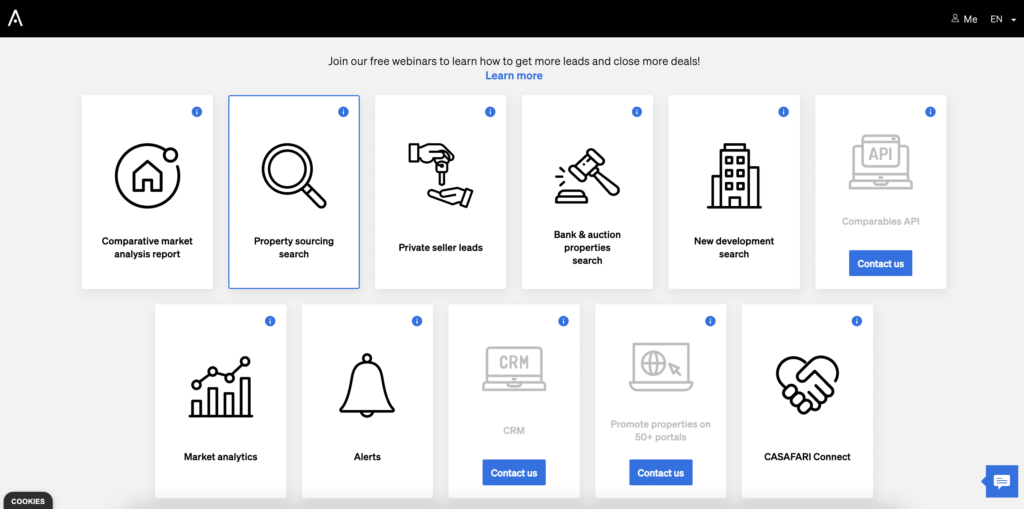 What makes CASAFARI's Property Sourcing?
In our Property Sourcing, estate agents can find an exhaustive view of the real estate market. The platform is super intuitive and allows a complex and complete search. It's also possible to see the whole market stock.
But how can someone have access to all this information in a single tool without finding it confusing, you might be asking yourself. Well, we have the answer: organization and segmentation!
Once you enter the address, the neighbourhood, city or district in which you want to run your property search, there's a filter that allows you to choose between seeing all properties or all listings. "All listings" shows you all listings available on marketplaces and websites of real estate agencies, including those that haven't been deduplicated by our tool yet.
On the other hand, if you choose to see "all properties", you'll find one of our best advantages: there will be shown only properties that went through the deduplication of listings, grouping all listings existent for one home in a single page.
Summarizing, CASAFARI's Property Sourcing is not the average property search engine: it shows a complete view of what's going on in the market, presenting data in an intuitive way.
Which are the features that help property sourcing with CASAFARI?
Now that we talked about what CASAFARI does and how, we can start exploring the functionalities and features available to the user in our Property Sourcing. 
The first filter is about pricing and allows the user to define a range for the asking price of the property you're looking for. It's also possible to set if the house should be for sale, for rent, sold or rented.
Another filter is the condition of the property: check the box to tell the platform if you're searching for new house, a very good one, one that needs refurbishing or one that's used. You should also choose between seeing all properties or all listings.
When it comes to details, you can see there are numerous filters for your property search. Here's the list: amount of bedrooms, of bathrooms, built surface, price per square meter, days on the market, size of the plot and year of construction.
Define also if you want to see apartments (including duplex, studios and penthouses), houses (country house, palace, villa, chalet, house, townhouse, country estate), Investment (hotel, office, warehouse, other commercial, retail, industrial, building), room, plot, parking or garage.
Specificities such as floor, orientation, view, direction and furniture are also filters that you get to apply to your property search with CASAFARI. In addition, some characteristics like balcony, garage, parking, swimming pool, rental licence, elevator, garden, storage and terrace are also available.
Property search per agency
Since CASAFARI gathers all information available on the market, you can also filter to see only the properties listed by one agency or real estate portal. Thus, monitoring the movements of your own agency or your competitor's becomes easier.
You need only to type the name of the agency under "with this agency", within the filter "agencies and agents". If you want to work otherwise, excluding one business from the search, at the end of the filters' section you should write the name of the excluded agency under "without this agency".
Searching property leads
Another great differential of our platform is also one of the greatest challenges to estate agents: finding property leads. We created a filter that allows the search for private sellers. When you select this option, you will see properties listed as FSBO and properties published simultaneously by agencies and owners.
In case you wish to see properties published solely by the owners, you should select private sellers > exclusive. And in case you are looking for properties published in more than one real estate portal by the owners, or published by both owners and agencies, then you should select private sellers > non exclusive.
Portfolio control with the help of CASAFARI
With CASAFARI you can also control your property portfolio from up close, not to miss any movements. You simply need to fill the field "with this agency" with the company you work for and the field "listing agents" with your own.
Functionalities created to make the estate agent's work easier
Once you select all the filters, more functionalities will be offered to make your property search easier.
Sharing links
Sharing the properties found with clients was never so fast and so easy! Once you find the properties you were looking for, on the right side of each property you can find a small square.
When click on them to select one or more properties and then click on the sharing icon, CASAFARI generates a link with the main information of each property. This way, you can share it with your clients and they'll have a fast access to all properties that might match their needs.
Adding as a favorite
CASAFARI's Property Sourcing also counts with the possibility of adding properties to a list of favorites. This means you get to create folders with properties that you want to monitor.
Set an alert
Beside the search engine there is a button: set an alert. This is the most powerful resource, one that makes it easier to grow your property portfolio and helps monitoring the market.
Alerts can be used to receive a notification when a new property with specific characteristics enters the market, to get notified of private house sales (FSBO leads) and much more. Find out more about our Alerts.
Searching by reference number or ID
As we said before, since we have access to all information about the whole market stock, we can offer the possibility of searching by ID (number that the property gets on the website it's first listed). In order to do so, above the map you can find a field called "Search by Ref/ID". Type the reference number of the property and it will automatically be shown on the left side.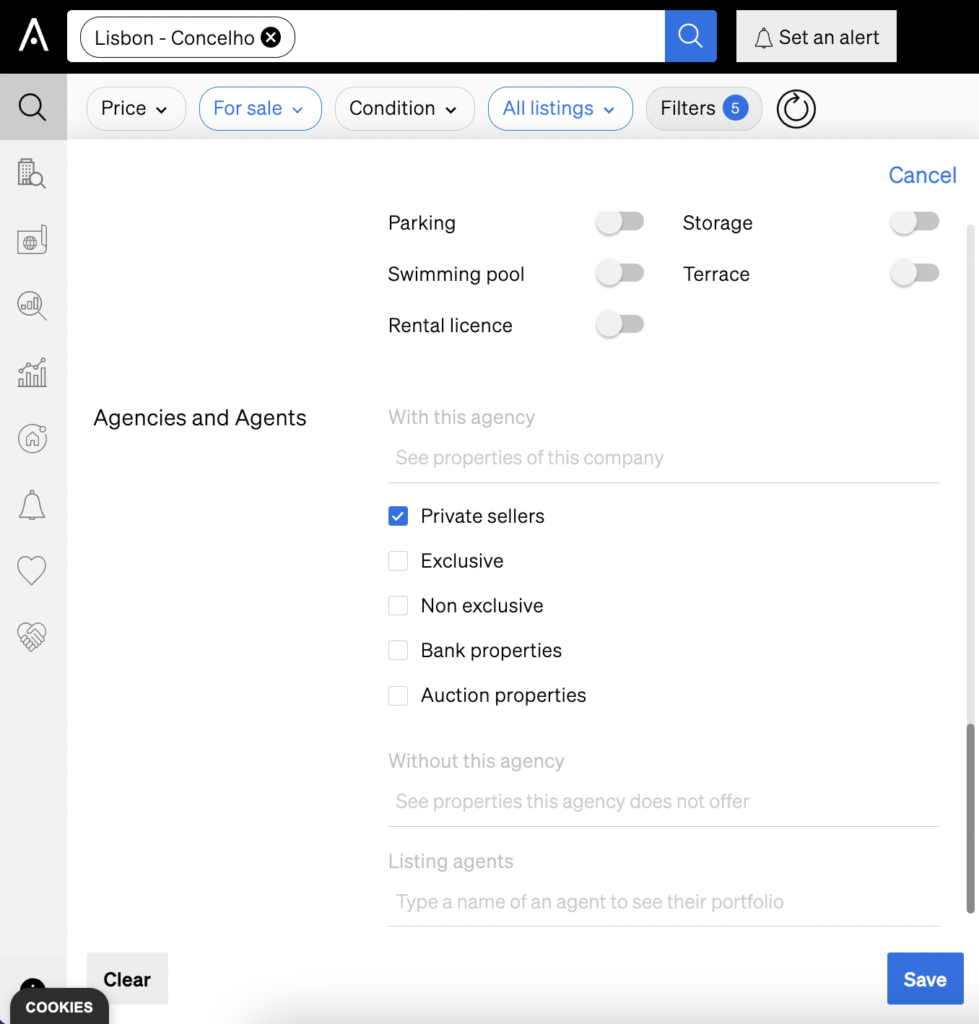 The property page
Once you run the search and find an interesting property, you can click on it to see the property page. Other than the photos and general information, a few other pieces of information differentiate this page from the search.
The sources
The sources represent all websites where the property is or was listed. They are shown in blue and are clickable if they are still available.
Comparable properties
Here you see properties that our artificial intelligence identifies as having the same characteristics as the one you chose.
History
This section shows changes in the agency, asking price and dates in which the property was put available on the market or removed from it. This history is fundamental to understand the current situation of a property and how its behaviour or acceptance was until now, so you can check if another intervention is required and more.
Charts
Here you can see charts to allow a fast and clear overview of the market, showing the average asking price, the market stock, time on the market and other information about properties such as this.
Make a Comparative Market Analysis
It's possible to make a comparative market analysis straight from the property page: click on the button "Perform CMA" to be directed to our ACM tool. The data will be automatically imported, saving time and working on valuating a property.
CASAFARI Connect: sharing commissions to boost business
Growing your property portfolio and searching for properties are challenging tasks, but, to help you with them, CASAFARI created CASAFARI Connect. The functionality, represented by a handshake icon inside a heart on the property page, shows when a property is available to share commissions. This makes selling properties easier and allows a new kind of transaction, based on sharing and having a broader access to the market stock.
As you could see, CASAFARI's Property Sourcing is a complete solution, full of benefits and thought in details to solve all real estate professionals' needs. Did you find it interesting? Subscribe to CASAFARI and find out all the resources we have to grow your portfolio and seal more deals!