In the fast-paced property market, changes come quickly and frequently, so keep up with them can be really challenging. And, as data is often fragmented, estate agents have to deal with a scenario in which there's a lot of available information, but they're incorrect, incomplete and repeated, causing a huge waste of time.
CASAFARI Alerts were created to make the complex mission of gathering property leads easier, allowing estate agents to find properties for sale by the owner. And there's more: following the movements of the property market that could improve their business, get notifications about changes in their property portfolio and about their competitors it's also made easier with CASAFARI Alerts.
Understand in this article how to make the most out of this product!
What are the CASAFARI Alerts?
CASAFARI Alerts are a simple, fast, intuitive way to get daily and customized updates about market movements that matter for your business. You can activate up to 200 alerts per account, efficiently controlling all areas of interest in details.
What kind of information is provided with Alerts and which notifications will you get?
The information presented on your Alerts are related to what interests you, for example: if there are any new available properties in a particular area, increases and decreases in prices, properties that were sold, removed from the market and more.

What is the advantage of using Alerts?
CASAFARI provides an exhaustive and transparent view of the property market. With Alerts, you automatically filter all the information that matters to you, so you don't have to worry about verifying dozens of websites to research all properties that you must monitor.
On our platform, all the complete and precise data is gathered in a single place.
How often are the Alerts sent to me?
CASAFARI's Alerts are sent in the mornings, so you have daily access to the news and updates you need. However, if at any time you wish to verify if there are new market changes, you just need to click on Alerts inside CASAFARI's platform.
Where can you find this feature?
Alerts can be found at CASAFARI's homepage once you login or on the column on your left, if you're already using one of our other tools, under the symbol of a bell.
Also, you can create an Alert straight from CASAFARI's Property Sourcing, represented by a magnifying glass icon. In order to do that, you only have to click on "Set an Alert", beside the field where you type the address of the property on our search engine.
Creating an Alert: customize it with filters
The ways in which estate agents can combine filters for creating Alerts are almost infinite. The four main filters are: price range, status (for sale, sold, for rent, rented), condition (used, to refurbish, very good, new), if you want to see all listings or all properties, and the option of advanced filters.
Inside the advanced filters option, you can determine how many bedrooms the property has, bathrooms, its built surface, price per m2, how many days it's been available at the market, plot area, year of construction, type of property (house, apartment, plot, etc.), floor, view, among other characteristics.
There are strong reasons for Alerts to become a strong ally of estate agents, like the possibility of gathering property leads for sale by the owner (FSBO), and we're gonna talk about them!
How to edit or delete Alerts
Estate agents can edit an Alert after they've been created. In the section where your Alerts are shown, find the symbol of a pencil (to edit) above each one of them, where you can change the setting of your filters at any moment.
If an Alert that you created isn't interesting or useful anymore, you just have to click on the trash can icon beside the pencil to delete it.
Generate real estate leads from private house sales (FSBO) with Alerts
CASAFARI gathers in a single place notifications about all new properties on the market, automatizing this task, reducing your research time and increasing the precision of your information.
Within this global view of the property market, estate agents can create Alerts to generate real estate leads from properties that are for sale by the owner. In order to do so, select "Filters > Agencies and Agents > Private sellers > Exclusive". This way, they can automatically get FSBO leads inside an area of choice and that count with characteristics previously determined.
The possibility of using this feature to get property leads is one of the biggest advantages estate agents find in Alerts. They are able to know in real time when new private house sales are available on the market in any real estate portal and get to be the first person to reach out to the owner.
Besides that, estate agents can also see which properties have been on the market for longer, understanding which owners need professional help to sell their houses the most.
Track the movements of a real estate agency with Alerts
Staying updated with your competitor's movements is essential to being one step forward. If one of your objectives is to track the actions of another real estate agency, you can do it with Alerts.
Select "Filters > Agencies and Agents > With this agency" and fill in the blank with the name of the agency to follow what happens with properties in its portfolio and any new property they might acquire.
Track the area in which you work and your property portfolio
Easily accessing information of everything that goes on on the property market in the area in which you work is important for you to boost your business and foresee market movements. By selecting an area, estate agents can get alerts related only to that particular part of the city.
Besides, estate agents can also add their name and receive Alerts about what goes on in their property portfolio, in "Filters > Agencies and Agents > With this agency (add the name of the agency) and Listing agents (add their name or one of their colleagues' names)".
This way, estate agents are able to track if another real estate agency has listed a property that's theirs or if any other unexpected change happens in their property portfolio.
How to create an Alert: step by step
1. At CASAFARI's homepage, click on the "Alerts" icon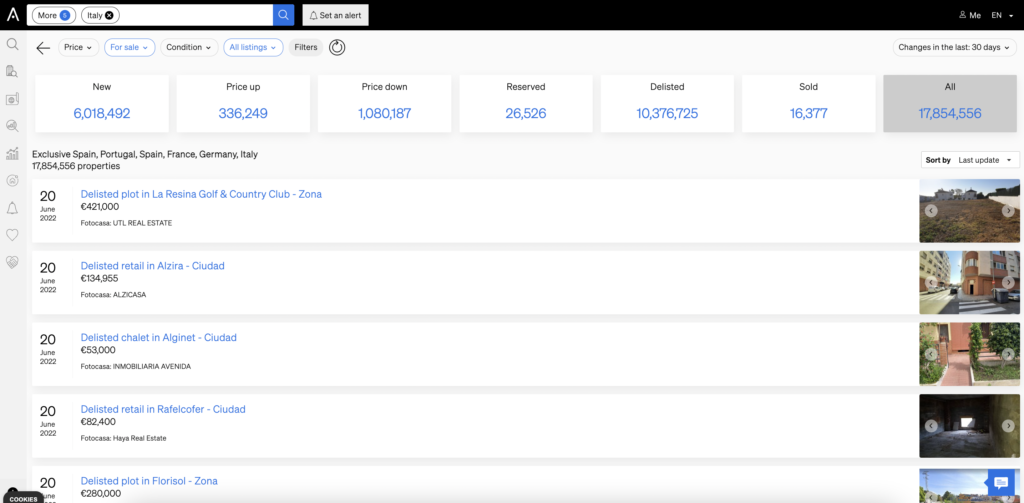 2. On the top left corner, click on "Set an alert"

3. Write a location on the search engine
4. Determine a price, an operation, the condition of the property and choose between All Listings or All properties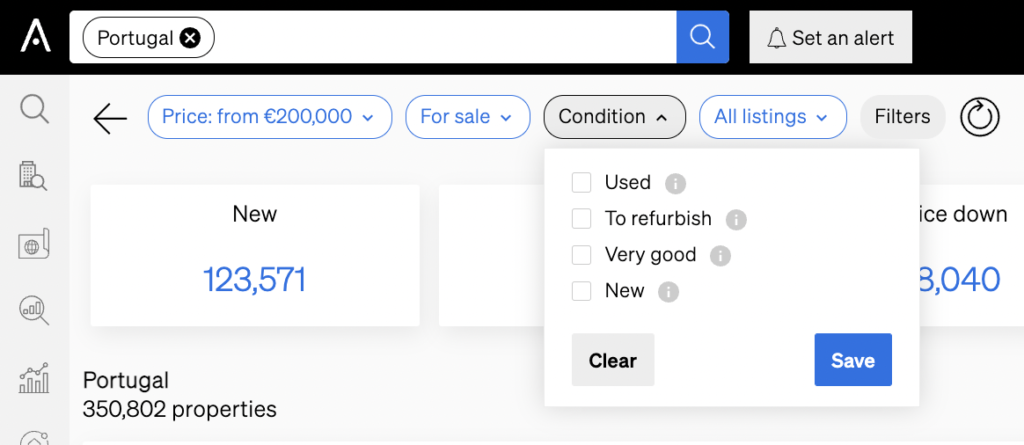 5. Click on "Filters" and fill in the blanks with the characteristics you're looking for
O uso dos Alertas para fins como controlo de portfólio e angariação FSBO é definido neste momento.
Na parte dos filtros, poderá selecionar "Agências e Agentes > Particulares > Exclusivo" para angariar imóveis comercializados exclusivamente por particulares ou "Filtros > Agências e Agentes > Com esta agência (nome da sua agência) e Agentes de imobiliário (o seu nome ou de um colega seu)" para o controlo do seu portfólio.
6. Now, click on "Save" and you'll be redirected to the page of your Alert
Now you know the many ways in which you can use CASAFARI Alerts to generate property leads for sale by the owner, control your property portfolio, search for properties per agency and more. Enjoy Alerts!