Shared real estate deals are growing strong and are part of the future of the market for multiple reasons. First of all, remote work is here to stay. This means we can expect more nomadic clients looking for properties in other parts of the country or even of the world. By partnering with other agencies, you can help the client that's in your own city to find a place somewhere else, where your company is not present.
And, second of all, sharing deals through CASAFARI Connect eliminates the need for real estate professionals to have solutions for every type of client – something hard to accomplish! They'll always have a property to offer that meets the client's needs, even if it isn't part of their property portfolio. With a quick and easy search, they see what other estate agencies have and propose a partnership.
With this scenario in mind, CASAFARI created CASAFARI Connect, a feature inside CASAFARI's Property Sourcing that allows estate agents to partner in real estate deals. It works both when there's a buyer client for a property in another portfolio and the other way around.
With this tool, your portfolio of properties get exposure to the biggest network of real estate professionals and investors in Europe, letting them know you're up for sharing business.
And worry not! Every user of CASAFARI Connect is entirely free to decide which deals they want to accept and which they don't. The same goes for the financial aspect: you can pre-set a desired percentage for splitting commissions and it can be further negotiated, if needed, inside our platform.
By partnering with another agency and sharing commissions, you get qualified leads from another agent that already knows exactly what the buyer wants, increasing the likelihood of the property being sold and speeding up the process of buying and selling.
You will seal more real estate deals and leave the clients satisfied in no time. All of it leads to higher revenues for the company and higher commissions for the professionals, something very appreciated (and needed!) in a scenario with fierce competition such as the real estate market.
And all you have to do is click on a single handshake icon to connect with an agent and start a negotiation!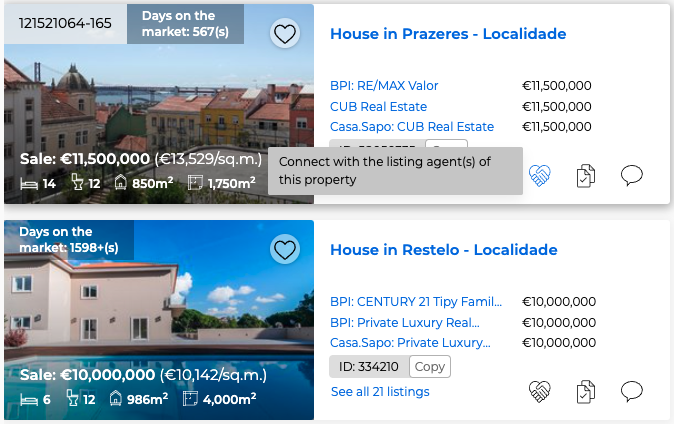 CASAFARI Connect in numbers and why you must use it
CASAFARI Connect is like no other tool on the market to stimulate partnerships among agencies. Here's why.
Our real estate database grows by 800 thousand of properties every week
CASAFARI has been growing year after year, that's for sure. In 2022, our real estate software counts with nothing less than 800K new properties every week. This means a monthly growth between 3,5 and 4 million properties.
Nowadays, we have the largest real estate database in Europe, with more than 200 million listings, coming from over 30 thousand sources. That's a supply 1000% bigger than the closest competitor.
But here's what matters to you: you don't need 2 or 3 different platforms to find and seal the best real estate deals.
You won't need one platform to source properties, another to establish partnerships and yet another one to manage leads and clients. CASAFARI gives full access to the market, combined with an real estate software that allows you to:
Find the perfect property for your client
Source the best opportunities for your client to invest in
Partner with other agencies in win-win deals
Work with reliable information, aggregated and deduplicated to ensure accuracy
Grow your portfolio with real estate leads
Monitor your property portfolio and your competitor's
Stay updated about market trends and changes
Make effective AI-powered property valuations based on comparables
Manage your portfolio and interactions with both leads and clients
It's transparent, it's organized, it's practical. All of it in one single system.
Major logos of the real estate market already adopted CASAFARI Connect
Agencies all throughout Europe are already sharing commissions to speed up real estate deals. Almost 400 companies, all major names in the real estate industry, activated CASAFARI Connect and are willing to partner in business.
We are talking about brands such as JLL, Keller Williams, Engel & Völkers, RE/MAX, Portugal Sotheby's, Century 21 and many more.
Even though these companies are self-sufficiently handling billions of euros in real estate transactions year after year, they saw in a simple "handshake" the possibility of increasing their revenues. And so can you!
Almost 600 million euro in real estate transactions
And speaking about figures, over half a billion euros were traded in real estate deals powered by CASAFARI Connect. All this amount came from more than 3000 partnership requests!
Currently, the almost 400 real estate agencies that use CASAFARI Connect have allowed nothing short of 6000 estate agents, brokers and other real estate professionals to conduct win-win deals, focused on doing what's best for clients and companies. So, the numbers of real estate transactions are definitely not going down!
Convinced? Don't wait any longer: get in touch with your account manager and activate CASAFARI Connect to sell more and faster!