To define property prices that will help your clients sell or rent faster, you need to be well-informed. Making data-driven decisions is the only way to make sure your pricing strategy is based on what's really going on in the market and not solely on your client's wishes. After all, if a property won't sell, it's you that's losing your time and effort to promote it.
This is why you need CASAFARI's property valuation tools: we offer you a 360º view of the property market, mirroring what's happening in real estate in real-time and with clean data.
Get to know all 3 of our products that provide you with a property valuation online and another market analysis tool that will help you understand the market behaviour in a specific area.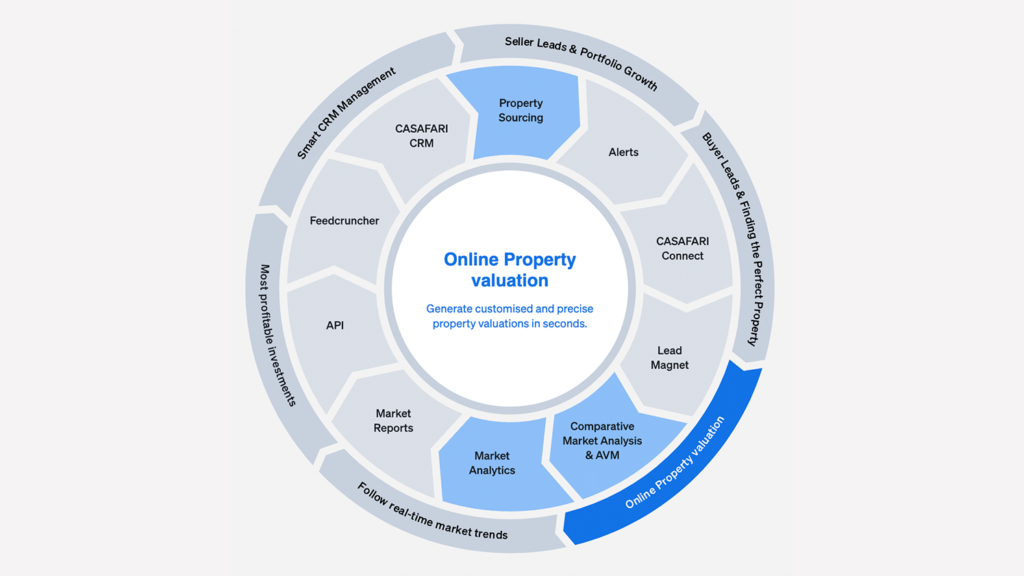 Comparative Market Analysis: an online property valuation made in minutes
Making a property valuation was always a time-consuming process because the agent has to find properties to compare their portfolio with. They should have similar sizes, amount of bedrooms and characteristics, so they can base their pricing strategy according to what the market already has to offer.
This analysis should also take into account where these properties are, since the location of an asset will affect its price for better or worse.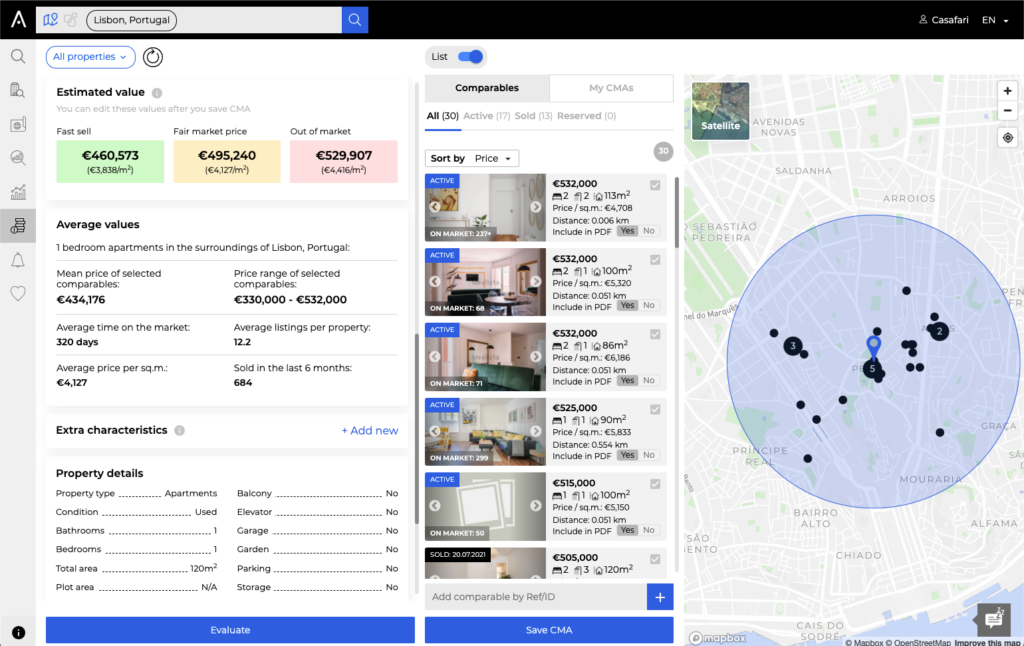 This is exactly what our online property valuation tool does: compares your piece of real estate with its competitors (with the same characteristics and location) to quickly provide you with data what supports your pricing strategy.
All of it done in just a few clicks, giving you back your time!
How CASAFARI's Market Analysis helps estate agents sell more and sell faster
Our Comparative Market Analysis report provides you with:
A list of up to 30 competitor properties, with similar characteristics and in the same area
Suggested selling price, fair market price and out of market price, based on the comparable properties
Average rental yields expected for your property
Price evolution of properties such as yours across time
Average time a property like this one spends on the market
How to make a comparative market analysis with CASAFARI
Base yourself on data that mirrors the property market so your properties don't linger on the market any longer than they should. Remember: faster sales and rentals = more revenues!
Market Analytics: understanding the behaviour of the property market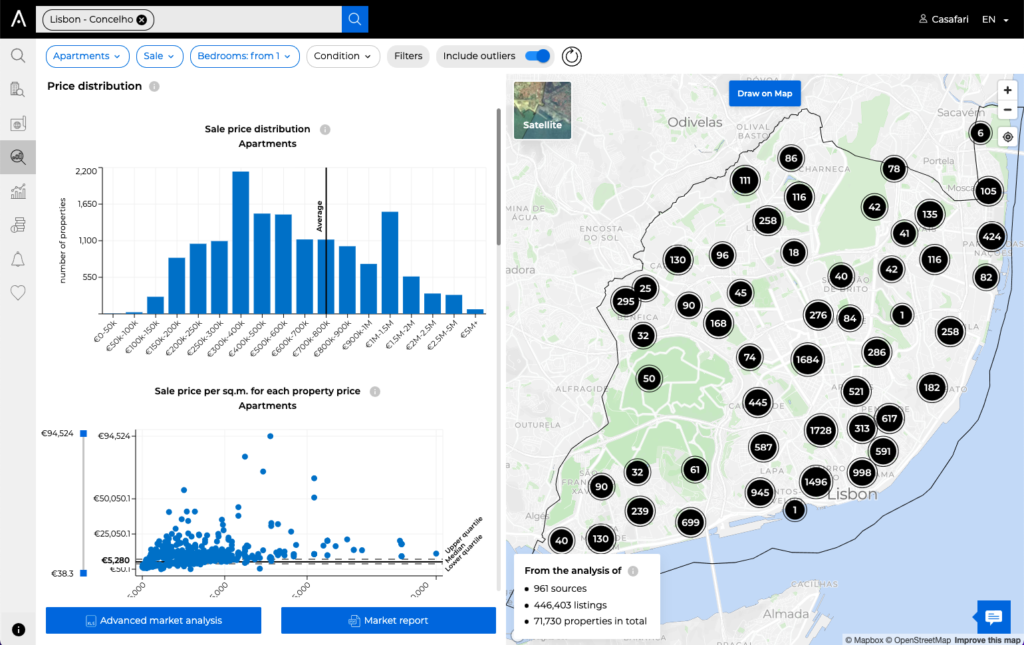 So you ran an online property valuation with our Comparative Market Analysis and got suggestions of property prices. Now what?
Now you have to understand why those were the suggested values, in order to explain to your client and show that you're knowledgeable about the market.
CASAFARI Market Analytics: follow the property market trends
CASAFARI Market Analytics complements your online property valuation, answering questions such as:
Are property prices increasing or decreasing in an area?
Which are the average prices of properties sold, according to the amount of rooms, in the area where your property is located?
How many similar properties are available at the market?
This property market analysis will let you understand the market behaviours and define your selling or rental strategy according to reality.
Market Comparables: analyse your competitors to make data-driven decisions
Do you have way too many properties available on your portfolio and need to run a property valuation for each one of them? But you don't have enough time to do it once at a time, right? Count on our team to check on the property prices for you!
You will get a report comparing your properties to its competitors, along with a few statistics, such as:
A suggested selling price for your property,
What would be the fair market price and the out of market price,
Average price for a property such as yours,
Average price per square metre,
Average time on market for the area of interest
Save your time and effort with our Market Comparables!
CASAFARI's Market Reports: the way to data-driven decisions
Comparables API: benchmark your property portfolio
Our Comparables API works very similarly to our Comparative Market Analysis tool, offering suggestions for property prices according to comparisons with competitors on the market.
The difference is that with our APIs you don't need to open CASAFARI: you can use our complete and clean data that mirrors the market inside your own system. So, if your company doesn't wish to adapt to a new real estate software to run enhanced property valuations.
The advantages of using CASAFARI's Market Data API
Property Sourcing: find out the history of your property
Getting to know the property you're selling in detail is also something that could change your selling strategy. If it was well-appraised by buyers in the past and it's been kept in good condition, there's no reason to believe the same place wouldn't be seen as a good property now, right?
Count on CASAFARI's Property Sourcing to get this kind of information!
Improve your property sourcing and gather real estate leads with CASAFARI
In addition to our property valuation, pur platform also shows you all the historical information about each property since they showed up online for the very first time, with our clean and complete data powered.
Attract potential clients with information that goes from changes in the asking price and condition to the list of all real estate agencies listing it.
Are you ready to find out the ideal prices for the properties on your portfolio? Choose the property valuation tool that best suits your needs and rent or sell faster!