When it comes to the needs of property investors, data is key. After all, in order to know which investment properties to acquire, one needs accurate insights of the real estate market. And we're not talking about public data, we're talking about real-time and clean data (so, no duplicated listings that would interfere with the statistics) that actually mirrors the property market.
And data is not only needed to find the best investment property, but also to run a real estate asset management that makes your portfolio profitable, right?
So, let's check which solutions CASAFARI has to boost the business of property investors.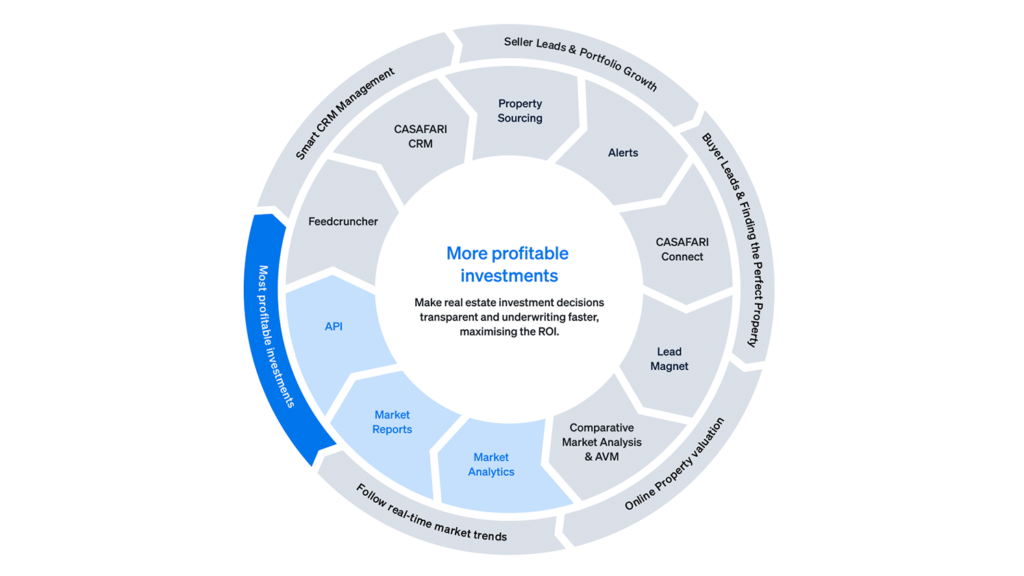 Portfolio solutions: increase the worth of your property portfolio investing in single family homes
There is an increasing demand for rental properties across Europe, powered by both lifestyle changes and affordability pressures.
Meanwhile, institutional investors are struggling to deploy capital because building a fragmented property portfolio at scale was something almost impossible, due to traditional processes of sourcing and underwriting.
Until now.
The property investor finds in our Portfolio Solutions team our full support to invest in real estate at scale with single family homes. With CASAFARI, they can easily build a fragmented portfolio with focus on property acquisition for assets with the best rental yields.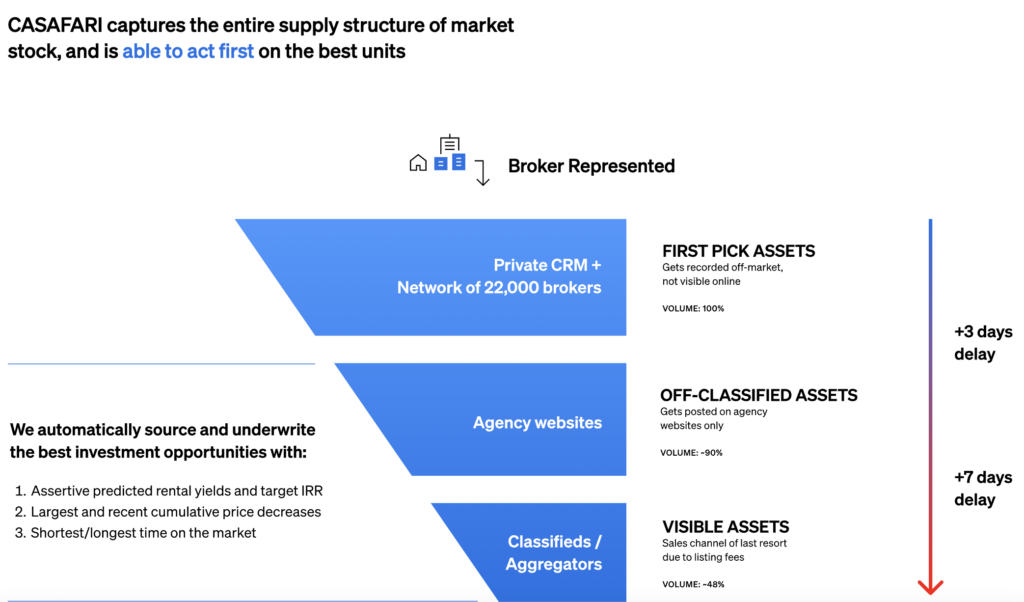 Our team of real estate experts use our cutting edge technology to:
Fusion real-time insights with local expertise to evaluate, design and build a portfolio of properties made of single family homes
Assertively predict rental yields
Check complete stock and asset market history, the largest and recent cumulative price decreases and the shortest/longest time spent by properties on the market
Run automated valuations for each property to be acquired
Provide offer, negotiation and terms agreement, as well as technical and legal due diligence
Do the final underwriting and offer acquisition services
Do a property portfolio management, including marketing, leasing, tenant management, reporting and accounting to ensure return maximisation
And this is just part of what our team is capable of doing for your portfolio of properties.  
Market Analytics: property investments based on data-driven decisions
Market Analytics follows the property market trends to make sure property investors make the right decisions based on data collected in real-time.
This tool is divided into three ways to visualise information:
Heatmap: shows market data spread on a map that focuses on a city or region of interest
Price distribution: here, the map is accompanied by charts that help you understand how the market stock and property prices is distributed according to many different factors
Time series: charts to show property investors how are the asset classes behaving across time in an area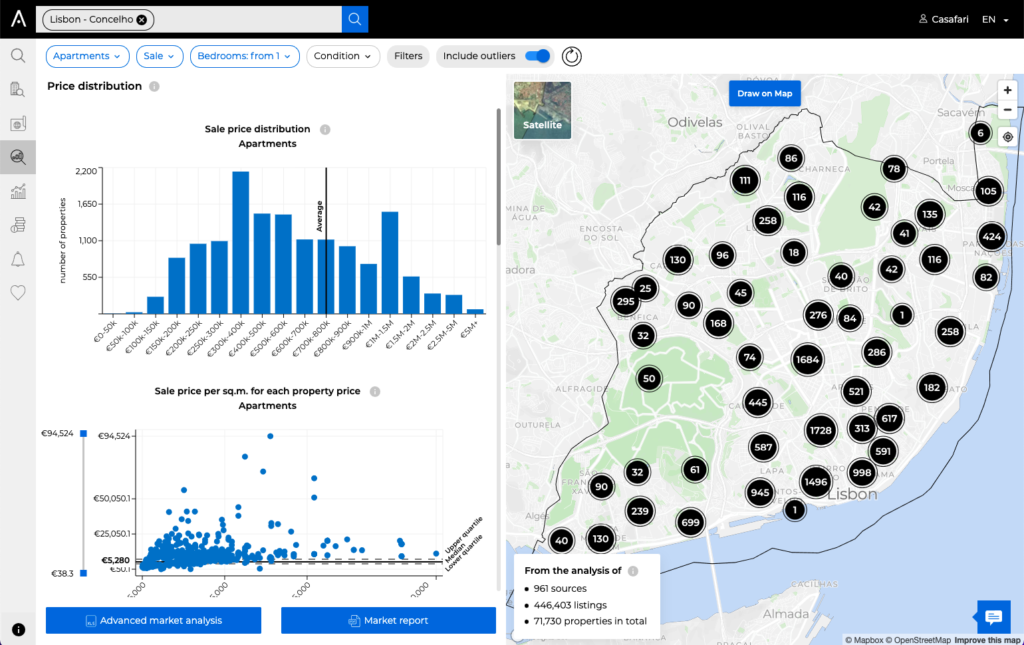 CASAFARI Market Analytics: follow the property market trends
Together, these three powerful pages of our real estate software are able to provide you with data such as:
Stock availability and time on the market
The average price of properties per area, for sale or rent, including information per square metre
The amount of properties in an area that had their prices raised or lowered
The amount of properties on the market per price range
The average price charged per X amount of rooms in each area
Property prices per square metre, according to the amount of rooms and area
Increases and decrease in the average prices and prices per square metre
Amount of new properties on the market
Amount of properties sold or removed from the market
Market Analytics is a mirror of the property market. With the cleanest and most hyperlocal data, you are able to manage your property investments with a 360º view of the market to ensure maximum ROI and ideal yields.
CASAFARI's APIs: real estate asset management made easy
With CASAFARI's APIs, each property investor can get access to the most complete database in Europe to find the best opportunities on the market. All of it straight in the platform that you already use, with no need for changing to a new real estate software.
The advantages of using CASAFARI's data API
Here are the APIs that will empower you to make even better property investments:
Alerts API – Receive on your email lists of alerts to benchmark your property portfolio or find the best investment properties in a desired area.
Comparables API – Compare your property portfolio to the most recent properties available on the housing market so you can decide whether your investment properties should be rented or sold and for which prices.
Properties API – Choose between the largest amount of properties to find the most profitable opportunities for property investors.
CASAFARI's Market Reports: data that answers to your every question
Don't want to lose the time to run your own analyses on Market Analytics or on our API? Don't worry, CASAFARI's got more solutions for property investors to manage their portfolio of properties.
CASAFARI offers 6 different types of Market Reports, but three of those speak directly to the needs of property investors. They are:
Market Comparables – see how your investment properties are performing against competitors and make knowledgeable decisions about your real estate asset management.
Market Properties – provides access to a list of real estate available on a market of your choice, allowing the property investor to run their own analyses and even find investment properties that suit their portfolio.
Advanced Market Analytics – customizable report tailor-made to your needs. Deepen your knowledge of the real estate market to make better property investments.
CASAFARI's Market Reports: the way to data-driven decision-making
Ready to take your property investments to the next level? Subscribe to CASAFARI and have easy access to all the information a property investor needs to improve their real estate asset management.