This is Part 3 of the series of posts about 20 reasons why I love living in Spain. In the previous post, I shared with you what I love to do – in particular, outdoor sports and generally spending a lot of time outside.
When someone asks me about my adopted home country, I tell them how wonderful Spain is for just visiting or, even better, buying an apartment for holidays or to use as a second home. I usually wax lyrical about its sunny Mediterranean weather all year round, delicious food, outdoor lifestyle, rich nature, mountains and beaches.
But what else is there in this fabulous country? These are the next reasons why Spain could be a great place to visit and live for you too:
11. High Life Expectancy & Health Benefits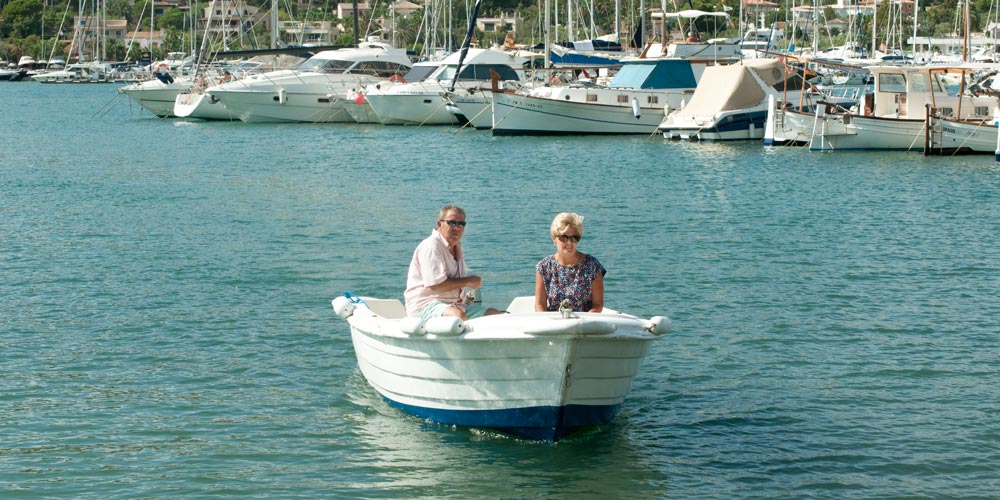 Copyright: casafari.com. All Rights Reserved.
Life expectancy in Spain is the fifth highest in Europe and seventh in the world. With an average lifespan of 82.62 years, it comes after places like Japan, Switzerland and Italy. In fact, women in this peninsula reach 85 years on average (source: Worldlifeexpectancy, WHO).
High life expectancy in the population is to a great extent determined by a good healthcare system. As reported by OECD, total health spending across the country accounted for 9.4% of GDP in 2011 (latest year available).
Despite the economic crisis and the cuts that the healthcare system has had to endure over the last five years, healthcare in Spain has remained one of Europe's best. It offers both excellent private and great free public healthcare opportunities. Most towns have modern hospitals recognised as offering a superior standard of care, providing outstanding and rapid medical treatment.
Spain offers near perfect environment and surroundings for health and longevity. Click To Tweet
The Iberian peninsula is certainly blessed with lots of sunshine. There are numerous scientific discoveries on the health benefits of regular sun exposure (source: Healthline). Sunlight provides the primary and most significant supply of Vitamin D, which is critical for strengthening the bones and preventing some kinds of cancer and heart attacks (source: Nutripedia). Certainly, taking moderate amounts of sunshine helps promote longevity.
Moreover, it instantly makes you feel happier – as does living in Spain!
Spain also boasts an exceptionally healthy diet. Experts have been talking about the great advantages of the Mediterranean diet for many years. The typical diet in Spain consists of grains, fresh organic fruits, vegetables, fish, olive oil and of course the red wine. Take advantage of this excellent quality food and live longer!
12. Quality of life

This is certainly one of the arguments for so many people to choose southern Europe over some other countries and regions. You just feel much better and more relaxed in this warm atmosphere. The considerably improved quality of life and less formal attitude to everyday living is without any doubt one of the primary factors for more and more people who decide to buy a second home overseas.
12. Cost of Living

Living in Spain is living among the least expensive countries in Western Europe. It's a well-known fact that you can live and own property in this superb area for significantly less. Here the great lifestyle is very affordable.
Cost of living comparison by key metrics
| City, Country | Cappuccino, € | Cinema, € | Wine, € | Gasoline, € | Avg Rent, Prime, € |
| --- | --- | --- | --- | --- | --- |
| Algarve, PT | 1,30 | 6,00 | 3,50 | 1,35 | €469 |
| Alicante, ES | 1,78 | 8,38 | 5,62 | 1,66 | €714 |
| Bordeaux, FR | 2,07  | 9,40 | 6,50 | 1,40 | €775 |
| Valencia, ES | 1,70 | 9,27 | 5,78 | 1,69 | €812 |
| Lisbon, PT | 1,41 | 7,08 | 4,13 | 1,91 | €1.140 |
| Marbella, ES | 2,37 | 8,20 | 6,25 | 1,63 | €1.190 |
| Berlin, DE | 2,60 | 9,45 | 5,32 | 1,88 | €1.270 |
| Barcelona, ES | 1,82 | 9,45 | 5,90 | 1,71 | €1.300 |
| Madrid, ES | 2,31 | 9,28 | 5,33 | 1,69 | €1.623 |
| Manchester, UK | 3,34 | 11,16 | 8,37 | 1,60 | €1.675 |
| Munich, DE | 3,21 | 10,70 | 7,13 | 1,89 | €1.785 |
| Nice, FR | 2,97 | 11,30 | 7,13 | 1,81 | €1.785 |
| Florence, IT | 1,42 | 9,51 | 5,94 | 2,13 | €1.785 |
| Stockholm, SE | 4,15 | 15,26 | 10,96 | 2,02 | €2.082 |
| Amsterdam, NL | 2,89 | 11,81 | 5,90 | 2,02 | €2.098 |
| Hamburg, DE | 2,55 | 13,09 | 4,75 | 1,89 | €2.142 |
| Copehagen, DK | 5,07 | 12,68 | 7,92 | 1,94 | €2.299 |
| Milan, IT | 1,66 | 9,51 | 5,94 | 2,13 | €2.380 |
| Paris, FR | 3,54 | 12,40 | 7,08 | 1,82 | €2.955 |
| Rome, IT | 1,41 | 8,70 | 5,90 | 2,12 | €2.955 |
| Zurich, CH | 4,54 | 17,45 | 11,64 | 1,81 | €3.298 |
| London, UK | 3,45 | 15,61 | 9,67 | 1,94 | €3.592 |
| Monte Carlo, MC | 3,70 | 13,00 | 11,00 | 1,76 | €6.319 |
Source: Movehub, Numbeo
13. Language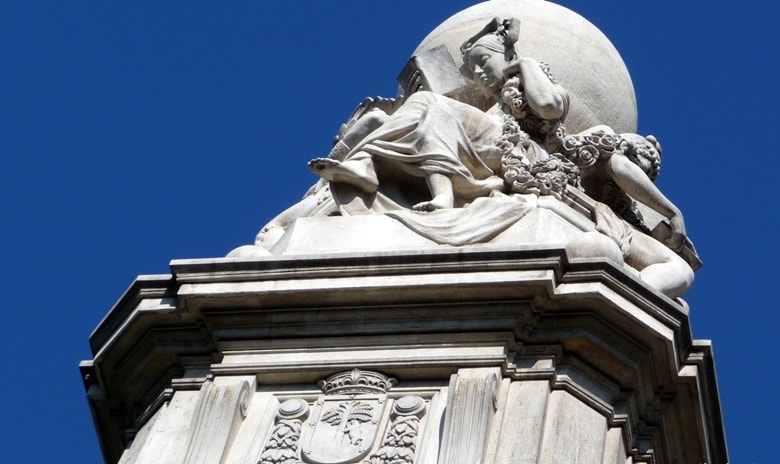 Plaza de España, Madrid, Monument of Cervantes (CC BY-NC-ND 2.0)
Living in Spain also means facing diversity in your day to day. With 470 million speakers, Spanish is the second-largest spoken language in the world (source: Wikipedia). Just think about it; it's used more than English!
This is a beautiful Romance language. Analysis of the Viber messaging data shows that Spanish is the most positively biased language, followed by Portuguese and English (source: Big Think). It is therefore known as the sound of love. Just think how many songs about romance and passion are written in Spanish!
However, not all Spaniards use the same language in their daily speech. In fact, there are four official languages: Castilian, Catalan, Galician and Basque, along with three unofficial regional languages: Asturian, Aragonese and Aranese, with multiple dialects. I love this diversity, even though at first I was somewhat perplexed by road signs in Catalan and names of towns in Mallorquin and Ibicenco!
14. Culture & Art

Spain has a complicated and interesting history, as it has been home to various races down through the centuries. This reflects in the sheer variety and prosperity of today's culture.
Romans, Iberians, Moors, French, Latin Americans and, more recently, foreign residents from northern Europe have lived here and become part of its culture. Modern Spain consists of 17 autonomous communities (officially comunidad autónoma), each of them with its own history, traditions and most often language as well. As mentioned before, Spaniards speak Castilian, Catalan, Basque or some of their variations. Language is the mirror of culture, which is why in Spain it's so rich and diverse.
So, everywhere you look, there are traces of this abundant history, found in incredible architecture, preserved customs and languages, and varied culture. How could you not fall in love with such a rich country?
Spain is home to an impressive total of 44 UNESCO World Heritage sites, including historical, cultural and archaeological treasures, third in the number of sites only after Italy and China. This makes it a haven for culture connoisseurs.
This country has been home to some of the world's greatest artists – Valázquez, Goya and Gaudí, for example.
Pablo Picasso, Joan Miró and Salvador Dalí have all left a deep dent in the field of modern art.
Not surprisingly, there are a host of museums and art galleries to discover. All in all, the country boasts an amazing variety of over 1,400 museums that range from subjects like science and chocolate to some of the world's finest collections of art.
The Iberian peninsula attracts artists from all over the world, many of whom settle here. Local and international artists participate in the constant "night of arts" happenings in multiple towns around every province.
I took part in one of these in S'Arraco, when this tiny artist's village in the southwest of Mallorca was crowded to bursting point. It was a great experience, celebrating art with creations of international artists who had their ateliers on the Balearic Islands. Besides paintings and sculptors, there was a rich variety of different music and food.
One of the most recognised features of Spanish culture is, of course, the flamenco music and dancing. This sensual dance, accompanied by rapid guitar playing and hand clapping, is one of the most vibrant and unique in the world. Performances are often held in popular restaurants, and you can even attempt the dance yourself. Flamenco is a wonderful experience, especially in Andalusia, where it originates.
But even if you don't go to special flamenco events, you'll still encounter flamenco artists during street festivals, big markets or as you pass street musicians and dancers.
I was so impressed by flamenco singers and dancers during one of the street markets in Puerto Portals in Mallorca that I immediately fell in love with their magical, dramatic music and became a big fan.
When you think of Spanish culture, the images of bullfighting and graceful toreadors spring to mind. It's true that bullfighting is one of the most iconic and, at the same time, violent traditions. Its season lasts from spring to autumn. Madrid and Andalucía are the most popular destinations to see a bullfight.
With hundreds of festivals taking place throughout the year in multiple towns and villages, fiestas are another important cultural aspect.
There are so many reasons why Spain is the number one choice as a holiday and second home destination. These were just some of them. In the next post, I'll be sharing more facts I find especially interesting about this beautiful place.
So remember to check out why I love living in Spain – the superlative hospitality of the Spanish, ease of travel within and outside of country and, of course, its outstanding architecture.