Growing a property portfolio is one of the most important parts of the work of an estate agent: it makes sure your business is not only profitable in the present, but that new clients keep coming and bringing revenues for the next months.
In order to help you with that, CASAFARI used its technology to create solutions that will get your more property leads with lesser efforts and allow you to turn them into clients as quickly as possible. Let's see which tools are these!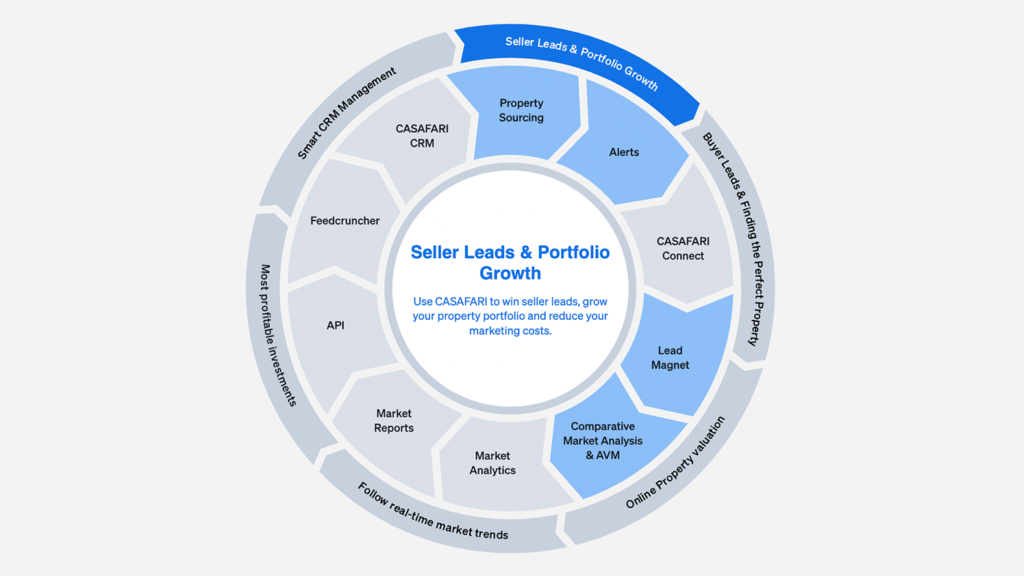 CASAFARI Alerts: get notified about properties for sale by the owner
What if I told you that you can receive on your email all the new property leads that are in your area of interest? CASAFARI Alerts enhances your property sourcing efforts by letting you know about houses and apartments recently put on the market for sale by the owner.
Gather more property leads with CASAFARI: get to know Alerts
By setting Alerts inside CASAFARI, you get ahead of the competition, speaking to private sellers first than anyone else and counting on all the knowledge that the most complete real estate database in Europe provides you.
Our tool is also useful to monitor your competitors! Set Alerts to be informed when other agencies in your area add new pieces of real estate to their property portfolio. Then, you can get in touch with those property leads to be able to sell the same properties, if they don't have exclusivity agreements.
Property sourcing with a mirror view of the property market
Our Property Sourcing can also be of use for you to grow your property portfolio. With our real estate software, you are aware of all the properties available on the market you work with and are able to filter them to select the kind of property you usually sell. This way, you know all the listings you can work on to add to your property portfolio.
Improve your property sourcing and gather real estate leads with CASAFARI
Also, if you receive an Alert from CASAFARI with a new property for sale by the owner, you can use our real estate software to deepen your knowledge about it!
You can see all the details of the listing, like for how much the property is being sold, in which portals, which are its characteristics, in which location it is situated and for how long it's been on the market. Then, approach the seller with all the information needed to show them why your professional help is a must in this deal.
Comparative Market Analysis: approaching a property lead with the right arguments
CASAFARI's Comparative Market Analysis compares one property to other ones, situated in the same area and with similar characteristics to understand A) which are your potential client's competitors on the market and B) how much are they being sold for.
With all this data available, our property valuation tool will come up with a report showing you the fair market value of the property you're analysing.
How CASAFARI's market analysis helps estate agents sell more and sell faster
Using this information, you can approach a property lead, letting the private seller know that their selling strategy won't be successful and offering your professional help to get the property sold in no time.
You can also see how long the property has been on the market, so you can show the owner that they are taking too long to sell their properties without your help. Everything to equip you to convince a real estate lead to become your client.
Lead Magnet: effortlessly attract property leads
Our Lead Magnet works for you effortlessly catching property leads and buyer leads 24 hours a day.
It provides your potential clients with a free property valuation report on a place they want to sell or buy. This is precious information about property prices that they will obtain in minutes! Meanwhile, all the data they leave on the form can be used for you to qualify these clients and approach them already knowing what they want.
Lead Magnet: real estate lead generation made easy
Want to know how to do it? It's very simple: the first step is to add this property valuation calculator to your website or create a landing page (microsite) with it. You can customize the tool to show your visual identity and your contact information. This is a 5 minute process and our team is here to help you in case there are any doubts.
Once the property valuation calculator is live, work your real estate marketing to spread this news! Once people start using the tool, you start receiving their contact information on your CRM.
APIs: receive your property leads without changing your daily routine
Do you already use a system to manage your business and don't want to change? No problem, you can get access to CASAFARI's data as well! With our APIs, you can consult all the information of the most complete real estate database in Europe without changing platforms.
In order to grow your property portfolio, you could use the APIs below.
The advantages of using CASAFARI's property data API
Alert API – With data updated every 5 minutes, you're always on top of what's new on the market. Get notified about property leads in areas interesting to you and see the contact information of private sellers (when available).
Properties API – All the information of our Property Sourcing available, with over 30 filters for you to apply to quickly search for stock.
Alerts Market Report: receive for sale by the owner property leads
Our Market Alerts saves you time and energy: instead of manually setting your alerts on our tool, our team can send you periodic reports with explicit contact information and names of private sellers in an area of interest, so you can grow your property portfolio with FSBO opportunities. Easy and tailor-made!
CASAFARI's Market Reports: the way to data-driven decisions
Grow your portfolio with a constant flow of property leads: subscribe those tools that best suit your needs and increase your revenues with CASAFARI!