What if you could see in seconds the best deals and newest properties on the market, whether it's to impress your client with the efficiency of your work or to build yourself a solid property portfolio?
And what if there was a way to identify the best market opportunities among all properties that fit your criteria, but that are slightly different from each other?
You don't need to imagine it anymore, now these possibilities are real. Check all the new features inside CASAFARI Property Sourcing that will improve your work and make your day easier.
HOT OFFER label

Great deal alert! This property is listed with a lower price than its comparables, which makes it a good value for money.
This label is specially useful for:
Investors are often looking for properties that present a good value for money and potential for a strong return on investment. The HOT OFFER label is a valuable tool for investors to quickly identify properties that may meet their investment criteria and that offer a strong potential for appreciation.
By identifying properties that are priced lower than their comparables, buyer agents can create targeted campaigns that reach clients who are specifically looking for properties that offer a good value.
The HOT OFFER label can also help buyer agents close deals more quickly, by creating a sense of urgency among buyers.
Seller agents can use the HOT OFFER label to help their clients sell their properties more quickly. By pricing a property lower than its comparables (which makes it be labelled as a HOT OFFER), they will attract more attention from buyer agents and potentially receive offers more quickly, leading to a faster sale.
In this sense, the HOT OFFER label is a valuable tool for standing out in a competitive market.
Basically, everyone interested in the best deals available on the property market can benefit from our HOT OFFER label. So,if you see a tag like this while searching for assets on Property Sourcing, make sure to pay attention because you don't want to miss this opportunity.
New ways to find comparable properties with CASAFARI
NEW label

Properties labelled NEW were listed in the last 7 days! This means you found fresh market opportunities, waiting for a buyer to consider. This label is specially useful in markets where properties tend to sell quickly, helping act fast to secure the property.
Meaning, if you see a tag such as this during your searches inside our Property Sourcing, show the property to your client right away!
Ratings for properties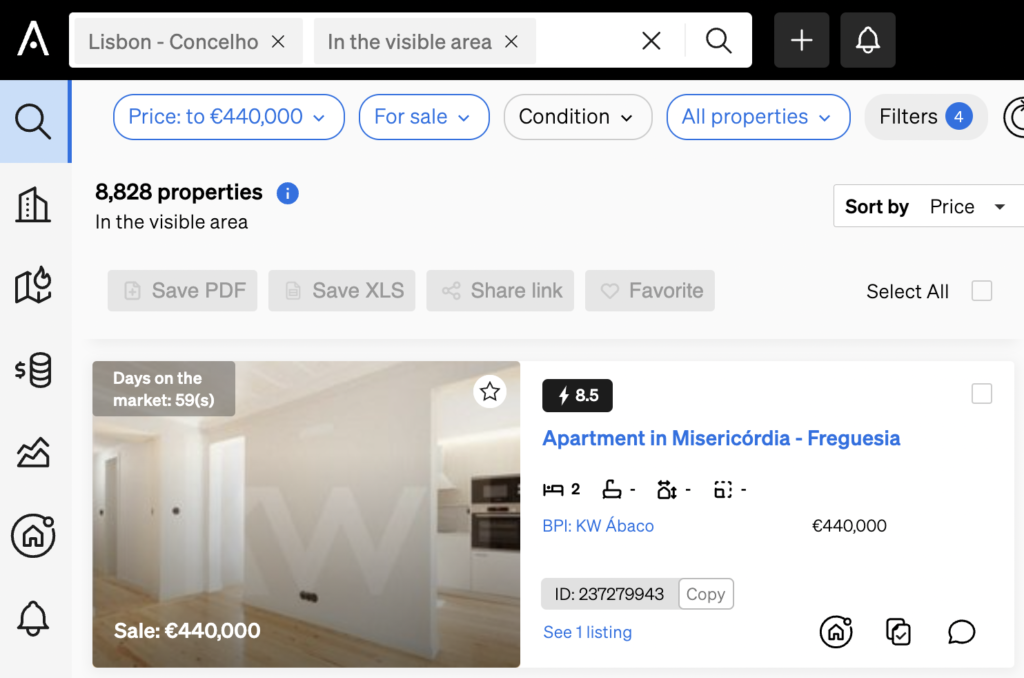 Another piece of news is that now, you can see next to each property a label with scores that go from 0 to 10. These ratings are based on a balance of 4 points, to define how interesting a property is on a specific market:
How long it's been on the market;
Last price changes;
Its energy certificate;
Its price per square metre.
By taking into account these key-factors, the ratings will provide you with a comprehensive, quick and easy way to evaluate a property's potential, especially when it comes to value and overall desirability.
They can also be used to compare properties that are slightly different, finding a common ground to analyse them and see which is more worth investing in.
Energy Performance Certificate: what is it and why is it important for selling and renting
Are you ready to start working more efficiently with the help of CASAFARI Property Sourcing? Subscribe now and find that property you've been looking for in no time!