CASAFARI Connect is the new generation of property transactions. Inside CASAFARI's Property Sourcing, CASAFARI Connect helps estate agents get to find partners for a fair real estate deal in a faster way.
This feature broadens the exposure of an agent's property portfolio and helps them find the perfect property for their clients in a shorter period of time. By negotiating real estate commissions and sharing the deal, both parties increase their agency's revenues – a win-win situation! – all of it without having to leave CASAFARI.
So far, there are around 650 brands using CASAFARI Connect in Portugal, Spain, Italy and France, a number that keeps growing. Our tool became part of their daily work: just so you have an idea, there are companies that proposed more than 150 partnerships with other agencies already!
We are talking about big real estate companies, such as REMAX, Century 21, Keller Williams, Sotheby's, Zome and many more.
And now CASAFARI Connect is even better! Let's see how this 2.0 launch enables even more transactions and allows you to negotiate better divisions of real estate commissions.
What's new: negotiating real estate commissions made easy and effortless management of partnerships
Negotiate the split of commissions inside the platform
Forget about exchanging emails to agree on values: now the entire negotiation is made inside CASAFARI Connect.
Buyer agents can propose a split when requesting a partnership on a real estate deal. And, as for the seller agents, they get to agree with the suggested split or propose your own before the deal is sealed.
A handshake to generate more real estate deals: meet CASAFARI Connect!
Monitor all your requests for a real estate deal
Now you have a whole section inside our platform to check on sent and received requests for partnerships. Check the conditions of the split of real estate commissions, see what was accepted or rejected. Focus all your partnership efforts in one single place.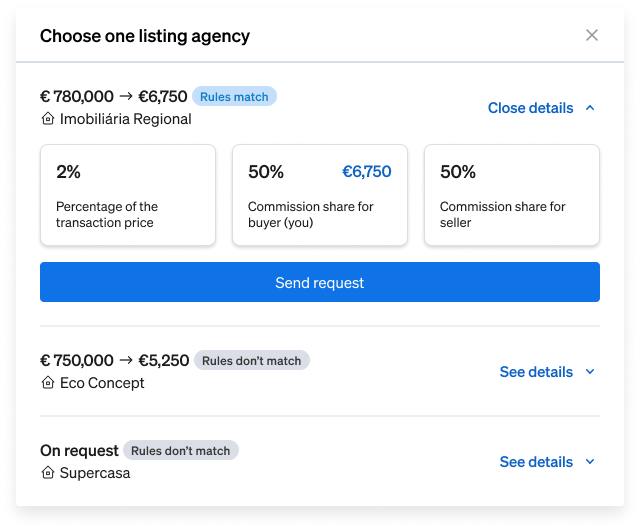 Who's CASAFARI Connect for now?
For now, CASAFARI Connect is a powerful tool for estate agents. It solves multiple needs at once, enabling more business and pushing the revenues to increase, both when they're acting as buyers or sellers on a real estate deal.
But this product doesn't end there: CASAFARI Connect is being constantly updated to become something that will help every real estate professional willing to buy or sell properties faster, in a fair way and under beneficial conditions (more on that later in the article!).
Seller agents
These agents get more exposure for their property portfolio and are able to share the properties they have with other buyer agents.
Buyer agents
They can easily find a broad range of properties, all from agencies that are willing to negotiate real estate commissions, for when their client need a kind of property that's missing in their portfolio.
Improve your property sourcing and find the perfect place for your client
CASAFARI Connect also helps estate agents that are:
Representing investors that wish to acquire new assets for their portfolio,
Representing clients that wish to buy properties in a city that the agent doesn't work in, since now you can partner in deals with agencies from other markets (different countries, cities, locations),
Looking for a type of property they don't own in their portfolio for a client.
Summing up, every estate agent can benefit from expanding their business opportunities with the help of CASAFARI Connect.
Step-by-step: how to use the new CASAFARI Connect
As a buyer agent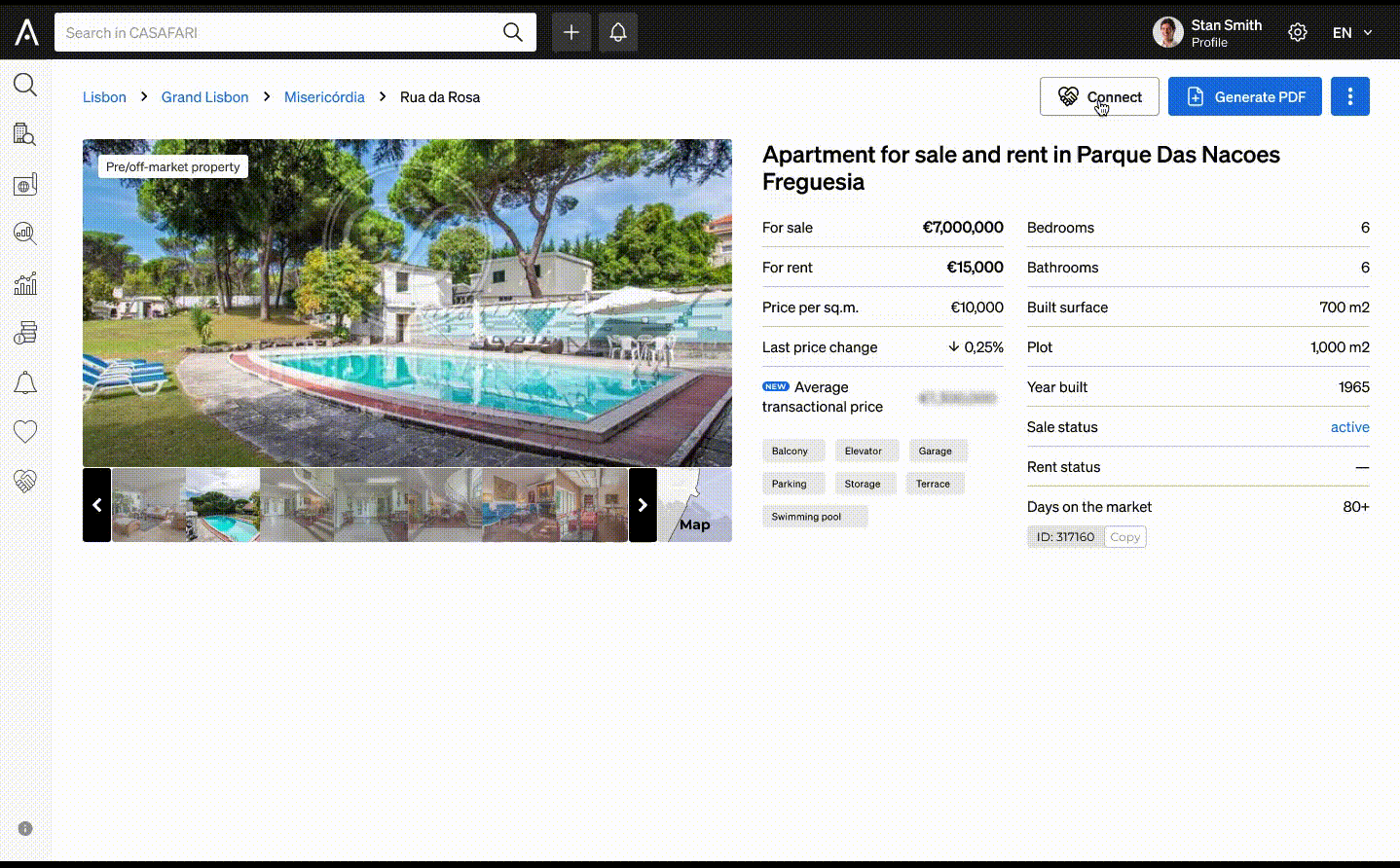 For you to propose a partnership on a real estate deal inside CASAFARI you can either:
Click on the "handshake" button in the Property Sourcing,
Click on the "handshake button in your Favourites folder,
Click on the "connect" button in the property page.
A popup will open, showing you a list of real estate agencies that are mediating the property you are interested in. Select one of the companies listed to send your partnership proposal.
See whether the commission rules that you are used to working with match the seller's rules or not. The popup will also show the calculated value for real estate commissions.
If the rules don't match, you can either accept the seller's proposal or try to negotiate the real estate commissions, suggesting a new option. Any suggested rules will be applied only for this request.
On the menu to your left, you are able to click on the handshake button to see all the requests you've sent and the answers received to each of them.
As a seller agent
All requests for a partnering on a real estate deal can be found with a simple click on the handshake icon, located on the menu to the left, inside CASAFARI. This area of our platform will show you:
All the requests you received,
Requests sorted by status (received, sent, accepted, denied),
The conditions proposed for each request,
Answers from buyer agents.
Inside this section, you will also be able to negotiate the split of real estate commissions by sending your suggestion, accept or deny a proposed transaction.
With CASAFARI Connect you no longer need to have every possible kind of property on your portfolio to attend clients with different needs. Find an agenсy that would be the perfect fit for a deal, agree on a split for real estate commissions and boost your business with our tool.
The next steps for CASAFARI Connect: where are we headed?
First of all, soon enough you will be able to filter on our Property Sourcing to see on your search solely properties available for partnerships on CASAFARI Connect. Anything that shows up in the results will be a real estate deal waiting for you, which makes it much easier for you to go straight into business.
And that's not all.
We are also going to make CASAFARI Connect available for private investors, who will be able to find more interesting properties inside our Property Sourcing and directly connect with the estate agents and agencies in charge of selling them.
With the access to the most complete real estate database in Europe and this clean path to finding better opportunities, property investors will be able to purchase properties faster and make smarter investment decisions. As for the estate agents, they will be approached by even more clients, closing faster deals and increasing their commissions in a lesser amount of time. Once again, a win-win situation.
One thing we can promise: the future of real estate transactions is about to be changed and this is just the beginning of CASAFARI Connect's journey!
CASAFARI Connect FAQ – quick answers for your most common questions
How do you know which agencies share commissions?
First of all, you need to recognize which properties are up for a shared deal. You can identify them by finding the "handshake" icon inside our Property Sourcing or inside your Favourites folder. Another possibility is inside the Property page: if there's a "connect" button, then it's available for a partnership.
After you click on the "Connect" button on the Property page, a popup opens showing a list of all the agencies willing to partner on a deal for this property.
Is it possible to negotiate different conditions relating to a deal?
Yes! Every time you receive or send a request for a shared deal, you can negotiate the split of the real estate commissions directly on CASAFARI Connect. Each user has the option of accept the conditions proposed, deny them or propose new ones.
Can I select which properties from my portfolio I wish to share?
Really soon you will be able to, but for now you already can decline partnership requests for any property that you don't wish to share on a deal.
In the near future, all partnership managers (brokers or agents listed for this role in the account settings inside CASAFARI) will be able to select which properties on the portfolio should be available for CASAFARI Connect.
How can I set up commissions?
By default, all real estate commissions will be set for 5% of the deal, with a split of 50% for each party. These rules are automatically applied for all users inside the same account at the moment that the company joins CASAFARI Connect.
These general commission rules for your company can be changed by the administrator of the company's account inside company settings.
But, if you want to work with other values, you can also negotiate each deal individually at the moment that you send or receive any request.
Can I send a partnership request for an agency in another country even if I don't usually work in this market?
Yes! You can share a deal with any agency that also uses CASAFARI Connect, whether they are in Portugal, Spain, France, Italy or Germany. You only need to have the location that you're interested in available for your CASAFARI subscription.
Got interested? Get in touch with us to activate your CASAFARI Connect!