Any client that's looking for a new house, no matter if to live or to invest in, has expectations. The sooner you find the perfect property, the better (and higher is their satisfaction).
But how to find "the one" in such a chaotic and fragmented property market without losing hours with searches?
To solve this problem, CASAFARI came up with a series of tools that improve your property sourcing in many different ways. Our tools speed up the process of finding what your client is looking for and offer the most complete real estate database in Europe for you to search from.
Let's see which of the products from CASAFARI can you use for property sourcing and the advantages of using each one of them.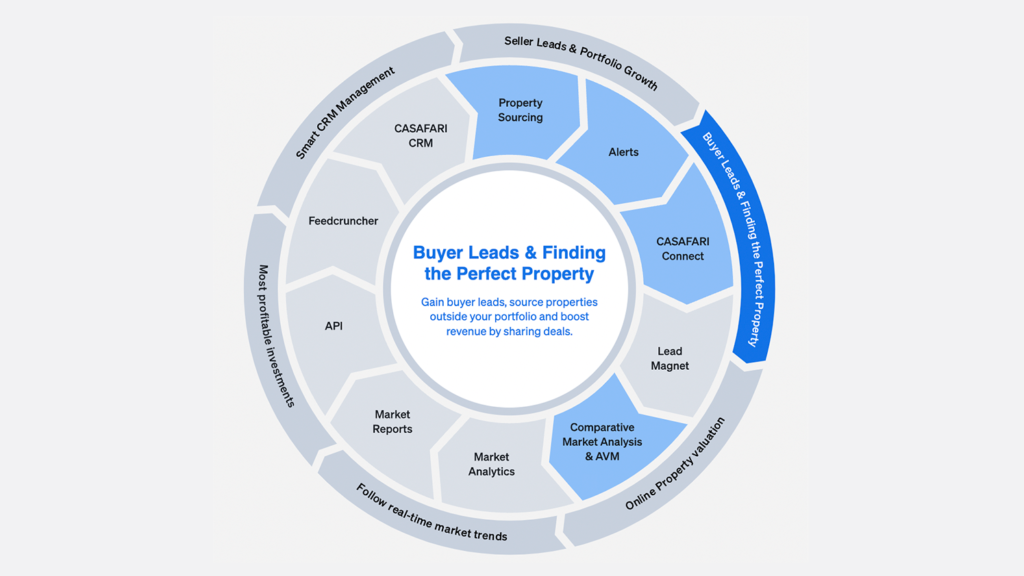 CASAFARI Connect: partner with other estate agents to seal more deals
Let's imagine that you have a buyer ready to acquire, but doesn't have the perfect property for them. Or the opposite scenario: you managed to turn some real estate leads into clients and now need to find buyers for their properties.
Almost every estate agent went through that: one of the parts needed to seal a real estate deal is there, but the other is lacking. How should you deal with this situation?
With the help of CASAFARI, of course!
A "handshake" to generate more real estate deals: meet CASAFARI Connect!
CASAFARI Connect puts you in touch with other agents and agencies that have the buyer or the property to make your real estate deal happen. Inside our platform you can also negotiate how you two can share the real estate commissions so everyone benefits from it.
Faster deals + simplified process = clients satisfied + increased revenues!
Property Sourcing: finding new properties in the are of your interest
Our Property Sourcing is a tool that catalogues the property market into an organised ecosystem. Our more than 200 million listings across Europe are deduplicated and cleaned so you get all the most accurate information available.
And, to make it easier for you to sort what interests your client through all these possibilities, we offer you over 30 different filters that will show exactly what you need from our database.
Here are some examples of our filters:
Search for properties on a location or draw an area on the map,
See properties per agency,
Find properties FSBO (for sale by the owner),
Set an asking price and choose between sale and rent,
Choose a condition for the property (new, very good, used, needs refurbishing),
Define the kind of property (apartments, houses, investments, rooms, plots, parkings or garages and their many subcategories),
Establish the amount of bedrooms, bathrooms, built surface, year of construction and more,
Look for properties with specific floors, orientations, views, directions, etc.,
Select characteristics such as balconies, garages, pools, elevators, gardens and others.
Besides using all these filters, there are also other resources that our real estate software provides for you to work with your findings.
By sharing properties' links through social media, email or WhatsApp you can easily show them to your clients for a first opinion. There's also the option of saving favourites in folders per client, area or kind of property, for example. You can add comments to properties, either for yourself or other team members. In addition, you can set alerts to get notified about properties with the same characteristics you are looking for.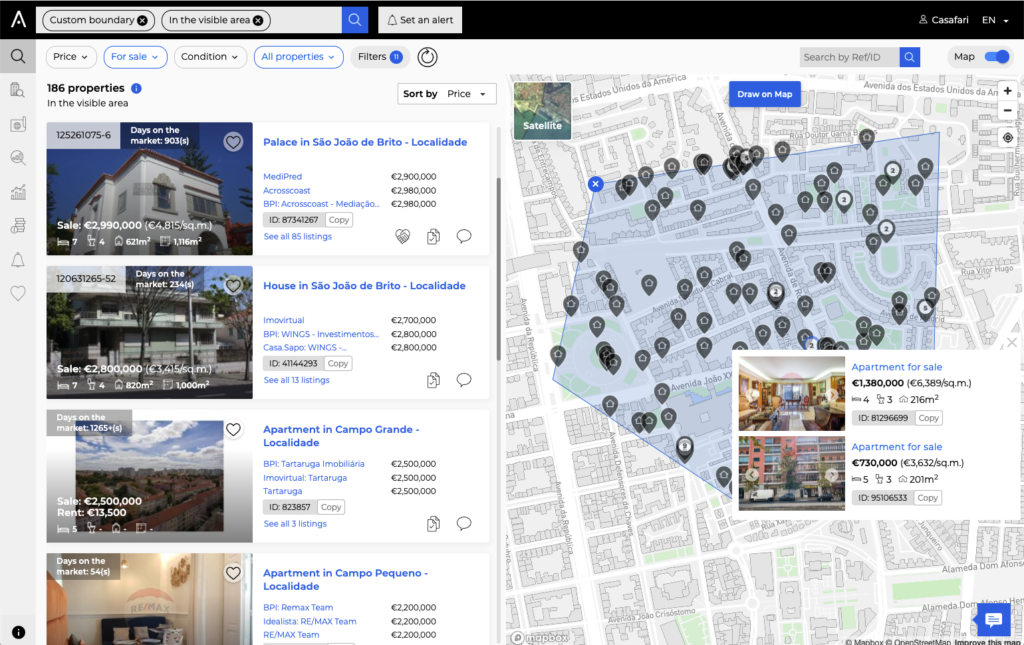 And, finally, for last, but not least, you have the Property Page! Each property inside CASAFARI has a whole page that shows:
its past and present listings,
the agencies working with it,
a complete history of what happened to it on the past,
basic information about its main characteristics,
the possibility of performing a Comparative Market Analysis for it (more on that later),
other comparable properties,
the possibility of downloading the page as a PDF,
data about how's the price distribution and average asking price for properties such as this,
information about the market stock availability and average time spent on the market for similar properties.
By receiving all these charts and data, you can show your clients that you're knowledgeable about their properties and find exactly what they need on our Property Sourcing in no time!
Improve your property sourcing and gather real estate leads with CASAFARI
CASAFARI Alerts: get notifieds on what's new on the property market
Speaking of Alerts, if your client is looking for a property with specific characteristics that seem to be hard to find, such as a three-bedroom place with a pool by the park for example, worry not! You can speed up your property sourcing by using CASAFARI Alerts.
With Alerts, you will get notified when properties with the characteristics you are looking for show up on the market and will be able to approach the seller immediately to seal a real estate deal faster.
You can even be notified of properties for sale by the owner (FSBO) and off-market properties of estate agents inside your own agency, so you really have many possibilities of finding the perfect place for your client.
Gather more property leads with CASAFARI: get to know Alerts
With this tool, technology plays a huge role in your property sourcing, reducing the time and effort spent and increasing the chances of your client finding what they are looking for and speeding up this process.
Comparative Market Analysis: valuate what's on your property portfolio
After you found you've been through the property sourcing process and found a suitable new place for your client, what is the next step?
A property valuation of course! You want to make sure your client is buying the property for what it's really worth and not a single penny more.
How CASAFARI's market analysis helps estate agents sell more and faster
In order to do so, count with our Comparative Market Analysis, a tool that finds the comparables for a property of your client's interest, both in the same location and with very similar – if not the same – characteristics.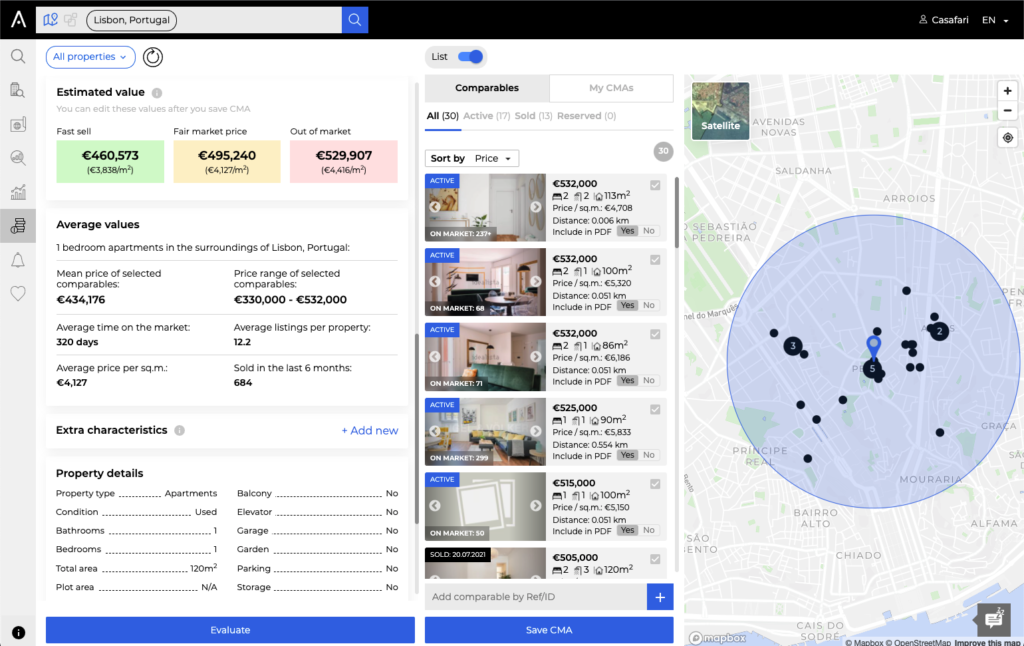 After choosing among the comparables provided, our property valuation tool will provide you with a report that shows a selling price, a fair market price and out of market price. In order words, you'll see which should be the ideal price for that specific property, taking into account its direct and closest competitors.
How to make a comparative market analysis with CASAFARI
This information will offer you arguments to negotiate with the owner (in case it's a FSBO) or with their estate agent to reach a price that's fair for both parties.
CASAFARI's APIs: instant information directly on your platform
Our API allows you to have all the information provided by the most complete real estate database in Europe, CASAFARI, on the real estate software that you already use for your day to day activities. You will count from over 200 million listings, extracted from 30,000 sources, including banks, auctions, real estate portals, ibuyers and more!
The advantages of using CASAFARI's property data API
With our Alerts API, you will get the notifications that accelerate your search for properties, while with Properties API you get to search for properties using over 30 filters, among all the listings existent in the area of your interest. Choose the one that suits you or, better yet, combine both for the perfect property sourcing experience!
Ready to improve your searches on the property market and grant the satisfaction of your clients? Waste no time: subscribe to CASAFARI and enjoy all the benefits of our tools!