Most countries in the world suffer from the same problem: chaos, a lack of access to public records when it comes to real estate, making navigating the property market a non-straightforward process. Not only are homebuyers, owners and rents lost, but it also means that the professionals of the sector operate without essential real estate data to help them streamline their work and advise their clients.
Which is why the Property Sourcing is one of the most central products of CASAFARI: it accomplishes our mission to solve chaos and bring transparency to the property market by aggregating millions of listings from thousands of sources every day. 
See which features of our Property Sourcing allow you to have access to the largest real estate database in Europe.
Property Sourcing: an improved experience for your property search
What we've learnt from real estate professionals is that staying updated on daily market activity is a time-consuming process, involving multiple internet tabs open on dozens of online sources. Well, not anymore!
CASAFARI Property Sourcing is a centralised information on the entire property market. This application is designed for you to be able to quickly:
source new properties and find market opportunities;
track your own portfolio and identify exclusivity breaches;
monitor the activity of competitor agencies;
prepare for meetings with clients thanks to the access to all past information about a property;
grow your portfolio with FSBO leads.
Improve your property sourcing and find the perfect place for your clients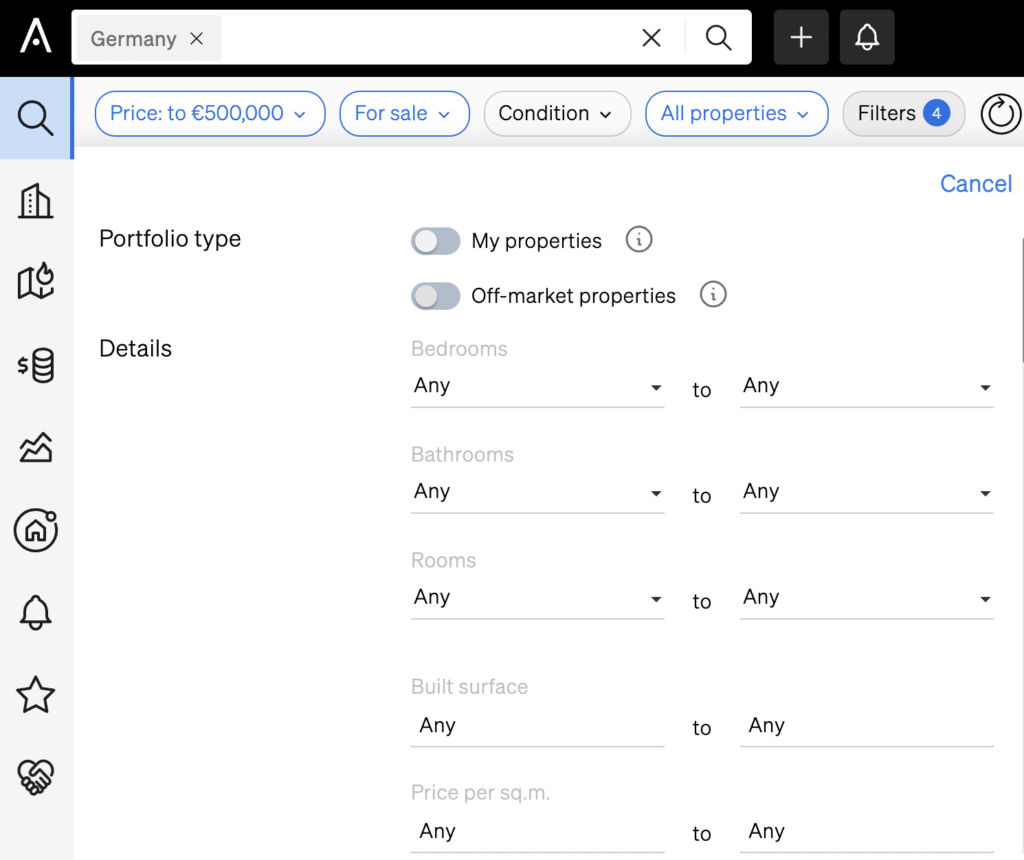 You can search by tenths of filters to find the property that matches the exact needs of your client or the market information needed for your daily tasks. Some of the filters offered on our Property Sourcing are:
Price range and type of business (rent or sale);
Condition of the property (new, very good, to refurbish, new);
Amount of rooms;
Year of construction, energy certificate, and built surface;
Property type (house, apartment, studio, building, plot, office, etc.);
Characteristics (balcony, elevator, garage, swimming pool, etc.);
Who's listing it.
Setting Alerts for recurring property searches
But let's say you're on the look for a specific type of property for a client, something that's not that easy to find. You certainly wouldn't want to run the same search everyday, right?
Worry not, we've got you covered! Inside Property Sourcing you can set Alerts and get notified every time a new property that matches your criteria is put on the market. You only need to click on the bell icon beside the search engine.
Gather more property leads with CASAFARI: get to know Alerts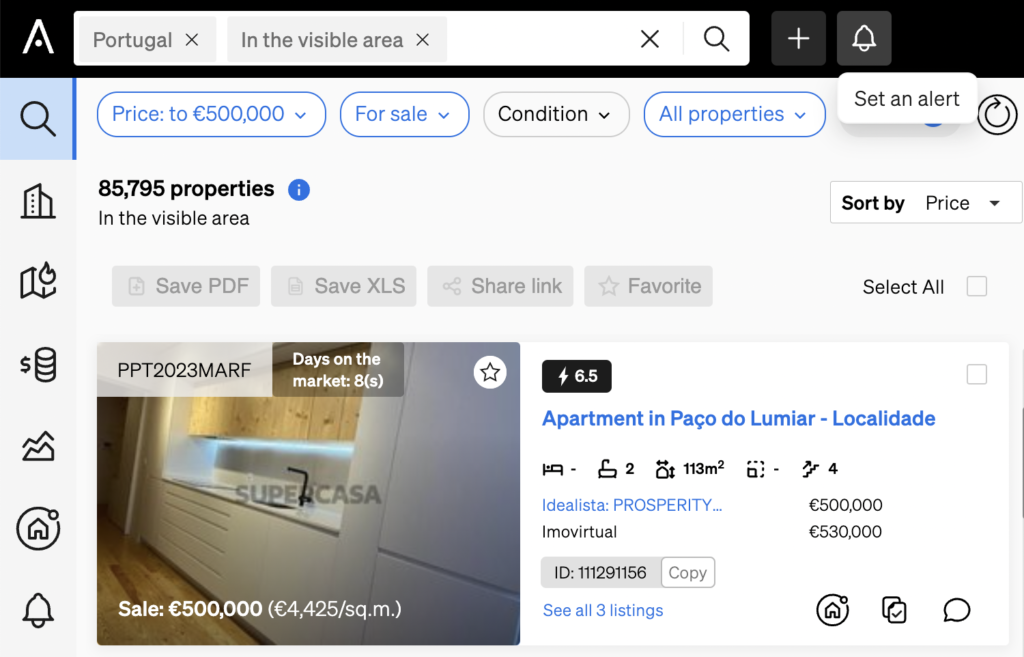 Search by reference
Every real estate listed online has a unique reference number that you can input in the search engine of CASAFARI Property Sourcing. The property will appear instantly and, if you want to stay updated with it, you simply have to add it to your Favourites (more on that later!).
This feature is useful to keep track of what's in your portfolio and your competitor's without having to manually scroll through all that's available on the market.
HOT OFFER and NEW labels
Inside CASAFARI's Property Sourcing you can see labels that help you identify new properties put on the market and hot opportunities that are available for buyers. 
These labels are meant to give you a competitive edge, whether it's helping you act fast on competitive markets or making your property

Ratings for properties
The properties shown inside our search engine also go through our scoring system, in order to help you select the most interesting properties available and quickly evaluate their desirability. Take a look and see which factors are taken into account to provide these ratings!
NEW: Labels and scores for the best market opportunities
Property page: detailed information about each property
You can click in each real estate found inside CASAFARI Property Sourcing to see detailed information about it. Here's a list of what you can find inside a property page:
All the characteristics of the property (amount of rooms, size, energy certificate, etc.);
Photos of it;
See graphs about how's the market for properties such as this one;
How long it's been on the market, for how much and who's listing it;
Recent price changes;
All the property history since it was first put online.
Property history: why is this data priceless to real estate professionals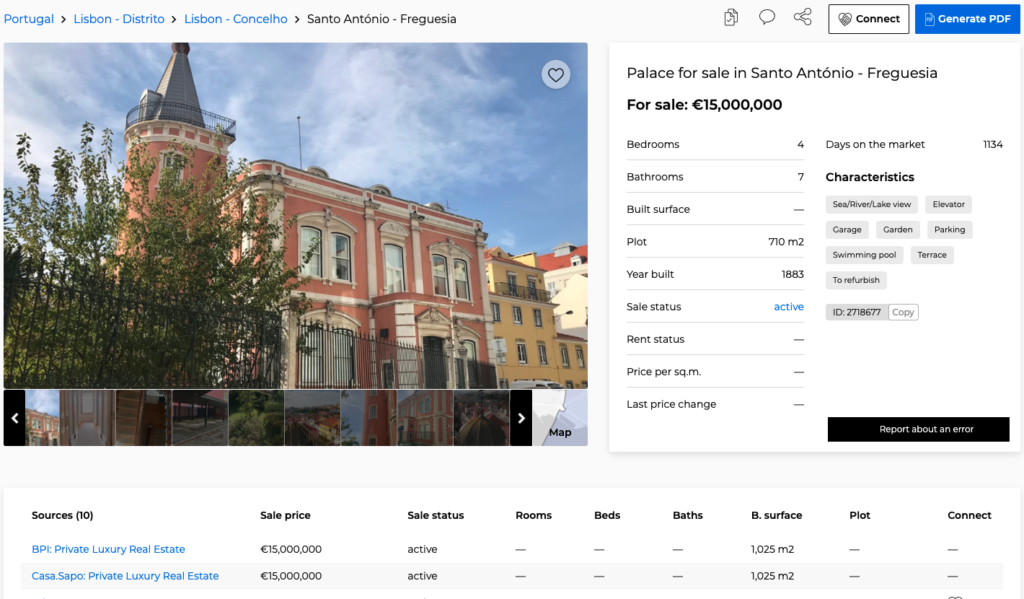 You can also add comments for you or your colleagues, share the property through a message, email or generating a PDF, run a property valuation for it and propose a shared deal with a seller agent.
With this data on your hands, it's your move! You're able to:
Identify exclusivity breaches;
Understand how the property is positioned in relation to its competitors;
Strategise how to approach a seller or how to sell the real estate;
Reach out to other estate agents shared deals.
After all, closing deals is all about keeping your market knowledge updated, right?
Favourites: keep a close eye on what interests you
And since we spoke about the Favourites, you should know that you can check all changes that go on with properties that are interesting to you or your clients. This is useful to:
Monitor interesting assets that decrease in price as a buying agent or property investor;

Make informed decisions about selling real estate assets by keeping track of their competitors;

Monitoring your portfolio as an estate agent or broker, identifying exclusivity breaches or competitive disadvantages.
How to benefit from CASAFARI's Favourites folders
The process of adding a property to your Favourites is very simple: you simply need to click on a star icon found on the photo of a property inside Property Sourcing. Easy, right? You even get to choose in which folder you wish to add said property, for organisation purposes. 
And, finally, in the Favourites section of your CASAFARI real estate software, you can see all the changes that happened to the properties you saved in the last day, 3 days, week or month. You will be able to see:
Which properties increased or decreased in prices;
Which were reserved, delisted or sold.
This helps you keep track of potential opportunities or changes that might be useful to you.

CASAFARI Connect: partner with other estate agents to close deals faster
CASAFARI Connect is a platform that allows estate agents to collaborate in shared deals, splitting commissions in an easy, safe, and transparent way. With CASAFARI Connect, you can:
Easily manage your requests for shared deals, sent or received;
Establish flexible rules for commission splitting;
Gain more visibility to your property portfolio;
Increase your lead generation and seal deals faster.
How CASAFARI Connect boosts property deals and who is it for
Inside CASAFARI Property Sourcing, you can identify the properties that are available for a shared deal with the handshake icon.

You can opt to click on the handshake icon directly on your property search, which will allow you to check which commission sharing rules apply to this real estate, or you can do it with the "Connect" button, on the top right corner of the property page.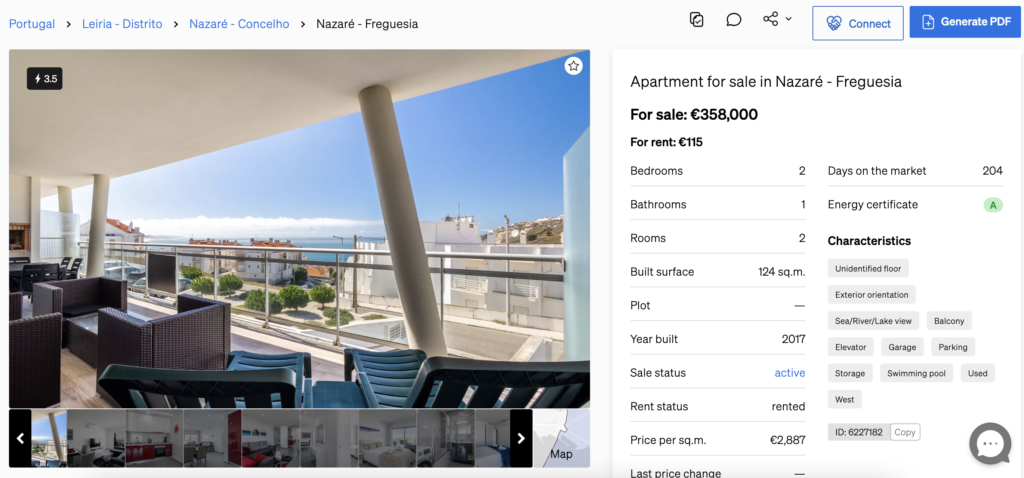 Interested in knowing more about CASAFARI Connect and how you can benefit from it as a buyer or seller estate agent? Here's all the information you need!
Are you ready to have all the market data you need in your hands? CASAFARI boosts your deals with up-do-date and thorough information that will put you one step ahead of the competition. Waste no time and subscribe!