Complete: this is the word that defines CASAFARI. Our software for real estate professionals was created to organize the fragmented property market and empower those that work in the field with transparent and accurate real estate data. Basically, we were aiming to unlock data-driven decisions, professionalize the market and enable businesses.
But, for a task such as this one, we needed to be nothing but complete. We needed to be able to help estate agents, and real estate professionals in general, in all their tasks.
The first step to achieve this goal was data. We managed to have in our real estate database over 200 million listings from more than 30,000 sources (and counting). We became the largest real estate database in Europe. Besides aggregating, we're the only real estate software to deduplicate this amount of data, providing solely clean and accurate information about properties. Check!
The next logical step was practical: we needed products and features to help:
Buyer's agents find the perfect property for their clients;
Listing agents grow their portfolio with real estate leads;
Monitor their property portfolio and those of competitors;
Real estate professionals keep up with market trends and changes;
Make effective property valuations to sell faster;
Boost deals by establishing partnerships between agencies;
Manage the estate agent's portfolio and interactions with clients;
Real estate investors find the best opportunities and invest at scale.
Let's see how our real estate software takes care of each one of these aspects.
1. Buyer's agents and the search for the perfect property for the client
Other than working with clean data, one of the biggest advantages of our software for real estate when it comes to buyer's agents is the possibility to filter. When a buyer's agent is searching for a property for their client, they can narrow down considerably the results shown, getting closer to finding a place that suits the client's every need.
How is that done? With our Property Search filters. Our tool allows you to define:
A price range;
The type of business (rent, sale, rented or sold);
The condition of the property (used, to refurbish, very good, new);
Details of the property (amount of bedrooms, square metres, construction year, etc.);
The property type (apartment, house, hotel, warehouse, etc.);
Floor and orientation;
View and direction;
The presence of furniture;
Characteristics (balcony, garage, swimming pool, etc.);
Who's selling it (real estate agencies, FSBO properties, banks, etc.).
In total, buyer's agents have over 30 filters to choose from, making the task of finding the desirable property an easy one.
2. Listing agents and the growth of the property portfolio with real estate leads
CASAFARI offers two ways of listing agents to grow their property portfolio by catching FSBO leads.
The first one is by searching on our Property Search: estate agents can filter to see only properties in a specific area that are for sale by the owner, either exclusively or those that are also listed by another real estate agency.
The second one is CASAFARI Alerts, a feature that allows listing agents to receive notifications when a property that fits some criteria is put on the market. These real estate professionals can set Alerts to search for FSBO properties to have the opportunity of approaching real estate leads before anyone else.
By automating this task with our software for real estate, estate agents get to focus their attention on current clients to make sure they provide the best service possible.
3. Monitoring their property portfolio and those of competitor agencies
Another possibility estate agents have inside our real estate software is to use Alerts to track what goes on both with their own portfolios and with their competitors'.
Monitoring one's own portfolio is quite useful to be sure there's no breach in exclusivity contracts. As for the competitors', this resource is useful to:
A) see how fast other agencies are growing their portfolio;
B) approach the owners of properties new to their portfolio to list them as well, in case there's no exclusivity clause on their contract;
C) approach owners that have been with them for long with no results, because their contract is close to the exclusivity deadline.
In order to do so, estate agents simply have to search for properties sold by them or by the real estate agency they wish to track and set alerts to be informed of changes in these results.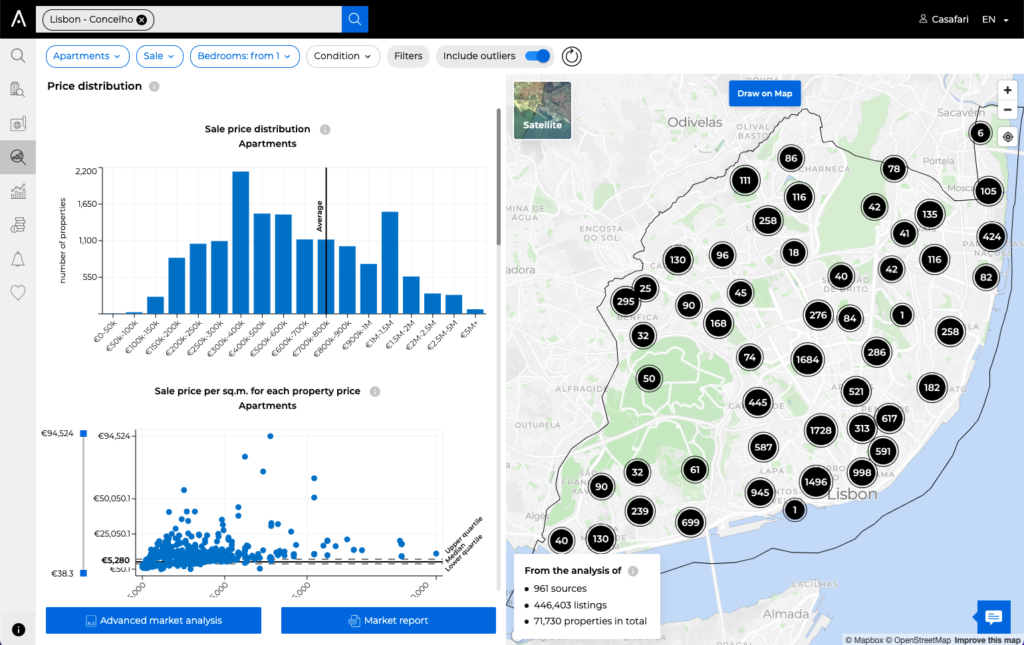 4. Real estate professionals and the property market changes
Keeping up with market changes is also something that is part of the day-to-day challenges faced by real estate professionals. In a market frequently affected by changes in migratory patterns, the strengthening of some industries, economic fluctuations and so many other factors, being aware of what's happening and being able to prepare for what's coming next is definitely important.
It's important because it allows estate agents, brokers, real estate investors and other stakeholders in this field the ability to make strategic decisions about the future of their assets and their businesses, preparing for worst-case scenarios or benefitting from periods of growth.
Here's where CASAFARI Market Analytics comes into play. This part of our software for real estate shows market trends such as:
Stock availability and time on the market
A heat map with property prices per area, for sale and rental
Distribution of properties by number of rooms and price range
Time series, where property market trends are seen through time
It's truly a tool that provides business intelligence to real estate professionals.
5. Making effective property valuations to sell faster
Properly pricing a property is something that speeds sales, increases revenues and makes real estate clients satisfied with the work of the professionals. But it's also a complex task, that involves spending hours in online searches to find similar properties and study the market to get to a conclusion about an asking price.
This is why our software for real estate counts with an automated Comparative Market Analysis done in seconds. CASAFARI shows you which is the selling price, the fair market price and which price puts it out of the market using comparable properties, with similar characteristics and in the same area.
Such accuracy in numbers is only possible because CASAFARI's real estate software pulls data from 1000x more sources than the closest competitor. This means that your comparative market analysis report will be based on actual real estate data, updated in real-time and that mirrors the market perfectly.
6. Boosting deals with partnerships between real estate agencies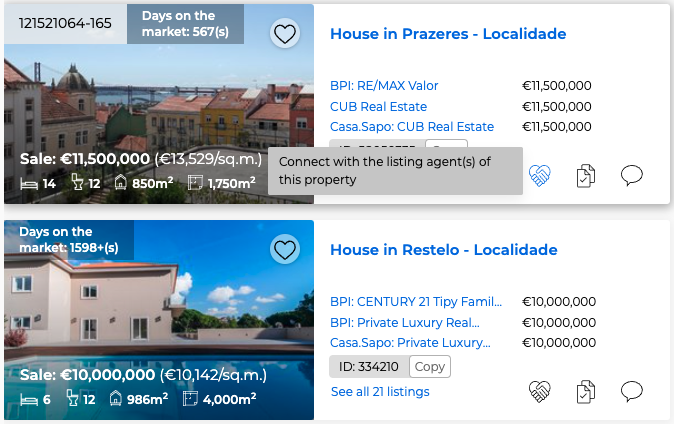 More often than not, buyer's agents struggle to find properties that actually suit their clients' needs. And, on the other hand, listing agents may find themselves with a property portfolio that's full of amazing places, but can't seem to find clients that fit each one of them.
By partnering in deals, companies could easily increase their profits, selling more and faster, in addition to raising the level of satisfaction of their clients.
Our software for real estate offers to our clients CASAFARI Connect, a feature that allows agencies to show they are willing to partner with other businesses. Through this feature, estate agents send a message to another agency with a single click on the handshake icon to start a win-win negotiation.
If companies can use their network to leverage business deals, why not?
7. Managing the estate agent's portfolio and interactions with clients
Now, for the operational part of the job, another important part of the routine of real estate professionals is client management. Schedule visits with potential buyers, keep in touch with buyer clients, let all parts know that they're being taken care of also takes time.
This is why the perfect pairing for our software for real estate professionals is CASAFARI CRM. This tool offers features designed especially for making the life of estate agents easier. To list a few, we have:
Ownerlink: a link through which clients can check how many visits their property had, see comments or proposals that resulted from these visits and follow the efforts of the estate agent.
Smartlink: a link in which you can list properties of your client's interest. It's possible to list properties in other agencies' portfolios, something useful for partnering in deals.
Smartreplies: automated replies to new real estate leads on your contact list, so you don't leave any client waiting to hear from you.
Virtual tours: a dynamic and immersive online visit on a property, for potential buyers that can't be present.
Digital signature: the real estate professional can use this feature to register the signature of those who visit properties of their clients.
With these features, our real estate software reduces the time spent with client management so estate agents can focus on selling or finding properties.
8. Real estate investors and finding opportunities to invest at scale
Did you know that 79% of total residential dwellings in Europe are Single Family Residences owned by private individuals? This is a powerful reserve of residential capital that tends to bring potentially high yields, since the growth in property prices is pushing entire populations to rent for longer, with some European countries having as much as 50 or 60% of their share of residencies being rented.
But investing in fragmented assets, such as these SFR, at scale would be a nightmare in terms of sourcing and underwriting, right? Well, it was right until now.
By monitoring the entire market inventory in real time, CASAFARI's Portfolio Solutions does this job automatically, finding the best investment opportunities on the market that provide:
Assertive predicted rental yields and target IRR,
Largest and recent cumulative price decreases,
Shortest/longest time on the market.
This is only possible because we combine real estate expertise with machine learning and count with a network of over 50,000 real estate professionals, allowing us to access first pick assets.
As you can see, our software for real estate and all its features make up an all-in-one solution, ready to make the work of real estate professionals (whether they are brokers, estate agents, ibuyers, real estate asset managers or investors) easier and data-driven.
Don't waste your time with multiple tools, work more efficiently with CASAFARI.