Creating a property valuation report is an essential step in any real estate transaction, especially when strategizing the sale of a property. This comprehensive document serves as a crucial tool for both real estate agents and property owners alike.
Firstly, the valuation report of a property provides an accurate and unbiased assessment of the property's current market value. This is essential to set the foundation for pricing the property competitively, ensuring that it neither undersells nor overvalues the asset. By understanding the true market worth of the property, sellers can make informed decisions about their listing price, which is paramount in attracting potential buyers and maximising the return on investment.
Furthermore, this analysis also plays a pivotal role in presenting valuable information to clients, such as: real estate market trends, comparable sales data, and an analysis of factors affecting property values in the area. It offers transparency and credibility in the sales process, allowing clients to make educated choices based on objective data rather than guesswork or emotions.
And, finally, they are a relevant tool for estate agents as well. This information-rich document provides insights used in the decision-making process regarding pricing strategies, timing for the sales, and negotiations alike.
How CASAFARI's market analysis helps estate agents sell more and faster
Let's see how you can create an in-depth analysis of a property for sale with CASAFARI's Comparative Market Analysis and how to customise it to your brand.
Property valuation report example: all the information you find at CASAFARI
Property information
Besides a map to locate it and a street view, in this section you will find all practical information about the analysed property such as its condition, property type, plot area, construction year, orientation, amount of bedrooms and bathrooms.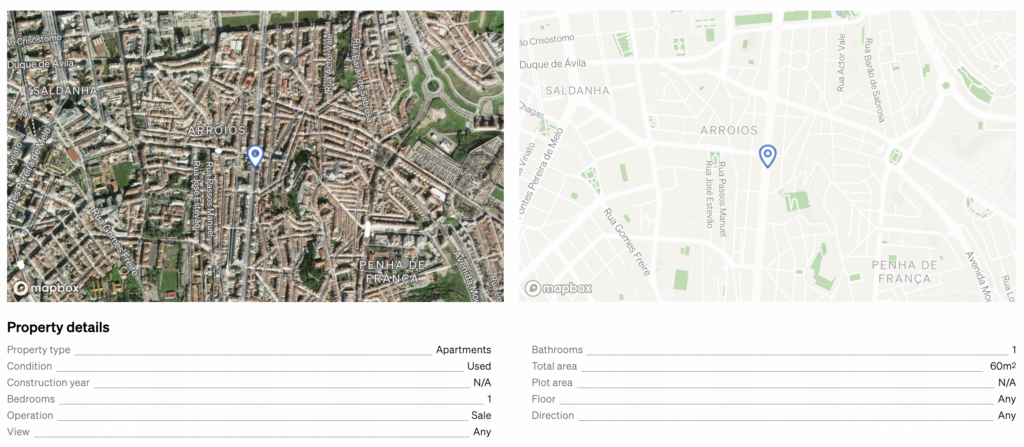 Estimated Values
In this segment of our property valuation report, you will find information to help you decide whether the chosen property is financially profitable and to strategise an acquisition or sale. Here you will find information such as the suggested asking price, the average value for similar properties, the average rental yield and more.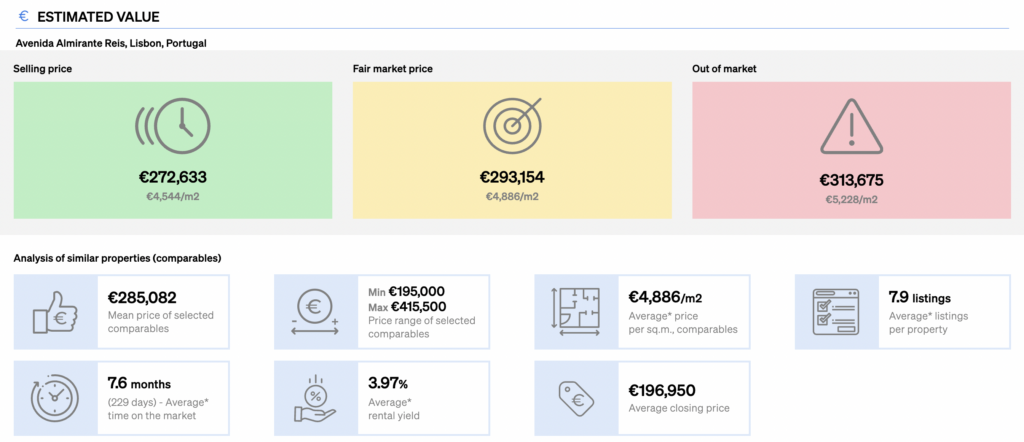 The importance of setting the right asking price for a property
Points of Interest
In this section of the document, you can choose to show information about transportation, schools, hospitals, pharmacies, parks and food & drinks in the surroundings of the analysed property.
This data not only helps you strategise your sales arguments, but also to understand the rental potential of a property before presenting it to a client who wants to invest in real estate.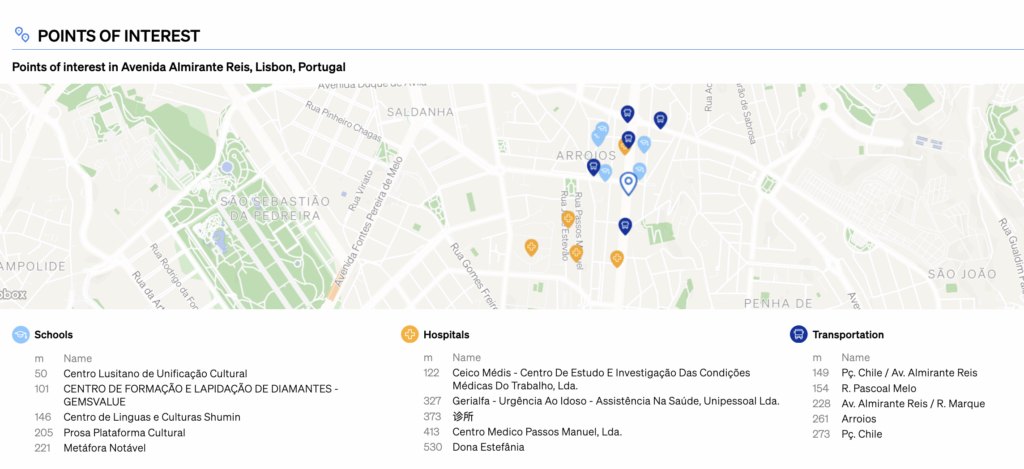 Comparables
The property valuation report made by CASAFARI provides you with a list of comparable real estate, so the professional knows how to position their portfolio on the market. These properties shown are in the same location and with similar characteristics as yours, so you can see those that could truly compete for the same buyers or tenants.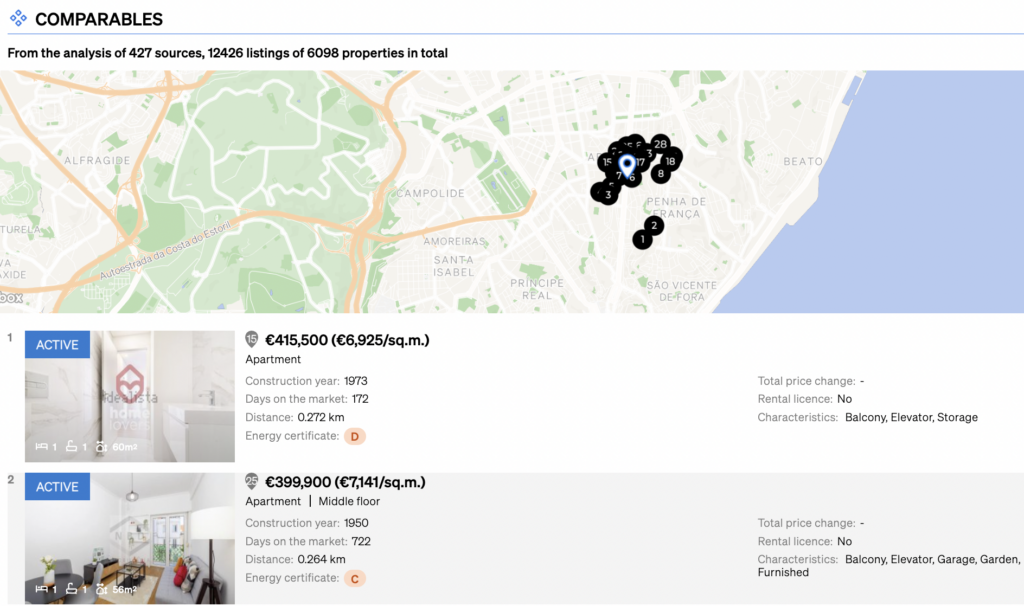 New ways to find comparable properties with CASAFARI
Price evolution
This relevant information allows estate agents to understand whether a property is a good investment, that will appreciate over time, or if it's best to buy now or wait a little longer.  

Price distribution
This section of the property valuation report is useful to understand how similar properties are positioned in the market price-wise.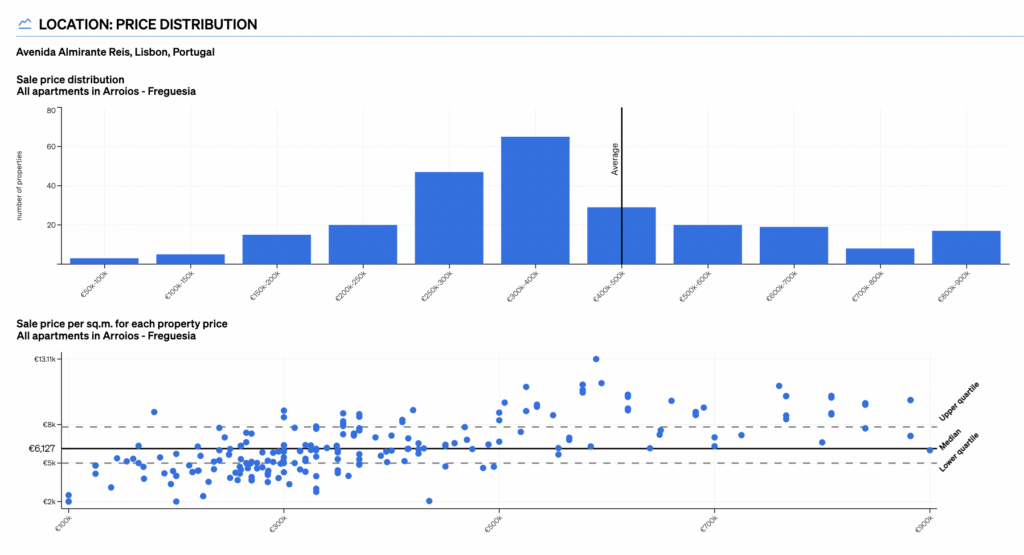 Time on the market
With this number, you get to see how long the property has been available for sale or rent. This can be used both to rethink the sale strategy of a property in your portfolio, as well as to negotiate to lower the closing price when buying for a client or to approach owners that are selling for themselves and struggling.

Personalising your valuation report with CASAFARI
Did you know that it is possible to customise your document so it is closer to your branding and tailored to your client's needs?
Within our Comparative Market Analysis, real estate professionals can change the language of their report, add comments about the results found, edit the suggested values, choose a photo to represent the property, add extra content pages, add a cover or even select which information to include or exclude.
As per the promotion of your business, you can change the main colour of the report to match your brand identity.
New customisation options for the valuation report of a property
As you saw, a property valuation report is designed to ultimately ensure a successful and financially advantageous sale, benefitting both the seller and the estate agent. So, the more thorough this document is, the higher are your chances of closing a better deal.
And, to create yours with a customised approach, count on CASAFARI, the largest real estate database in Europe.