CASAFARI's data is a true reflection of the property market and changes according to it. If the times and behaviours towards real estate have changed, so should we – and we did! See below what changed in the selection of comparable properties for your market analysis reports.
Upgrading how we show comparable properties
Before selecting the closest comparables of a property, CASAFARI takes into account many different factors. After all, we need to make sure we're showing you the perfect match, right?
Each criterion receives a different scoring weight, based on its importance and how much it influences the property price. All together they compose the algorithm that determines which properties are comparable and compete against each other on the market, in relation to the one being evaluated.
Recently, after gathering the precious feedback from our customers, our algorithm has been improved. Now, more property types were included within the apartments, houses, investments and building groups in our Comparative Market Analysis and they received their own scoring weights. Finally, all our criteria for scoring weights have been changed to reflect what buyers, sellers and real estate professionals really value on the market nowadays.
These changes provide more flexibility in valuations and more accurate comparisons.
How CASAFARI's market analysis helps estate agents sell more and faster
More autonomy for you to choose the comparables
Another piece of good news is that now CASAFARI customers will have an increased autonomy about which properties should be taken into consideration when running a Comparative Market Analysis.How? With our new multi type selection, that allows you to select which subtypes of real estate should be taken into account for comparison.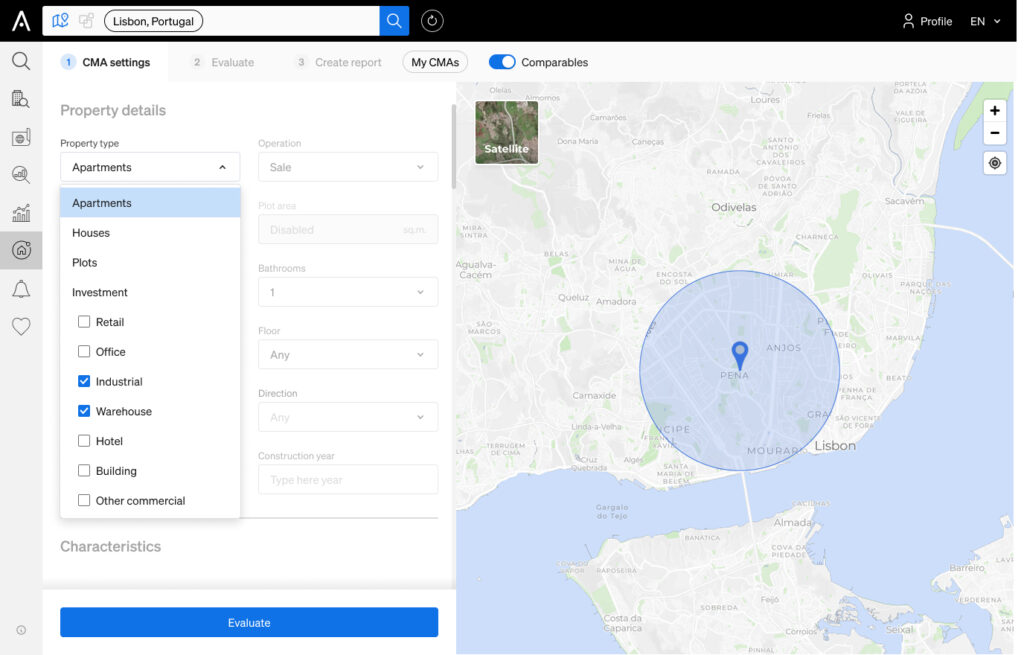 Example:
You wish to sell a 2-bedroom apartment in the city centre of Lisbon, but need an idea of what is the fair market value for a property such as this one.
The first step is going to CASAFARI's Comparative Market Analysis tool and selecting the kind of property you need an analysis for. You would be able to choose if CASAFARI should consider:
Studios;
Duplex apartments;
Penthouses;
Standard apartments;
Some or all of the above.
How to make a comparative market analysis with CASAFARI
With this update, when you extract a market analysis report, you can make sure that will get listed as comparable properties only those that are valid in your view, your client's or in the market's.
Where are these changes reflected?
Both the new scoring weights to set the criteria for choosing comparable properties and the multi subtype selection of properties can be found in the Comparative Market Analysis and in our Comparables API.
From now on, every market analysis report you extract with CASAFARI data, no matter with which of our products, is updated and ready to help you sell more and faster.
The advantages of using CASAFARI's property data API
Don't waste the chance of working with the largest real estate database in Europe! Only CASAFARI counts with over 310 million listings, sourced from more than 30,000 agency websites, property portals, banks, and more.
CASAFARI is also constantly updated to provide you with clean, accurate and organised data that helps the day to day decision making of all kinds of real estate professionals. Subscribe and see for yourself!