Many people have been wondering what is going on with the property market in Portugal in 2017. Why are prices going up, why is it so hard to find a property, and mostly, is there a bubble?
In order to answer such questions, this article will walk you through the economic past of the country, the Portugal property market recovery and how it managed its way up adopting initiatives like the Golden Visas and the Non-Habitual Residents program.
Why was Portugal in a crisis?
In the beginning of the XXI century, Portugal was dealing with an increasing unemployment rate and slow growth rates (nearly -1% in 2003). This slow growth was mainly associated with low productivity, which per se, was linked to the Portuguese low educational level and severe brain drain.
Due to several other factors, Portugal wasn't considered a productive nor competitive country, therefore scaring away potential foreign investors. Additionally, high social expenditures led this country to accumulate an enormous debt.
When we thought it couldn't be any worse, the 2008 global crisis hit. This caused massive disturbances to the Portuguese market, so as everywhere else. On top of that, by the end of 2008, two banks, namely BPP and BPN, were accused of fraud, as they were accumulating losses for years. The CEO of BPN was arrested, and the bank was considered too big to fail. Subsequently, the bank was given a bailout by the Portuguese government at a future loss to taxpayers.
Dark days followed and in 2011, Portugal was facing financial distress and unable to pay-off its debt. The country was saved by European institutions as they injected €78 billion in the Portuguese economy in order to avoid an insolvency.
Portugal Property Market Recovery
Golden Visa & Non-Habitual Residents program
Right after the bailout, the government started seeking for ways to attract foreign investment. The most successful initiatives were in the property market by introducing the Golden Visas ("golden residence" or "property visa") and the Non-Habitual Residents (NHR) program. These initiatives are very simple and straightforward.
Allow me to explain:
The Golden Visa
The Golden Visa states that if you invest in a property valued over €500.000 you would automatically qualify for a Portuguese nationality and therefore to an EU passport.
Moreover, if you were to buy an old property that would need a redevelopment and construction work, this value would drop to €350.000. Pretty good investment opportunity if you are a non-European citizen and you need a permanent residence permit in Schengen countries.
According to data, 4,423 visas have been granted to foreign investors between 2012 and today. The Chinese make up a big majority of visa applicants scoring over 71%.
Around €2.7 billion has been invested in the country just through the golden visa scheme.
The Non Habitual Resident in Portugal Program
The NHR program is considered by PwC "Europe's best-kept secret". It was introduced with the purpose of attracting individuals that perform high value-added activities of scientific, artistic or technical character and their families to Portugal.
How come? By awarding them with a tax regime of a flat rate of 20% on income. And there's a cherry on top of the cake: you are also provided with all the benefits of an ordinary Portuguese tax resident such as healthcare (Portuguese public healthcare is ranked 12 in the world, according to WHO).
According to the NHR advocates in Portugal, main applicants for this scheme have been British and French retirees followed by Swedes, Irish, and other European citizens.
Tourism as a way out of the crisis
In addition, after the bailout, the Portuguese government decided to make significant investments in tourism.
According to CityLab, "its efforts have been extremely effective, with Lisbon's tourism industry growing at a rate of more than 50 percent a year for the past three years. With the rise of Airbnb and the short-term rental market, growing numbers of foreign investors have found reason to invest in the city whether there's a visa in it or not". 
Living in Portugal now
This ongoing real estate investment has resuscitated old, forgotten neighborhoods like Bairro Alto, Cais do Sodre or Alfama in Lisbon and has successively given a new life to Porto and Algarve as well.
Portugal is cool now. It's hip and it's just getting started. If you don't believe me, come see it for yourself. You'll be amazed. Lisbon, in particular, is attracting investors from all over the world, and not only from the real estate industry.
This location has become a new hotspot for anyone seeking low taxes and cheap operational costs. Celebrities have also found it attractive to move in the country. Madonna, Michael Fassbender, Garrett McNamara, Philippe Starck, Christian Louboutin, Norman Brenninkmeijer (Netherland's richest man) are some of the celebrities that have found asylum in Portugal.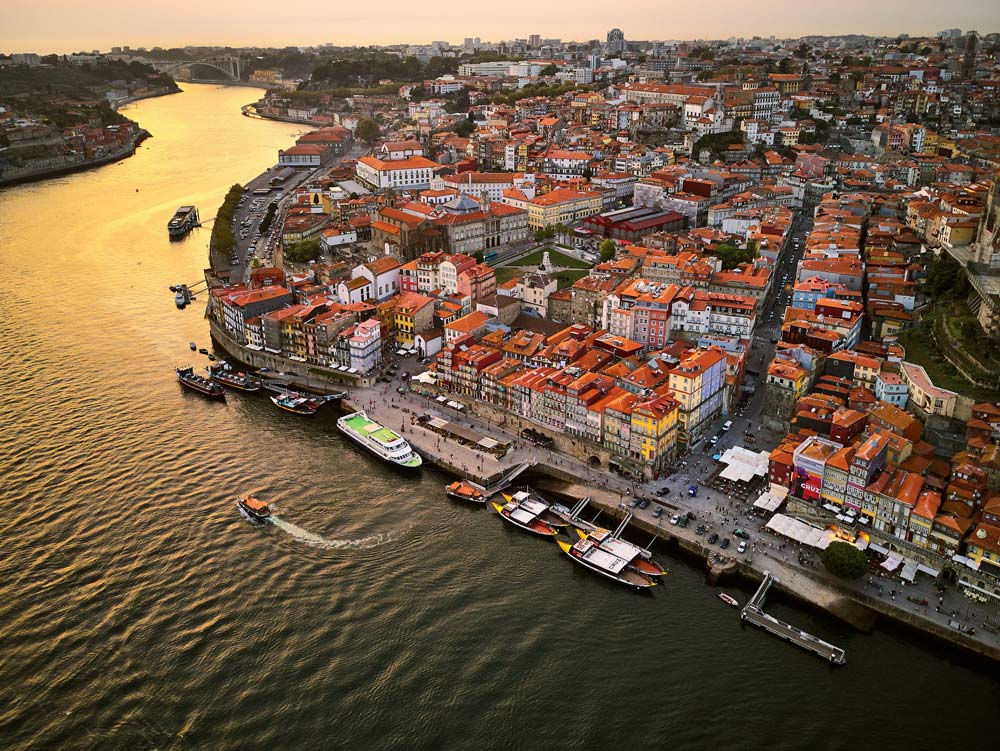 Photo by Deensel via Flickr
This property demand increase has been raising house prices around the main cities and it has been signaling an acceleration in the country's economy.
Just since last year, the unemployment rate dropped by 2.2%, wages have been increasing and the debt to GDP ratio is expected to drop by more than 20% by 2020. The country's credit rating went from junk to investment grade status by S&P Global Ratings just a few weeks ago.
Is there a bubble?
Indeed, the housing prices have been going up, and the last time we witnessed this in 2008, the whole economy went down. But there's no need to worry. Things are different now. Banks have different standards on credit lending and it's not that popular to borrow money anymore. In 2016, 95% of the real estate transactions in Portugal occurred without financing.
Real estate agencies and banks are also looking optimistic. They claim not to be in a pre-bubble period and expect a sustained and healthy growth for the following years.
In contemplation with the upcoming demand some companies are already undertaking a push strategy:
REMAX Portugal hired 520 new agents this year.
ING has invested €400 million in Portuguese real estate assets in 2016. Last week, it announced an additional investment of €67 million.
ROSP Group, a company owned by Sandra Ortega, Zara owner's daughter and Spain's richest woman, is also investing €50 million this year.
According to the National Institute of Statistics, this year, the number of property sales increased by 25% in Lisbon, 27% in Porto and prices went up by 8%. Just in the first 6 months of 2017, real estate transactions amounted to a record of €8.9 billion.
Prices are expected to keep on increasing and the city center will become too expensive for poor families to live in, pushing them outside the city limits. Different nationalities will take over as 85% of the real estate transactions are expected to come from foreign buyers.
The city is already becoming more international and you can hear it on the streets. Demand will keep on rising and hopefully, supply will catch up. It's hot in Portugal! And I don't mean the weather.