Market overview:
Secrets rarely last long when it comes to property. As you probably know by now, Mallorca, along with the wider Balearic archipelago, has been one of the Mediterranean's major real estate success stories of the past few years.
The island's property market has rebounded quickly from the housing market crash, outpacing the majority of other regions in Spain. House prices in Mallorca's capital, Palma de Mallorca, rose by 4.0% in 2015, the third highest rate of any major municipality after Barcelona and Madrid (source: Idealista).
Growing interest from overseas investors, coupled with a wider Spanish housing market recovery, has created a solid springboard for sustained price growth across the island's prime residential property sector. This trend looks set to continue long into 2016 and beyond.
Despite the ever increasing number of admirers, Mallorca still offers considerable value as a luxury second home market. Prices for prime holiday properties and second homes compare very favourably with those of Europe's other high-net-worth playgrounds, including the likes of Tuscany and the French and Italian Rivieras.
In this latest post, we take a look at current pricing trends in Mallorca's prime residential property sector and the dynamics that are driving them.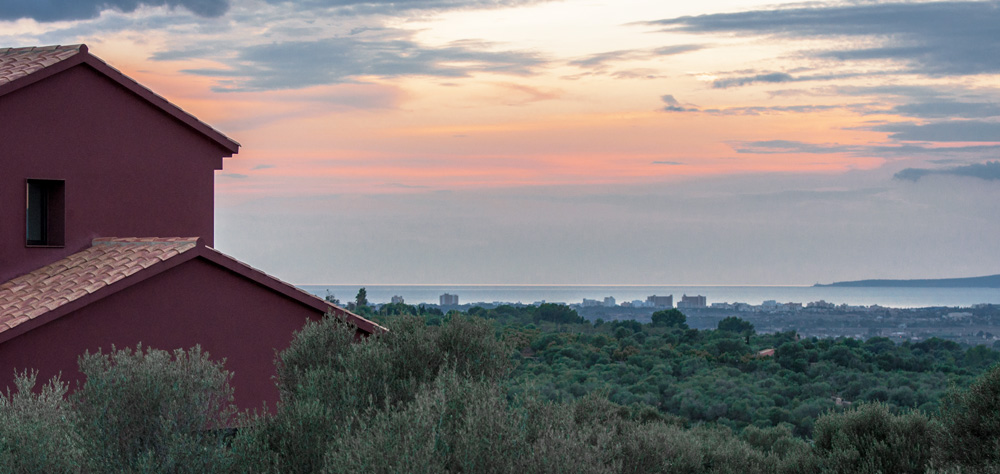 Son Gual (Copyright: casafari.com. All Rights Reserved.)
Palma de Mallorca and its environs are at the epicentre of Mallorca's prime residential booms and have continued to outperform the wider Spanish property market over the past few months. Prices in the region grew by 1.1% y-o-y in January 2016 to reach €1,498 per square metre (sq.m) (source: Idealista).
The local market witnessed 79 price increases in January and May 2016 alone, with an average price differential of €130,700 recorded.
Popular investment spots for foreign property buyers in the city itself include Palma's historic old town, as well as the Paseo Maritimo, Santa Catalina and Son Vida districts. These locations are becoming a favoured investment option for overseas buyers, many of whom now reside on the island on a permanent or semi-permanent basis.
Spain's third largest airport, Palma de Mallorca, provides expats with excellent connections to the major European business capitals. The area's low entry levels and excellent standard of living are attracting a new breed of weekend residents who commute to work.
I. Price distribution – apartments segment
Palma's apartment sector boasts an excellent mix of prime property listings. Casafari data shows that there are currently more than 700 listings on the island within the €200-330k price bracket, as well as a healthy 600 properties listed at between €300-400k.
Towards the higher end of the market, more than 650 apartment properties are currently listed in the capital at between €500k and €1M.
The luxury home inventory is considerably smaller, with only around 300 apartments currently marketed at €1M and above.
II. Price distribution – villas segment
Villas and luxury homes represent the most popular investment product for high-net-worth buyers in Palma.
As the chart illustrates, there is a healthy volume of available properties within the municipality's villa and luxury home market.
At the lower end of the market, we note a little under 3,000 residential units listed at under €1M.
Moving into the prime residential sector, we see around 1,500 homes for sale at a cost of between €1M and €1.5M.
There is also a healthy supply of the most exclusive villas (those priced at €2M and above), with approximately 300 listings in this category at present.
South-Western Mallorca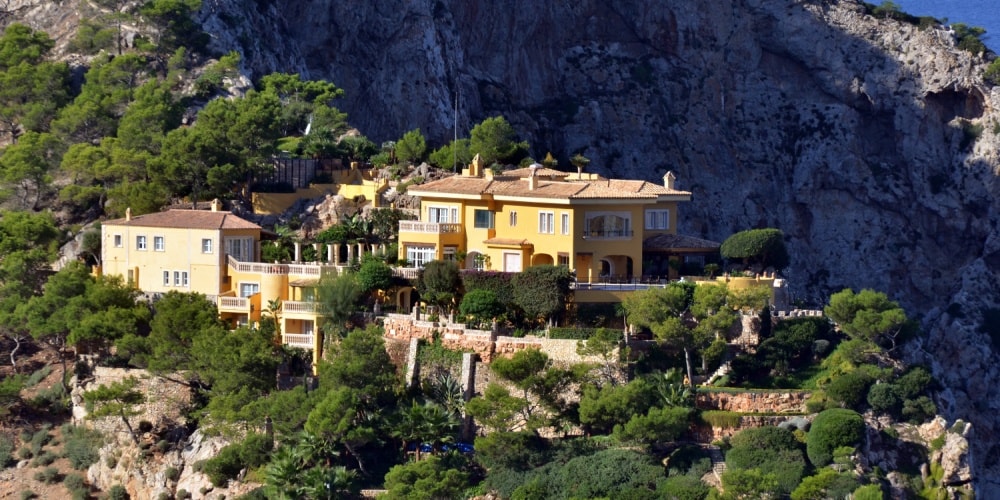 Maschmeyer villa, Sa Mola, Port d'Andratx (Dirk Vorderstraße, CC BY 2.0)
The south-west corner of the island is currently the hottest market in Mallorca in terms of demand, price movement and buying activity.
The region is popular with foreign buyers who enjoy close proximity to the capital and its excellent transport links, while enjoying the pleasures of some of the most stunning coastline and beaches on the island.
Growing demand for prime real estate in the area has supported consistent price increases over the past few months. There were 144 price changes in the region during January and May 2016, with an average price difference of €342,674 recorded by CASAFARI.
At the epicentre of the market boom is Port Andratx (Puerto d'Andraitx) – a picturesque port town of 3,300 inhabitants, which has become a favoured spot among Europe's elite. Homes in the €1-5M price range are listed an average of €7,507 per sq.m.
The area is particularly well known among ultra-high-net-worth buyers, as shown by a succession of eye-watering deals over the past few years. In November 2014 the "Maschmeyer Villa", once home to Princess Diana, traded for reported €40M, working out at an impressive €25,780 per sq.m.
Availability in this idyllic setting is limited, however. As of May 2016 there were just six villas for sale in local area under €500k, and just 33 listings in the €1-2M price bracket.
Camp de Mar, another town popular with European high-and ultra-high-net-worth buyers, is close behind: in early 2016 prices at the top of the market hit a spectacular €30k and €40k per sq.m.
I. Price distribution
Despite the high demand for properties in the south-west, there are still opportunities to invest in prime residential space in the area if you know where to look.
As shown by the charts below, the majority of available apartments in the region sits within the €0-500k price bracket, with about 1,000 such units being marketed at the start of 2016.
There is a higher inventory of houses, or villas, which is not surprising given that the typical buying demographic in the region.
We note higher activity at the lower end of the prime segment (€1M-2M), with around 500 homes for sale. Availability at the higher end of the prime sector is more limited, with only around 200 properties currently listed at €3M and above.
North-Eastern Mallorca
Villa La Fortaleza, Pollensa (Copyright: casafari.com. All Rights Reserved.)
Less developed and located at a greater distance from the island's airport and commercial centre, the north Mallorca's rural yet stunning north-east has yet to receive the same level of attention from investors enjoyed by the south-west.
While further from investors' radar than other parts of the island, the north-east is beginning to tickle the fancy of the European elite. The area now has a steady sprinkling of investment hotspots – the towns of Pollensa, Alcudia, Santa Margalida, along with their outlying areas are among the most popular locations for overseas buyers.
According to the casafari.com data monitoring service, North-Eastern Mallorca witnessed 28 price increases during the recent period, with an average difference of €97,143 recorded over January and May.
Meanwhile, activity towards the upper end of the market is being driven by Europe's ultra-high-net-worth community. The port of Pollensa is renowned for being the scene of one of Spain's biggest property deals of recent years: 'La Forteleza', a 2,600 sq. m. former fort was sold to a British investment banker for a reported €40M in 2011. Watch this space.
The bottom line
Given the amount of price movement on the island on recent weeks, coupled with the narrowing inventory of prime residential properties, we believe Mallorca is slowly turning from a buyer's market to a seller's market.
However, with a significant stock of prime properties still available on the island – especially in more remote areas – we believe there is still plenty of opportunity for investors to enter the market towards the beginning of the growth curve.
Check out CASAFARI for our guides on where to look, and for the most accurate, up-to-date Mallorca property listings and prices.