In the competitive world of real estate, information is power, so having comprehensive knowledge about a property is an invaluable asset for any estate agent.
When trying to sell an asset, the estate agent who possesses a deep understanding of the history of properties for sale, their features, and market value, can more effectively communicate each property's unique selling points to potential buyers. Also, they are able to address concerns, price the property accurately and instill confidence in prospective buyers, ultimately facilitating a quicker decision-making process.
For estate agents representing the buyer, having such knowledge is equally critical. Such knowledge empowers them to negotiate effectively, and secure the most favorable terms for their clients. They can also provide valuable guidance on the property's long-term investment potential, allowing buyers to make choices that align with their financial goals.
Having said that, let's see all the information you can find inside CASAFARI on properties for sale on the market and how each of these data points can help you on a daily basis.
Time on the market, a true negotiation insight
Knowing how long a property on the market has been for sale can be a strategic advantage for an estate agent when negotiating a lower price. A property that has been listed for an extended period may signal that it's perceived as overpriced or has some other issues that deter buyers.
Armed with this information, an estate agent can leverage the property's time on the market to encourage a seller client to be more flexible on price, highlighting the importance of aligning the property with current market conditions and buyer expectations.
It can also give the professional a stronger negotiating position when representing the buyer, expediting the sale and securing a better deal.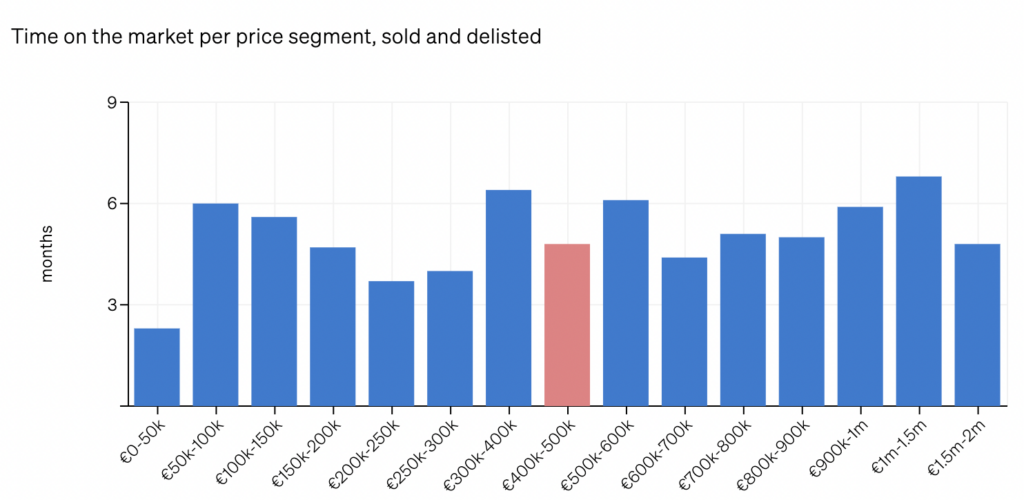 This valuable information can be found on CASAFARI in many different ways. On the Property page, you can see how many days it's been available, as well as see a graph showing how long similar properties spend on the market, according to their price segment.
On our property valuation report, made inside Comparative Market Analysis, you can find out as well the average time a property spends for sale of rent.
Property history and a deep understanding of a real estate
Combined with the time on the market, another interesting piece of information you can get on CASAFARI's Property page is the historical data of real estate. Each property page shows when a property was put for sale or for rent, by whom, as well as increases or decreases in prices.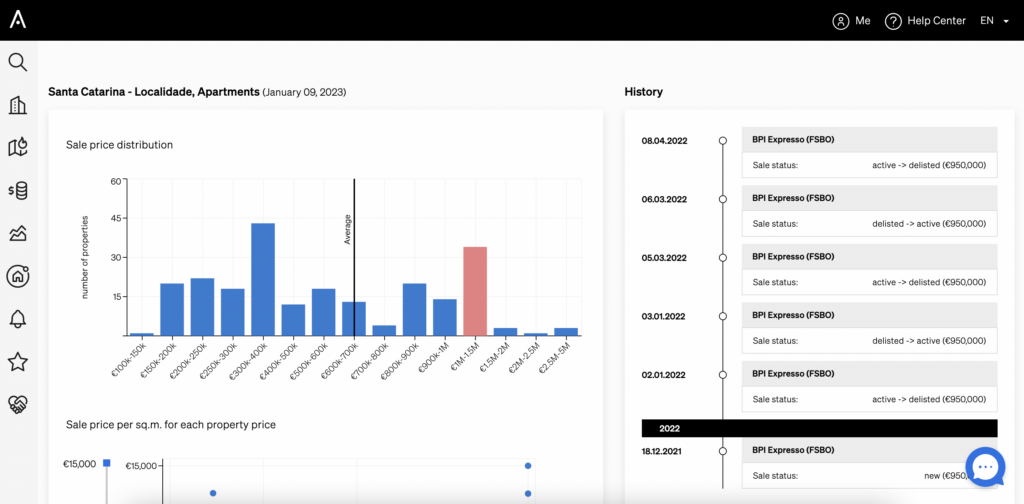 Properties for sale on the market that have experienced multiple price reductions, for example, can be strong indicators that the owners are more inclined to negotiate, which is always a good information for you to have when representing a buying seller.
Another possibility is that this owner is in need of the professional assistance of an estate agent to competitively price the real estate and sell it. They might be facing urgent circumstances that necessitate a sale, such as relocation, financial pressures, or changes in personal circumstances.
Property history: why is this data priceless to real estate professionals
Find out if a property for sale is accurately priced
As an estate agent, you know that if a property on the market is overpriced, it can deter potential buyers, ultimately leading to potentially a lower final selling price. On the other hand, underpricing a property may result in a quick sale but leaves money on the table for the seller.
In addition to facilitating a smoother transaction, the correct pricing of a property is essential for building trust with clients. Estate agents who can provide a well-researched and market-aligned price instill confidence in their clients, demonstrating professionalism and expertise.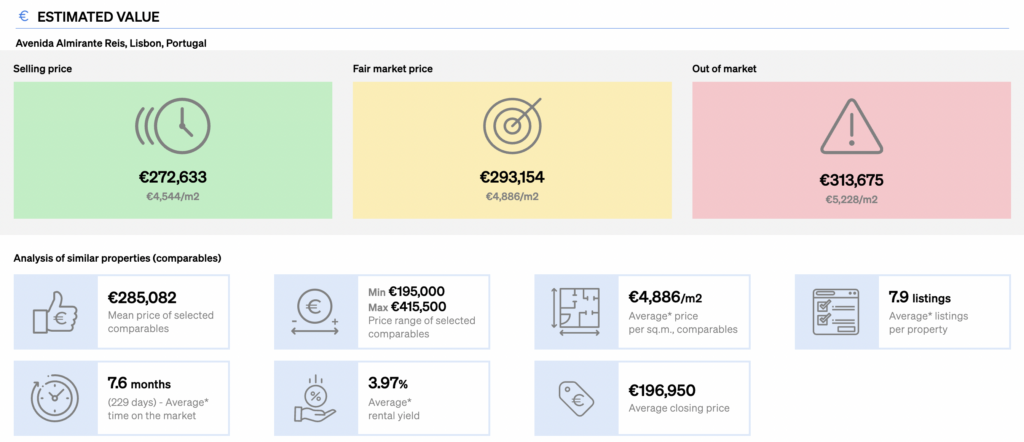 With Comparative Market Analysis, you can check what would be the appropriate market value of a property for sale in your portfolio or that a buyer client is wishing to purchase, allowing you to adapt the pricing or negotiation strategy accordingly.
This property valuation is made based on the comparable properties on the market, those that have similar characteristics and that are on the same location as your real estate. This way, you can be sure that your property is only compared to those that will actually compete against it for buyers.
How CASAFARI's market analysis helps estate agents sell more and faster
Gross Rental Yields: find out which are the good investment properties
Understanding the gross yield of properties for rent enables the estate agent to provide valuable financial insights to both buyers and sellers. This metric, which is calculated by dividing the property's expected annual rental income by its market value, offers a clear indication of the property's potential return on investment.
For sellers, knowing the gross rental yield can help in pricing the property competitively and attracting potential investors. On the buyer's side, the gross rental yield aids in assessing the profitability of an investment. Meaning, the estate agent can advise a buyer about which properties for rent would bring a higher or faster ROI.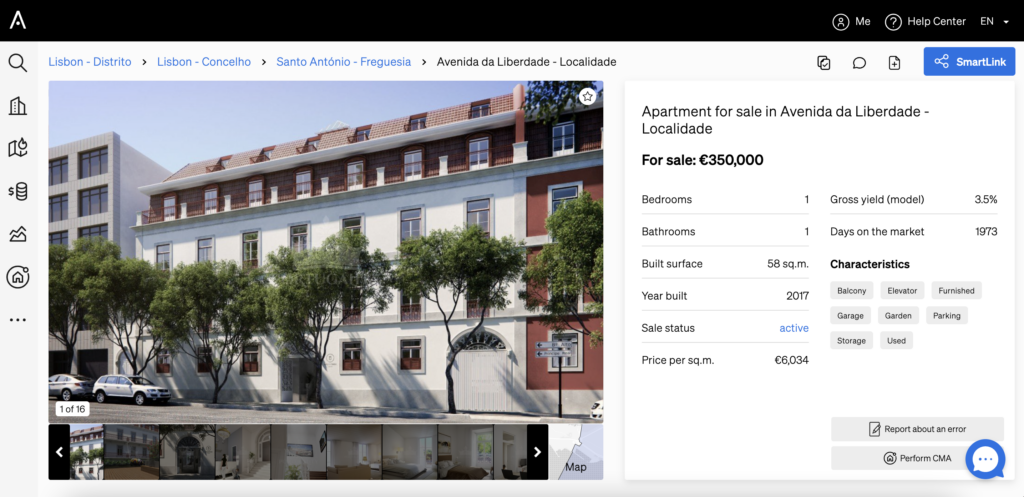 This information is available inside CASAFARI's property page, as well as in our Property Valuation report. 
CASAFARI's Property Valuation report in detail: what you can create with Comparative Market Analysis
Points of Interest: get to know the surroundings of a property
Understanding the amenities available in the surroundings of properties for sale is a pivotal aspect of tailoring a property search to meet a client's specific needs.
For instance, a family with young children may prioritize access to good schools and parks, while a professional couple might value proximity to public transportation and a variety of dining and entertainment options. By taking these factors into account, the agent can narrow down the property options to those that are best suited to the client's daily routines and desired quality of life.
Moreover, an estate agent's knowledge of the surrounding amenities can also impact the property's long-term value and resale potential. Clients often consider factors such as the neighborhood's safety, walkability, and access to recreational facilities when making their purchase decisions.

Inside CASAFARI's property page, you can find plenty of information about its surroundings, including a list of restaurants nearby, schools, supermarkets, pharmacies, hospitals, green areas and access to transportation.
Are you ready to start working with all this knowledge about properties for sale to back you up in just a few clicks? Subscribe to CASAFARI and bring a data-driven approach to your work.