Open houses are opportunities for the estate agent to sell a specific property, feel how it's being perceived in the market and get to know more potential clients. Let's see how to organize such events in a way that increases your chances of sealing deals.
What is an open house in real estate?
An open house is an event in which you invite many people to visit a property in your portfolio at the same time. The whole point of it is to show how the property is a good investment and ready to live in.
The event can also be used to achieve faster sales for properties that have been on the market for a few months or the ones which their homeowners are in a hurry to sell.
The guests can be people in your contact list, acquaintances of the homeowner and people that live in the vicinity that might be interested in buying a house for themselves to stay in the neighbourhood or for their relatives.
The advantages of hosting open houses
1. Potential buyers can see the house from up close
As well as it happens during a visit, the guests of your open house can see each corner of the property, open cabinets and explore by themselves.
2. You can show how the place works to entertain
Open houses are the perfect occasions to show potential buyers that they would be able to host parties or Sunday lunches with the family in the property. They'll be able to see how the space performs with many other people inside it, walking around the main areas.
3. It saves time
Imagine how much time and effort would it take to book individual visits and show the property to all the people that could come to one single open house! If you know the kind of people that could be interested in this place, invite them to see the property all at once.
4. It can connect you with new clients
Not all guests are going to come from your contact lists: some of them will be neighbours or friends and acquaintances of the homeowner, for example. These are interesting people for the estate agent, since they can become leads.
Even if they are not interested in buying the place you're showing at the open house, they might be the perfect fit for other properties in your portfolio.
A step-by-step guide for hosting a successful open house
Let's see a step-by-step guide to achieving the best results possible in your open houses.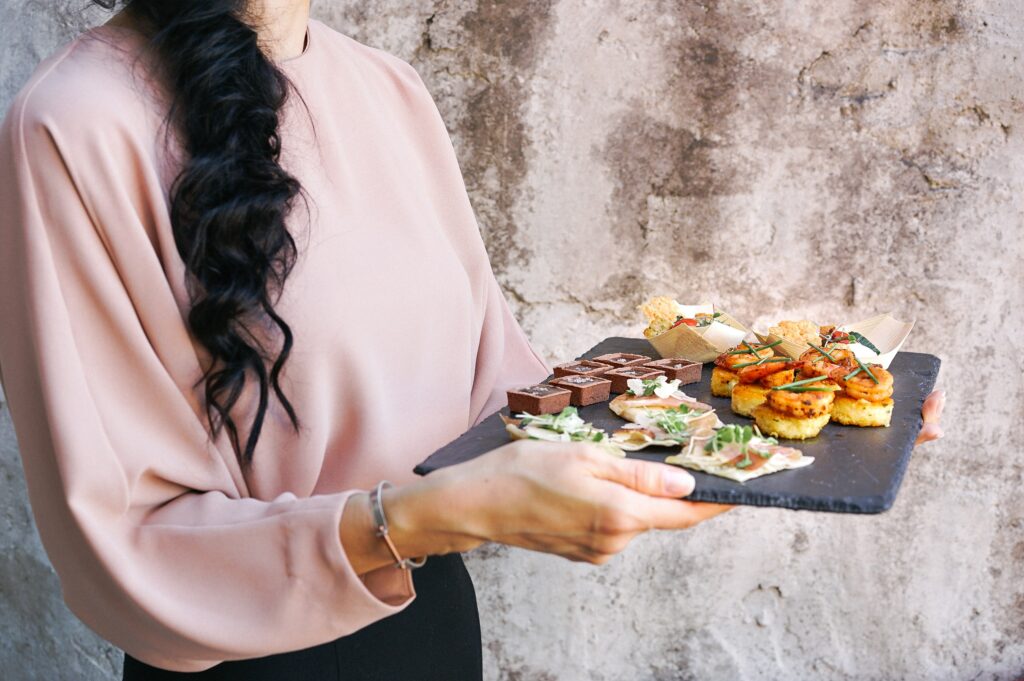 Setting a date
To make sure that most people get to be present, when hosting an open house it's important to find the right date.
Start by focusing on weekends, so people don't have to exit work in order to be present. Avoid holidays, because people might use these days to travel, or days in which big events are happening, such as a World Cup game or the elections.
As for the timing, give your guests a good range so they can fit your open house in their calendar easily.
Spread the word ahead of time
Another way of granting that people will be able to be present in your open houses is to let them know in advance.
Publicise the event through an email campaign, social media posts and maybe even with pamphlets for those that live in the surrounding area, always targeting the ones with the right profile for that property.
Prepare the house to receive the guests
Making the house clean, organized, depersonalized and improving its kerb appeal is essential for increasing the chances of the true potential of property be seen by the guests. They need to be able to open cabinets, wardrobes, the fridge and explore the whole space while already feeling at home.
See how you can apply some home staging techniques before hosting your open house.
Recruit partners to work with you
If you will receive a few dozens of people, it may become too overwhelming for you to talk to all these potential buyers at once. To make sure everyone is cared for and receive all the information they need, recruit a couple of your colleagues to help you with the event.
Study the property and its surroundings
Once the guests arrive at your open house, they will start asking questions, so you need to have the answers. Read your notes about the property, ask the homeowner in case you have any questions and update yourself about everything that happened in that space.
Also, the visitors might want to know if their lives fit in that neighbourhood. Meaning, you should get yourself informed about schools, supermarkets, hospitals and other businesses that a family would enjoy having close to their home.
Put a signpost in front of the property
Don't leave your potential buyers lost while looking for your open house: make it clear which is the property they should be visiting. Advertising the event on the outside of the property to help them figure out the way.
Think about thermal comfort
If you are planning open houses for the warmer months of the year, get to the property ahead of time and turn on the air conditioning or open the windows to let the cool air in. The same goes for the winter times: arrive in time to have the house heated for when the guests come.
Your visitors are potential future inhabitants of this place, so they have to feel comfortable inside the property and know that it's prepared for the weather across the year.
Welcome people when they arrive
Present yourself, make them feel welcomed and even offer some complimentary refreshments to break the ice. Your goal is to make sure they are at ease in the property.
Another good idea is to have a tablet or place where they can register once arriving, so you can gather their contact information in order to follow up later.
Prepare a material to hand out to guests
Upon entry, you can also give them a pamphlet with all the most important details about the property and your contact information. You can even add a QR Code that leads to a contact form or to your website. This way, potential buyers have a way of reaching out to you if they are interested, after the event is finished.
Give everybody a few minutes of your time
Despite having your peers working on the event with you, you should try to find the time to talk to each one of the visitors present in your open houses.
Hear what they have to say about the property and about what they were looking for. This could be useful both for you to give feedback to the homeowner about the expectations of potential buyers and for you to get in touch with these guests later, offering them properties of your portfolio that better fit their interests.
Follow-up with the guests after the event is done
For the estate agent, the open house is not finished at the end of the event: you still need to talk to those who were present and check if they have an actual interest in the property. Send emails or call the visitors that left you their contact information, answer any questions that might appear from those that get in touch with you.
With CASAFARI CRM you can track all touchpoints of your relationship with each client and set canned replies to make sure you don't forget to get in touch with them after the event. You can even send a Smartmail, with a list of properties that are more suited to their needs, whether they are in your portfolio or from other agencies willing to partner in deals.
Ready to start booking open houses and sending out invitations? Don't waste any more time!
Photo by Jarek Ceborski on Unsplash