Starting now, you're able to work even more efficiently and provide an even better service to your client. How? Thanks to CASAFARI's transactional data, now available for the Portuguese and Spanish markets.
Check all the benefits you can obtain from deepening your understanding of real estate transactions and where to find this information inside CASAFARI.
How is your real estate business benefited from transactional data
1. It helps the agent face the prices of a specific market realistically
No matter whether you've just started working in a market or if you're looking for property outside of your area for a special client, with CASAFARI's transactional data at your disposal you will always know how the market behaves without the need for previous experiences.
2. Transactional data helps you strategise the acquisition and sale of property
Imagine that you identify that the type of property you're about to put on the market is usually sold for 10% less than the asking price in your market. In this case, you will know to charge around 10% above the desired price, already counting on this negotiation margin.
The same goes for when you're buying a property for a client: the agent can feel free to look for properties slightly above their client's budget, already counting on negotiating to lower 10% of the price.
3. It sets your clients expectations
In an area where the demand is higher than the amount of properties available on the market or in which there is a lack of a certain kind of asset, buyers are forced to compete for real estate, making higher offers and raising the transactional prices once again.
On the other hand, when an area has a decrease in demand or is going through times when buyers are facing a limited payment capacity, they will probably try to negotiate prices. In situations such as these, the asking price will be different than the actual transaction price.
When you have access to CASAFARI's transactional data, you don't need to wait until you can feel the market. Your seller client already knows up front if they should prepare to consider different proposals, as well as your buyer client will be aware of how bold they can be when selecting the properties interesting to them.
4. Transactional data leads to faster deals
When the agent knows how the buyer or seller is going to react, it's like taking a shortcut: there's no need to study the market, they can make offers or put property for sale more assertively, already aware of what they need to seal the deal.
Want an example? Imagine you're selling a property in an area where residential properties show a 10% negotiating margin. You can settle an agreement with the owner in which you are allowed to automatically accept any offer to buy the property for 10% less (or a smaller margin) than the asking price.
This is only possible if you know what's according to the market and what's outside of an acceptable negotiation for that area.
Where to find transactional data inside CASAFARI
CASAFARI now shows on your Comparative Market Analysis report what is the average transactional price of a property, allowing the agents to compare it to the average asking price, see how big is the difference between them and understand if properties are being sold for a higher or lower value.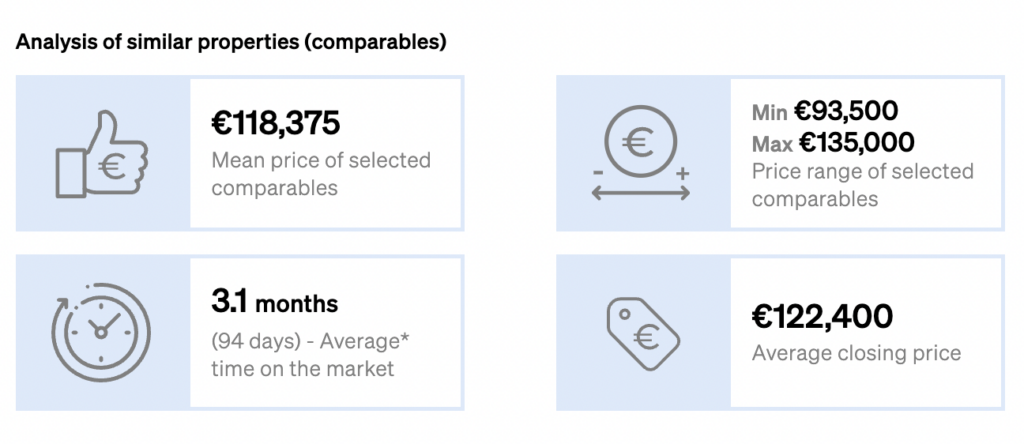 As well as every other information shown in your property valuation report, this closing price is shown considering a specific type of property and market, to ensure the maximum precision.
This is official information, sourced from both established institutions in each of our markets and by the numbers our users provide us. In other words: valuable data for your business!
Are you ready to start closing deals faster and in better conditions for your clients? Waste no more time: subscribe and access the up-to-date and organised database of CASAFARI, the largest in Europe.