Are you familiar with CASAFARI's Lead Magnet? This easy-to-use lead generator provides your potential clients with valuations for the properties they intend to buy, rent or sell in exchange for their contact information. They get the information, you get the lead.
The Lead Magnet can be added to your website or you can create a page dedicated to offering this service. And the big news is: now, you can see all the leads obtained on a single dashboard, called Lead Flow, allowing you to monitor the performance of your lead generation throughout the year.
Let's see how to measure your results with this tool and why using this technology can make a difference to your business.
The advantages of using CASAFARI's Lead Magnet
There is no shortage of reasons for you to have Lead Magnet as your lead generation tool of choice. Here are a few of them.
It attracts potential clients
Have you ever heard of reciprocity marketing? It's a mechanism that triggers human behaviour in order to generate more leads in an exchange that's a win-win situation. You provide value upfront, motivating your potential clients to react positively in return.
That's exactly what CASAFARI's Lead Magnet does!
By offering free property valuations online, you provide a useful service to both tenants, property buyers and owners, bringing these potential clients closer to your work and generating valuable property contacts that you can nurture later.
It builds your brand
It goes without saying that the way potential clients see you and your brand can increase your revenues significantly, right? If anything, an estate agent wants to be the number one choice in the minds of any person with real estate needs, as well as the professional that current clients will recommend to friends and family.
In this sense, Lead Magnet is also a way to present your work to a potential clientele and build your personal brand so you become an increasingly recognised estate agent.Besides the obvious lead generation component, the tool will position yourself as a modern and updated professional, knowledgeable about the market and willing to offer your expertise to truly help your clients. Isn't this how you want to be remembered?
It collects relevant information that will help you seal more deals
To generate leads is not enough: you need to know the profile of the potential client and what interests them, so you know how to approach them and what services to offer. And this is precisely one of the most valuable traits of our lead generator tool.
In order to get the results they wanted from the property valuation calculator you provide, potential clients will have to add a few pieces of information. They'll say if they want to sell, rent or buy a property, which characteristics the real estate has and add their contact information.
With this information at your disposal, what you get are extremely qualified real estate leads. You'll be ready to strategise your business approach accordingly and seal the deal much faster.
And you know what's best? It's integrated with your CRM! So all real estate leads generated are added straight to your sales funnel, allowing you to store all the information collected to follow-up with them later. It helps settle expectations from the clients.
The property valuation calculator shows your potential clients which is the fair market value of a property they intend to buy, sell or rent, which aligns their mindset with the reality of the market.
Once they already have an idea of what to expect, both in terms of what's gonna cost them to rent or buy and what they can expect to ask for from a tenant or homebuyer, it becomes easier for the estate agent to present the suggested asking price without much disagreement. It makes your job easier, while still qualifies the lead.
Want even more reasons to use this powerful tool? There you go!
CASAFARI's Lead Magnet in numbers: why you should use it
Find all the results of your prospection with Lead Flow
One of the key-ingredients to a successful business is measuring the results of your work. So, we came up with Lead Flow, an intuitive dashboard in which you can see all the data about the lead generation related to your Lead Magnet. With Lead Flow, you will be able to:
Check the amount of leads gathered during the last day, week, month or year;
See increases or decreases in your performance compared to yesterday and last month;
Easily find the code for you to add your Lead Magnet to another page;
Browse through a feed of generated leads, with their contact information and the valuation they were looking for on your tool;
Filter the leads feed for a period of time and download the information.
Lead Flow allows you to work with a data-driven approach, measuring if your marketing efforts are getting the results you expected or whether you should strengthen the communication about your Lead Magnet.
And there's more! Beside each lead, you can also find buttons that direct you to our Property Sourcing and the Comparative Market Analysis.
This way you can find a home for a buyer lead or run a valuation for the property of a seller lead without having to go through our filters. All the information needed for these actions is sourced directly from Lead Magnet, generating a search or a valuation report that is tailored to your lead while also sparing you the time and effort.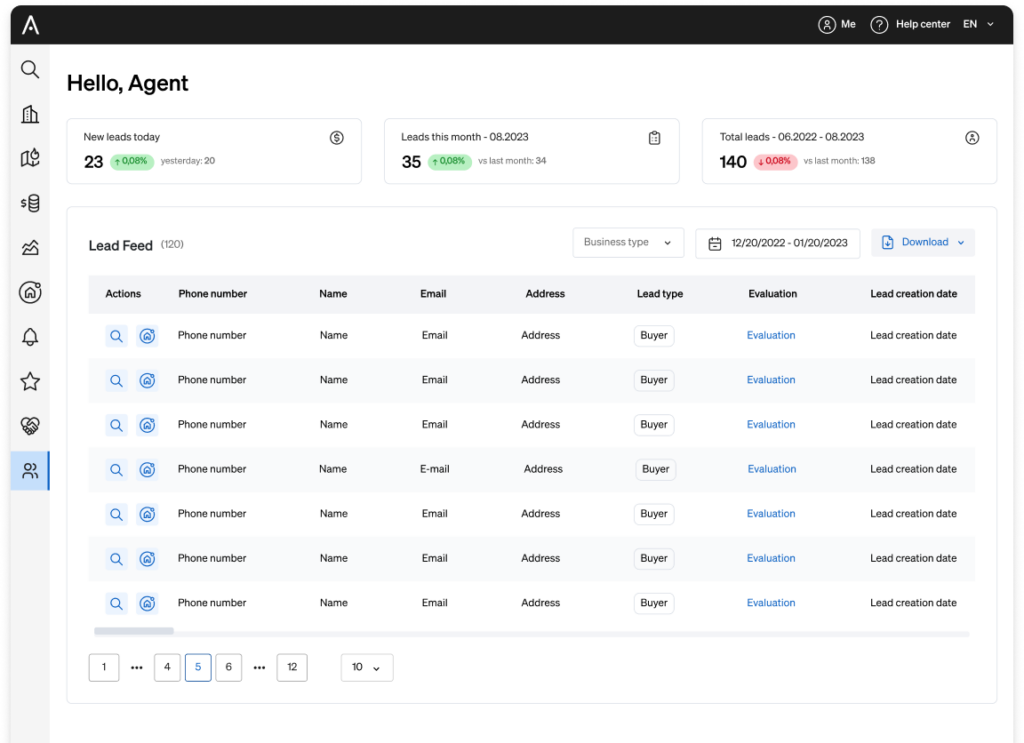 Do you have 5 minutes to spare? Then, subscribe to CASAFARI to improve your lead generation and enable more business deals in no time!