HomeLovers needs no introduction these days. It's been 10 years of treading a digital path, much graced by voyeurs, loyal customers and new ones (on the way!). The homes of HomeLovers invite us in and Miguel Tilli, as host, tells us in this interview the story that makes them viral and disruptive in the housing market.
HomeLovers refuses the label of real estate agency. Is the concept of "Digital Boutique" what best characterises you?
Absolutely. A "boutique" is about how we select homes and promote them. Basically, not all houses have the characteristics that we value at HomeLovers. When we find them, we have to treat them with the image and communication that has distinguished us in the property market since our foundation.
Along with that "boutique" comes "digital", because HomeLovers was born on social media and we were many years without even having a website. We started from where few would dare to start, only through Facebook.
In relation to our owners and younger clients, we always had a huge acceptance. The more traditional customer, who was already in the habit of looking for their homes on real estate portals, so it took a little longer to search via social media.
We say that our shop is a Boutique of Homes, because it's a house in Largo do Chiado and we associate all these concepts of digital boutique and estate agency. A concept that is still very distinct from what is traditional.
HomeLovers was one of the first, if not the first boutique, to take professional photographs of homes, making them desirable to live in. Where does this rigorous attention to aesthetics come from?
There is a subjective and an objective answer. In the subjective, my partner and wife, Magda Tilli, has this way of being, with rigour and an enormous aesthetic sense. In other words, I am purely commercial and she is aesthetic.
When the need arose for us to define what HomeLovers homes are, I was much more inclusive. For me, any "rentable" house would do, but there was an "image committee" that wouldn't let me proceed, because these houses didn't have the characteristics that made it fit our standards.
From an objective point of view, we found that there was no real estate company in Portugal, and particularly in Lisbon, working only with this type of house with a certain type of image. Everyone had good houses, but in the middle of "not so good" houses, we discovered a gap in the property market and took advantage of it.
Can we call it home staging?
Yes and no. Yes, because there's much care taken to decorate the house, to choose the best view and the best hours of sunshine. And no, insofar as we don't change and decorate the house just for this. The houses that appear already comply with these parameters naturally, since those who come to us already identify with our work and concept.
When they discovered this gap, did they imagine that demand would be lucrative so quickly?
No, at the time it was almost viral. It was 2010-2011, people were not able to get into debt to buy after the crisis and were looking for flats to rent, banks were hardly lending money. So we adapted our company to the gaps in the housing market: lack of quality and beautiful houses. We thought it would be profitable, although we didn't know it would be so fast and exponential.
Do they continue to inspire and win over a young audience?
Yes, it is often the young audience themselves who find us and become customers. Our typical client is between 25 and 40 years old and sometimes they follow us for 5-10 years as voyeurs, and now they want to buy a house and are looking to do it with HomeLovers. We end up building a relationship and follow the whole process of developing people's lives. We also have many customers in their 40s and 50s, who are better off economically, so they are able to access high value purchases.
Therefore, we are a company with a mostly young public, however, we can reach clients of a higher age, as we have very good products suitable for each stage of life.
What are customers looking for, especially post-pandemic? Have they changed their choices in homes?
No doubt about it! All this process of adaptation of living with the virus and the time people spent at home led them to look at home with other eyes, for example, allowing them an office space and outdoors. This led people to look for other homes, with outdoor spaces, balconies, more spacious, another room for an office, with gardens, for example.
There is a very significant issue: all these houses cost a lot more money, which led people to look for houses outside urban centres. We sell houses in areas with prices never imagined, as a result of covid, because before, people wouldn't want to be far from their workplace and they wouldn't value the exterior space either.
Anyone who sees HomeLovers today might think that it was always easy to create and establish this business. What were the initial difficulties you had to overcome?
The first was directly related to the mistrust with which people looked at us, because we had no website. I myself raised many houses and when the owners asked what were the plans for disclosure, the answer was that ! "I would put them on Facebook and catalogue them there". Many times we lost solicitations because of this, but a good part of them, later, were able to understand this added value of ours. We were just another channel and we didn't compete directly with other real estate agents, so we demanded a Facebook exclusive with our clients.
What did you consider to be fundamentally wrong with the traditional sales process as an estate agency?
The question of photos. These were taken by the salesmen, often with mobile phones. Then, the way the houses were presented, with an obsessive focus on sales and not on renting.
We understood that focusing on renting brought us many clients, not only the client who rented and could later buy, but also the client who rented and could later sell. So, three years later we started selling as well.
Communication itself also played an immensely important role. Our marketers we call accounts, because they have to have a special attention to the curation, the client and the houses. At HomeLovers we don't talk about property, we talk about houses, because property is a very cold word, and reminds us of the feeling that "anything goes". At HomeLovers we sell homes for people to live in, where people feel at home. No account can say it will sell a property, for example. And that makes all the difference.
Ten years ago they started everything on Facebook. Nowadays, with so much being said about this social network and others that are emerging, how is the company treading these digital channels?
HomeLovers is very strong on Instagram and we are working on TikTok and Pinterest. We're very focused on these platforms and it's our way and always will be, because as a brand and with the history we have that's what makes sense. LinkedIn included. At the moment, Instagram is where most of our target audience is, although we have a lot of leads coming from Facebook, because of our history and work with it.
Can we say that HomeLovers is an ambassador of Portugueseness and national culture?
We are passionate about Lisbon and Porto. We love the history of our two cities, where we are strongly present. The photographer is oriented so that, every time he goes to a house that has history, he can't leave there without a photo of the letterbox, the doorknob, the worked ceiling, the tiles, the old chimney…
I give the example of a Belgian client, who visited our office the other day, and said, jokingly, that what he liked about our site and made him choose HomeLovers, was the fact that he believed it was the real estate company that best interpreted the city and its intrinsic characteristics.
Is the office-home you opened in Chiado in 2019 still an important meeting point between the brand and customers? Do you close more and more deals with this "door open to the street"?
I'll be honest, we opened our home-boutique shop and the pandemic started soon after, in February-March. We've already closed a lot of business by people coming through our door, but of course we counted on having closed a lot more. Nevertheless, we have noticed that since January 2022, visits have picked up in terms of customer flow.
It was a very interesting bet because we have completely mirrored our concept in our shop, which is a house. It is disruptive because it moves away from a traditional real estate company. We want to welcome our clients and promote the experience that they feel like in their future home, with the characteristics of HomeLovers, too.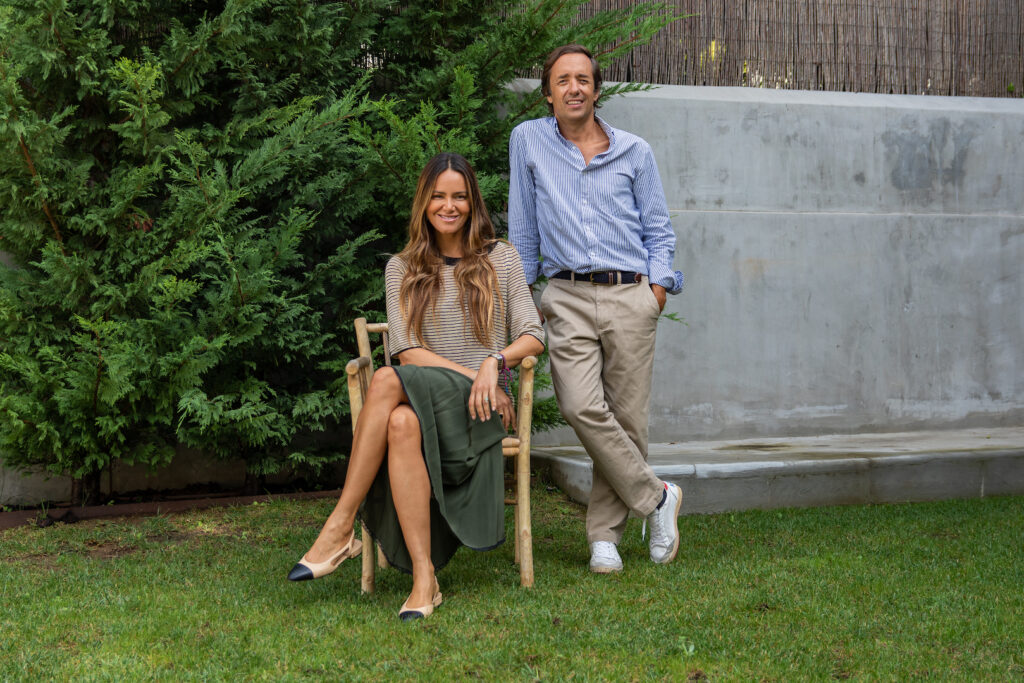 How was 2021 for HomeLovers? And how did the rental market perform?
In retrospect, 2021 was an excellent year, we increased sales by 15%. Even in 2020, despite the difficulties, and much due to our digital positioning, we sold several houses online.
The rental market has seen a 20% rise – and especially higher values, demand for larger places with gardens and balconies, for example.
HomeLovers was visionary in the way it positioned itself in the housing market 10 years ago. What is your forecast for the next 5 years?
I have some ideas on the boil but secrecy is the soul of the business. We have disruptive ideas to be implemented, an alignment in image, in our concept and in what our customer outreach is. It's all within this triangle, but I can't unveil more.
CASAFARI has been with HomeLovers since 2021. What is the biggest benefit you derive from this partnership?
We were among the first companies to use CASAFARI. I would point out two main benefits. Firstly, it helps with market research, which is a very interesting tool in which we can understand what's for sale and compile all the sources like no other. In that sense, it also helps our team to look for houses and find the best option for our clients.
Meanwhile, from houses to boats with BoatLovers: want to spread a new concept of living life?
This novelty is about lifestyle and sell a dream. Living a dream connected to the boat, to nature and creating a synergy with HomeLovers. It is more a concept positioning than a business positioning. Obviously we are focused on the business, but in an embryonic phase as we are, the goal is for BoatLovers to be an inspirational way to connect our clients to the sea and to the lifestyle we promote through HomeLovers, of course.
"Lovers" will be more than just a suffix on your brands. Why, specifically, this word/feeling?
It's almost like a club. I'm a member of a club that looks for beautiful houses, because I'm passionate about comfort, beauty, well-being, and my family. Lover, in the sense of the house where I can raise my family, which is what drives us and is the basis of everything. Magda and I started this movement, and all the HomeLovers team are part of it, as well as all the customers.
Buying and selling property may be digital, but is it still eye-to-eye?
I could not buy a house to live in without visiting it, understanding the energy and the neighbours. Digitisation means not wasting time on what doesn't matter and focusing on what does matter: being able to refine a shortlist through a digital process. Personally, I would choose to go there unless it was pure investment that I didn't want to create an emotional connection with.
Having a house/ a home is the biggest economic decision of a person's life, and therefore should be visited. So I believe digital makes it easier and reduces the human component, but it doesn't replace it.
"Home is where your heart is"… and where is Miguel's heart?
It's in the family. And for a family to be happy, they must have a home. Heart, family, home, HomeLovers.