Everything You Need to Know About Eixample Property
One of Barcelona's largest neighborhoods, the Eixample stretches out in a wide band across the city center. This is also one of the most desirable places in the city to live in, as it's where you'll find much of Barcelona's signature Modernista architecture. The most-coveted Eixample property features modern details, high ceilings, and a great location. It's no surprise that this area attracts many international residents looking for a place to call home in the Catalan capital.
The Eixample spans the middle of the city, and was designed to connect the old city center with neighborhoods that used to be their own separate villages. It sits just above the winding streets of the Gothic Quarter. You'll instantly be able to tell you've crossed over into the Eixample because of the wide avenues and tree-lined streets. The Eixample is large, and so has many smaller neighborhoods, including the Eixample Dreta, the Eixample Esquerra, the Nova Esquerra de l'Eixample, Sagrada Familia, Sant Antoni, and Fort Pienc.
The upper boundary of the Eixample is the Grácia district, a former village that today is known for being a hub of creativity. To the south, it's bordered by Sants and Poble Sec, which also retain their village-like feel. Go north and you'll find Glòries and the up-and-coming Poble Nou area.
What to do in Eixample, Barcelona
The Eixample district is the centerpiece of Barcelona's modernist movement, and there are plenty of beautiful buildings to enjoy here. The backbone of the district is the grand Passeig de Gràcia, which features two Gaudì masterpieces and many other equally spectacular works. The avenue is also home to some of the city's top luxury shopping and dining opportunities.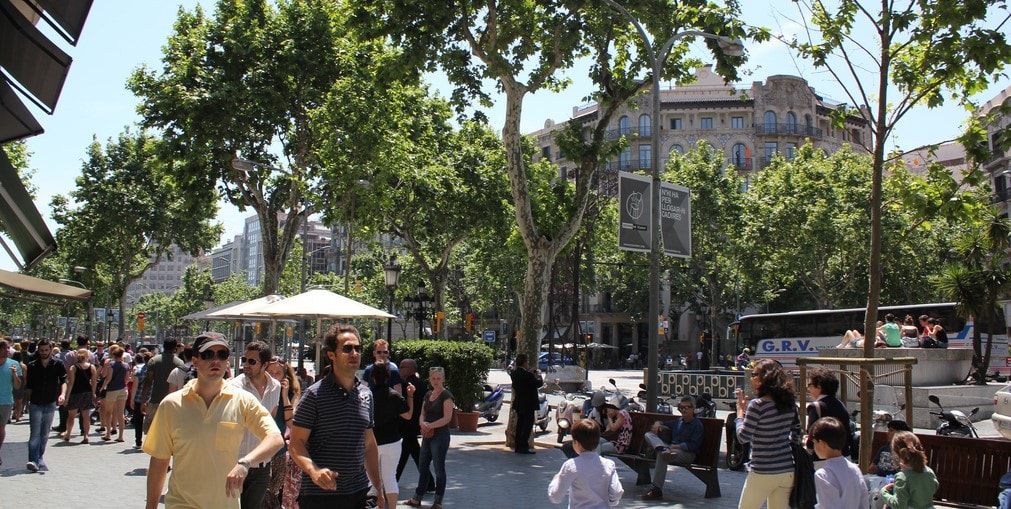 Picture by Mathieu Marquer via Flickr
Granados street, located in the Eixample Dreta,  is also a popular place for locals to look for Eixample apartments. It hosts many cafés and restaurants, plenty of which have sidewalk terraces so you can sit outside when the weather is good (which is nearly all year in Barcelona). The dining options range from laid-back to sleek and upscale, so no matter what you're in the mood for, you'll find it here.
If you've had enough of the city streets, getting out into nature is easily accessible from the Eixample district. About 10 kilometers away you'll find the large Collserola Natural Park, which overlooks the city from the slopes of the Collserola hills. They're a popular place for locals to run, hike, and explore.
If you'd rather play golf than hike, there are many golf courses within a short drive of Barcelona's Eixample district. Sant Vicenc, Terrassa, and Sant Esteve Sesrovires are all about half an hour away and feature top-notch golf courses.
Galleries, Beaches and Celebrities
Art galleries can be found within the district itself. There are many clustered on and around Enric Granados street, with collections of all sorts of types. You may find some galleries dedicated to cutting-edge contemporary art, while others go for a more traditional approach.
Barcelona's city beaches are also easily accessible from any Eixample property, as they're within 5-6 kilometers of the neighborhood. This also includes the city's Port Vell, where you can find glossy yachts of all shapes and sizes. You can also travel to nearby beachside towns and villages, such as Sitges, which is just under 40 kilometers away.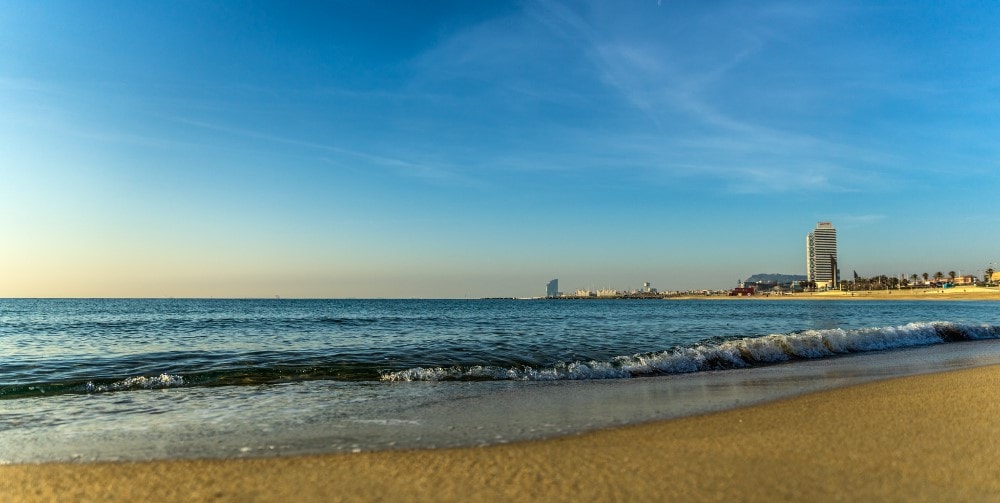 Picture by Jose Mª Izquierdo Galiot via Flickr
International schools abound in the Eixample district, including the Ecole Ferdinand Lesseps and the Escuela Pérez Iborra. There are also plenty of colleges and universities with international renown, such as the Universitat Pompeu Fabra's Barcelona School of Management, Business School Universidad Internacional, and the Barcelona Business School.
Celebrities are often drawn to the Eixample district as a place to stay when they are visiting Barcelona, or even look for an Eixample property. Amongst the famous faces who have stayed in the district are opera singer Luciano Pavorotti, Madona, Lenny Kravitz, Richard Gere, and Michael Jackson. Royalty from overseas also come to stay at the famous hotels in the district.
Lifestyle and Culture in Eixample, Barcelona
There's no shortage of world-class dining options in the Eixample. At the Condes de Barcelona residential complex, you can dine at Lasarte, headed by Martín Berasategui. This is the first restaurant in Barcelona that has won three Michelin stars. The restaurant combines traditional and modern flavors in surprising and unexpected dishes. Raül Balam's Moments and Fran López's Xerta also number amongst the district's Michelin-starred establishments. Moments focuses on Catalan cuisine, while Xerta showcases little-known cooking techniques from the region's Delta d'Ebre.
After dinner, enjoy a sky-high rooftop bar, such as the Majestic Hotel's La Dolce Vita. There are also many chic bars clustered around the upper end of the neighborhood above Avinguda Diagonal. Try a drink at the stylish Velodromo to start.
Throughout the year, there are many festivals to enjoy in Barcelona. The highlight is La Mercé in late September, dedicated to the city's patron saint.  The event features concerts, activities, and traditional celebrations for a few days. Don't miss the human towers (called "castellers") or the "correfocs" fire runs.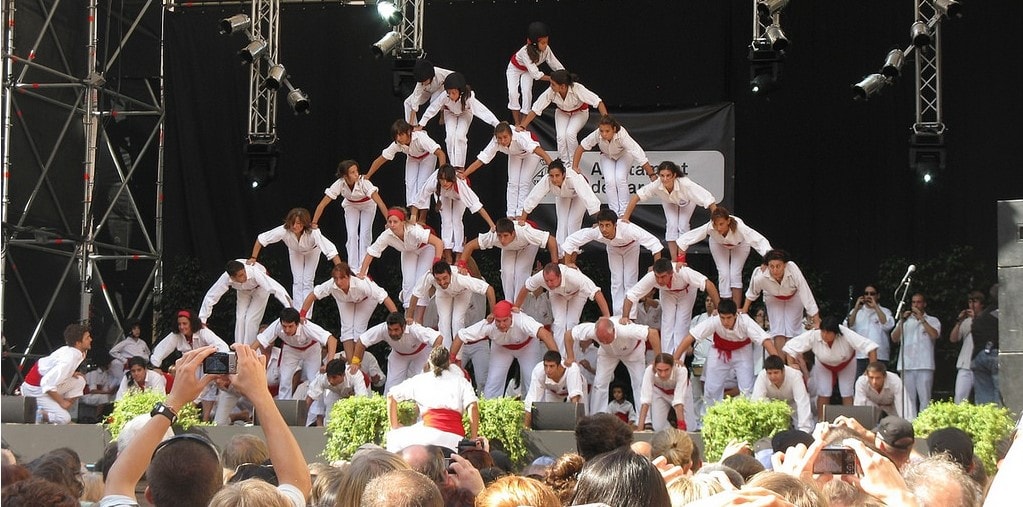 Picture by SeraTJ via Flickr
In conclusion, there are few places in Barcelona that offer as much to do and enjoy as the Eixample district. This area brings together many of the elements that make living in Barcelona special, and Eixample property makes an excellent choice for choosing a home in the Catalan capital.
CASAFARI tracks the entire real estate market by aggregating and matching properties from over 30,000 different sources. We provide investors and real estate professionals with clean hyper-local data in real time. Our clients get the best investment opportunities and close deals 10x faster.
Hero picture by Danny Navarro via Flickr