In a dynamic industry such as real estate, success often hinges on the ability to stand out in a crowded market. For estate agents, one highly effective strategy to achieve this is becoming a local expert.
From building trust with clients to gaining a competitive edge in negotiations, being a local expert opens doors to a world of opportunities. So, whether you're an experienced agent or just starting in the field, read on to discover how CASAFARI can help you become even more knowledgeable about the areas of the city you work in and how mastering the nuances of a particular region can significantly benefit real estate professionals.
Why should you become a real estate expert in your region
1. Enhanced Credibility and Trust
Demonstrating in-depth knowledge of a specific location will provide your client with a sense of security. When you can answer questions about local schools, amenities, transportation and market trends with confidence, you instantly strengthen the trust between you and potential buyers or sellers. And, in general, clients tend to entrust their real estate transactions to someone they perceive as an authority in the area.
2. Negotiation Power
Being a local expert also gives estate agents an upper hand during negotiations. Your knowledge of recent sales, pricing trends, and the unique selling points of a neighbourhood allows you to negotiate more effectively on behalf of your clients. You can make a compelling case for why a property is worth a certain price or why a buyer should consider a particular offer, increasing the likelihood of a favourable outcome.
3. Competitive Advantage
In competitive real estate markets, being a local expert can be a game-changer, acting as a differentiating factor that wins clients over. You can, for example, provide valuable insights about the pros and cons of various neighbourhoods, helping clients make informed decisions that align with their preferences and needs.
Not only will your clients feel more confident to seal the deal when armed with useful factual information, but it also spares them to be the ones doing all the research about a specific area of the city, something that could delay the decision-making process.
4. Targeted Marketing
Knowing a location inside and out allows estate agents to create highly targeted marketing campaigns. By tailoring their messaging to the unique features and attractions of a particular neighbourhood, agents can attract the right audience and generate more qualified leads on Google, social media or through email marketing, for example.
This approach not only saves time and resources but also boosts the likelihood of closing deals successfully.
CASAFARI's products to become a local expert
Property Sourcing: a 360º view of the property market
On our Property Sourcing, you can draw on the map the area in which you work and see all the properties available for sale or rent in that location. Need a specific type of property? That's not a problem: you need only to apply our more than 30 filters to find exactly what you're looking for.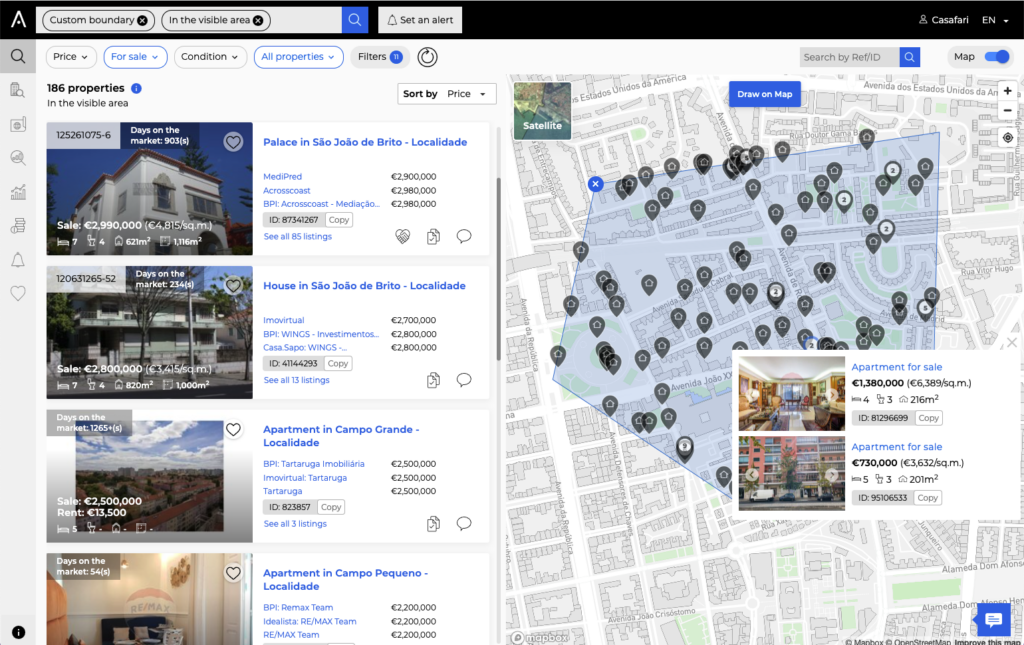 Market Analytics: trends and changes of the market at your fingertips
By staying informed about trends and fluctuations, estate agents can understand market prices and ensure their clients get a fair deal, whether they are buying or selling. This knowledge also enables agents to advise their clients on the optimal timing of transactions, maximising financial outcomes and providing the best possible service.
CASAFARI's Market Analytics provides visualisations of said trends in a time series, by typology and, above all, by area, making it easy for professionals to become real estate experts on site. The tool allows you to see data such as:
Average asking prices;
Price increases and decreases;
Average time a property spends on the market;
New properties available, sold out and delisted;
Number of properties per price range and market stock.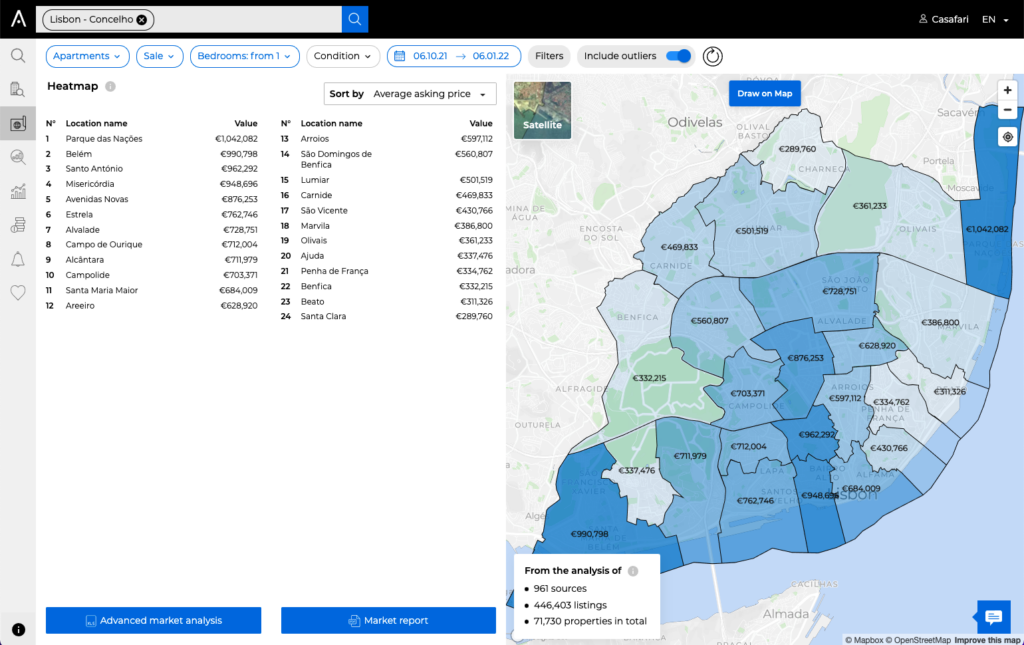 Get powerful real estate insights with CASAFARI Market Analytics
Comparative Market Analysis: a property valuation with location insights
When working for a buyer or investor, local knowledge is relevant both to understand whether the location of the property meets their needs and to determine the right price to pay for a property transaction.
That's where our Comparative Market Analysis comes in: in the valuation report generated, you will find the points of interest surrounding the property. It also gives you access to the average closing price of similar properties in the same area, so you can advise your client accordingly when negotiating.
NEW: transactional data on your property valuation report
CASAFARI Alerts: monitor the market closely
Another way to monitor the market on a daily basis is through our Alerts, a section of CASAFARI's real estate software where you can see the amount of:
new properties available;
increases and decreases in asking prices;
reserved, delisted or sold properties.
Alerts are set for a defined area and can be set for a specific type of real estate using the same filters as in our Property Sourcing, for example if you work solely with luxury, commercial, residential or a specific typology.
And, in addition to our dashboard, which is constantly updated with all the changes, you can also choose how often you would like to get notifications via email.
Another way of using CASAFARI Alerts to monitor the property market is to set up competitor alerts, which will allow you to keep an eye on competitors working in the same location. You can see everything new in their portfolio and monitor your properties for potential exclusivity breaches.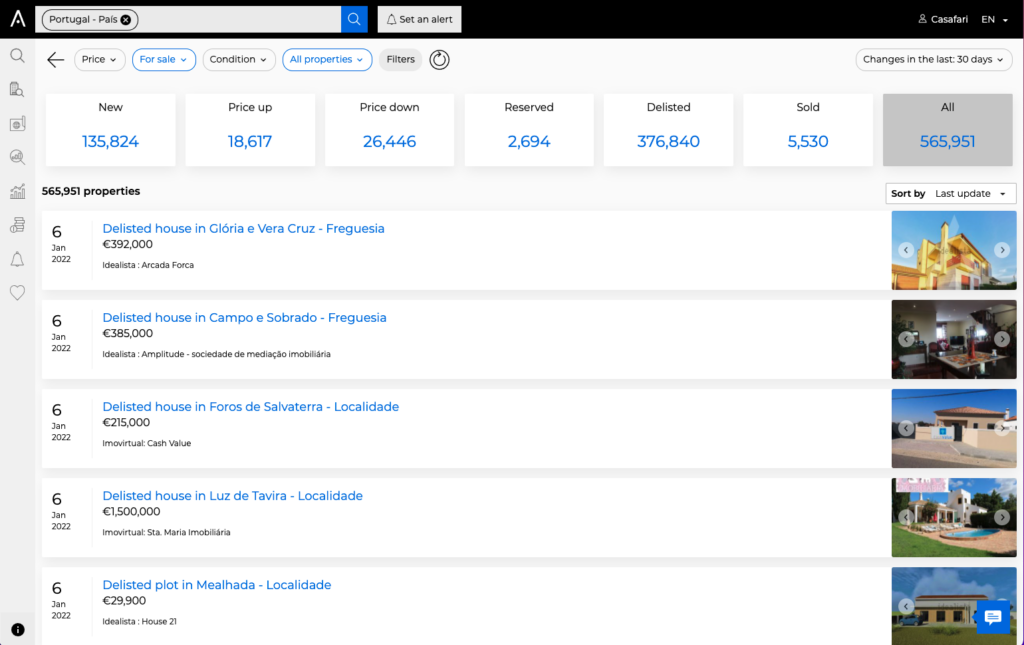 Be the first to act: get to know CASAFARI Alerts
CASAFARI GO: find all the FSBO properties on the market
CASAFARI GO transforms the estate agent into a local expert in prospecting. With this tool, the agent can see all the properties being sold by their owners and the best prospecting routes according to their location.
What it means: CASAFARI GO allows agents to find valuable market opportunities for their clients by showing them properties that have not yet been discovered by any other agency. It also broadens the agent's clientele by helping them to reach owners who need professional help.
Your Real Estate Prospecting, More Efficient Than Ever with CASAFARI GO
Are you ready to take over your market? Subscribe to CASAFARI and start working right away with a data-driven approach.