Looking for Property in Portugal? GoldCrest's new expert guide will help you.
Also, it's filled with CASAFARI data!
Patricia Casaburi, CEO of Global Citizen Solutions (GCS), told us about the 2-year partnership with CASAFARI, in the context of the launch of a new e-book, by GoldCrest Portugal. All data were collected independently, through public information, made available by CASAFARI.
"Your Expert Guide to Buying Property in Portugal", was presented to the public on the 16th of June. This digital book was created with the aim of serving as a guide for all those who are interested in buying a house in Portugal. The intention was to create a complete digital copy, enriched with the most complete information about the property market.
CASAFARI was one of the main sources of information for the creation of this e-book.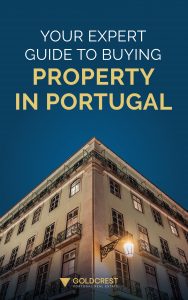 After 2 years using CASAFARI's products, what is the biggest benefit that you highlight with your experience in this real estate network?
CASAFARI helps my team to be even more efficient. Clients really like the quality of the reports, taking into account the complete information of the real estate offer. Since it is updated in real-time, it delivers reliable market information.
To what extent did CASAFARI help in writing the e-book?
The data provided by CASAFARI helped us in the creation of good maps and guides of Portugal, which appear in GoldCrest's e-book, making it easier to explore the country thoroughly. Also very helpful was the use of CASAFARI's Heatmap within Market Analytics.
What are the most used services within CASAFARI?
The reports are obviously a great source of information because they are very complete.
We also really like the global vision that CASAFARI allows us to have, whatever the search is. Besides, the information about the properties is super complete, almost like an "x-ray".
How would you describe the post-pandemic property market?
Dynamic and booming. We have identified that in some areas prices have been maintained, and in others, they have even increased. We highlight a strong trend in villas, and properties with outdoor areas have been valued.
What do you foresee happening in 2022 in real estate, nationally and internationally?
I think that properties will continue to be in demand with office and outdoor space, as we have noticed since the beginning of 2020. Second-tier cities and luxury villas will remain a trend. With the analysis we have collected, we have noticed that there is a nomadic generation that has been investing in cities, which was not the case before.
What advice would you give to new professionals coming into the property market?
Be well informed, be honest with all clients, and always be well prepared for whatever the challenge may be.
Thanks for the interview, Patrícia!