As an estate agent, you've probably seen from up close the frustration of a client that was trying to buy a property and later on realised that the credit they were counting on was not approved. And when situations like these happen, they are also detrimental to the agent, since their hours have been spent working for a deal that's not going to be concluded.
That's why CASAFARI and Colibid partnered in a mortgage solution that will speed up the buying process for our clients in Spain, allowing estate agents to do more business, and make it more satisfying for the client, which increases the chances of the buyer recommending the professional.
Let's take a deep dive into this partnership.
What is this mortgage solution and why is it advantageous for both estate agents and property buyers
In order to change the scenario for the clients who need to find out which are the best mortgage rates available for them, CASAFARI partnered with Colibid, a mortgage intermediary that facilitates connections between agents and their clients. Basically, they compare mortgage rates offered by different banks and institutions to find the most favourable conditions for the buyer, taking into account the client's requirements.
Through this collaboration, we will offer a comprehensive mortgage solution to all agents within CASAFARI in Spain, allowing them to:
check the score of their clients to understand if they qualify for a mortgage;
see the mortgage calculation of each bank and compare mortgage rates to find the best option for the client;
apply for a mortgage on behalf of their client;
monitor the application process.
Now that you know what it does, it's important to understand the relevance of such a tool for real estate professionals, right? With this feature, we can ensure that there is transparency throughout the entire process, which means:
minimising the risk of the application being denied;
enabling agents to provide a faster and more complete service to their clients, adding value their work;
working with accuracy and reliability on the mortgage calculation.
And all you will need to do is access CASAFARI, as you always do! As Elena Escudero, CMO and Co-Founder of Colibid, said (and well!) about this partnership:
"This is a great opportunity for real estate brokers, as one of the main problems they face is the loss of clients due to the slowness of the mortgage process. Thanks to Colibid, estate agents can help their clients speed up the process of getting the loan they need. That way, prospective buyers will be more willing to sign "Las Arras", and the likelihood of losing that client, or the home, will decrease.

In addition, the buying experience will be much more rewarding, so that the customer's own perception of the service provided by the real estate agent will improve."
How to check mortgage rates and help your clients with the process
Where to find mortgage information
Once the agent has logged in to CASAFARI and found a property that interests their client, inside the property page they can see a button leading to our mortgage solution.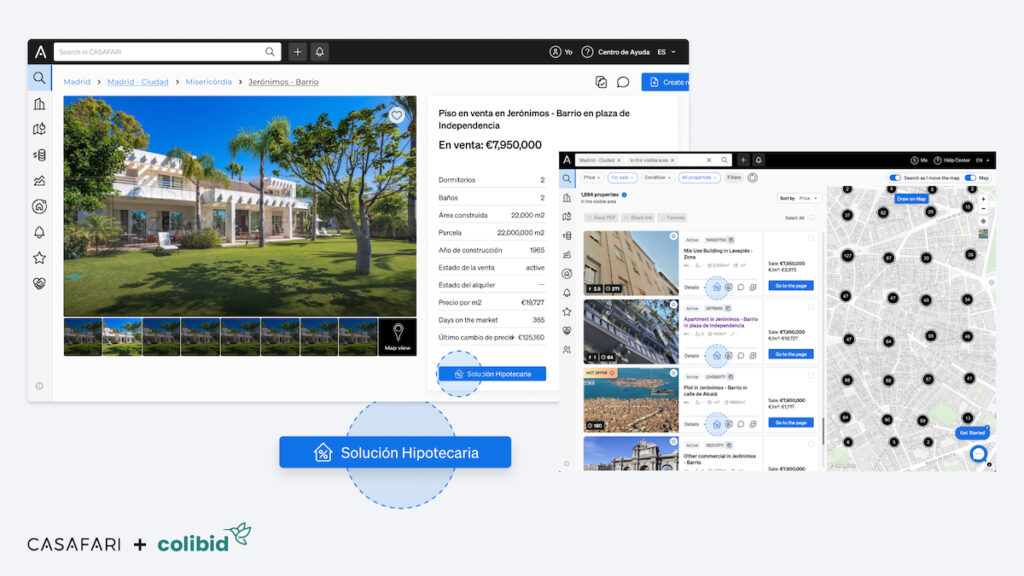 Registering your client
Even before the first mortgage calculation is done, be sure to register your client in this section to attribute that lead to you. This way, if the mortgage is approved, you will receive your commission automatically.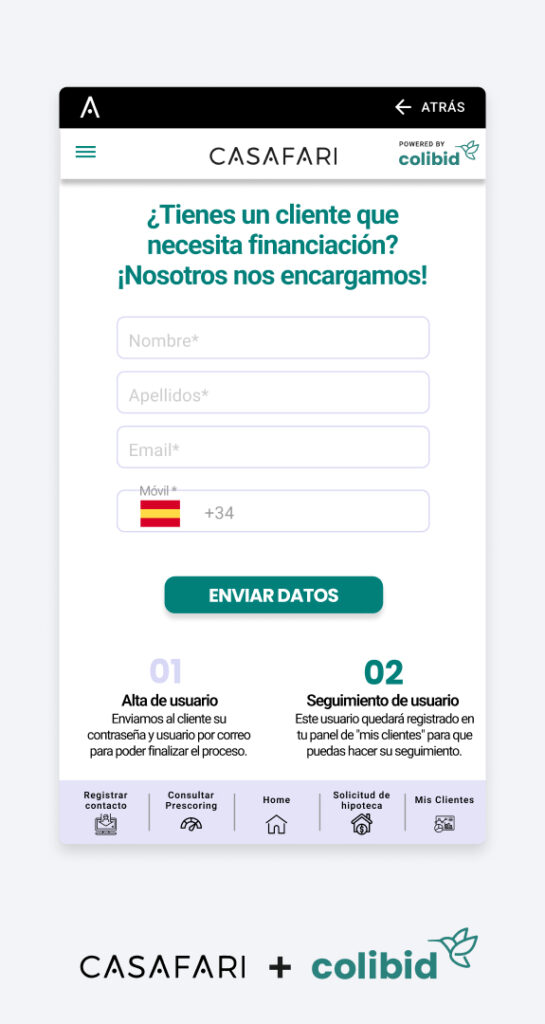 Scoring for a mortgage
Here you can check the likelihood of your client being qualified for a mortgage with the value they need to buy the property they are looking for.
This area is extremely helpful for you to settle their expectations about what kind of property they are actually able to buy, so you can tailor your search for their actual profile.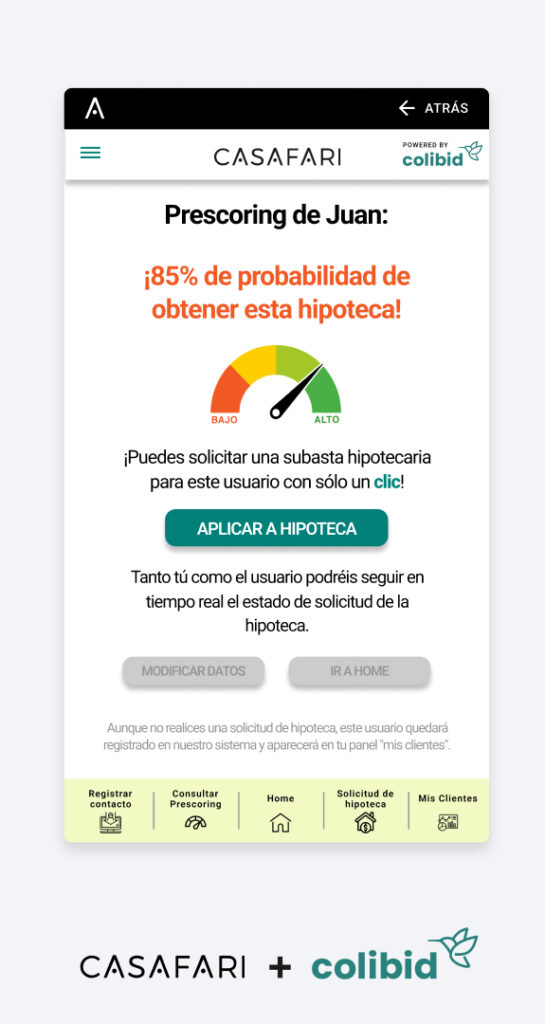 Apply for a mortgage for your client
This is the section inside our mortgage solution that you go to when you've got all the paperwork needed for the process and are ready to apply.
After Colibid checks the current mortgage rates the banks are offering for your client, they will provide you with all the information so the buyer can decide which option is the right one for them.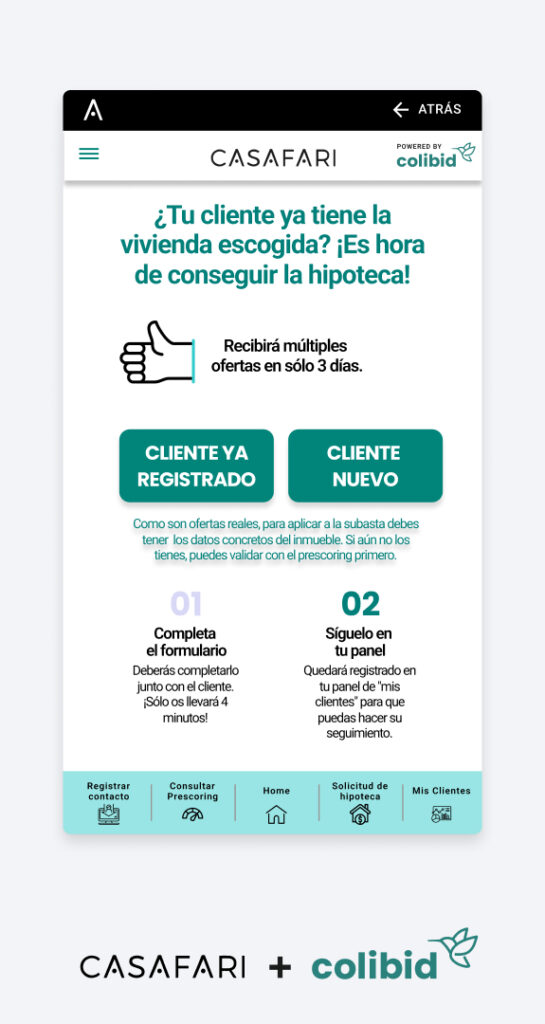 Monitor the whole mortgage process
In this section, you can see all the mortgage applications from your clients, check in which phase of the process they are and keep a close eye on how these requests are developing.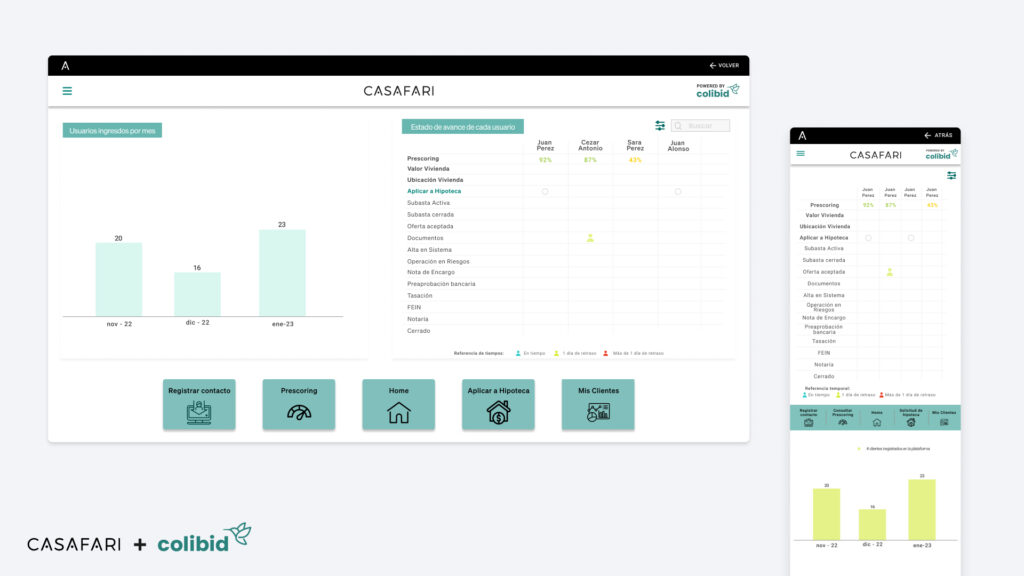 Pretty useful, right?
We're glad to be able to provide this new possibility for our clients! Having Colibid by our side in this new feature is essential for CASAFARI being able to streamline yet another part of the daily routine of estate agents. As per Colibid, in their CMO's own words:
"Colibid is pleased to collaborate with one of the giants of the sector. CASAFARI offers us a showcase in front of thousands of real estate agencies that can benefit from our service. Together, we can greatly ease the transition through one of the most delicate points of the home buying/selling process."

Elena Escudero, CMO and Co-founder of Colibid
Are you ready to start using our mortgage solution? If you already have access to CASAFARI, you just need to login! And if you're not yet part of our network, join us now to start benefiting from a suite of products that enable increased revenues and result in happier clients.