Analysts are predicting that there will be significant growth in the Spanish property market this year. Local estate agents, many of whom deal exclusively with the overseas buyers, note that demand for high-end villas and apartments in prime locations is beginning to outstrip supply.
Meanwhile, overseas investors are confident that prices have hit rock bottom and are set to increase going forwards. Potential sellers have also detected the early signs of recovery in the market and are keeping their houses in the expectation of forthcoming exponential growth.
So what is fuelling these expectations, and do these positive dynamics apply across all price categories and locations?
To answer these questions, we refer to three particular developments taking place between 2013 and 2015.
The Spanish property market has developed into two distinct categories.
Although there has been an upward movement in sales, there is still room for growth.
The price increases do not apply to all properties or geographical areas.
So let us examine each of these points more closely.
1. It's important to bear in mind that in Spain there are clearly two separate, parallel property markets, which in most instances, do not have any immediate impact on each other. If one moves ahead, the other may not necessarily follow.
Sector 1 – Primary Residence
Typical buyers in this sector are Spanish nationals seeking homes costing below €200,000 situated close to their places of work. These buyers are usually dependent on bank mortgages, which require job security. This sector has been heavily hit by the Spanish financial crisis caused by the speculative housing bubble that occurred in the decade to 2008.
Seseña, Province of Toledo, a ghost town 35km from Madrid.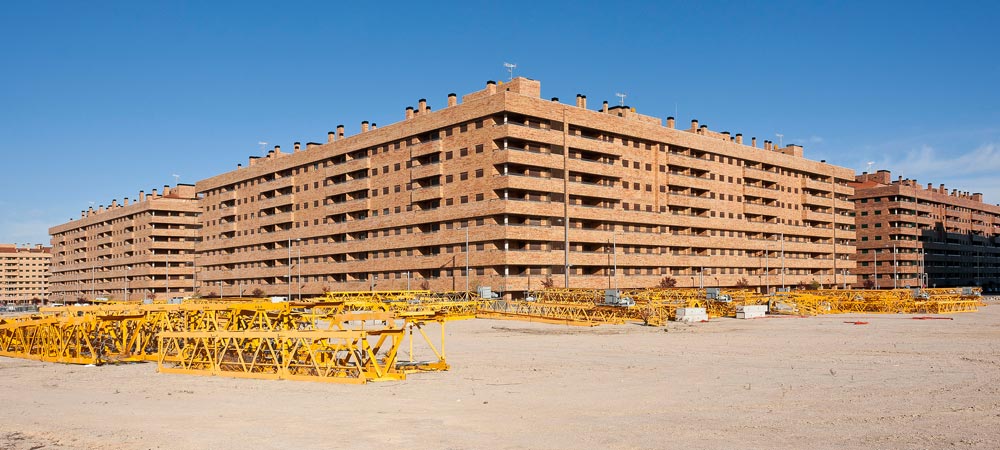 Seseña / Gabri Solera (CC BY-NC-ND 2.0)
This market trend is closely linked to mortgage lending, as the greater the availability of mortgages, the greater the number of sales completed. Despite a drop in Spanish unemployment and some improvement in the economy, there are still several factors preventing a full recovery in the country's primary residence sector.
Around 700,000 Spanish homes were constructed annually in the decade to 2007, more than those in the UK, Germany and France combined.
According to Tinsa, of the 1.5 million dwellings built since 2008, 24.9% remain vacant and it's estimated that it will be more than three years before these are absorbed into the housing market.
There is, however, an uneven distribution, as 80% of these buildings are concentrated in just 10% of the country's urban areas, and it could take many years before they are either purchased or rented.
State-driven propaganda has encouraged home ownership as opposed to renting. Consequently, more than 80% of Spaniards currently live in their own homes. This equates to 10% more than in the UK and 30% more than in Germany, despite the fact that the economies of these countries are stronger, and that their unemployment rates were about 17% lower than Spain's during 2015.
Owner occupation as opposed to property rental in European countries.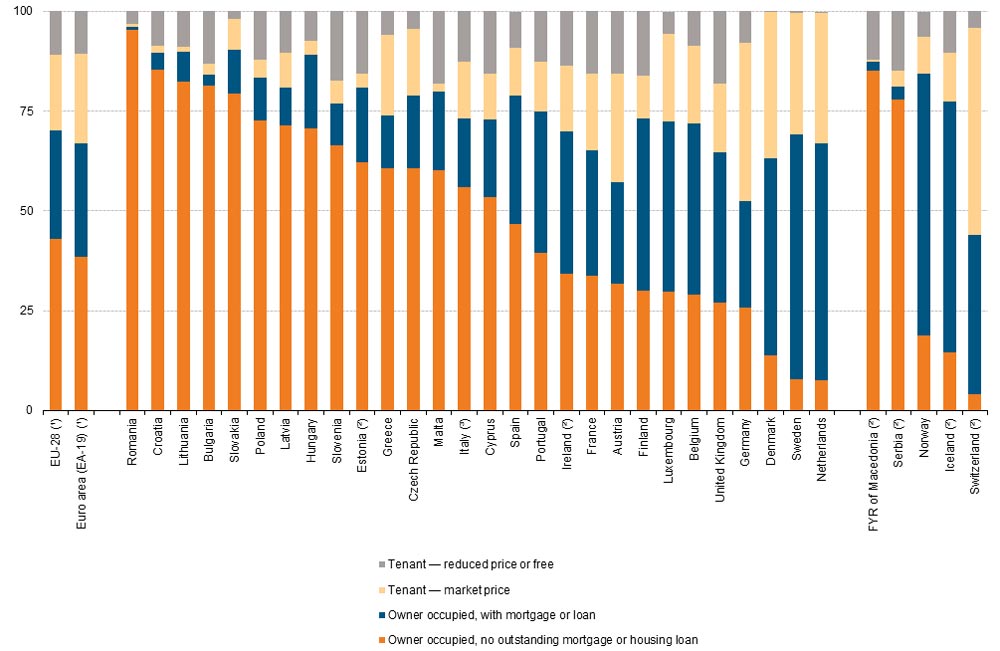 Source: Eurostat (Housing Statistics, 2014)
Spain enjoys the 6th lowest overcrowding rate amongst European countries, based on the number of people per room and per square metre. Only 5% of the total population lives in overcrowded accommodation, which is around half the European average. Spanish residents currently have more living space than most other Europeans including the Germans, French, Austrians and British.
Overcrowding rates (based on the number of people per room and dimensions in metres) in European countries. The greater the rate, the more people living in one housing unit.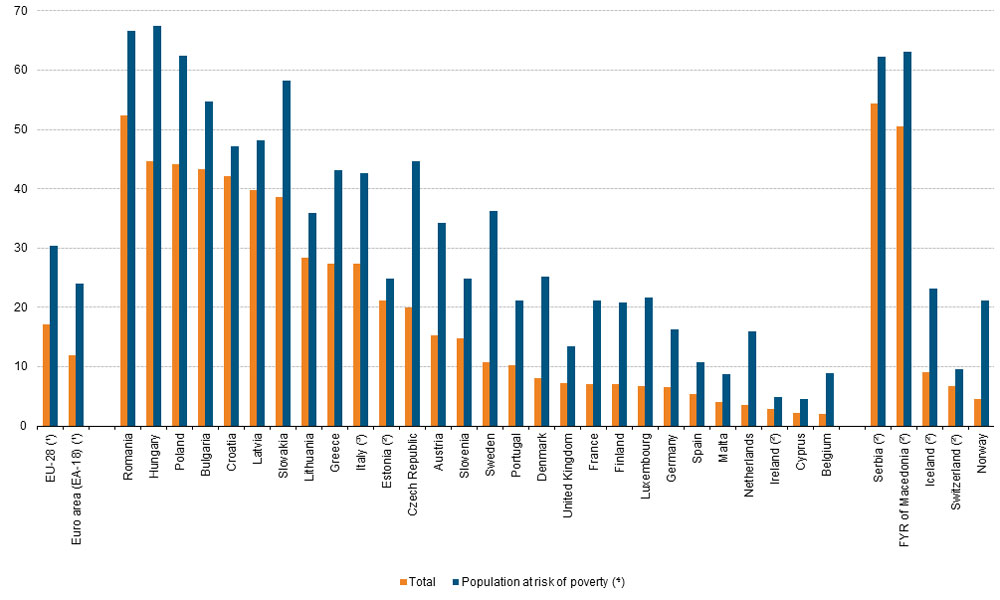 Source: Eurostat (Housing Statistics)
Despite the slowdown in the issuing of new mortgages and various programmes put in place to ease the private debt situation, Spanish private mortgage loans still amount to €0.5 trillion.
Between 2007 and 2011, an estimated 500,000 people lost their homes and mortgage repayments amounted to 40% of the original purchase price. Properties purchased between 2002 and 2008, often have mortgages of between 120 and 140% of the home's current market value.
Gross Rent Multiplier (Purchase Price versus Annual Rental Yield) or how many years it could take to realise a return on the investment – the higher the figure, the less sense it makes to buy instead of renting long term.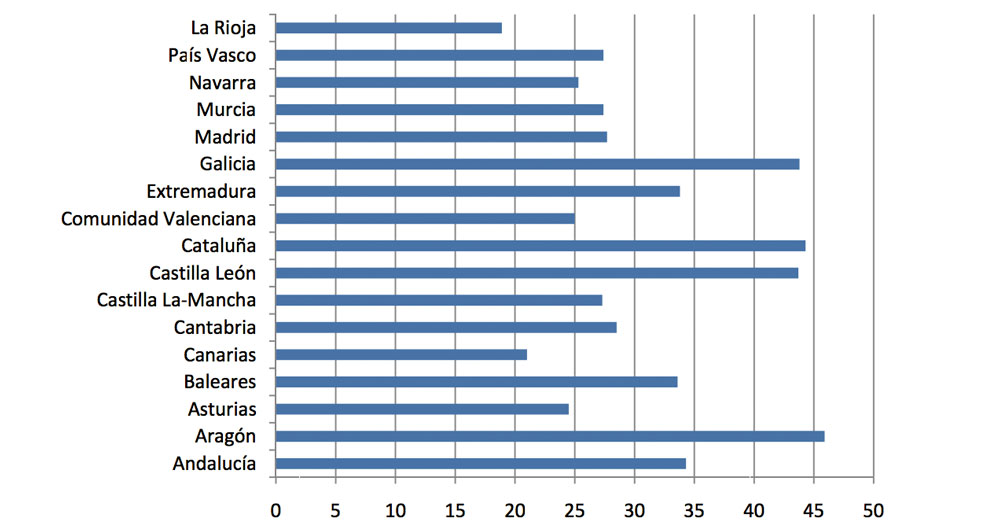 Source: Instituto Juan de Mariana (independent libertarian economics research institute)
In the primary residence sector, owners typically have a single property and in many cases, it still makes sense to rent rather than buy. In areas such as Catalunya, Galicia, Castilla, Leon and Aragon, it would take over 40 years before the purchase price reaches a break-even point against long-term rental.
Sector 2: Luxury real estate in coastal areas
The main demand in this sector is from abroad. Typical buyers are affluent foreigners known as High Net Worth individuals (HNWIs) from the UK, France, Germany, Scandinavia, Russia and China. These buyers are typically looking for luxury villas and apartments, particularly in areas where there is limited availability such as Marbella, Mallorca, Ibiza, the Canary Islands and some parts of Barcelona Province.
Cielo de Bonaire, Alcudia, Mallorca (Balearic Islands), surrounded by the Victoria Nature Reserve with views over the bays of Pollensa and Alcudia, near the mountains of Serra Tramuntana (UNESCO World Heritage Site) and the Levant Nature Reserve, has some of the most desirable properties in Spain.

Source: casafari.com. All rights reserved.
These buyers are usually in the market for second homes while a number also invest in commercial properties and short-term vacation rentals in the most popular holiday destinations. The stable economies of these individuals' home countries, combined with their stronger currencies means buying a second home in the eurozone is often a bargain.
Russian and Chinese investors are increasingly buying property in the region to counteract possible financial crises and economic slowdown in their home nations. With limited investment options back home and volatility in global stock markets, Spanish property, supported by low-interest rates and positive upward trends, can appear an attractive proposition.
According to reports from Realtor.com, via Knight Frank and Sothebys, global investor interest in luxury estates in the Iberian Peninsula has increased exponentially over the past three years. During this period, Spain has seen the first serious signs of recovery in most parts of its economy, and in 2015 Spain was the fastest growing major economy in Western Europe.
Luxury residences in holiday markets are thriving throughout the world - Sotheby's #realestate
Click To Tweet
Historical and forecasted GDP Annual Growth in Spain 1996 – 2016 

Source: INE / Tradingeconomics
This has triggered a revival in the property market. However, government statistics can be misleading as diverse types of real estate are mixed together, regardless of dynamics and trends.
In reality, there remains a large housing stock of primary residences, for which there is a low demand, as opposed to second homes where demand is beginning to outstrip supply.
The graph shows a strong correlation between demand from overseas and the health of the overall Spanish property market. Provinces such as Alicante are the exception, with these regions still reporting a high density of unoccupied stock.
Correlation between purchases by overseas buyers + annual increase in sales transactions by province.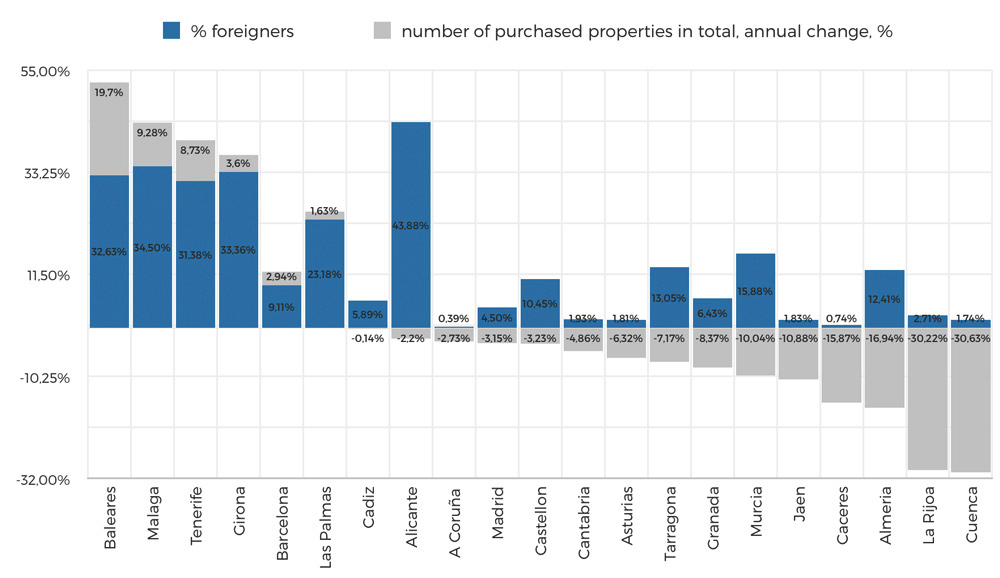 Source: Registradores
Reports from estate agents in the Balearic Islands of Mallorca and Ibiza, which are very popular with overseas buyers, suggest that demand for some types of property has already outgrown the supply. These areas attract typically middle-class buyers seeking apartments in the €300k-€500k bracket in secluded, exclusive coastal areas. Wealthy purchasers demand villas with a sea view and proximity to amenities such as golf courses, marinas, high-end restaurants and airports.
Although these are often cash buyers, banks in their own countries are willing to offer them cheap credit to purchase foreign properties. This confidence has helped to fire the second home market in prime locations.
The investment in holiday apartments and rental villas is increasing and in 2014, holiday rentals in private homes became a €2.6 billion business in Spain. More than 14% of all tourists stayed in apartments and houses during 2014-2015. This figure is eventually expected to reach almost 20%.
With the holiday season spanning more than 6 months, and the occupancy rate remains high with nightly rates in excess of €1,500 in popular resort areas in Barcelona Province, Mallorca and Ibiza, mean annual rental returns of over 10%.
Monthly Overnight Stays in Holiday Housing Y-o-Y Growth from October 2014 – October 2015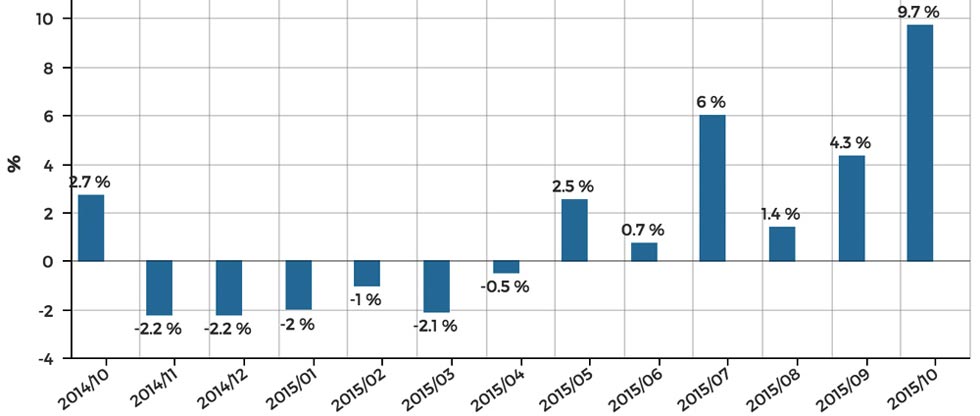 Source: INE / casafari.com
I will now cover the development of prices and sale transactions in both sectors, with the main focus on prime property aimed at overseas buyers.