When it comes to selling a property, working with an accurate asking price is essential to ensure you choose the right sales strategy. But in order to price the property in line with market reality, the real estate agent must have accurate information about the property.
This is why CASAFARI, which aims to make more and better deals possible by bringing transparency to the property market, resorted to Cadastre reference to support the creation of all market analyses in Spain. Let's understand what it is and how it is used in our platform.
What is the cadastral reference?
The cadastral reference is an alphanumeric code that identifies a specific property in the Catastro's database. A cadastral reference looks like this: 6542021 FV5398J 0012 YX.
Through this code, Catastro has access to all the information about a property, such as built area, size, description, number of rooms, plot plan, how many units a building has and much more. This database covers all properties in Spain and is kept up to date, as it's compulsory to report any change to a property to Cadastro since 2014.
This information can also be used automatically inside CASAFARI through the cadastral reference. Let's see how!
Cadastral reference within CASAFARI's Comparative Market Analysis
Having Cadastro data in CASAFARI gives you the confidence that you're working with official information when valuing a property. But the benefits of using the Cadastral reference in your market analysis don't stop there, there's more!
Faster property valuations
In our Comparative Market Analysis, it's possible to search for the cadastral reference of a property. CASAFARI will, then, identify the full profile of the property through Catastro and find the comparable properties available on the market, based on its characteristics and location.
What does this mean for you as an estate agent? It means that our property valuations, which took minutes to complete, are now even faster because you don't even have to fill in the blanks to tell us what kind of property you're looking for.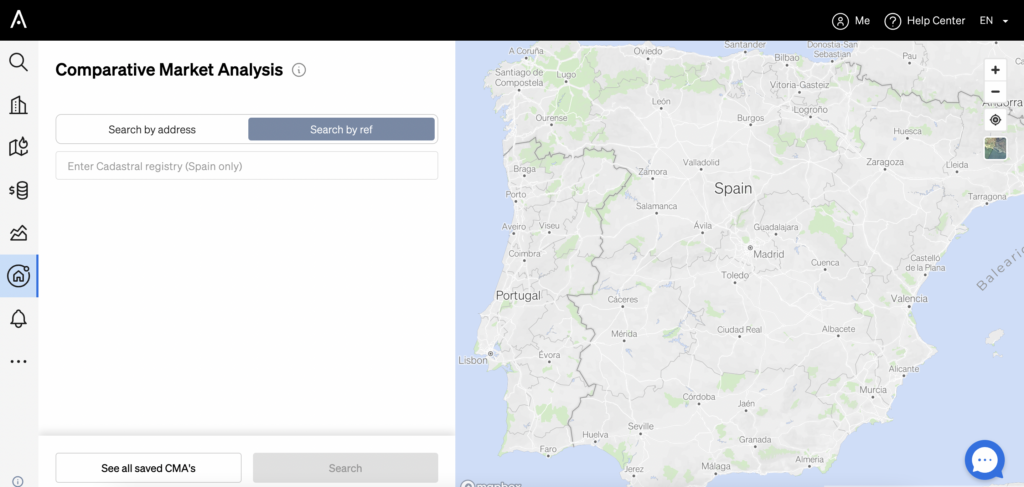 A complete valuation report
Our property valuation report in Spain has an additional page with all the information obtained from Cadastro about your property. This page is added automatically, without any effort on your part, to ensure that the report presented to your client is as complete as possible.
CASAFARI is here to help you provide the best service to your clients, ensuring accurate valuations that support your sales strategies and enable faster sales. Count on us to boost your revenues!