Quietly enchanting and traditionally Mallorcan town of Santanyí offers a varied cultural lifestyle. Both visitors and residents alike are attracted by its culture and heritage through its buildings, monuments, customs, handicrafts and gastronomy.
Moreover, situated in the privileged location a little inland from the outstanding coastline, this pretty southern town is blessed with breathtaking natural surroundings. Coupled with the local slow-paced life, it is certain to offer you a refreshing and calming break from the everyday life stresses.
The area is especially popular with German property buyers for residence and holiday homes. The lovely rural surroundings offer beautifully restored fincas and land plots for development. In the small resorts stretching along the Santanyí's coastline, you will find apartments and luxury villas. In the town itself, there are pretty honey-coloured stone townhouses that are renovated to include the modern amenities, but retaining the traditional architectural features.
Why choose a property in  Santanyi, Spain?
The number of foreign residents buying Santanyi Town property is steadily increasing. It is not difficult to see what draws them here. The town and its countryside are home to plenty of attractions located amongst pleasant and picturesque scenery, warm sunshine and welcoming locals.
Still, Santanyí is 56 kilometres from Palma by road, which is the most common way of reaching this boisterous city. Manacor, the second largest town in Mallorca, is also easily reachable. Santanyí is a medieval town founded by James II in 1300. Due to its proximity to the coast, a wall was built around it to protect from the pirate attacks. Today, only a beautiful medieval stone gate, the Porta Murada (literally "Wall Door"), survives as a reminder that it used to be a walled settlement.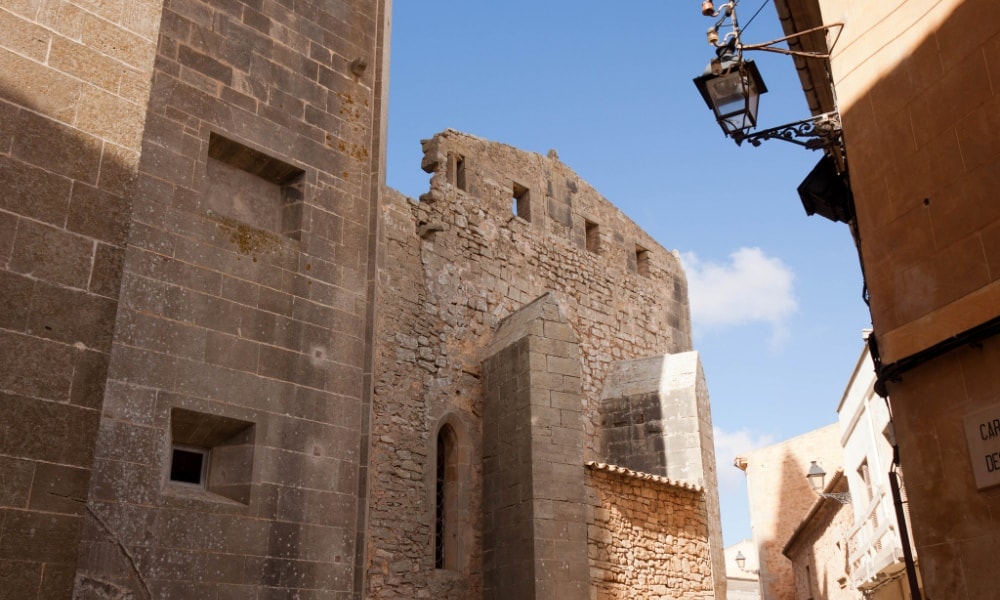 Robert Steinhöfel, Porta Murada (CC BY-NC-ND 2.0)
The buildings here perhaps look more delicate than everywhere else. This is because they were built using the famous golden limestone sourced from the local quarries, also known as "Santanyí Stone". This material was also used to build some of the most important monuments on the island, such as Palma's cathedral and La Llotja among others.
The parish church Sant Andreu Apostel stands in Plaça Major. It houses the renowned Rococo organ brought here from Palma.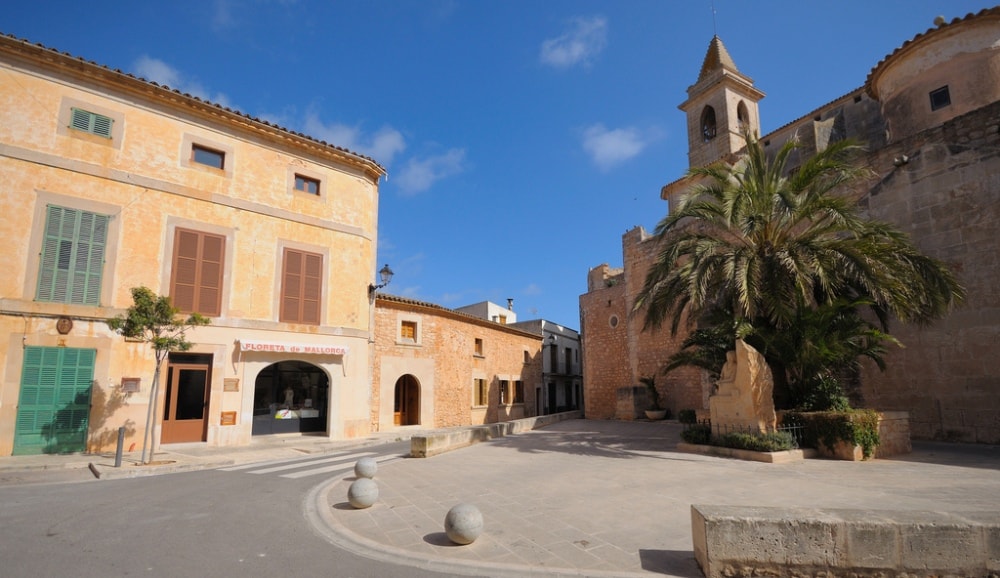 Random_fotos, Church of Santanyí (CC BY-SA 2.0)
Another notable site is the old Town Hall dating from 1705.
Santanyí is a paradise for food lovers as it offers a plethora of excellent restaurants and cafes located on the main market square and within its pretty streets. A part of a daily routine for many residents here includes sipping a café con leche or a glass of wine at one of the various square's terraces.
Bar Sa Cova is an especially popular meeting place for everybody at night. The cosmopolitan audience here, including artists and musicians, enjoys its warm and lively atmosphere. Besides savoring tasty tapas, Sa Cova provides live music events several days a week and in the backroom it hosts a small theater.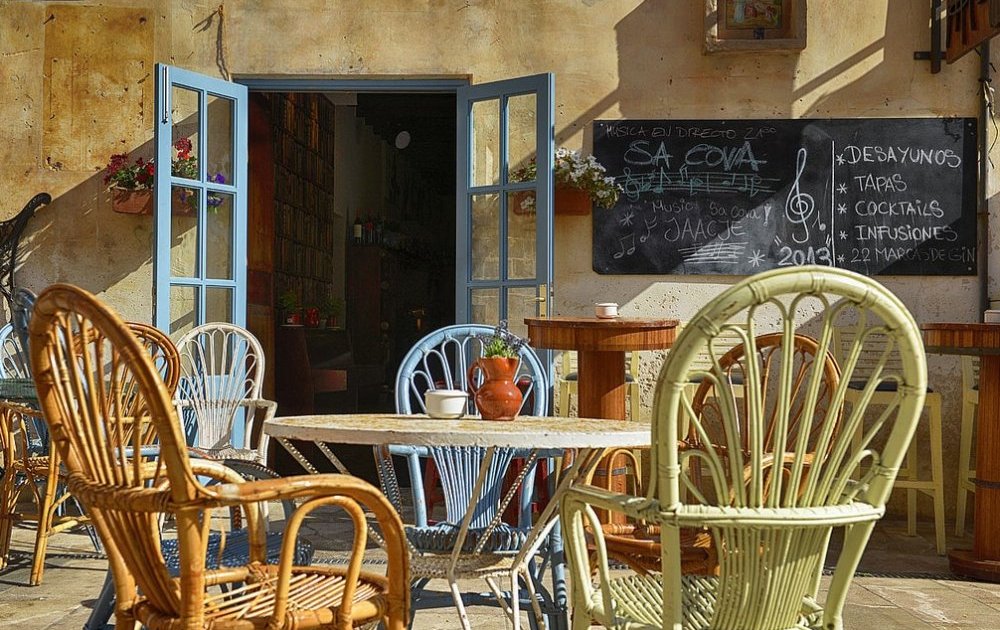 Romtomtom, Sa Cova at Placa Major (CC BY 2.0)
Inspiring surroundings brought here many international and local artists over the time. Consequently, art plays the key role, and in the narrow alleys, you'll find many workshops and galleries where you can pick a decorative item for your home or a special art piece.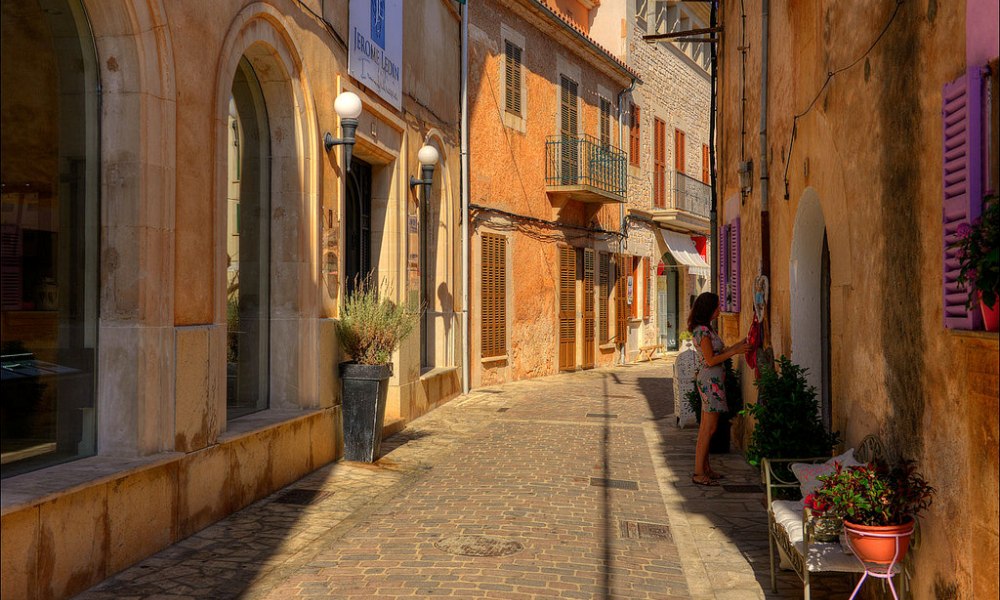 Romtomtom, In the streets of Santanyí (CC BY 2.0)
For some boutique shopping, head to Plaça Major as here you'll find a couple designer fashion stores. Gift-shoppers and foodies will also like the official shop of Flor de Sal featuring naturally harvested gourmet salt and other ingredients, also found on the main square.
The extensive market is held on the streets around the church twice a week, on Wednesdays and Saturdays. This is one of the liveliest and nicest markets on Mallorca with the vast selection of products and curiosities. Here you can stroll around the stands and take delight in various local produce such as fruits, vegetables, delicatessen goods and local handicrafts.
Santanyí is great for a relaxed holiday as it is perfectly located between the countryside and coastline. You will easily be able to admire the clean sandy beaches surrounded by lush greenery, stretching along the distant eastern coast of the Santanyí municipality. All are real authentic Majorcan treasures. The beachside areas also provide plenty of water sports on offer such as sailing, diving, and fishing, among others.
The charming harbour and resort of Cala Figuera is only several kilometres away from the town. It is notable for its romantic feel of the Mediterranean and authenticity, showing what Majorca was like before the arrival of tourism.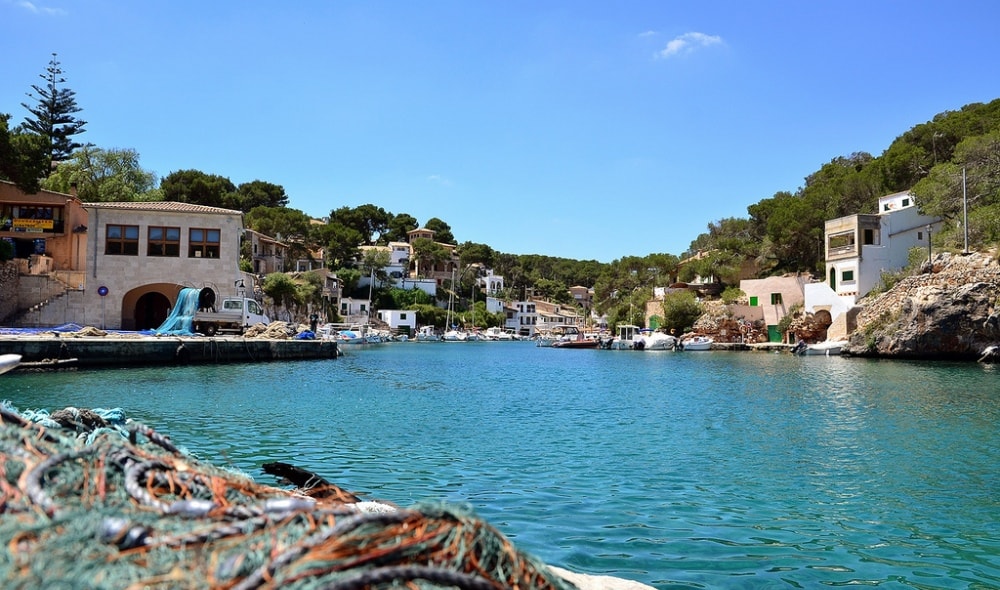 Dirk Vorderstraße, Cala Figuera (CC BY 2.0)
Nearby Cala Santanyí (some 6 km away) is somewhat more developed, and can get crowded during the summertime. It is characterised by the sheer size of its lovely beach, situated in the rugged landscape of dazzling shallow water and surrounded by palms and pines.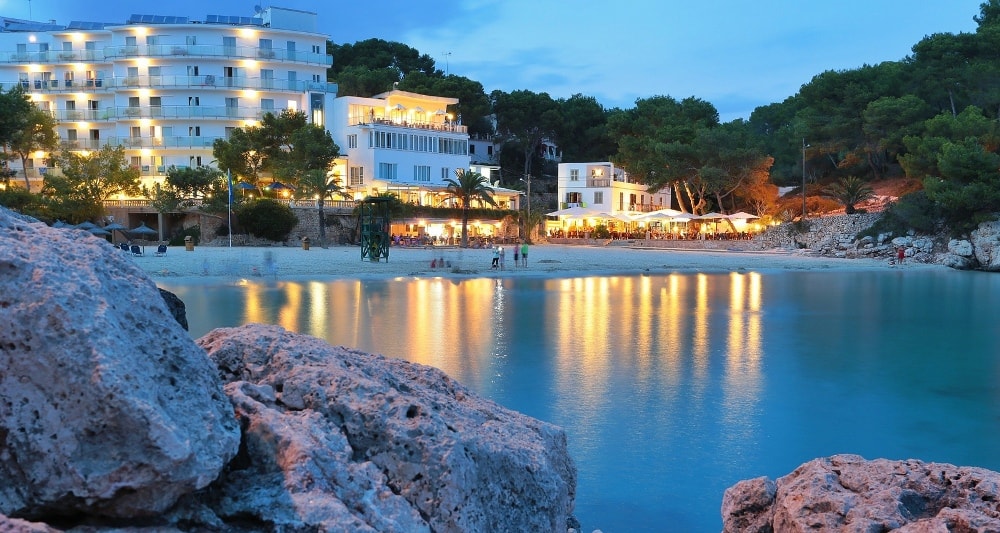 Christian Dembowski, Cala Santanyí (CC BY-NC-ND 2.0)
Not far from Cala Santanyí lies the natural resort of Cala Mondragó. This privileged area is notable for the spectacular cliffs, fine sand dunes, lagoons and beaches with crystal clear water.
The marvellous natural park of Mondragó, covering 785 hectares of traditionally Mallorquin rural countryside, surrounded by pine forests, is the perfect spot for walking or picnic in a natural setting.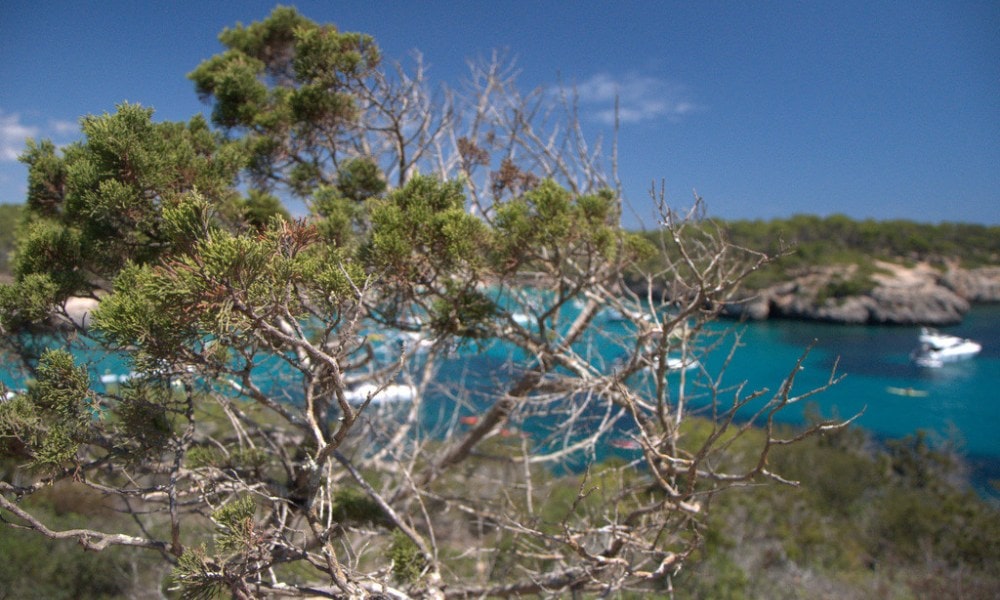 Alexander Gorlin, Mondragó (CC BY-NC-ND 2.0)
A bit more far away you'll find Cala d'Or, one of Majorca's most beautiful and best-known coves. On its entrance into the cove, the sea forms a kind of fjord.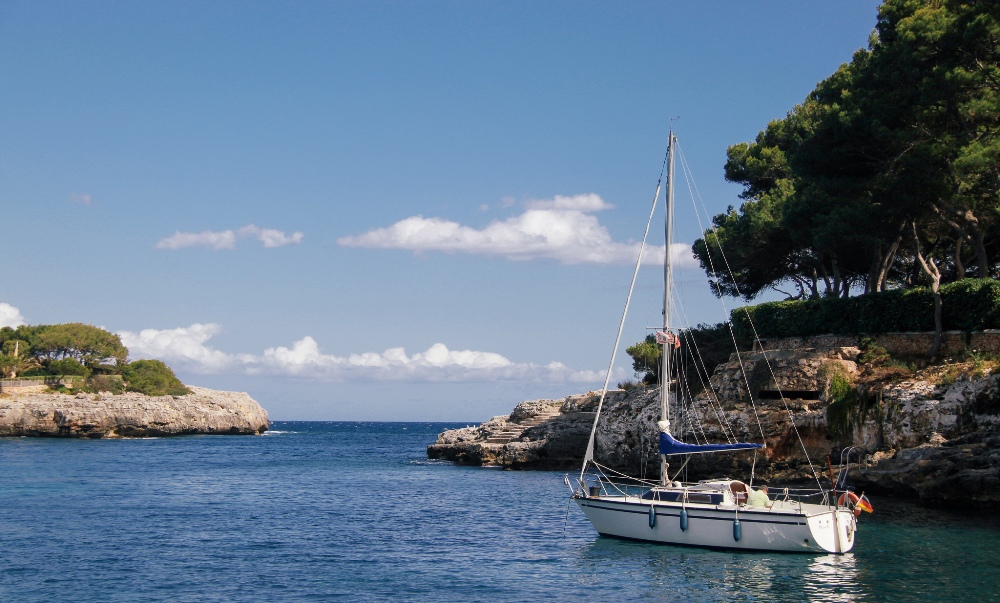 Cristian Bortes, Cala d'Or (CC BY 2.0)
The area of Cala d'Or is formed by several beaches, such as Cala Ferrera, Cala Serena, Cala Gran and Cala Llonga.
Cape Ses Salines, a point at the southernmost end of the island. Here is a lighthouse commanding magnificent views of the Island of Cabrera.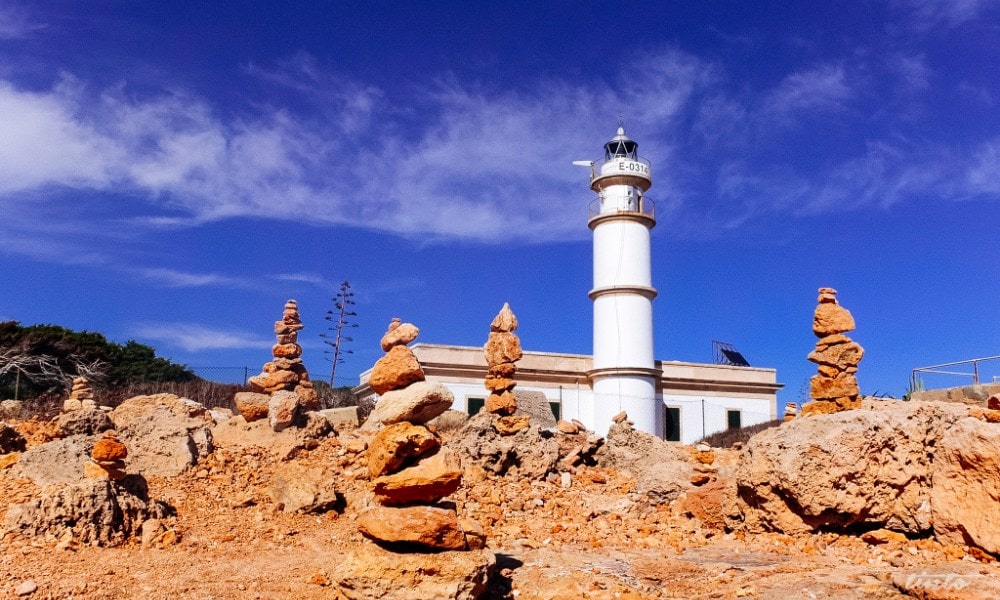 Jörg Schubert, Cap de Ses Salines (CC BY 2.0)
If you are a golf lover, a 10-minute drive from the area will bring you to the Vall d'Or Golf. This superb and enjoyable 18-hole course is beautifully presented with magnificent Mediterranean views.
Hiking is an ideal activity to enjoy the natural surroundings. Home to a diverse wildlife, the area invites you to immerse yourself into the beauty of the landscape with a range of walking tracks to follow.
And if you prefer remote walks, you'll be spoilt for choice thanks to the network of coastal routes that the region of Santanyí boasts. Here you can either walk along the rocky coast to Cala Llombards or in the opposite direction hike along the beachside paths until you reach the resort of Colonia Sant Jordi.


Dirk Vorderstraße, Cala Llombards (CC BY-NC 2.0)
There are lots of cycling tracks to enjoy, too. The area is quite flat so riding a bicycle is a great way to get around.
As to the festivities, Saint Anthony's Day is held on the 17th of January. During this magical holiday, animals are blessed as according to the deep-rooted Mallorcan tradition and bonfires are lit the previous night.
Santanyí's International Musical Festival takes place from April throughout September. It is hosted in symbolic and special places such as churches and monastery. These concerts are free and draw many talented artists to town.
CASAFARI tracks the entire real estate market by aggregating and matching properties from over 30,000 different sources. We provide investors and real estate professionals with clean hyper-local data in real time. Our clients get the best investment opportunities and close deals 10x faster.