El Paraíso Alto is a prestigious golf and residential area of the Marbella West municipality. It is famous not only for its tranquility and security but also for the high quality of facilities available. As in other parts of Spain, many Northern European, German and British residents have found their second homes in El Paraiso Alto property. Here, you will indulge in a high-standard lifestyle in a totally private environment, surrounded by several golf courses.
Why El Paraiso Alto property?
Conveniently, this neighborhood is located near the typical Andalusian white village of Benahavis, built on the edge of the Sierra de Las Nieves. Moreover, El Paraíso is just a few minutes' drive to the west from the restaurants and shops in Estepona. Driving to the east, you will pass the famous Puerto Banus offering nightlife attractions. Continuing further, you will reach the historic Old Town of Marbella. Both Malaga and Gibraltar Airports are about an hour of driving.
The well-established golf area of El Paraiso is close to all the amenities and facilities, such as shops, restaurants, bank, car hire, and other services. The complex also offers a health clinic focused on the wellness therapies.
It also offers a large variety of sports activities such as tennis club and lawn bowls club. In addition, you can enjoy cycling and different kinds of water sports as well.
The neighborhood is about a five minute drive to the beach of Playa Salduba. Other wonderful beaches, located a bit farther, are Playa del Saladillo, Playa de Guadalmina, and Playa de Linda Vista. 
The setting of this highly sought-after area of the Marbella West is perfect. It has the Mediterranean Sea on one side and stunning Sierra Bermeja mountain range on the other side. This scenery also offers enjoyable views spreading from the La Concha mountain up to far North Africa.
The famous meeting point for all visitors and residents is the Clubhouse Bar and Restaurant. The Clubhouse regularly organizes parties and events throughout the season.
The local traditional Andalusian restaurant, La Alcaria de Ramos, is featured in Michelin Guide for its delicious meal and unsophisticated standard. 
Property overview
An exclusive residential complex of Mirador del Paraíso is a part of this unique neighborhood. Particularly, it offers luxury villas and modern apartments and penthouses. Additionally, you will also find here some beautiful townhouses.
The Mirador del Paraíso villas were constructed to the highest standards. Their unique architectural style represents the best the exclusivity of this neighborhood. Here you'll find diverse interior designs and exclusive beautiful gardens.
Massive lawns, small lakes, and gorgeous greenery surround the whole area. It is a perfect place to enjoy the total tranquility and 24-hour security. Proximity to the golf courses, the year-round Mediterranean ambiance, and the traditional flavors of Andalucía make it an irresistible place to settle down. Importantly, this gated urbanization also has a private access entrance, fenced around its entire radius.
Golf Paradise
It's not a secret that El Paraiso Alto is a Costa del Sol paradise area for golfers. And one of the top golf courses, surrounding the neighborhood, has the same name of El Paraiso Golf Club. This famous club is known as a mecca for players of this noble sport. The South African professional golfer Gary Player designed this establishment in 1973. Since then, it has been providing one of the best championship layouts on the coast, including a regular celebrity Pro-Am. This way, it is considered as one of the oldest and most established courses in Spain.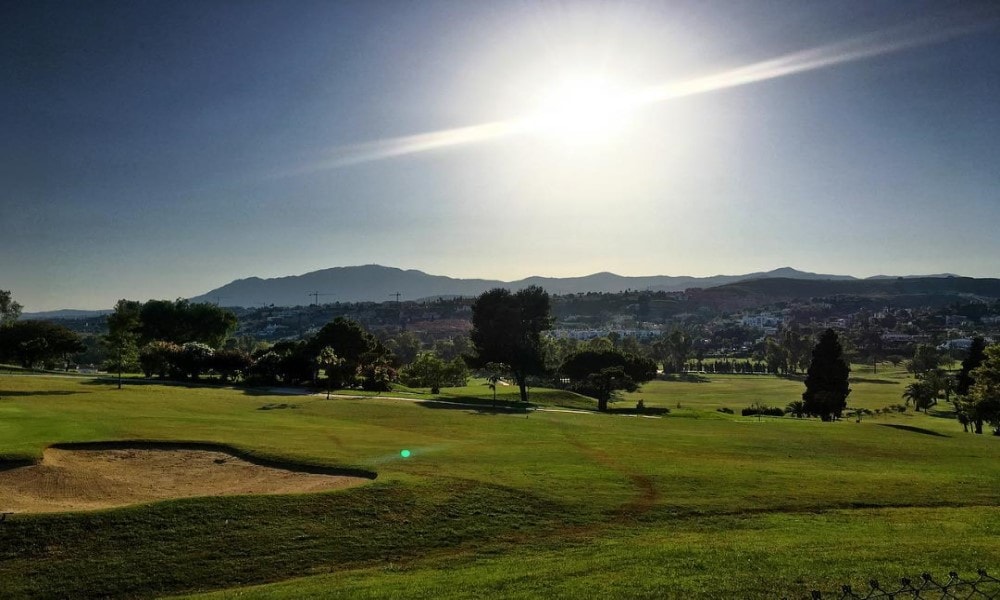 Photo by Alina Fedorova via Instagram
El Paraiso Golf Club was also marked as one of the friendliest international clubs. The field offers an exciting experience for golfers of all ages and abilities. Professionals, golf societies, new members, and visitors are all welcome. If you are not a golf player, then you can also enjoy the meal in the club's first-class dining restaurant. Here, you will try a delicious food prepared from the finest local ingredients. The establishment is also surrounded by the course's lakes and exotic fauna. 
The privilege of playing golf all year round and enjoy the astonishing sea and mountain views make it one of the most sought-after neighborhoods. It is designed for everyone looking for a unique prime property in Spain. However, especially for those second home buyers, for whom the detail and quality are paramount.  No doubt, the properties in El Paraíso is the right place to enjoy a high-quality lifestyle with family and friends.
CASAFARI tracks the entire real estate market by aggregating and matching properties from over 30,000 different sources. We provide investors and real estate professionals with clean hyper-local data in real time. Our clients get the best investment opportunities and close deals 10x faster.
Hero picture by BY-YOUR-⌘ via Flickr