Once a small Andalusian fishing village, nowadays Marbella has become one of the most luxurious and exciting destinations along the Mediterranean coast. Marbella Old Town property owners are privy to a impressive lifestyle against an idyllic backdrop.
Why Marbella Old Town property?
It is not hard to see why this fascinating town is considered as one of the favorite getaways of the rich and famous, as well as those that enjoy the jet-set lifestyle. Here you'll find a limitless supply of haute cuisine restaurants, luxury properties, world-class golf courses, and boutique shops. In addition, thousands of vibrant bars and exclusive beach clubs will keep you entertained till dawn.
At the same time, here you will also meet more ordinary visitors and residents who are willing to pay a bit extra to experience Marbella's way of life.
The actual city's population includes various nationalities. It is especially well-known for providing a second home to affluent individuals from the UK and Northern Europe, seeking to indulge in a top-quality lifestyle.
Importantly, the city is only 45 minute drive from Malaga International Airport. It is easily accessible and visited by hundreds of thousands of visitors every year.
The ancient charm of the city is seen in the Old Town. With its narrow streets, historic buildings and special ambiance, it offers a break from the modern and glitzy side of Marbella.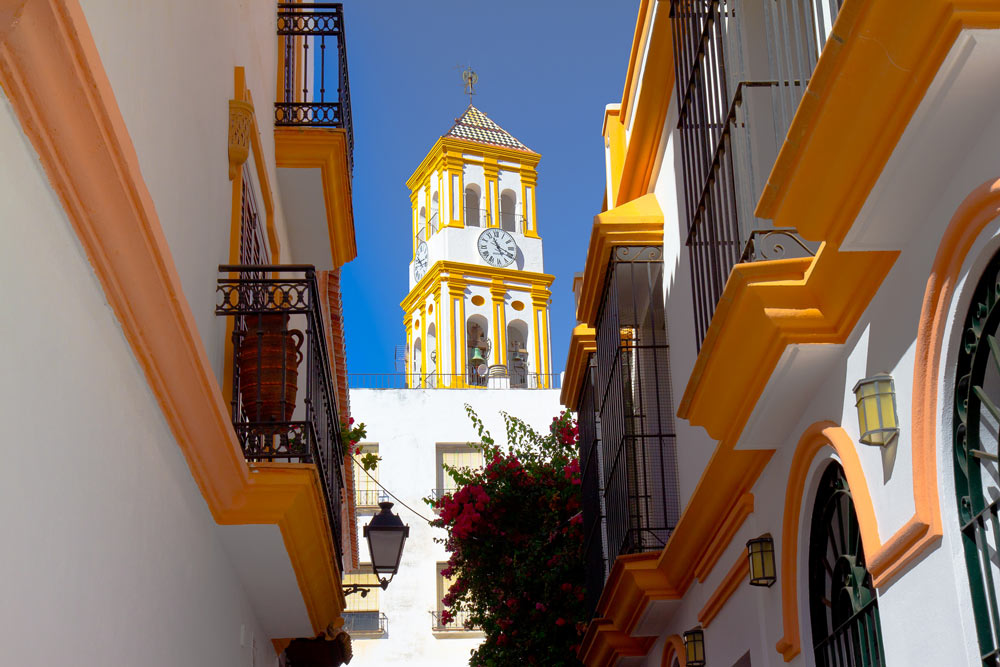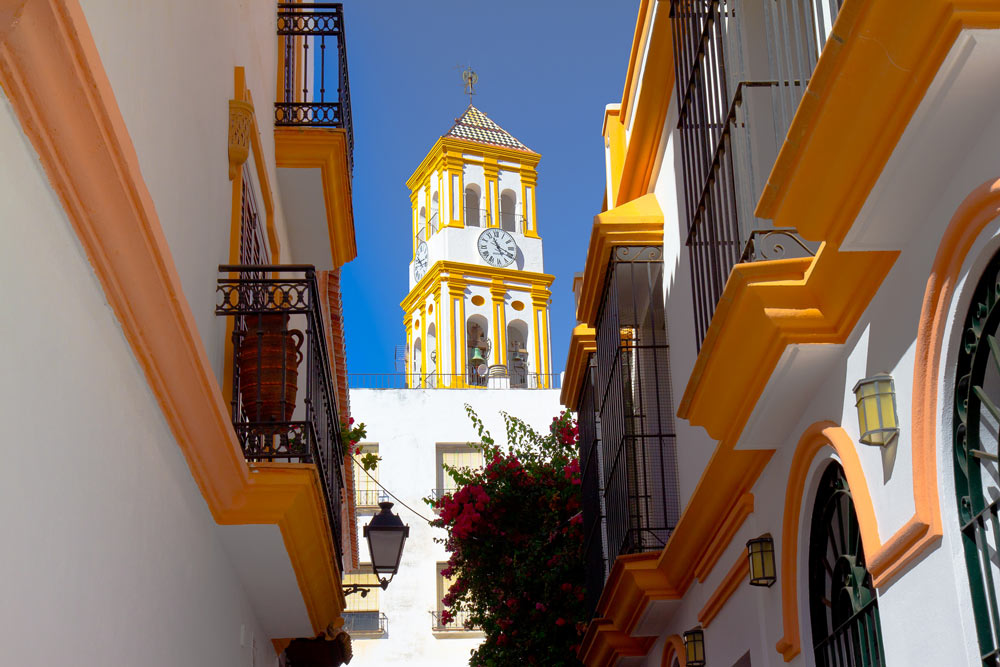 Photo by Hernán Piñera via Flickr
This older district is a pure reflection of the Moorish influence. While wandering its cobbled streets you can explore both – the history of the city and its intricate architecture.
The winding streets and flower-filled plazas are lined with majestic buildings and typical charming Spanish properties.
The Old Town is always vibrant and is a hub of day and night activity. It is filled with charming cafes and a selection of traditional and modern restaurants and bars.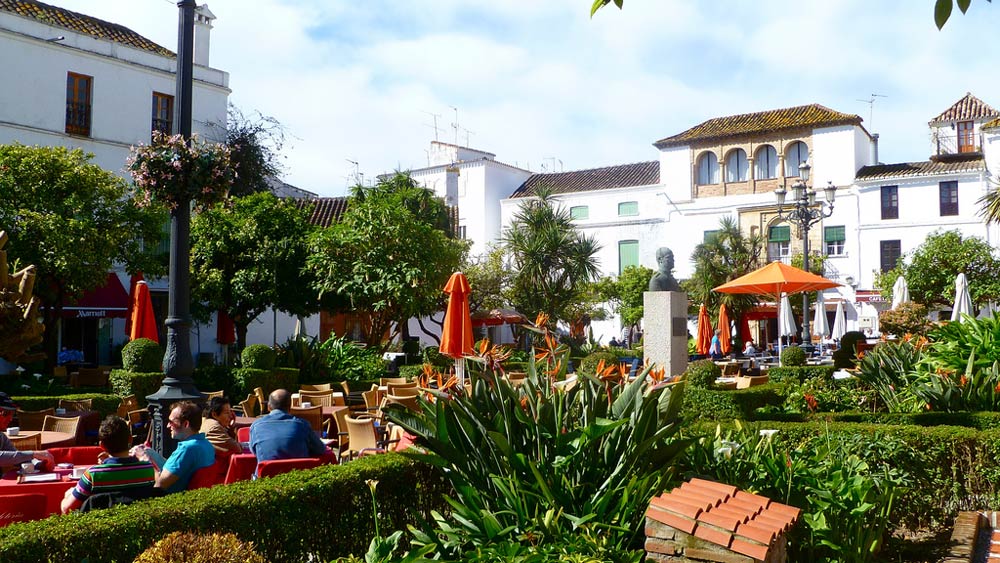 Photo by Herry Lawford via Flickr
The district is also packed with delightful shops, art galleries, and boutiques offering everything from handmade wares to the designer named clothes and accessories.
One of the prettiest Old Town's places is the legendary Plaza de los Naranjos (meaning Orange Square). Apart from beautiful orange trees, tropical plants, and a fountain, this charming square is a home to the original 16-th Century Town Hall. This building is especially notable for its lovely door of Mudejar style, decorated with detailed coat-of-arms and inscriptions.
The square is a perfect spot to sit in one of its many street side café's and watch the world go by.
Marbella center is the modern part of the town. The majority of companies, banks, and businesses are spread out here around the main road of Avenida Ricardo Soriano.
What to do in Marbella, Spain
As one would expect, you'll find a shopper's paradise in Marbella. The city center features several big shopping complexes, specialty food stores, interior decor stores, designer boutiques, and more. You can visit Avenida Ramon y Cajal to find high-class haute-couture brands as well as Spanish traditional shops.
Also, a weekly street market is held on Monday mornings at the fair area of Las Albarizas. This long-established and stylish mercadillo sells local food, handmade jewelry, and clothes.
A striking white marble pathway of Avenida del Mar connects the nineteenth century Paseo de La Alameda with the waterfront promenade. The street is beautifully decorated with fountains, flowerbeds, arbors, and Salvador Dali bronze sculptures. It is a perfect place to take a walk, cycle or run.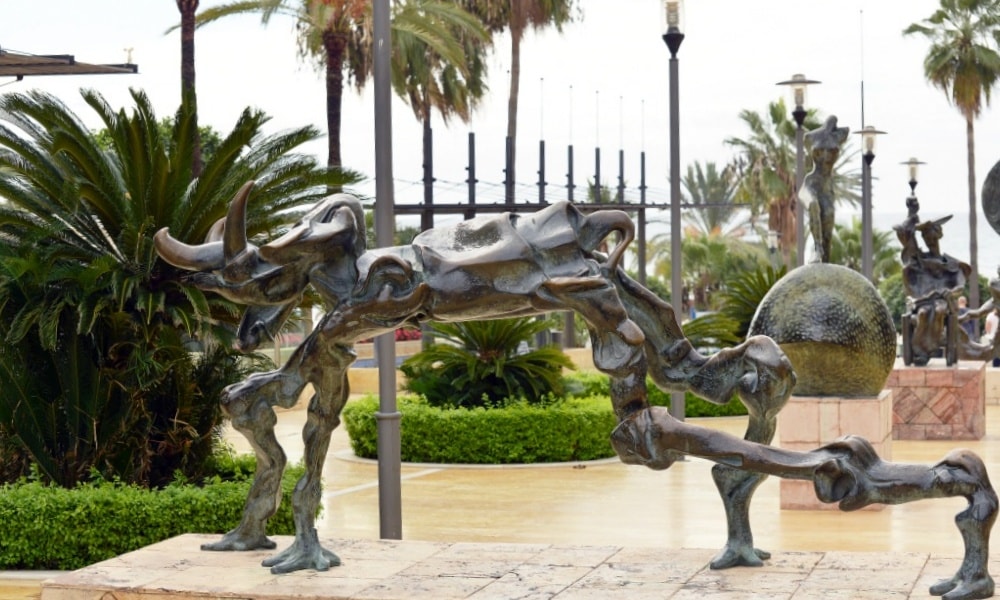 Harvey Barrison, Avenida del Mar (CC BY-SA 2.0)
Marbella Sea Front, lined with cafes and restaurants, is also perfect for a pleasant stroll. This paved promenade begins in the fishing port of La Bajadilla and extends to Puerto Banús.
The area of Golden Mile is connecting the center to Puerto Banus. It offers an endless stretch of prestigious mansions, dream properties, and luxury developments.
Marbella is a key destination for luxury cruise ships and superyachts, which are often docked in its harbors. It has two important marinas, one in the center of the town dedicated to fishing and nautical activities (Puerto Deportivo) and another one, world-famous Puerto Banus. Named after Jose Banus, who is a famous local property developer, it hosts not only luxurious yachts but also high-end residences.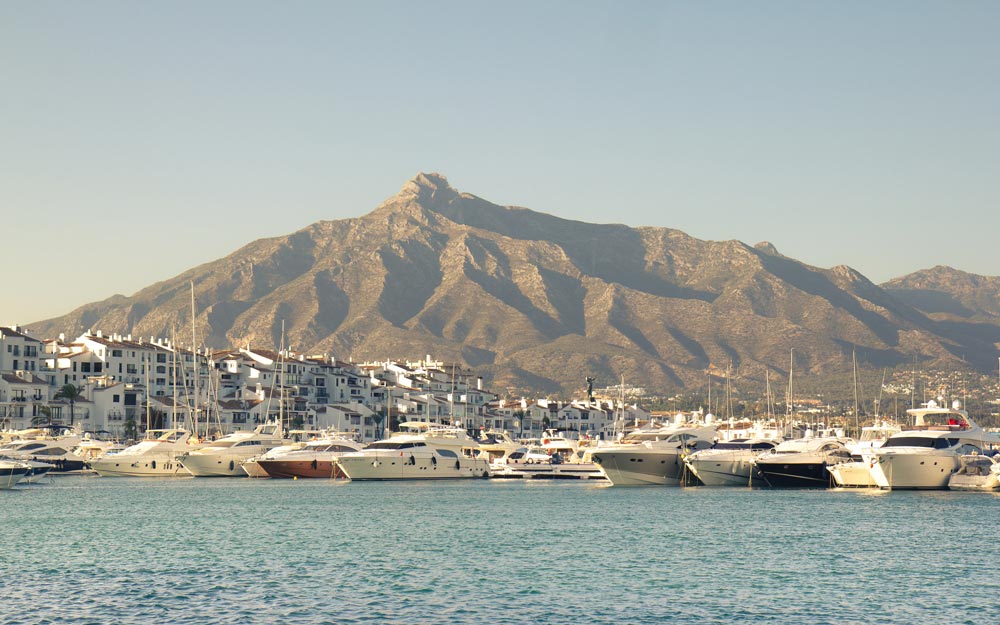 Photo by Hernán Piñera via Flickr
Undoubtedly, being a coastal city, Marbella is not short of beaches. The coastline is filled with a large variety of beaches for all tastes, where you'll surely find a good spot to soak up the sun and relax. Here you can sunbathe, swim in quiet Mediterranean waters, have lunch in a beach-front restaurant, or enjoy a delicious cocktail in a luxury beach club. These are just some of the options open to you on the 27 kilometre of Marbella's beaches, the largest on the Costa del Sol.
With regards to eating out, Marbella's gastronomic scene is simply outstanding. Apart from the typical Spanish and Andalusian, the selection of restaurants across the city boasts anything from Latin American, Italian, and French to Moroccan and Oriental cuisine.
This vibrant 24-hour town features Spain's top nightlife spots that range from exclusive discotheques to pubs and chill outs, in the ports and on the classy beach fronts. The partying scene of this stylish resort attracts visitors and celebrities year after year.
As a lively and modern city, Marbella is rich with numerous cultural events and important festivals that take place every year. Some of them include the colorful and famous San Bernabe Festival and the spectacular Semana Santa (Holy Week).
The city also encourages a healthy and active lifestyle. That is why you'll find the best sportive facilities almost everywhere in Marbella, with tennis, golf and water sports being the most potent part. Thanks to the wonderful weather, you can practice sports all year long.
Marbella's Golf Valley is a heaven for golfers boasting some of the finest courses in Europe. The numerous courses dotted around the city are known for their amazing scenery and the wide range of services, attracting the elite of the golfing world.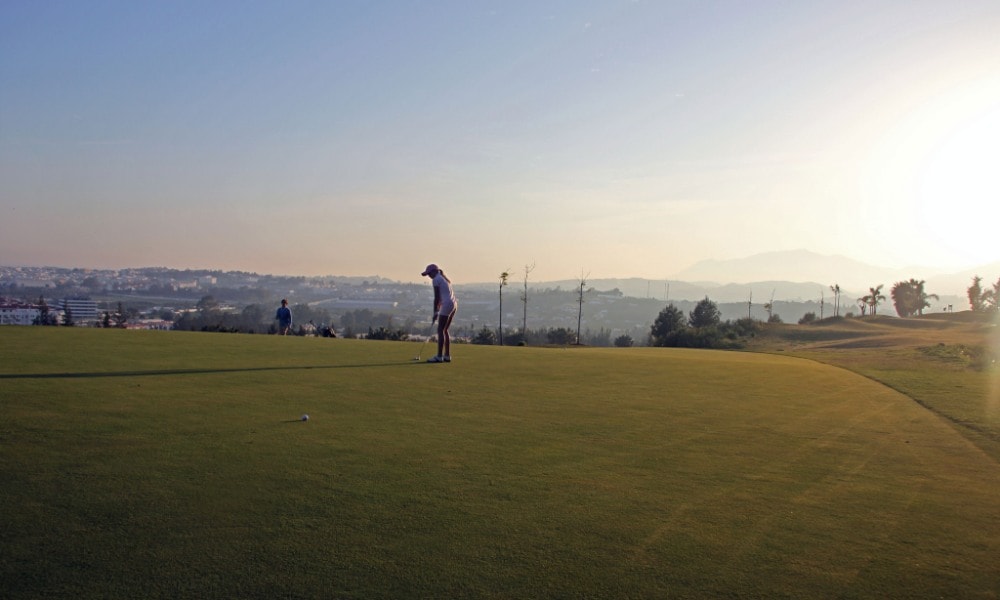 afpitch, Magna Marbella Golf (CC BY-SA 2.0)
Abundant and unique nature is also there for you to uncover right on the Marbella's doorstep. A well-known and charming mountain of La Concha rises a thousand metres above the city. Named a Biosphere Reserve by UNESCO, it makes an impression with its natural panorama.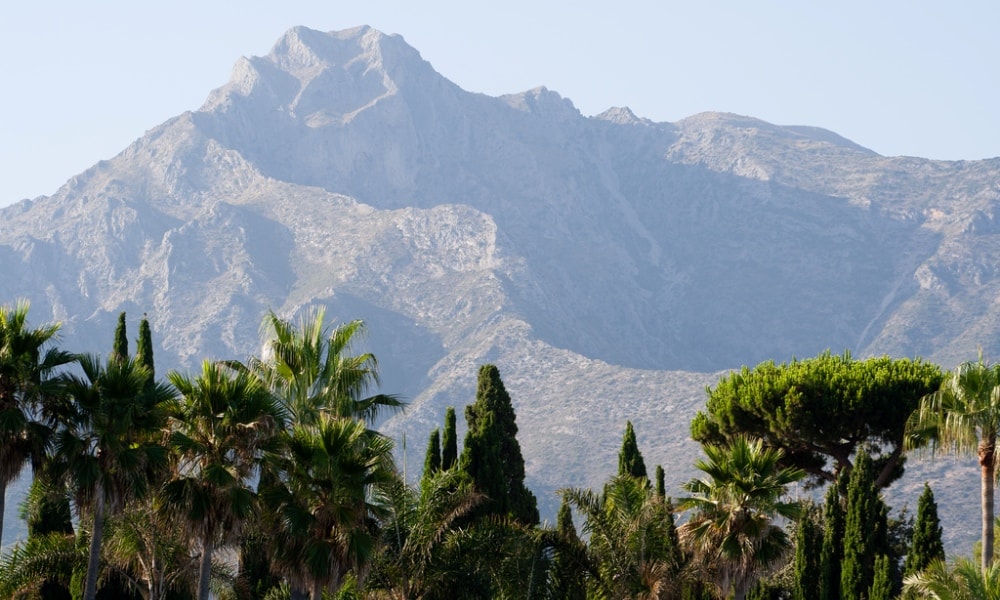 Hernán Piñera (CC BY-SA 2.0)
Finally, Marbella's green mountain scenery, chic culture, historic architecture, wonderful beaches and friendly people make this location a true treasure of the Mediterranean. With all the charm of a large city and features of a convenient town, Marbella Old  Town property is undeniably one of the world's best places to reside.
CASAFARI tracks the entire real estate market by aggregating and matching properties from over 30,000 different sources. We provide investors and real estate professionals with clean hyper-local data in real time. Our clients get the best investment opportunities and close deals 10x faster.