Amongst carob, almond and olive trees, at an altitude of 400 meters above the sea level, about 10 kilometres south of Deià, stands the charming town of Valldemossa. Many illustrious artists, musicians, writers and the like have all enjoyed its traditional, well-kept scenery.
Wealthy buyers looking for prestige homes are attracted by the excellent architecture and environment in the area. Valldemossa property market is one of the most demanded locations in Mallorca. Properties here range from apartments to townhouses and country homes. In addition, on the town's outskirts, the exclusive residential development named after George Sand broadens the selection with the architect designed villas and houses built to a very high standard.
Why Valldemossa Property?
It is a real privilege to live in Valldemossa, and its inhabitants show a great sense of respect for their town. The number of international property buyers decided to make it as their home to enjoy the harmony and beauty it provides. And all, within a close proximity to Palma (about a 30-minute drive) and the airport. Many residents daily commute to the capital city and then return to this quiet hillside haven.
Valldemossa property market selection includes also unique gems such as historical mansions owned by rich and famous personages. Of particular note, the impressive estate and Moorish castle of s'Estaca, belonging to the renowned Hollywood actor Michael Douglas, is now on sale at the lowest price since 2014 – €41,000,000.
During the summer months, there are loads of day trippers. Nevertheless, for the rest part of the year, it really is a marvellously unspoilt and tranquil area. Local inhabitants are warm and with visitors friendly people so the atmosphere here is truly welcoming.
Traditional town of Valldemossa has narrow and steep cobbled streets, which have remained the same for ages. Here you get a feeling of being in the old times. Each street is lined with pretty flowers and plants.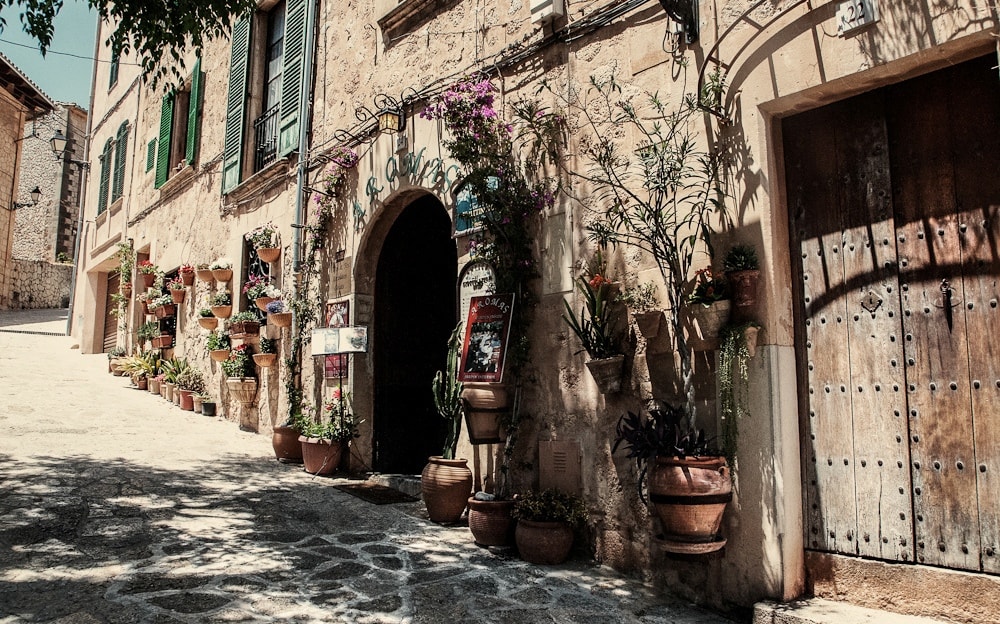 Antonio Acuña (CC BY-NC-ND 2.0)
The green doors and windows of the houses charmingly contrast with the beige stone of which they are made. It makes the village one of the most attractive on Mallorca.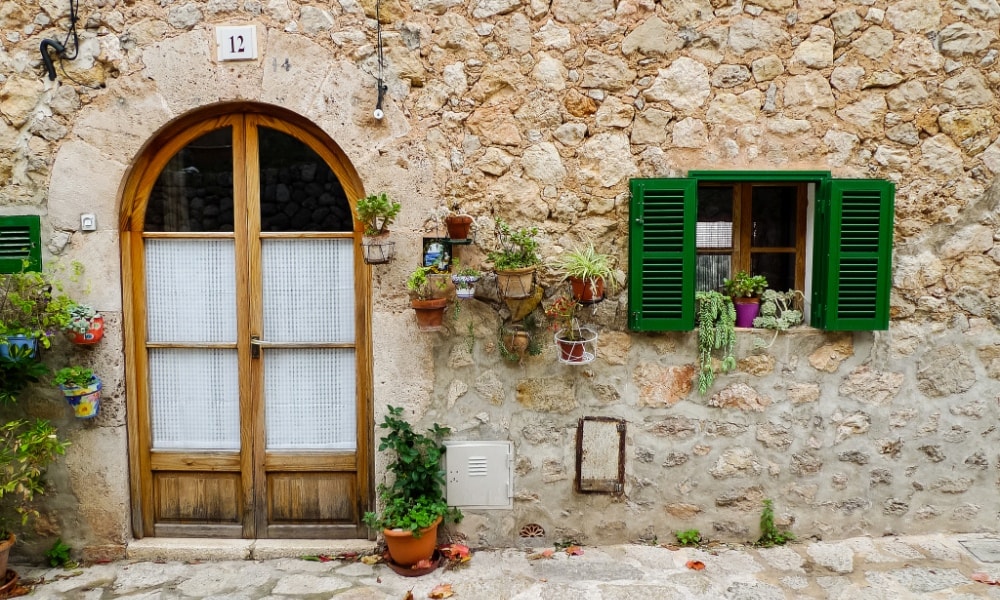 Alexander Hahn (CC BY-ND 2.0)
Many doorways also have a religious symbol of St. Catalina Thomàs, who is considered the patron saint of Mallorca, born in Valldemossa. This tradition was set a long time ago to guard houses from harm.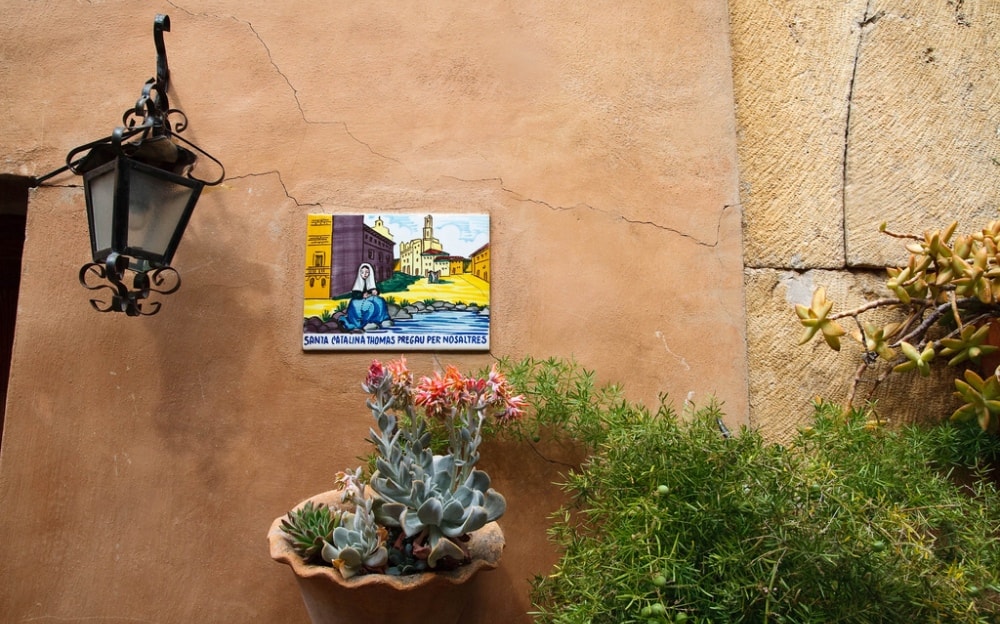 Rishon-lezion, Santa Catalina (CC BY-NC-ND 2.0)
Outside the town's busiest part, you can visit Carrer Rectoria 5 – the Saint's house and shrine, where she was born.
The charming tiny streets are filled with cafes and traditional bakeries offering delicious pastries. One of the most popular among locals is coca de patata – a sweet potato cake that is usually eaten with a thick hot chocolate or a coffee.
The street market takes place in the village every Sunday morning. It is a great and colourful place for quality and fresh local produce, including vegetables, fruits, cheeses and traditional Spanish ham.
Valldemossa boasts various dining options ranging from the romantic and elegant to authentic and rustic restaurants. For example, Es Roquissar offers traditional Mallorcan cuisine and is a perfect spot for a leisurely lunch, admiring the pleasantly buzzing main square in which it is sitting.
The refined restaurant at Hotel Valldemossa is an ideal place if you're looking for something more contemporary and special. It serves local dishes that are beautifully presented with a modern touch. The stunning boutique hotel formerly was a heritage that belonged to the Carthusian Monastery, located in the gorgeous corner of the Tramuntana Mountains.
For great seafood and fish, head down to Port of Valldemossa. Here, you will find the famed Es Port restaurant where you can eat authentic food in a cosy terrace overlooking the sea.
Although located close to the coast, this town is not a beachside. There is a tiny fishing harbour with a mooring for a few of boats at Port of Valldemossa, which is about 6 km away. This beautifully natural spot has a small semicircular cove of crystalline waters (Sa Marina) and a pebble beach to admire the Mediterranean Sea.
A small cove of Caló de s'Estaca is another swimming area where hikers and locals go, found just 4 km away from the port. The beautifully clear turquoise waters, as well as surrounding pine woods and cliffs, make it a nice place for relaxation in unspoilt and private atmosphere.
The mountainous landscapes associated with the Sierra de Tramuntana range are among the most enchanting and pristine areas of Mallorca. With this, being surrounded by lush countryside and forested hills, Valldemossa is a perfect place for outdoor enthusiasts.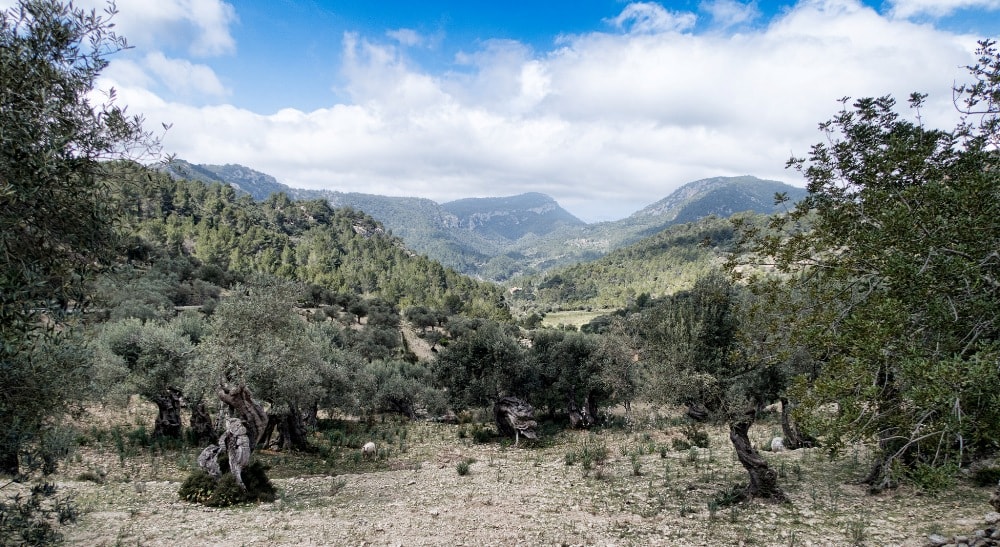 Gnosne (CC BY 2.0)
A large number of hiking fans choose to make the village as a base from which to get away into rich and diverse Tramuntana Mountains along the network of paths and trails that cover the surroundings. There are many historic and well-marked tracks that are linking Valldemossa with Deià and Sóller, as well as other coastline parts.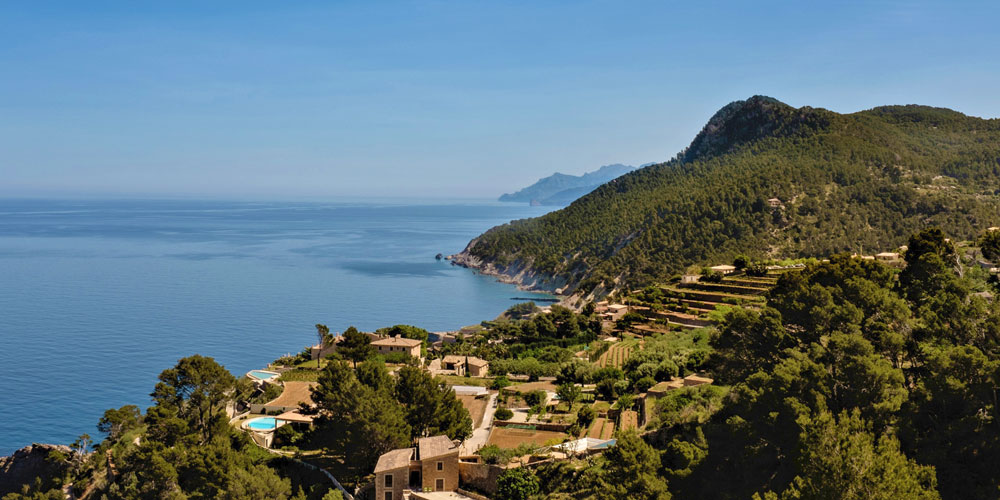 Copyright: safari.cc. All Rights Reserved.
One of the most popular routes starts in town and goes for 16km up through Sa Foradada to the 1064m peak of Puig des Teix. This is one of the most visited summits in the Tramuntana range notable for its breath-taking views.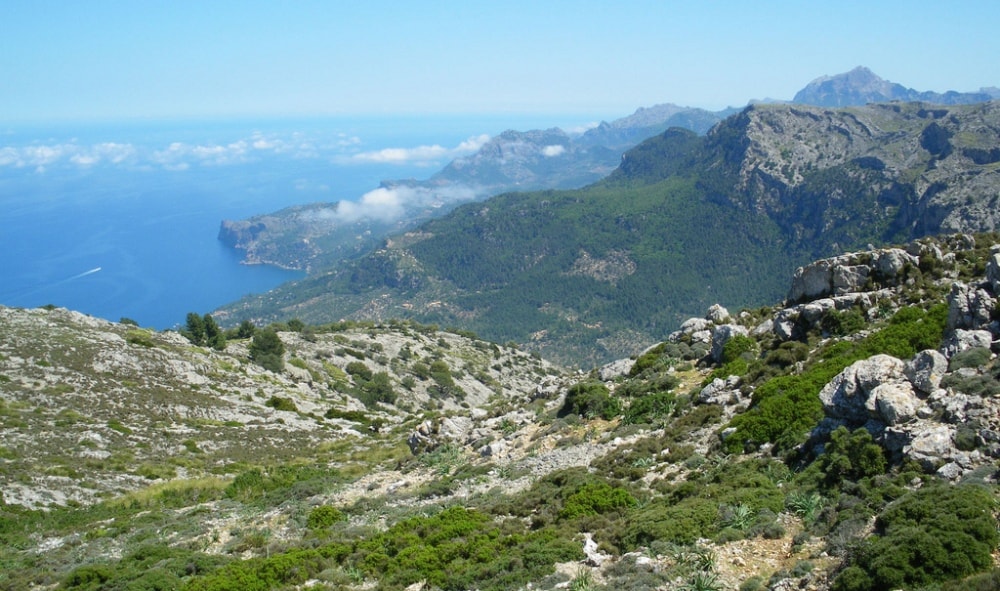 Marga Carrió, View over Puig des Teix (CC BY 2.0)
On the road to Sóller, you can visit the fascinating Son Marroig estate that once was the favorite home of the Archduke Lluis Salvador.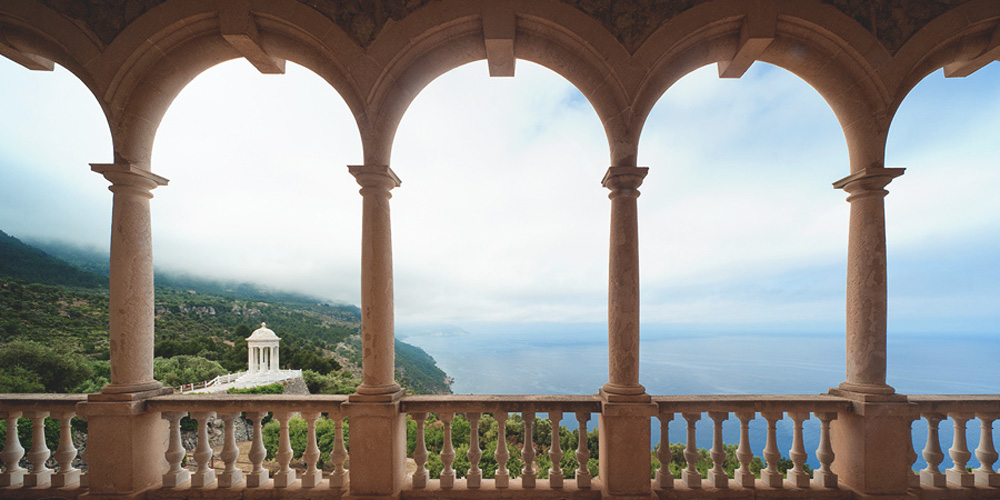 Copyright: safari.cc. All Rights Reserved.
Cycling, rock climbing and horse riding are also popular activities. In addition, there are a number of golf courses within a short drive such as Golf de Son Termens, which is about 9 km away.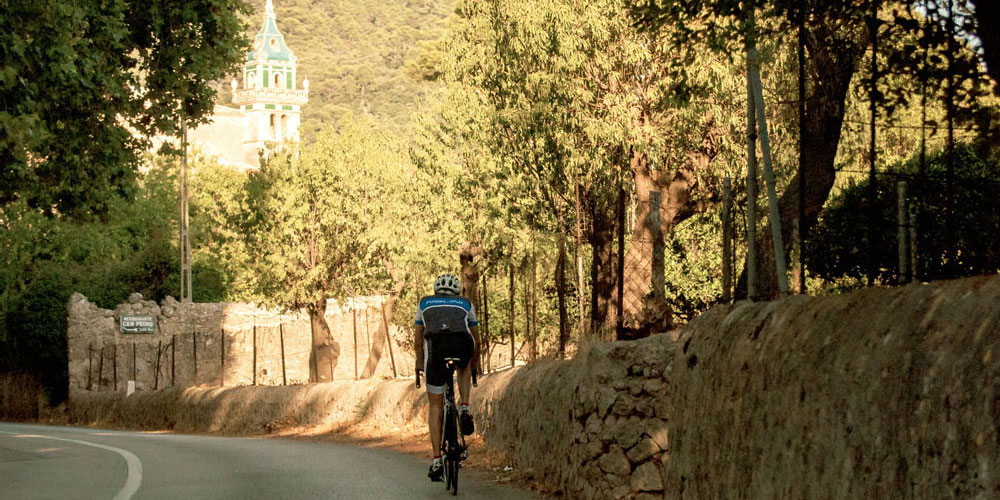 Copyright: safari.cc. All Rights Reserved.
Valldemossa's main attraction has been and is, without any doubt, the 13th-century Carthusian monastery known as the "Real Cartuja de Valldemossa". Originally founded as a royal palace, it was converted into a monastery, housed by monks between 1399 and 1835. The Polish composer Frederic Chopin spent a winter in the monastery in 1838 with his companion, the French writer George Sand.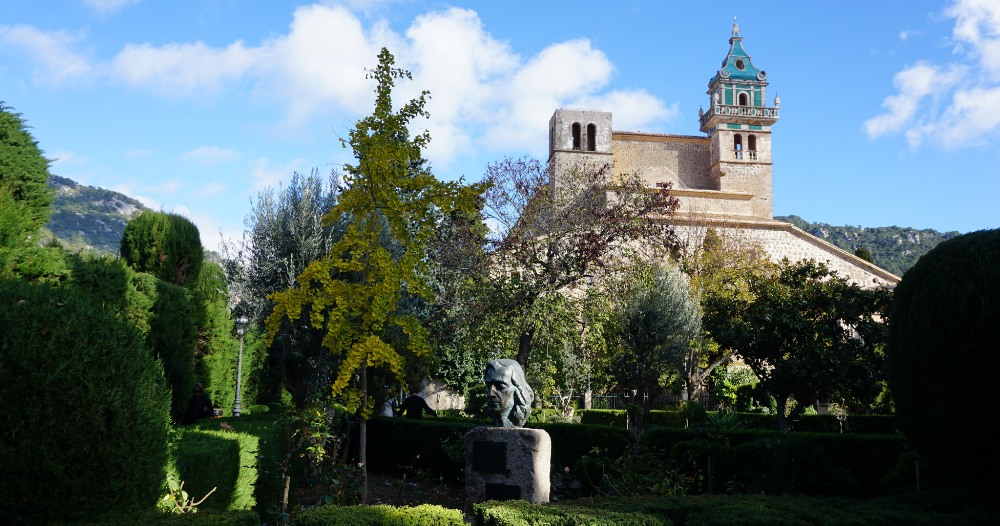 Marcelo Scapinachis, Chopin's monument in the Monastery's garden (CC BY 2.0)
Here, they rented a former monk's cell, planning to continue their scandalous romance away from the Parisian gossips. Also, they hoped that the milder and sunnier climate would be beneficial to Chopin's health (as he had tuberculosis). However, Chopin and Sand didn't have the best of their stays as the weather was windy and wet, the couple was shunned by the natives, Chopin's health got worse, and they couldn't recover their relationship. During their stay on the island, Sand wrote a book about their experiences "A Winter in Mallorca", in which she was praising the natural beauty of the island, but criticizing the natives. Still, curiously, it helped to launch Majorca as a popular visitors' destination.
Today, Real Cartuja, including its church, cloisters and museums are open to visitors. Also, it has the outstanding old pharmacy that shows ancient medicines and a collection of ceramic jars from Catalonia. In memory of the celebrated composer, various concerts are held in the hall of the cloister and in the lovely monastery gardens during the summer.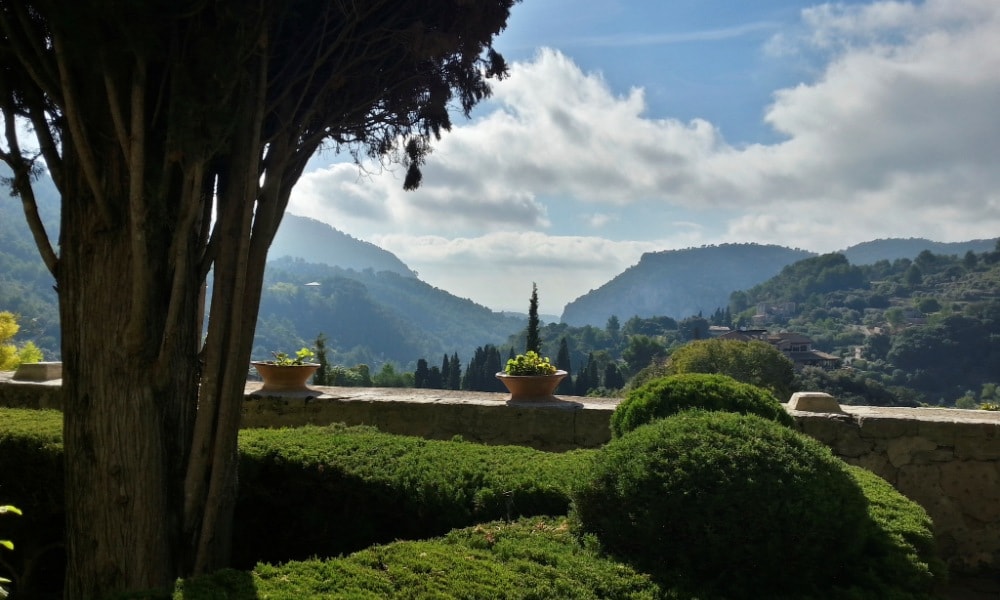 Jopa Elleul, View from the Monastery (CC BY-NC 2.0)
There are many outstanding festivals taking place in Valldemossa. The main are Festes de la Beata (July 28) and festivity of Saint Bartomeu (August 24), which celebrate the Saints of Valldemossa. During these fiestas, there many street parades, as well as music and magnificent performances featured in the cloisters of the Monastery.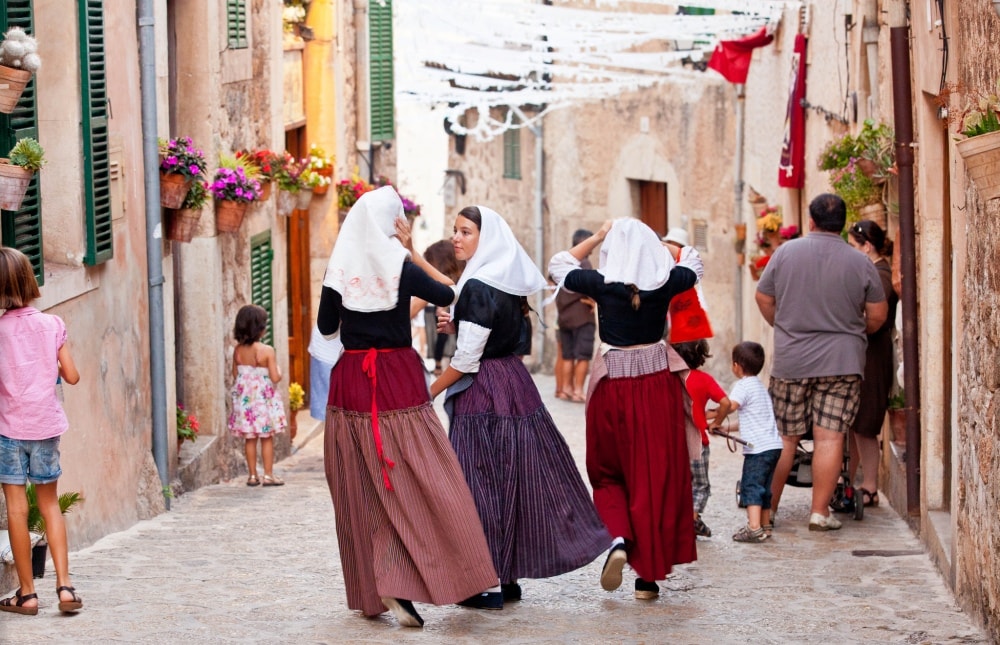 José Juan 'Potti' Luna, La Beata a Valldemossa (CC BY-NC 2.0)
The annual Artdemossa is a notable cultural venue, held at the end of July. It includes various art exhibitions, performances and concerts.
In August, Valldemossa hosts the annual renowned Chopin Festival. It welcomes a great number of musicians from around the world playing music from the renowned composer, who contributed greatly to bring celebrity to the town.
For its part, the Costa Nord cultural centre, established in the town by Michael Douglas, is dedicated to protecting the natural beauty and historical heritage of the region. It also features a short documentary narrated by Douglas himself about his love for Valldemossa. Costa Nord is well-known for its fine restaurant and Mediterranean Nights, a concert season featuring many outstanding international artists.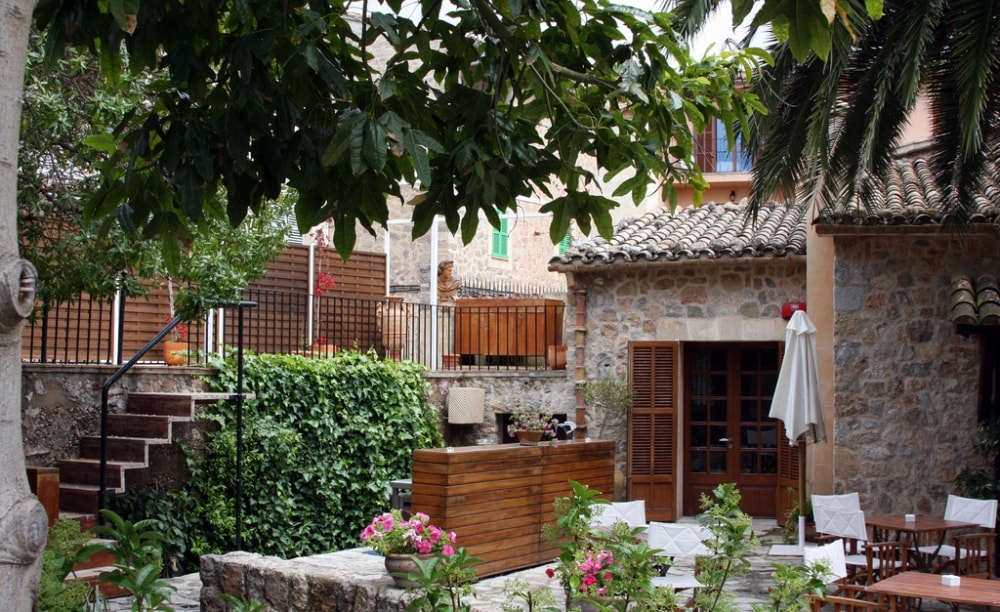 pravin.premkumar, Restaurant of Costa Nord (CC BY 2.0)
CASAFARI tracks the entire real estate market by aggregating and matching properties from over 30,000 different sources. We provide investors and real estate professionals with clean hyper-local data in real time. Our clients get the best investment opportunities and close deals 10x faster.