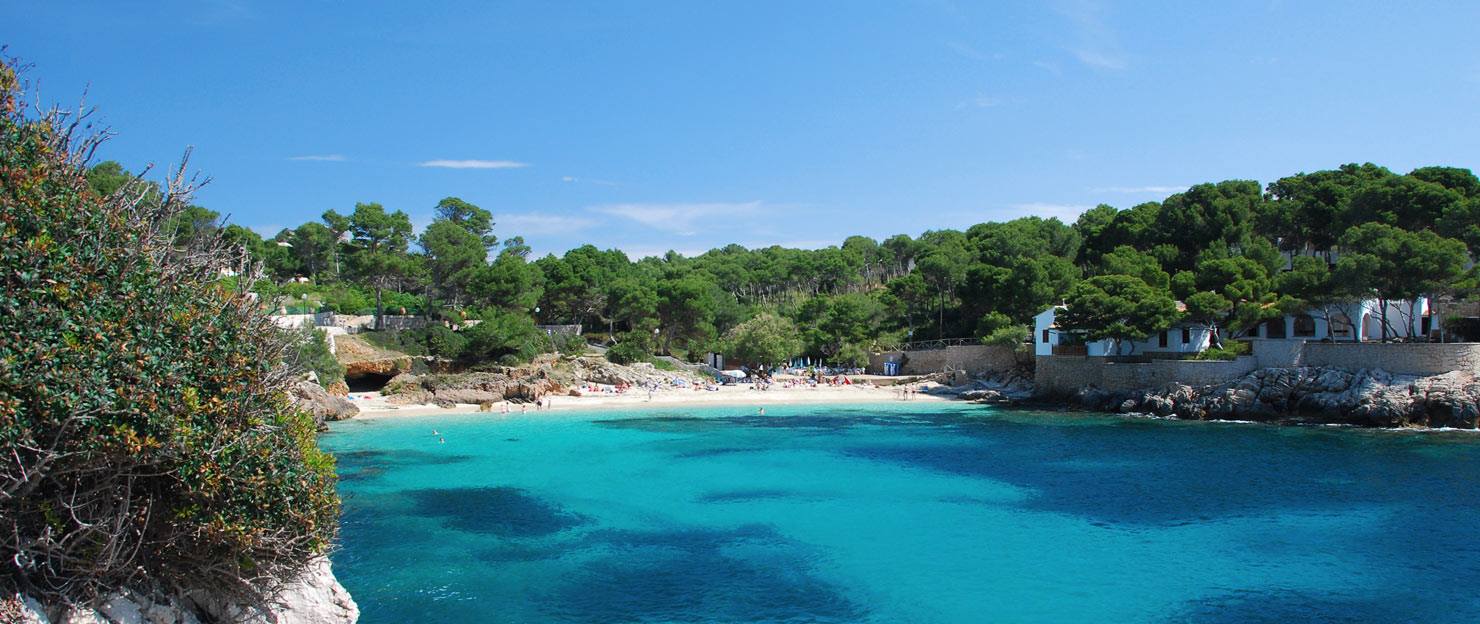 CALA VINYAS & SOL DE MALLORCA
Sought-after tranquil and picturesque residential hideaways in the southwest
The two neighbouring residential areas provide a magnificent opportunity to reside in a peaceful setting within an easy reach of some of the island's finest beaches and calas.
In Cala Vinyas, properties ranging from €100K to €800K are sold in average for €3,046 per sq.m. The average price for luxury homes in the range of €900K to €5M is €4,939 per sq.m. The  upmarket villas that cost more than €5M are sold with the average price of €10,936 per sq.m.

Price distribution in Cala Vinyas
Price per sq.m. for each property price in Cala Vinyas
Properties in Sol de Mallorca ranging from €200K to €800K has the average price of €2,878 per sq.m. Houses in the range of €1M to €5M are sold in average for €5,715 per sq.m., whereas luxury homes which cost more than €11M are sold with the average price of €15,422 per sq.m.
Price distribution in Sol de Mallorca
Price per sq.m. for each property price in Sol de Mallorca
The two neighbourhoods offer properties which benefit from their exceptional locations in a tranquil atmosphere. Most of the top-quality homes here are built on a headland. Villas and apartments sit proudly on the hillsides, overlooking the turquoise waters of the Mediterranean and boasting spectacular views.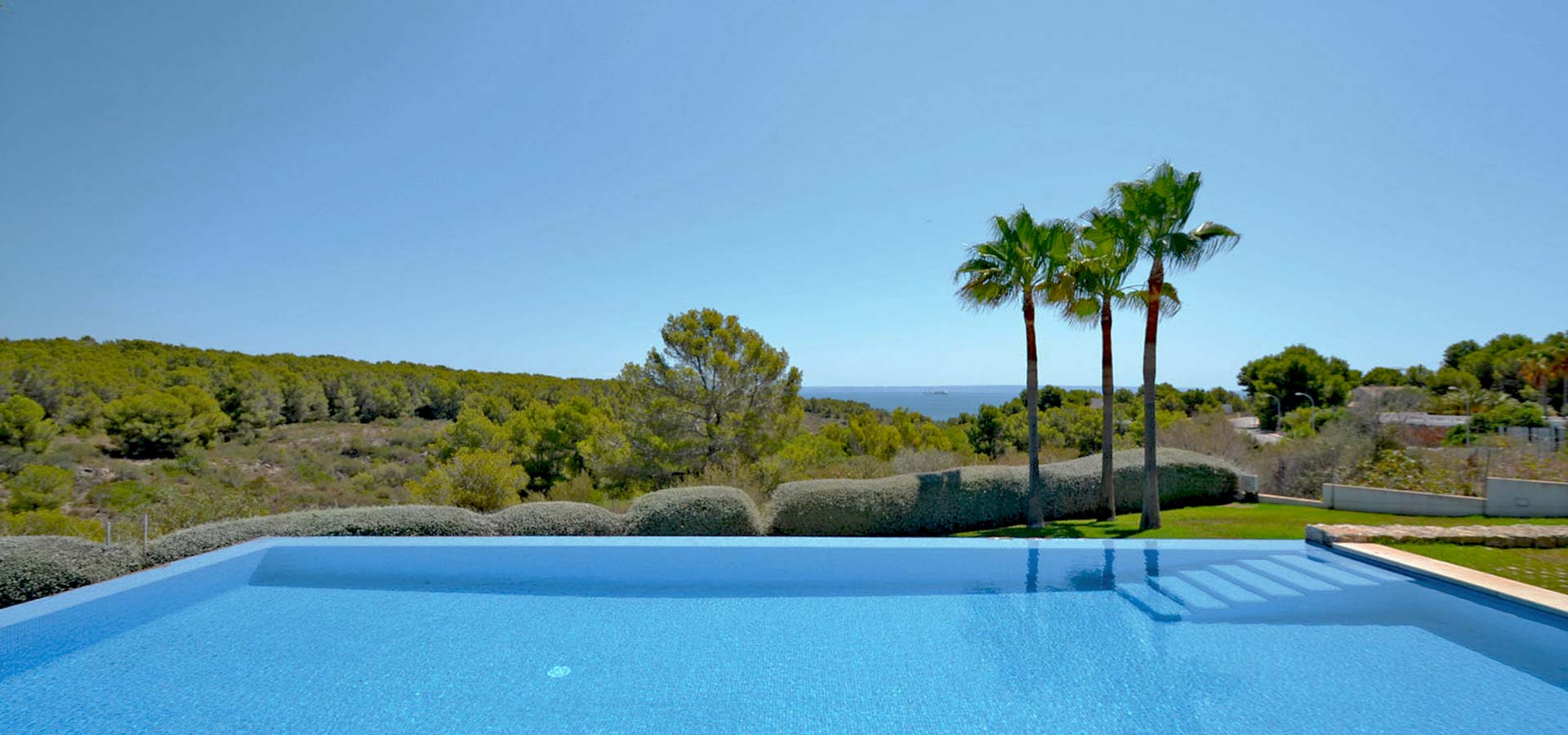 Cala Vinyas and Sol de Mallorca are attractive areas for those prime second-home buyers, who want to take advantage of all the facilities that the south-western region offers. Residents value their proximity to the airport, availability of various leisure and sportive activities and a well-developed infrastructure of Calvia municipality.
The neighbourhoods are conveniently located on the south-west of Mallorca, approximately 25km away from the centre of Palma municipality and 30km from the Palma de Mallorca airport (PMI).
The most precious benefit of the area is its fine white sand beach with clear turquoise waters, which is 150m away. The access to the beach is available via series of steps, and it is completely safe to bathe in. A number of palm trees provide its visitors some shade to hide from the hot midday summer sun. In addition, Cala Vinyas is located around a small sheltered cove, surrounded by cliffs and pine forests. It allows to enjoy a special micro-climate, with the sun shining at least 300 days a year.
Less than one kilometre from the area, you can find the unspoilt Cala Falco, one of the most beautiful calas in the south-west. Notably, it never gets full because of the isolated location, although many boats anchor here in summer, as it is very popular with scuba divers and snorkelers.
The close proximity of Cala Vinyas to some of the most attractive hotspots along the south coast provides numerous opportunities for a variety of entertainment and facilities for active pastime. For those, who enjoy luxury boats, as well as beautiful views of the harbour, the fabulous marinas of Port Adriano and Puerto Portals, popular with international clientele thanks to the exclusive yachts harbours, are a short drive away.
In addition, for families, who relocate here, the proximity to the international schools and colleges, which are 10-15 minutes away, is also an important reason to choose this location.
This small neighbourhood also has a couple of local bars and restaurants.
Another important advantage of the area is the convenient motorway access and the proximity to the capital city of Palma, which makes it a perfect place for a permanent or a holiday stay.
The exclusive and prestigious neighbourhood of Sol de Mallorca is a recently built residential community of 770 inhabitants, located very close to the sea. This housing estate is made up of detached houses, apartment complexes, country style houses and villas. The finest luxury properties offer a superb seafront location so that from the house terraces you can admire truly outstanding sea views. Many of them are also equipped with a large pool and other modern facilities.
The notable residential development of "Punta del Sol" is located on Av. Joan Miró, one of the finest streets in the area. It offers a number of exclusive penthouses, as well as various modern design apartments and villas.
The "Golf de Poniente" is in a close vicinity to Sol de Mallorca, which has made this area an insider's hideaway among celebs and successful businessmen, who are big lovers of golf.
The nearby coastline with a harbour of Portals Vella combines beautiful beaches and majestic rocky sea cliffs, covered with pine forests, forming picturesque bays and secluded coves.
Perched at the south-west tip of Palma Bay, the picturesque Cala Portals Vells unites the three beaches, which get crowded mostly during summer. Off the season, you can have here a private spot with soft golden sand and shimmering crystal clear turquoise waters.
Sa Caleta is the most southerly located, with the lush pine forest and gentle incline to the shallow water. One cove along is El Mago, one of the few official nudist beaches on Mallorca. It is notable by the fact that it took its name after the 1960's movie of El Mago "the Magician", which was filmed here starring Anthony Quinn and Michael Caine.
And finally, so-called Playa del Rei is found next to a more rocky area.
The nautical club of Club Nàutic Portals Vells is also located at the close proximity.
The area has a small yacht harbour and gives access to several scenic calas with crystal clear waters, which invite you for a swim in the summertime. Like for example, the romantically beautiful cala of Bella Donna.
Many yachtsmen enjoy the dinner at a popular local El Mago Restaurant, which has a dinghy service that brings the sailors ashore.
This way, Cala Vinyas and Sol de Mallorca are ones of the most picturesque and privileged areas on the island for purchasing property. The quiet location and good infrastructure with restaurants, international schools, doctors, and shops made these areas very attractive for prime second-home buyers to purchase their luxury homes here.
Properties & Surroundings in Cala Vinyas & Sol de Mallorca (Pinterest Feed)
Follow Casafari – Property Search's board Neighbourhood Guide – Cala Vinyas & Sol de Mallorca, Calvia region, Mallorca, Spain.
Read more about the Calvia municipality and neighbouring areas: