Where is Baixa, in Lisbon?
Baixa is the heart of Lisbon, which consists of marvelous avenues, grand plazas and luxurious shopping boulevards. It stretches from the riverfront Praça do Comércio to the square known as the Rossio. The atmosphere is vibrant and full of life, with the Portuguese spirit filling Baixa property at every time of the year.
The Neoclassical Wonder of Portugal
Before becoming Lisbon's fanciest hotspot, Baixa was completely ruined. In 1755, one of the world's most vigorous earthquakes destroyed the district completely. No other but Marques de Pombal rebuilt the city, ignoring the original outline of the city and creating a neoclassical neighborhood par excellence.
Pombal intended the various streets to house workshops for certain trades and crafts, something that's still reflected in street names such as Rua dos Sapateiros (Cobblers' Street) and Rua da Prata (Silversmiths' Street).
The majestic Praça dos Restauradores symbolizes Portugal's independence from Spain. The wide boulevards and elegant architecture remind of the 19th century Paris. Currently, there are plans for further renovation and everyone hopes that this charming area will be recognized as a World Heritage Site.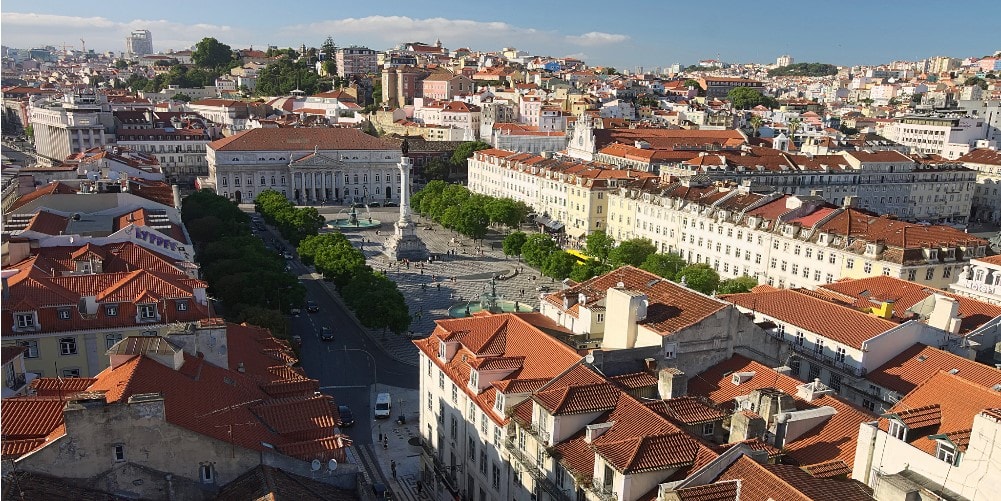 Picture by Nicolas Vollmer via Flickr
The Finest Dining Experiences in Baixa, Lisbon
Baixa features a fine selection of restaurants as well as renowned hotels. For a fine dining experience one can head to Alma, a Michelin star awarded restaurant. It is praised for its high-quality ingredients and the careful preparation of distinct flavors at a consistently high standard. In addition, Tavares Rico delivers another Michelin experience. Opened in 1784, it is Lisbon's oldest restaurant, and one of the most renowned in Portugal.
A Baixa property is a great choice for families as the district does not have a chaotic atmosphere like other areas do. For a more frantic lifestyle and endless nights, head over to Bairro Alto.
Rossio—From Cattle Market to Busiest Square in Lisbon
Rossio is the ancient heart of the city. Like Baixa, the area was rebuilt after the devastating earthquake of 1755. Once a cattle market and public execution spot, Praça Dom Pedro IV nowadays hosts a vast range of cafés and is unarguably the busiest square of Lisbon.
One of its most famous cafés is "Nicola". Here you can take your taste buds on a journey through typically Portuguese sweets. It was this very place, where no one other but Fernando Pessoa wrote many of his works. Seafood-aficionados will be delighted by the vast number of seafood restaurants in Rua das Portas de Santo Antão, northeast of Rossio.
Right at the end of the square, you'll find the Queen Maria II National Theater. And Over Rossio towers, the São Domingos Church, which miraculously survived three earthquakes during the last 500 years. In front of the church, you can spot locals fortifying themselves with Ginjinha, the sweet Portuguese brandy which is served in small cups.
While strolling through this historic neighborhood, your eyes will inevitably wander to the Train Station of Rossio. Its Neo-Manueline style which revived the style of the 16th century gothic is an architectural feast. Another famous example of this flamboyant style is the Tower of Belém.
Baixa Property – A Sound Investment
Acquiring Baixa property is a lucrative investment. It is permanently sought-after and the up-curve of the real estate market in Lisbon not seeing an end soon.
Baixa is the perfect fit for sophisticated people looking for outstanding architecture in a well established and respected area. It never fails to impress with its sweeping boulevards and imposing buildings.
Baixa is not only a hub for the sophisticated but embodies a lifestyle that its residents do not want to miss. As a result, it offers everything the high net worth individual can think of, from top-notch restaurants to luxury boutiques, to tranquil cafés.
CASAFARI tracks the entire real estate market by aggregating and matching properties from over 30,000 sources. We provide investors and real estate professionals with clean hyper-local data in real time. Our clients get the best investment opportunities and close deals 10x faster.
Hero picture by Marcoski via Flickr