Why invest in Felgueiras property?
Felgueiras property provides a fantastic opportunity for those who wish to live in the more rural region of Porto. Being less than an hour away from the city of Porto by road, it is almost closer to the neighboring districts of Vila Real and Braga than to Porto itself. 
However, this is what makes Felgueiras property so appealing, as it is relatively close to Porto and its unique activities. Head over to Vila Real, where some of the Porto wine is made in the beautiful Douro hills, and to Braga, which is full of historical heritage to explore and enjoy.
Standing at the crossroads between all those marvelous districts, Felgueiras also is appealing on its own, as it is a beautiful place to enjoy nature and the exceptional local "Vinho Verde."
To help you make the investment in Felgueiras real estate, there are two significant country-wide policies targeted at international residents willing to invest in Portuguese territories, which are:
The non-habitual tax residents (NHR) that have especially attracted Europeans such as Swedes, Germans, British and French citizens to Portugal and Porto; and also the highly sought-after Golden Visa program, available for internationals willing to invest in the country. 
Lifestyle in Felgueiras
Starting off, the best known local product of Felgueiras is undoubtedly the "Vinho Verde", an excellent wine which can be found only in the Demarcated regions of Vinho Verde, which Felgueira is part of.
Furthermore, if you want to visit the best wine producers in Felgueiras, the route of Vinhos Verdes of Felgueiras englobes a series of the best wine farms where you can taste the wines. Places like "Quinta da Lixa," "Quinta da Maderne" and "Quinta da Palmeirinha" are noteworthy for their excellent wines.
Good wine is often best served with excellent food, and Felgueiras has a few fabulous restaurants where you can enjoy the local gastronomy. The restaurants "Cantinho Rústico" and "Restaurant Brasão" are the best you can find in the municipality serving traditional fish and meat dishes.
Regarding outdoors activities, a Felgueiras property is near some great fulfilling activities that can either be found within the municipality or very near it.
One of these is the historical hiking in the "Rota do Romântico" which takes you around the historical sites of Felgueiras for about 5 hours. However, nature is very present in the municipality, and you can't find a shortage of hiking or bicycling trails that go through the local natural landmarks.
Finally, for activities that are close to Felgueiras you can find two amazing national parks "Parque Natural Peneda-Gerês" and "Parque Natural do Alvão" which are teeming with wildlife and are great sources of fulfillment.
In terms of sports, "Amarante Golfing", the golf club in neighboring Amarante is 31 minutes away by road and offers an enjoyable golfing experience. 
Day-to-Day in Felgueiras
If acquiring Felgueiras real estate is on your plans, but you fear you might be far from the essential services or important cities, don't worry – you won't.
As most of Porto municipalities, Felgueiras enjoys a series of motorways and roads that connect it to Porto and other neighboring districts.
As such, things like the Sã Carneiro Airport (OPO) and the various international schools in Porto are 30-40 minutes away from Felgueiras by road.
Also, Felgueiras has its own hospital "Hospital Agostinho Ribeiro," but the area is 40 minutes away from a private hospital in Porto. The municipality is also covered by police stations and fire departments.
A crossroad between the wonderful Portuguese Countryside
While part of the Porto district, Felgueiras property has the advantage of being not only near to another fantastic district in the Portugues countryside, but it is also a region that has often been overlooked regarding real estate.
Felgueiras, although with fewer services and activities than Porto, is a region waiting to be discovered and developed, having a fantastic rustic, historical and natural uniqueness.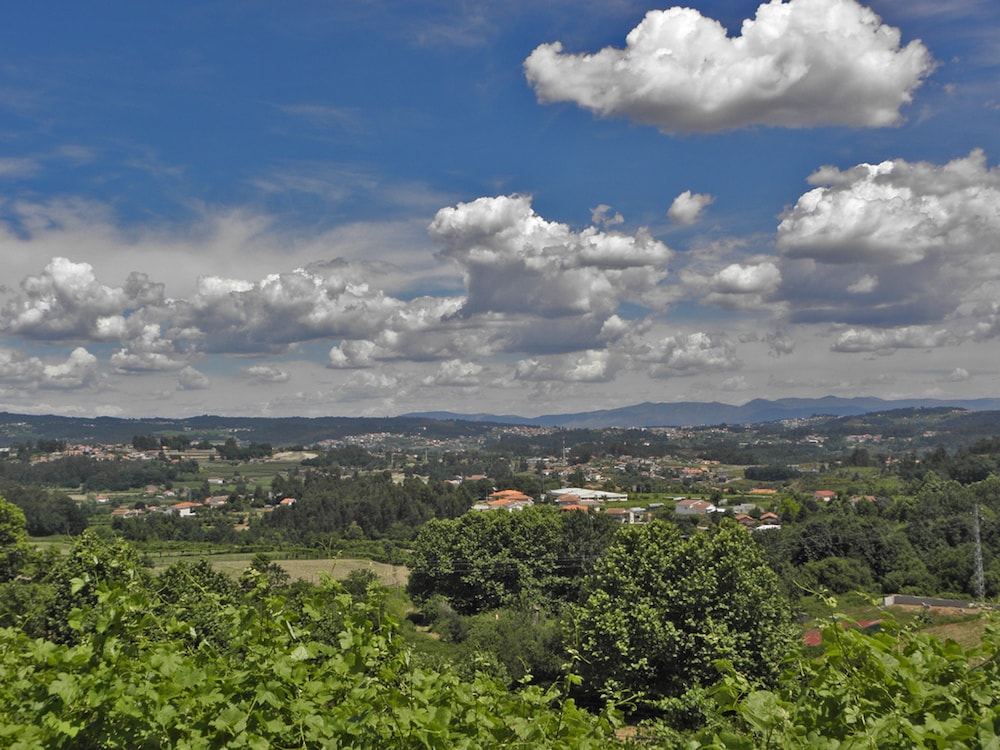 Due to being an overlooked region for investment, Felgueiras real estate is a bargain, in comparison to Porto.
For wine lovers, the region is also part of the truly unique region of Vinho Verde, which provides a great opportunity for acquiring a Felgueiras Villa or extensive Farm, and start to produce a one-of-a-kind wine in your property.
Being close to every area in Northern Portugal, Felgueiras provides an excellent opportunity for those willing to invest in the Portuguese countryside, while being relatively near to what the unique city of Porto offers.
Hero picture by Jose Antonio Gil Martinez via Flickr