Where is Bologna?
Located in Northern Italy, Bologna is the largest city and the capital of the Emilia-Romagna province. Historically, it has been an important industrial center as well as a major transportation hub. In 2011 it was ranked as the top city in Italy in terms of quality of life.
Located at the bottom of green hills, it lies 80 km from the sea, and is mainly famous for its numerous cultural and historical attractions. Bologna's weather is humid subtropical, marked by hot summers and cold, wet winters. The proximity to the Apennines and to the Po Valley makes it a city exposed to the wind, which is pleasing especially when the warm season arrives.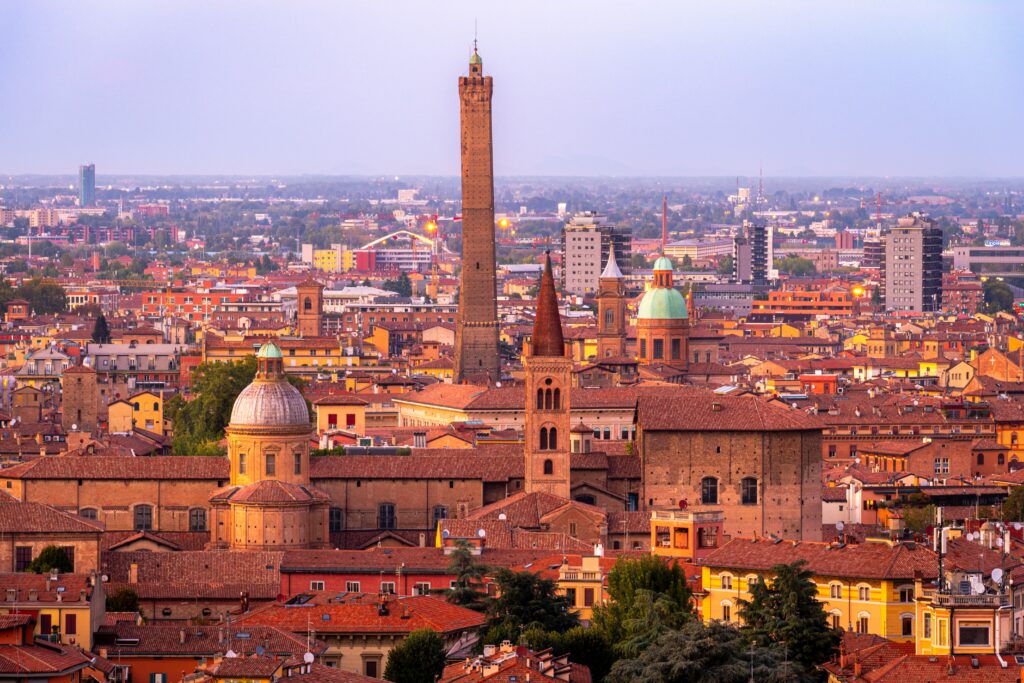 What to do in Bologna
Bologna between historical charm and a flourishing economy
A city of antique beauty, Bologna has many monuments and sites of interest. It is known for its historic center, one of the largest in Italy, marked by palaces, towers and porticoes that extend for almost 38 km. Bologna's unique political and cultural history has helped it shape its position ahead of most Italian cities with strategic investments in services, health care, and education. Moreover, Bologna operates in a regional economy that stretches beyond the metropolitan area and includes several mid-sized cities located along the southern edge of the Po Valley, from Piacenza to the Adriatic.
Its population of over one million people makes it the seventh most populous city in Italy and one of the largest in the northern part of the country. About 90 percent of Bologna's residents are Italian, and the major foreigner populations that reside here come from other European countries, such as Romania, Bulgaria, and Albania. There are also large Filipino and Bengali communities in the city. The official language is Italian, but since the city is a major university and tourist center, English is also spoken and understood by many, especially among the younger generations.
A city for everyone
Although it is a tourist city, it is not as chaotic as other Italian cities, and is appreciated by locals and visitors for having so many different options to suit their own tastes and desires. In Bologna young people come from all over Italy – and not only – to study, as well as families, pensioners, singles and couples.
There are parks that are perfect for practicing sports or spending relaxing moments reading a book. Also, museums, palaces and libraries to visit, and plenty of stores where you can go shopping. Gyms and swimming pools are not lacking, with vast spaces to train indoors in winter and outdoors in summer, surrounded by nature.
A very popular stop is the Sanctuary of San Luca, which can be reached by following a road that goes from the center of Bologna – Porta Saragozza – to an altitude of 280 m over the sea level, crossing more than 600 arcades and offering breathtaking scenery.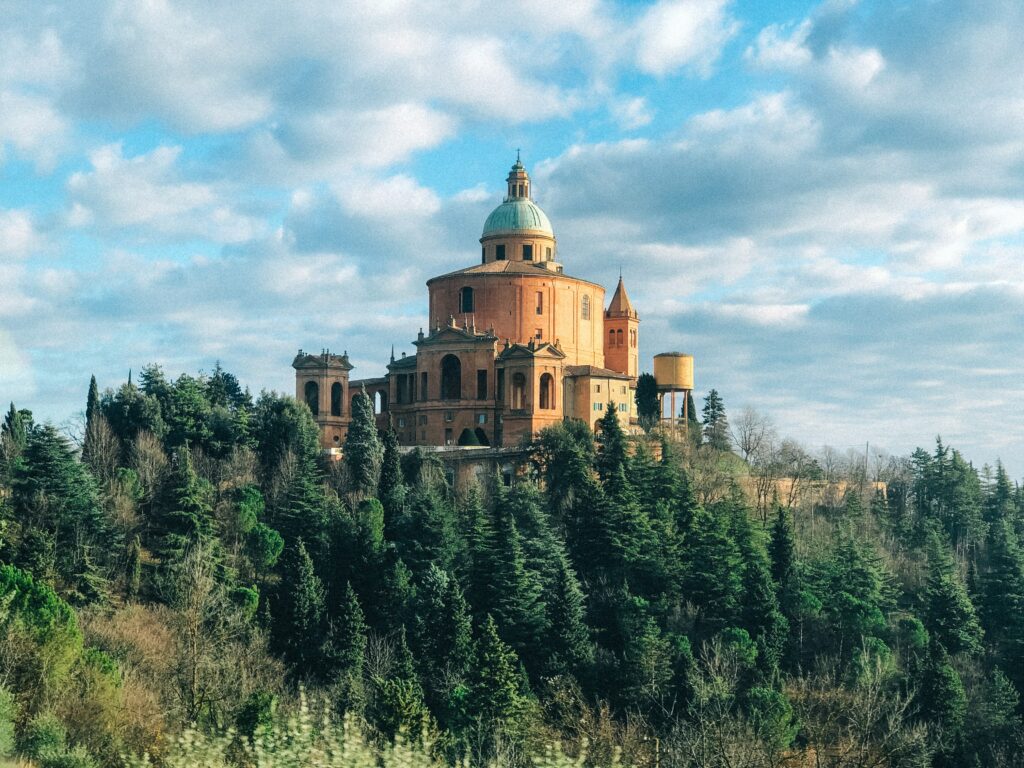 Talking about outdoor locations, among the most popular are Montagnola Park – which also hosts ethnic and crafts markets a few days a week – and Giardini Margherita, public gardens covering 26 hectares of land. Several concerts are hosted in these gardens, especially during summertime.
The largest church of Bologna is the Basilica of San Petronio, constructed in 1390 and still one of the largest in Europe. There are also two towers which are the absolute symbol of Bologna, the Asinelli Tower – the highest leaning tower in Italy – and the Garisenda Tower. The city hall is located in Palazzo d'Accursio, situated in Piazza Maggiore.
Regarding the culinary side of Bologna, there are places and bottegas where you can taste local specialties.The food choices, in fact, are not lacking, in order to satisfy everyone. From Michelin-starred restaurants to small osterias, among meat, fish, vegetarian and vegan choices, you'll be spoiled for choice. One of the most popular and characteristic dishes are tortellini alla Bolognese, lasagne and tagliatelle, all tasty pasta dishes. Bologna is also famous for the pizzeria Altero, born in 1924, is a traditional place where you can eat pizza by the slice, located under the arcades of Via Indipendenza.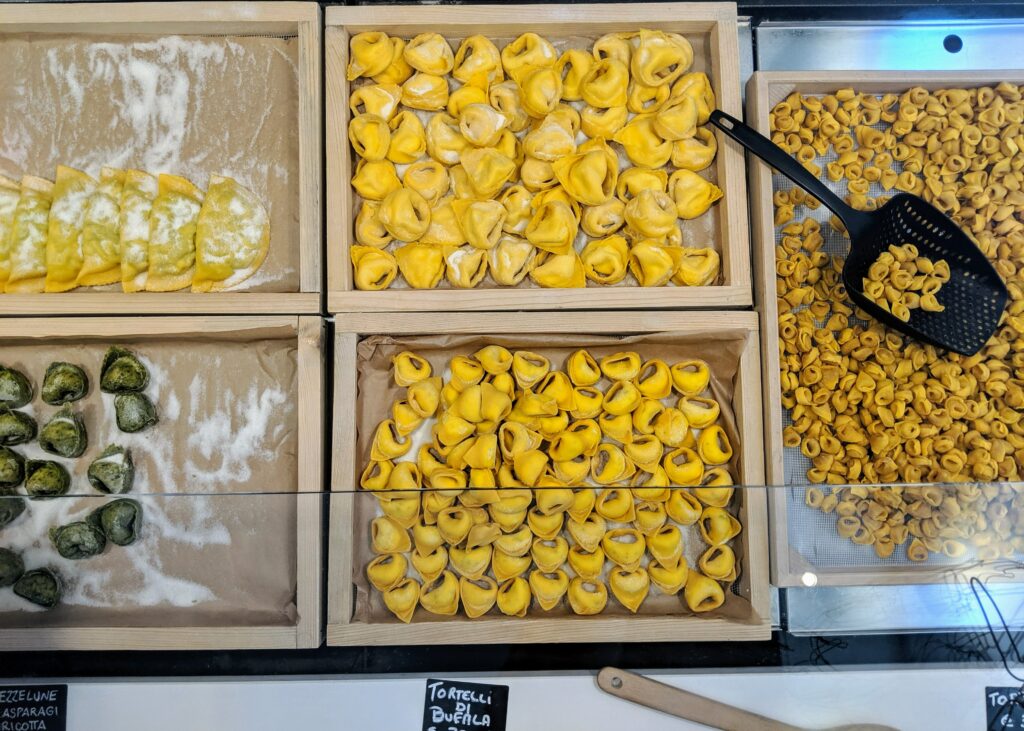 From an enological point of view Bologna does stand out as well, one of its most typical wines is Pignoletto, historically produced on the Bolognese hills. A white wine of yellow color (slightly greenish), with a dry taste. Remarkable and typical are also red wines, such as some varieties of Sangiovese and Barbera.
Nightlife lovers can enjoy the bars and beer houses which stay open until late at night, spread between the main streets and some secondary streets of downtown. There are also several discos in Bologna, including the Cassero club dedicated to the LGBTQ+ community.
Transportation
Bologna is a city whose historical center can be easily explored by foot, but this does not prevent you from wanting to use public transportation. Bologna's public transportation system is both easy to use and quite reliable. The company that runs public transportation in Bologna is called TPER (Transporto Passeggeri Emilia-Romagna) and they do an excellent job in connecting the many districts of Bologna and providing transportation to and from surrounding cities. Bus is the best public transport option in Bologna as it is a comfortable and cheap way to move around the city. There are several season ticket offers, or you can choose to buy a single ticket each time (which is also possible at kiosks and tabaccherias, or directly on board with cash).
Bologna has also a train station that can be easily reached walking from the center along Via Indipendenza, the main street of Bologna entirely covered with arcades. Direct trains depart from the station towards the north and south of the Italian peninsula, with plenty of routes and schedules. The quickest train to reach the capital – Rome – takes less than 2 hours. In addition to the central station of Bologna, there is also an airport (Bologna-G. Marconi), which is about 10 kilometers from the center. Several shuttles depart from the train station to the airport, the Aerobus BLQ.
What to do in Bologna's surroundings
There are plenty of interesting sites near Bologna, places that are worth visiting if you have extra spare time. Still in Emilia-Romagna, at about 1 hour by train, there is Parma, the Parmigiano Reggiano cheese and Prosciutto di Parma city. It's the ideal place to go on a gastronomic tour. Furthermore, as any other typical Italian city, art is never lacking, and the Parma's Cathedral – Duomo di Parma – is also very impressive, thanks to the beautiful fresco paintings that decorate it, with the dome painted by Correggio.
Another major city of Emilia Romagna, Modena, homeland of balsamic vinegar, Ferrari and Pavarotti, can be easily reached in one hour by train. In Modena's surroundings, moreover, lies a countryside filled with small villages such as Spilamberto and Vignola.
For those looking for a thermal spa to relax, Porretta Terme is approximately 60 minutes away by train or car, and has a center with thermal pools and wellness treatments. Not far from Porretta Terme is a skiing resort, Corno alle Scale.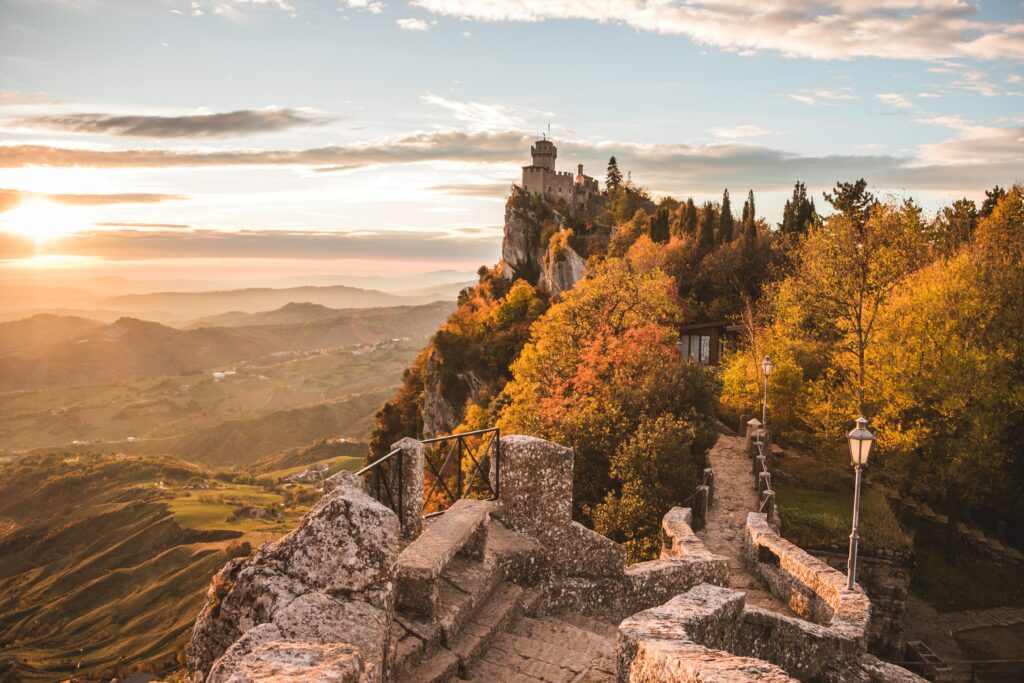 By heading a few more miles, in about 1 hour and forty-five minutes by train or car, you can reach the Republic of San Marino, an ideal destination for a weekend to visit a village with independent government located on a rocky peak.Set between medieval stone walls and narrow streets, you can find here both natural and historical treasures, as well as numerous stores where you can shopping without Italian taxation. To wrap up, an aperitif at sunset is the ideal way to end your day.