The New Golden Mile property insights
The New Golden Mile is an area situated between the east of Estepona and San Pedro del Alcantara in Marbella. As the name itself suggests, it is well known for its golden sand beaches and clear waters of the Mediterranean Sea that New Golden Mile property owners are privy to.
The beachfront area is a highly sought-after destination for prime second home buyers from Europe. Prices on the New Golden Mile property market are the highest in the region. The average price for houses for sale in Beach Side New Golden Mile is Average price per sqm. in €3,345 0% properties#: 163 last change on: 30 May 2019 €3,345 per square meter, while for apartments you can expect  Average price per sqm. in €4,451 0% properties#: 450 last change on: 30 May 2019 €4,451 . There is a majority of developments offering astonishing views of the sea in the area. In terms of investment, current opportunities available cost on average Average price per sqm. in €3,485 0% properties#: 24 last change on: 30 May 2019 €3,485 per square meter. 
The most renowned real estate agencies on New Golden Mile property market are Livingstone Estates and Gilmar with more than 130 listings in the area.

May 30, 2019
Sale price distribution in
Sale price per sq.m. for each property price in
Among the most prestigious residential complexes of the region are Menara Beach, Costalita, Torre Bermeja, Mar Azul and Bahía de la Plata Boutique Apartments. All of these property urbanizations are appreciated for a convenient direct access to the beach.
An exclusive New Golden Mile property with a sea view position is valued at 70% on the top of the selling price.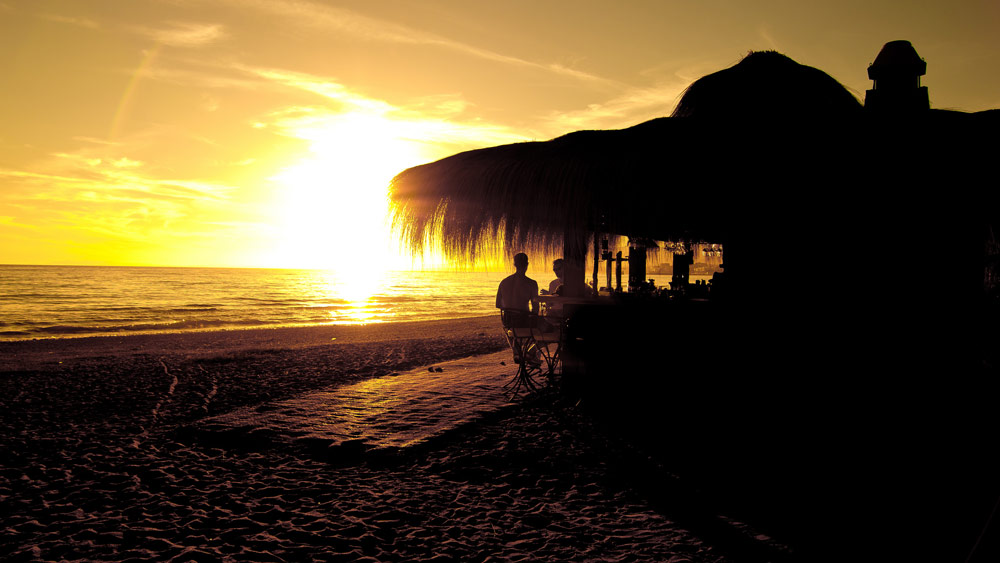 Photo by Hernán Piñera via Flickr
Why the New Golden Mile?
The development of real estate in the area was thoroughly planned with the respect to the environment. Despite significant growth in construction and infrastructure in recent years, the area has managed to maintain its natural charm. There are almost no high-rise buildings compared to the real estate explosion in Marbella.
The New Golden Mile is a true leisure time paradise. The area has one of the highest numbers of golf courses in the whole Spain. Here, various green fairways offer unique views of the sea. Houses with a golf course view, enjoying also stunning views of the Mediterranean Sea have a premium value of 60% on the top of the average selling price in the area.
Beach Side New Golden Mile is very attractive for property buyers because of its privileged location. There is a Gibraltar International Airport on the east, and Malaga International Airport on the west, both around 45 minutes away.
The region is bordered by San Pedro de Alcántara of the worldwide known and busy Marbella on the west. It is one of the most typical Spanish towns on Costa del Sol offering an unspoiled environment with beautiful parks and gardens. The east part of the New Golden Mile ends with Puerto Deportivo de Estepona Marina, famous for its fishing port and market. The beauty of the coast is coupled with majestic Sierra Bermeja National Park rising above the whole area.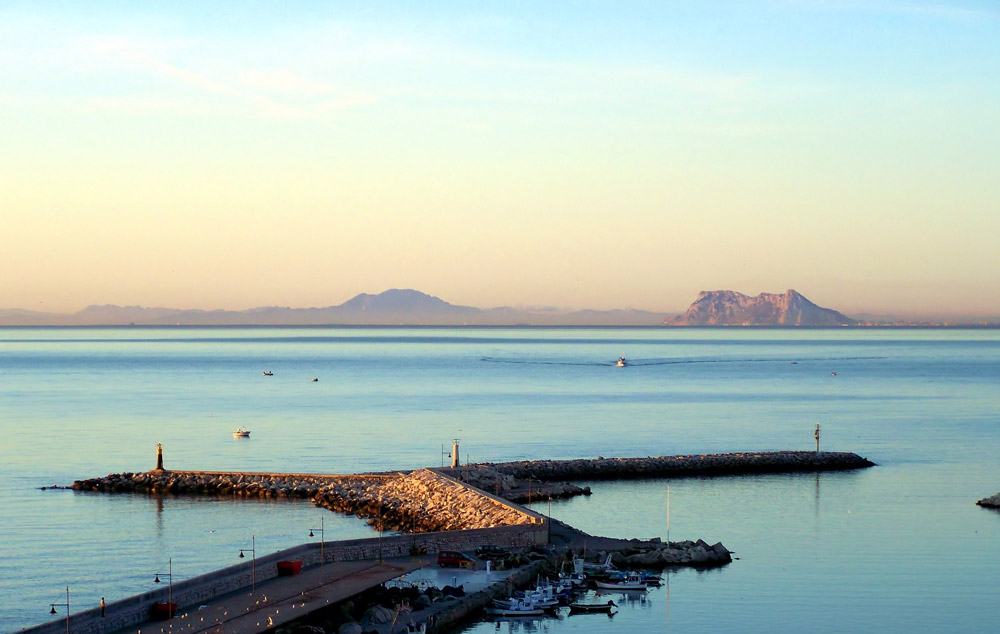 Photo by Puntadoncella via Flickr
The New Golden Mile has a cosmopolitan character. There is a high percentage of the international population exceeding 20% of inhabitants who enjoy this perfect location of a more tranquil part of Costa del Sol. Notably, New Golden Mile beachfront apartments are highly popular among property buyers from Northern Europe.
The New Golden Mile property selection
Menara Beach is an exclusive beachfront development designed by Melvin Villarroel Roldan, one of the most renowned Spanish architects. This exceptional urbanization consists of 105 luxurious holiday apartments. Menara Beach apartments provide one of the finest facilities in Southern Spain with a very high standard and high security.
Costalita is another sought-after urbanization of the Costa del Sol. It is built in the Andalusian rustic style with contemporary lines. Urbanization Costalita offers a full collection of luxury villas, penthouses and apartments. It has swimming pools leading all the way down to the high standard beach El Saladillo, Blue Flag awarded. It offers many restaurants, a beach club and a tennis court. Beautiful green gardens with palms are placed around the whole complex. The poshest beachfront apartments of the urbanization are Costalita del Mar. Large penthouses on the very first line of the Costalita beach are built with spacious terraces. Costalita apartments provide dazzling views of the Mediterranean Sea, Gibraltar and Morocco. It is equipped with a sauna, private elevators and volleyball area.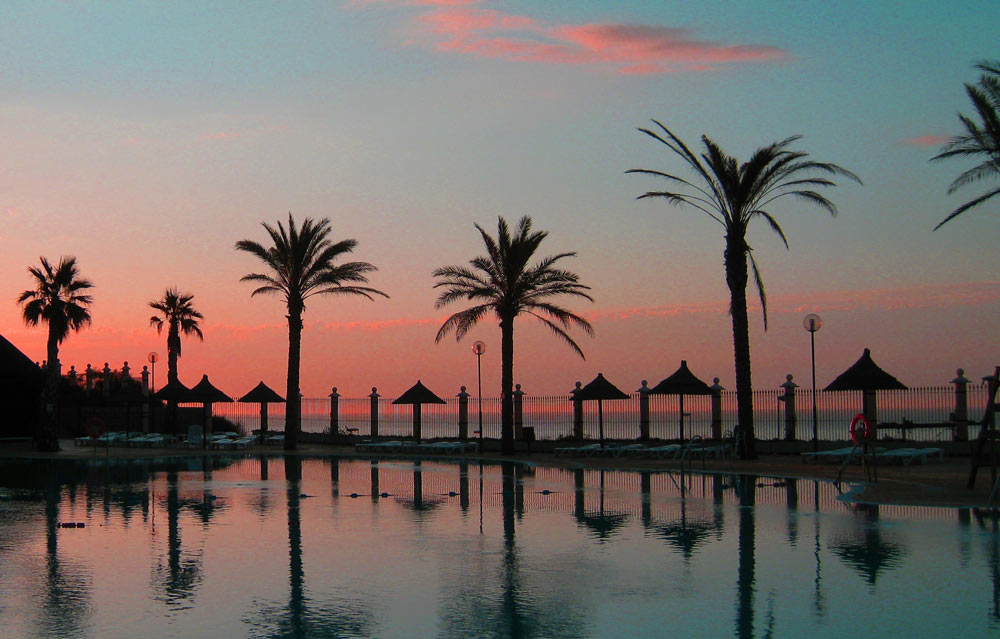 Photo by Fernando Butcher via Flickr
Torre Bermeja is another upscale front-line beach urbanization. This Andalusian style community with typical red tone colored walls consists of 109 deluxe apartments and penthouses. It is equipped with three swimming pools – two outdoor and one – as well as a gym and sauna. Torre Bermeja apartments is an oasis of impressively landscaped tropical gardens with an incredible view of the sea over the ancient Roman ruins of Las Torres.
On the west side of the New Golden Mile, there are two sought-after beachside complexes located. Bahía de la Plata is a newly built waterfront apartment complex with the view of the Mediterranean. Bahía de la Plata Boutique Apartments offers the most modern and luxurious environment with the best quality amenities appreciated by the most demanding property buyers.
Mar Azul urbanization is another exclusive five-star residential complex of the New Golden Mile consisting of 72 first-class apartments. The surroundings of the property complex offer amazing sculptured swimming pools, fountains, cascading waterfalls. Interestingly, apartments of Mar Azul are built in the shape of letter "V" to offer the best sea views in every apartment but also with a respect for privacy.
Lifestyle
New Golden Mile is full of options for water activities such as diving, kite surfing or paddle boarding. Nearby marinas are ideal for sailors and yacht lovers.
Next to the water activities, there is a great spot for horse lovers, a horse riding school of Equestrian Art Costa Del Sol.
There are also perfect routes for hikers in the majestic Sierra Bermeja. You can enjoy multiple scenic views over the area with a tranquil atmosphere of a national park.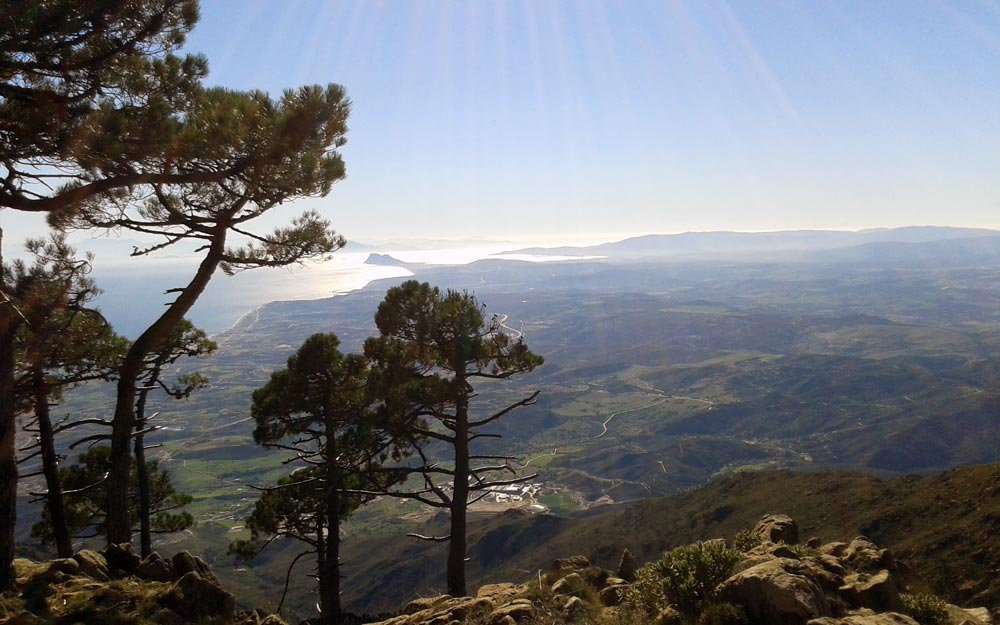 Also worth mentioning, is the Laguna Village – an exceptional shopping district found on the New Golden Mile. It offers thirty exclusive shops, a luxurious beach club with heated swimming pool and a variety of top class restaurants. In this beautiful oasis of an affluent lifestyle, you can spend a day shopping, dining, and have a coffee or a refreshing drink next to the pool.
To sum up, the area boasts with golden sand beaches and clear waters of the Mediterranean sea. The New Golden Mile property market offers the most exclusive luxury beachfront apartment complexes. The area please the most demanding high-net-worth property buyers from all over the world. With a wide selection of leisure activities, it is a perfect spot for relaxation. New Golden Mile provides every advantage of the Costa del Sol and is considered to become a next, more delightful Marbella.