CASAFARI METASEARCH: HOW IT WORKS?
Real Estate Market Intelligence for Professionals
What is Casafari and how does it work?
Casafari is a vertical (Meta)Search built with the Google GO language. The innovation is in re-indexing search results based on artificial intelligence and displaying these analogously to the Google picture search to deliver more value for users of the Casafari metasearch. We call it "Real Estate Market Intelligence" for professionals.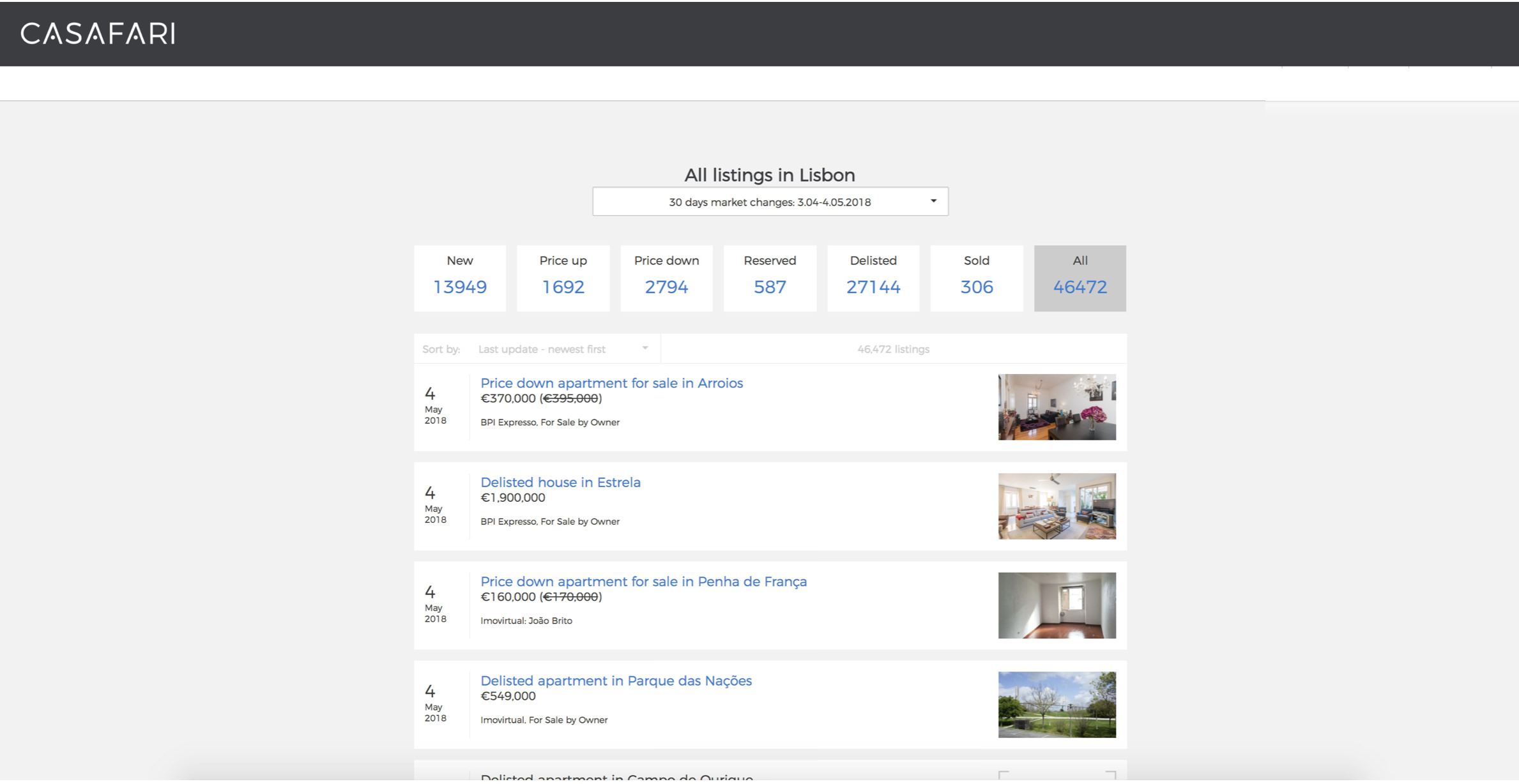 Casafari updates: Setting up daily or weekly email updates
What is the technology behind It?
In order to aggregate real estate data from different sources, and display it in a minimal and understandable way to everybody, Casafari uses Artificial Intelligence / Machine Learning. The whole approach and the benefits it bring to the world of real estate are explained in our article Proptech for Real Estate Investors. In short, this approach is based on the algorithms that are programmed to be able to learn further. This means, we can program bots that will communicate with the external websites and will extract and clean property data on the Internet, match duplicate listings and analyze the market without any further effort.
The result is millions of aggregated and corrected listings, which is more than any classified website is able to provide you with. Our technology tracks hundreds of thousands  changes per month and updates itself passively. Therefore, you can get updates on the prices of your favorite properties, or changes on the market every morning without any searching efforts.
What is the purpose of Casafari?
Casafari is a tool that empowers real estate professionals to be more efficient and to have the most up to date information about the property market. In addition, Casafari ensures their listings reflect the true information about a property.
Casafari was built in order to support greater transparency in real estate, which benefits all participants in the market. A more transparent market is a more efficient one.
Read further about how can we help property buyers and real estate professionals in our About page.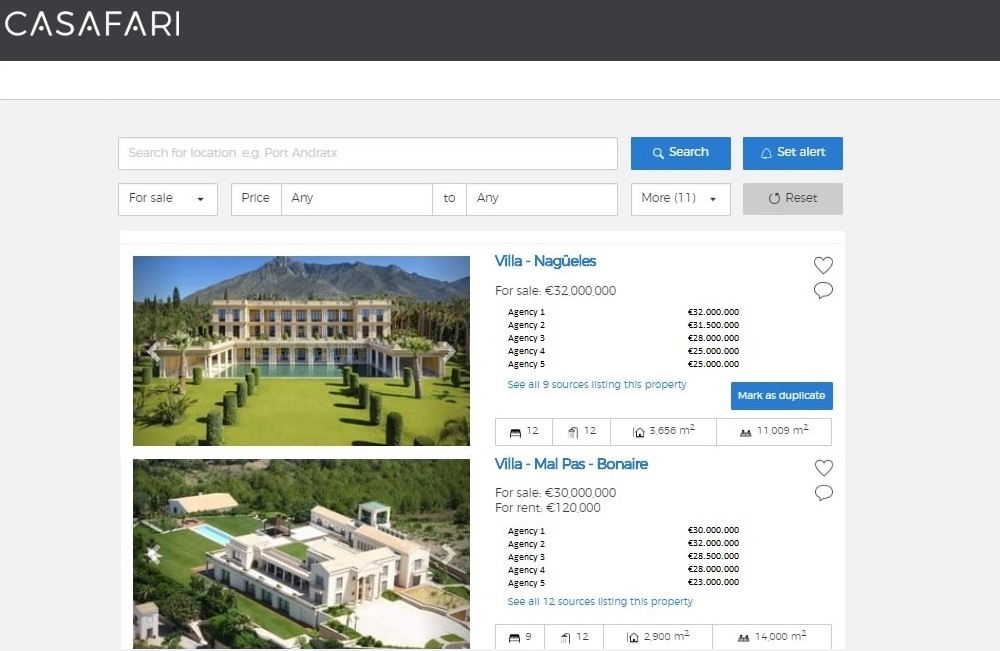 Casafari Metasearch
Frequently Asked Questions (FAQ)
1: How can I choose what can be indexed in the Casafari Metasearch?
All the content that is published and is available to the public, and so listed on Google, Bing etc. might be automatically indexed in Casafari.
 2: Is this legal?
Yes! Casafari is built analogously to displaying search results in Bing, Google etc. and their picture searches (framing).
Casafari does not publish or republish any copyrighted materials like pictures, description texts from third parties and search results will always mention and link to the source of information (authors).
Casafari was developed alongside leading international real estate groups and internet lawyers to ensure it is fully compliant with both the current regulatory environment and all European Court Judgements that have been made.
 
What do our clients say about Casafari:
Consultant from Residential Department of JLL, Lisbon:
"It´s the perfect tool and the perfect help for us, consultants, to know everything about the market without the need to access different websites. Surely, it will make us gain a lot of time, so precious this days. Thank you very much for your help."
Consultant from Keller Williams:
"Using Casafari compared to what we were working with is like difference between a Volkswagen and a Ferrari."
Managing Director Engel & Völkers:
"Casafari is an online service and artificial intelligence tool which is daily scanning all of the real estate agency websites, analyzing, gathering and clustering the data and presenting our team (exclusively) all of the information on a secure and password protected environment. It is as if you had an army of agents scouring all of the websites, setting alerts and updating of any status and prices changes, with the possibility to follow own listings on other websites. Not only do we see what is coming on and going off the market in real-time, we can provide a purchaser with all of the stock without leaving E&V and we can be faster, meaner and tougher than any competitor. The power of this tool is that behaviors and the usual working methods have received an additional boost by Casafari, changing the way we approach our business in a very positive way."