CASAFARI CRM: Real estate management made easy
With CASAFARI's real estate CRM you get access to intelligent workflows that simplify your lead, property and client management. Boost your deals and save some work time!
CASAFARI data, real estate CRM and APP in 3 plans customized to your needs
The best of 3 worlds for easier real estate management. Check everything concerning the real estate market with CASAFARI data. Make your lead, property and client management through the real estate CRM. Don't forget also to access the APP in case you need a Comparative Market Analysis on the run or to register a digital signature. Your business will be literally in the palm of your hand.
Follow the contact interactions with your leads from up close. Don't waste the opportunity of making business: create events, alerts and always update the state of your client portfolio.
You have 3 plans to choose from: Plus, Premium and Enterprise. The first two were created to attend to your necessities, while Enterprise is a fully customizable solution for your real estate agency.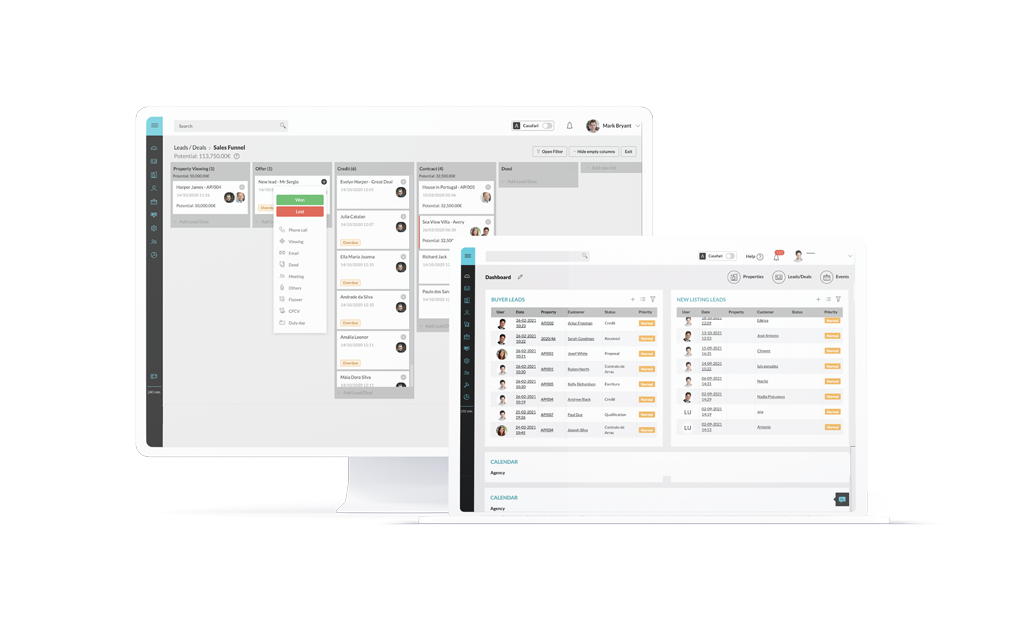 Real estate management with special functionalities on CASAFARI CRM
Export to over 100 national and international real estate portals. Publicise the properties in your portfolio on the proper portals, choosing from the dozens you find in our real estate CRM.
Take advantage of automatic translations for an unlimited amount of languages (for Premium and Enterprise) and make communicating your properties for international leads easier.
Choose among 10 customizable website templates and adapt the design to your company's brand identity. Benefit from an optimized design that works for all devices and from easy-to-create landing pages (microsites) for every occasion.
Don't forget to get in touch with your client via email marketing. CASAFARI CRM integrates with MailChimp exactly so you can do it all in a single real estate management software.
Use special functionalities available on CASAFARI CRM, such as Ownerlink, Virtual Tours and smart automations.
Are you a beginner in this business? Get to know CASAFARI CRM's Free Plan
An intuitive and free real estate CRM that allows you to concentrate your work on a single software for real estate management.
Create your own responsive website with the help of templates designed for those looking for houses.
Export for the 3 internationally renowned real estate portals: Imovirtual, Idealista and List Globally.
The best CRM for Real Estate
Priceless!

Free plan!

Start for free!