Experience Next-Level Success with the nº1 Real Estate Management CRM
Always juggling multiple tools and struggling to manage your contacts, clients, and properties? CASAFARI CRM is the solution for successful estate agencies and teams.
With intelligent workflows and easy-to-use tools that simplify your lead, client, and property management, our real estate CRM empowers and fuels transactions. 
Whether in the office or prospecting in the field, access the data you need at your convenience.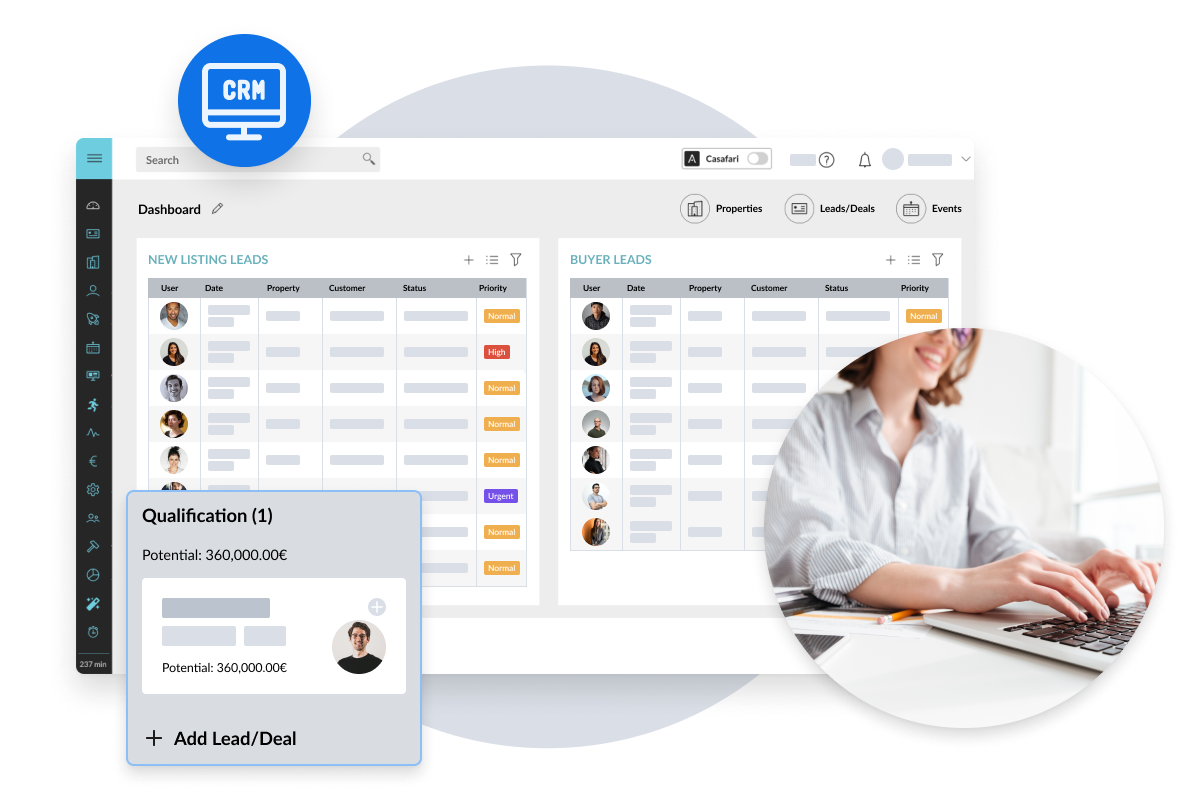 Real Estate Focused CRM Tools and Automations
Specifically designed for real estate professionals. CASAFARI CRM comes with automation tools that help you manage leads, clients, and properties more efficiently. With automatic labelling, reminders per stage, and immersive Virtual Tours, you'll never miss a deal again. Our Kanban funnel ensures continuous deal flow management.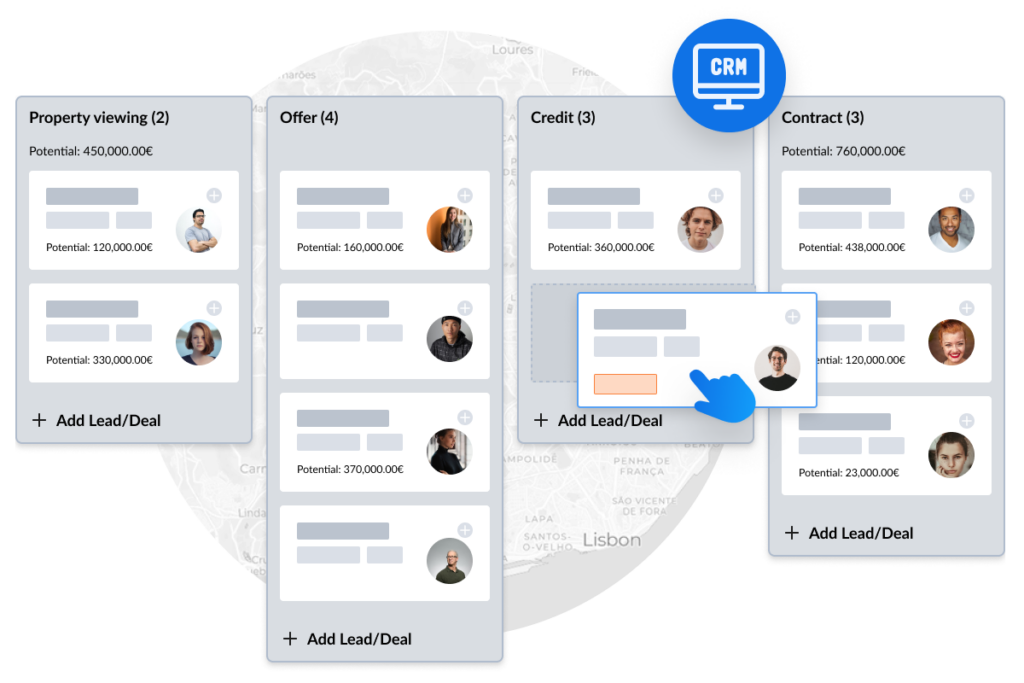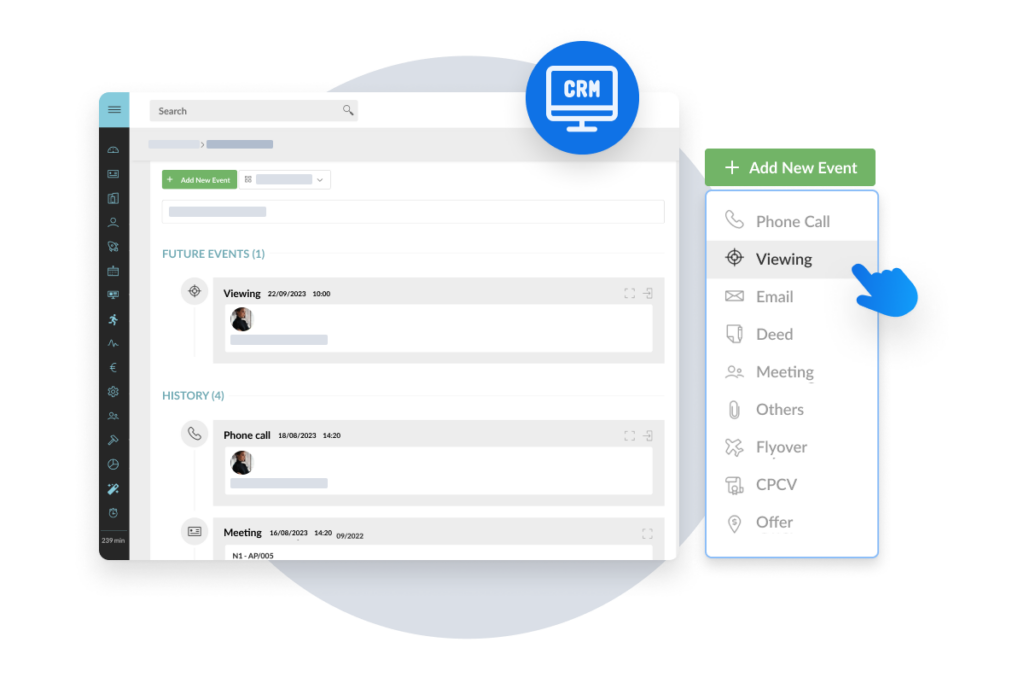 History of All Contacts and Interactions
Keep track of all your contacts and interactions with the history feature. Never lose track of a conversation or client again. With dynamic dashboards, you can quickly analyse your data and identify areas for improvement.
An easy website builder that allows you to create a professional-looking real estate site for your business, in just 5 minutes. You can choose from our selection of more than 10 templates and customise them to fit your brand. This feature is especially useful for real estate agents who don't have a web development background.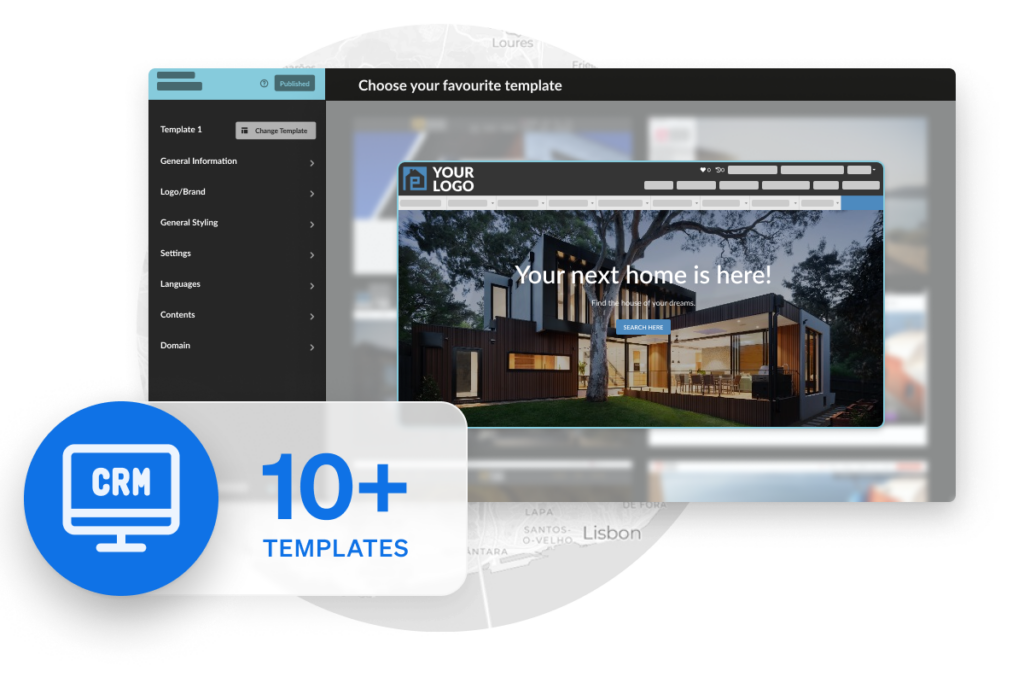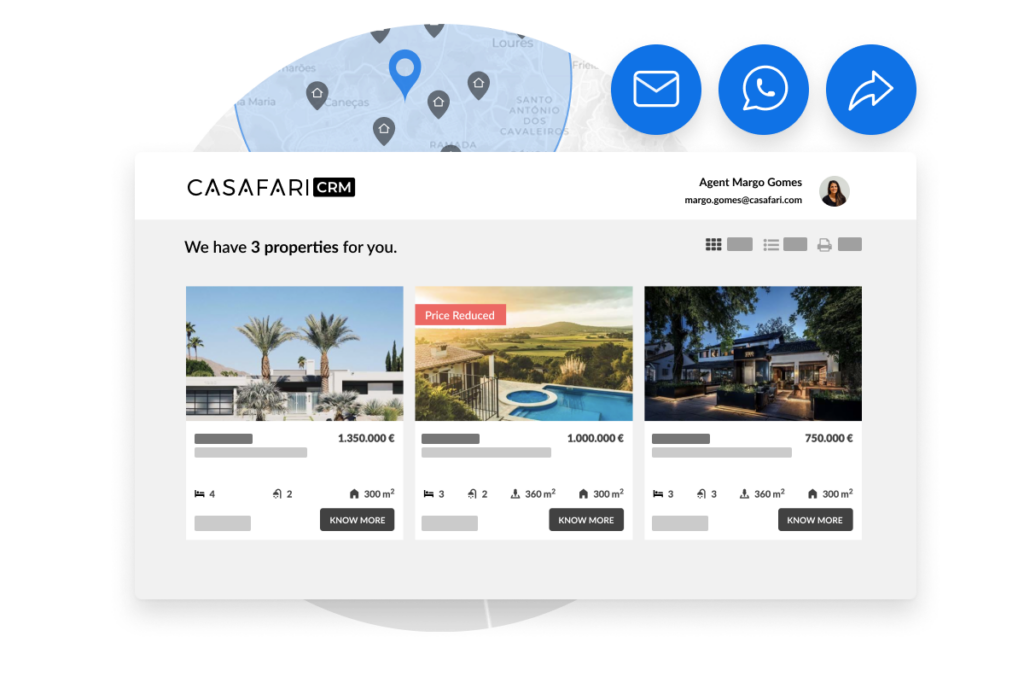 Automations with Smartlink, Smartmail, Smartreply and Ownerlink
Save time and effort on repetitive tasks. Our automation features allow you to automate your communications with clients, prospects and property owners, freeing up your time to focus on closing deals. Easily reach out to your clients and build trusted relationships.
Easy-to-use Interface and App
Experience the unparalleled ease of CASAFARI CRM Interface and App. Effortlessly manage your business on-the-go with a user-friendly real estate CRM platform. Access Comparative Market Analysis on the run and register digital signatures with a simple touch. Stay ahead of the game and unlock the power of seamless real estate management at your fingertips.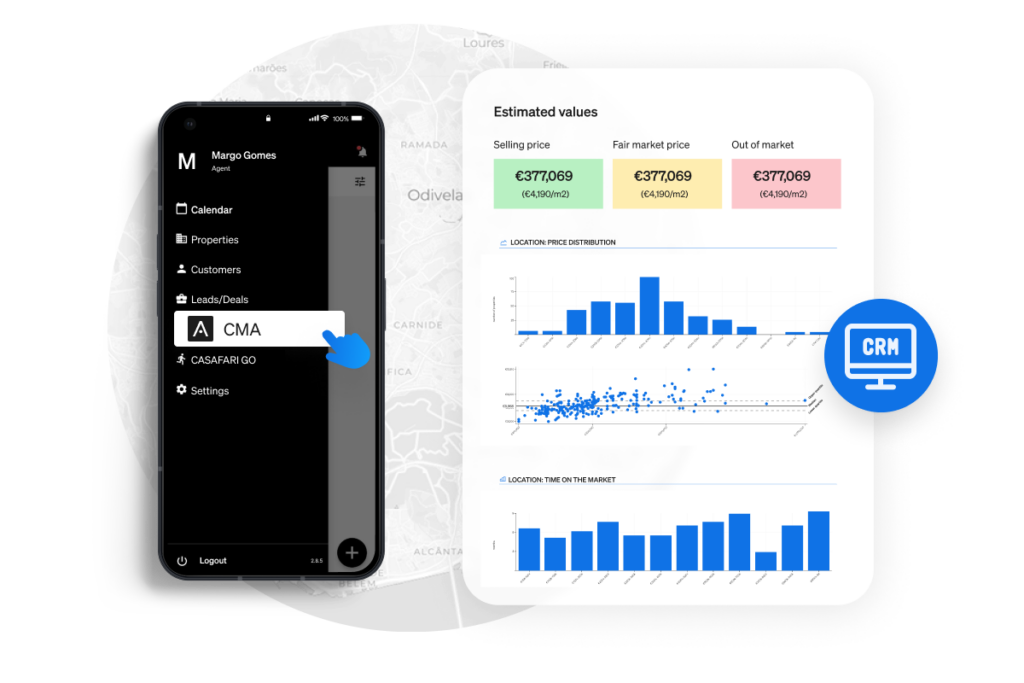 Are you a beginner in this business? Get to know CASAFARI CRM's Free Plan
An intuitive and free real estate CRM that allows you to concentrate your work on a single software for real estate management.
Create your own responsive website with the help of templates designed for those looking for houses.
Export for the 3 internationally renowned real estate portals: Imovirtual, Idealista and List Globally.
The best CRM for Real Estate
Priceless!

Free plan!

Start for free!
CASAFARI CRM is super intuitive, our accounts have easily adapted to it and the same happened with the APP. it's simple and easy to navigate.
I highlight the sales funnel, both for the growth of our portfolio and for the sale of properties itself, bringing the possibility to create a unique dynamic, adapted to our business model.
We were looking for an easy and intuitive tool that took care of all our daily needs. From the lead management to their follow-up, exporting properties, a useful calendar, filtering information, all these requirements were met by CASAFARI CRM.
CASAFARI CRM helps form the backbone of our business, with a user-friendly interface that integrates seamlessly with our website and external partner portals.
Lead generation has definitely grown since using CASAFARI CRM and so has the number that convert to a sale, purely just because it enables me to keep on top of so many things at once.
Being able to search for properties, registering all interactions with a client, cataloguing all properties you have listed or that are in process of acquisition, that were acquired or sold, bringing with you all the database of the agency on an app, being able to automatically match clients to properties on your portfolio… It's not something all CRMs allow you to do.
The usability is really intuitive. The calendar, the funnel for the leads, the log of visits, the possibility of having all the information in your hands, as well as the gathering of statistics, are all of great value to the company. Being able to have different user profiles, export properties straight from the CRM, manage acquisitions or automate processes is wonderful.
Elevate your real estate management to the next level.
Request a demo today and see how our powerful real estate CRM can transform your business workflow and boost your sales opportunities.