Did you know that now you can have your off-market properties inside CASAFARI too? And you'll be able to share them with your exclusive network whenever you want while keeping the secrecy about the sale. Let's see how it works.
Who can create and who gets to see off-market properties inside CASAFARI?
Any active user of CASAFARI can create off-market properties inside our platform. And, once you create them, they can be seen by:
You
Colleagues from the same agency as you
Our Portfolio Solutions team, which will help you sell these properties faster by connecting you to big investors and potential buyers (more on that later on the article!).
Professionals from any other agency or company won't be able to see them, so you can rest assured that your competitors will not be aware of your private work and your client's privacy will be kept.
How to find your off-market properties inside CASAFARI
You can find your or your colleagues' off-market properties inside our Property Sourcing. When you run a search for a specific kind of property, you get to decide on the filters if you wish to include the off-market ones on the results or not. It's up to you!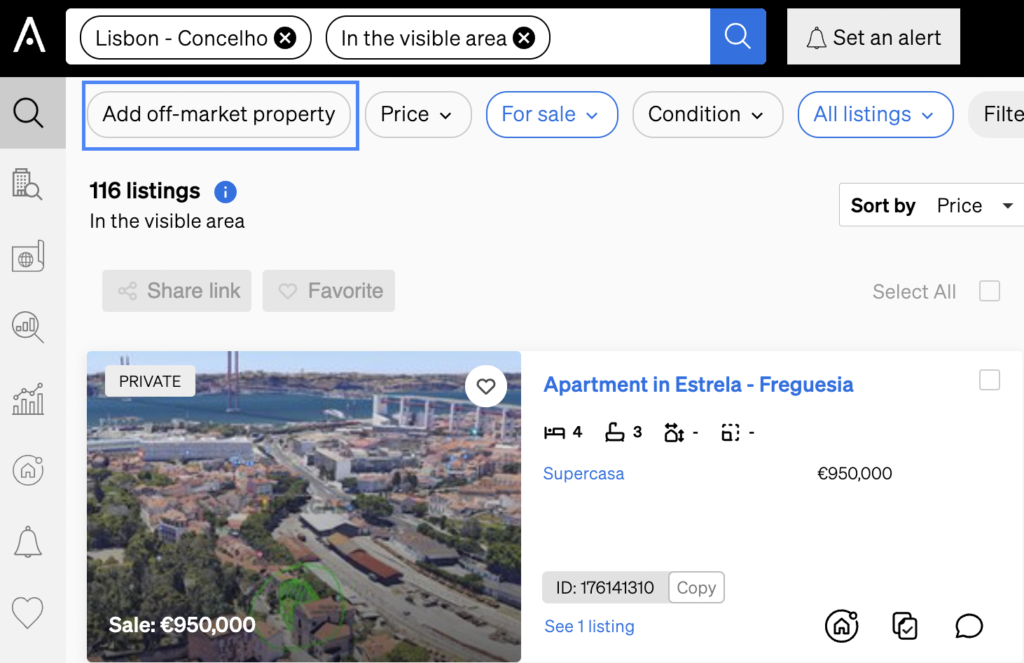 The advantages of adding your off-market properties to CASAFARI
Keeps the privacy of your clients
Let's say your client owns a residential building and wants to sell it soon, but they don't want it to be shown on the market because there are still tenants living in it. Or maybe your client owns a commercial building, like a hotel, and wishes to sell it without scaring the present and future guests away. Or even imagine that your client is someone famous selling their home and trying to avoid gossip about it.
In cases similar to the aforementioned, you only want to share information about the property with trustworthy people, those that you know will observe your client's request for privacy.
Adding these off-market properties to our platform gives you the opportunity to work with them as you would with any other real estate, making sure only your teammates and our Portfolio Solutions team can see it. It's the maximum benefit with maximum security.
Allows you to share the details of the property with potential buyers
Once the off-market properties are available on our platform, they get their own property page, just like any other inside CASAFARI's Property Sourcing – the only difference here is who is able to see them.
This means that both you and your colleagues can generate a PDF of the page, to show to potential buyers and increase the chances of selling your property.
Using off-market properties on market analyses
Once your property is added to CASAFARI's system, it can be included as a comparable on a Comparative Market Analysis, a powerful tool to sell more and faster.
Meaning, this off-market piece of real estate can help you and your colleagues find the appropriate asking price for a similar property in your portfolio or under your agency's management. Also, you can find the right pricing for this off-market property by running a market analysis to see which are its competitors.
Also, another benefit of adding your off-market properties to CASAFARI is being able to compare them to the real estate market using Market Analytics and answer questions such as:
Does the asking price fit into the average of that area? Is is too high or too low?
Are the prices rising or falling in this location?
How many properties similar to this one are available on the market?
What is the average price a property like this stays on the market?
All very useful information for you to define an asking price and a selling strategy.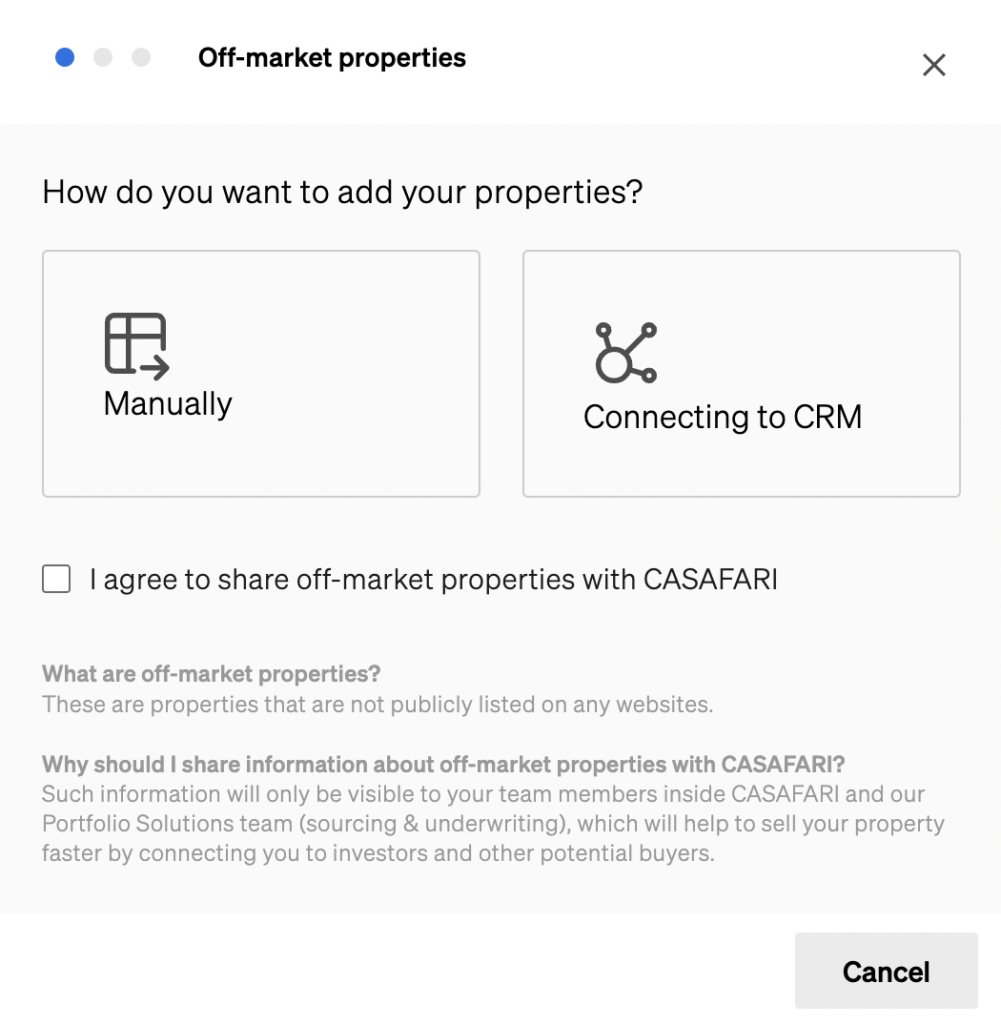 Faster sales and increased revenue by sharing your off-market properties with our Portfolio Solutions team
Portfolio Solutions is a service offered by CASAFARI in which we help property investors to form well-informed investment thesis, with acquisition and portfolio management to ensure they are able to unlock the most return potential by building profitable SFR portfolios in a scalable way.
Right, and how does it affect your work, you might ask. Well, once you add your off-market properties to CASAFARI, this team has access to see them. If your property match the criteria of any Portfolio Solutions client, they can acquire it for their client's investment portfolio.
This means not only that you get a broader range of possibilities for your off-market properties, but also that they can sell faster and more easily, since most of the work is done internally at CASAFARI, which avoids unnecessary bureaucracy.
And, as you might have guessed, this is a positive equation: faster sales = increase in revenues and commissions + less work for agents + higher client satisfaction.
Selling more with lesser efforts
By selling off-market properties of your clients to our Portfolio Solutions team, you save time and even budget in promoting your portfolio in different channels. This way, you can focus your efforts on other properties that need more attention.
Reaching institutional buyers
Through CASAFARI's Portfolio Solutions, you reach a new kind of potential buyer: the institutional clients. Institutional clients that have greater purchasing power because they have capital available to invest, which brings more liquidity to transactions and spares the need for approval for loans, something that could take a while.
Our team works with big investment funds that manage billions in real estate assets across the globe, a whole other universe if compared to individual buyers and the small investment businesses that compose the usual market that estate agents deal with. By sharing your off-market properties on our platform, you broaden your market and your revenue possibilities.
Adding your off-market properties to CASAFARI is simple, easy and, as you could see, opens a new chapter to your business. Start right now to build your off-market portfolio inside our platform!